Greek authorities have found a group of Syrian migrants who reportedly had been stranded on an islet in the Evros river for several days. A total of 38 migrants were in the group, and one girl was reported to have died.
Greek Migration Minister Notis Mitarakis said the migrants had been "found on a boat four kilometers south of the Turkish islet, [which is where they were originally reported to have been]" adding that they appeared to be in good health. Only one person was taken to hospital — a pregnant woman.
The migrants will reportedly be moved to a reception center and have been given food and water in the meantime for sustenance.
Local media had reported for days that several dozen people were stuck on an islet along Greece's land border with Turkey; neither of the two countries assumed responsibility, and accused the other of having the migrants on their territory.
The Greek police shared a statement saying that the 38 migrants had been located "some four kilometers from the point initially declared, which was outside Greek territory." Authorities added that in addition to the pregnant woman, there were nine women and seven children in the group.
Greek media reported that there was a deceased child among the group — a claim that has not been officially substantiated by officials. A Greek police official, speaking on condition of anonymity, however told The Associated Press (AP) that no bodies had been found during the operation.
However, there had been reports by the Greek Council of Refugees last week saying that a girl in the group had died after being stung by a scorpion.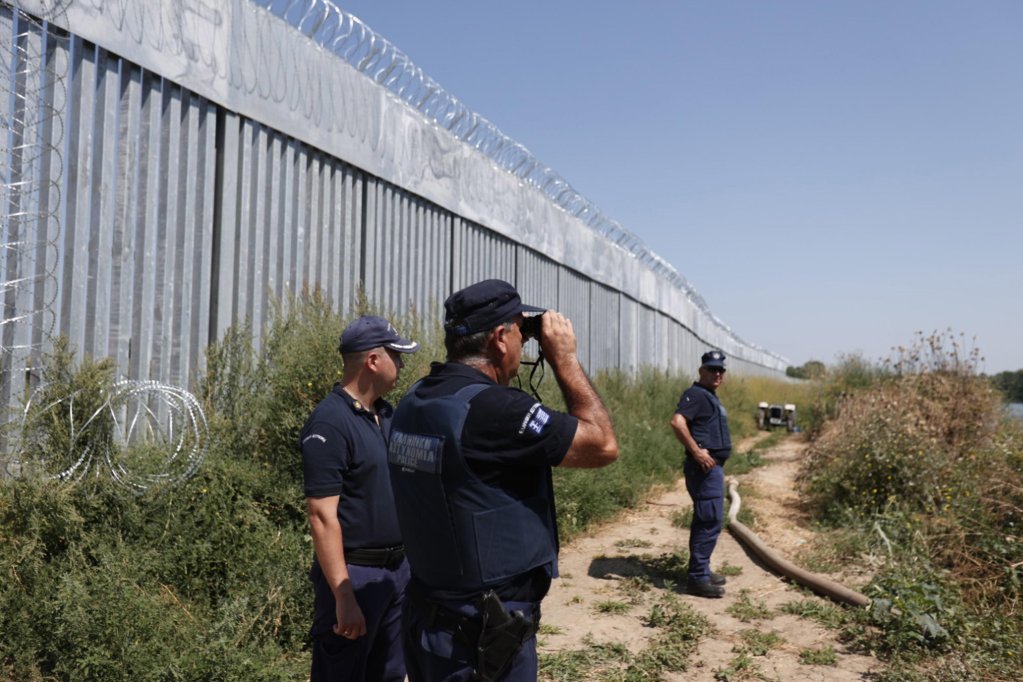 Read more: Greece accused of pushing back Turkish activists seeking asylum
Stranded along the border for a month
The head of the Greek Council for Refugees, Vassilis Papadopoulos, told AP that he had first heard about the migrants' situation nearly a month ago. 
He said that about 50 people had allegedly crossed the border from Turkey to get to the Greek side but had then been forced to return to Turkey. 
Turkish authorities then allegedly moved them to one islet after another, until they ended up stuck on a Greek islet, the migrants reportedly told him. Papadopoulos said the migrants preferred to stay on the islet as they feared suffering physical abuse if they were to reenter Greek territory.
Read more: Greek police use migrants as henchmen for pushbacks: media reports
Reports of pushbacks in both directions
The situation became more explosive at the weekend, with the UNHCR saying that it was becoming increasingly worried about the migrants stuck in the border zone: "We continue to be gravely concerned for the safety and wellbeing of some 40 people allegedly stranded on an islet at the Greece-Turkiye border," it said on Twitter.
Migration Minister Mitarakis however responded on Sunday that repeated searches had been conducted "without detecting any human presence on the islet."
"It has been confirmed that this is a point outside Greek territory so immediately we notified Turkish authorities," he added. However, Turkey continued to claim that the migrants were on Greek soil.
Read more: Greece asks Turkey to help migrants trapped on Evros islet
Greece has repeatedly faced accusations of illegally pushing migrants on its border back into Turkey at the Evros river; there have also been accusations of similar tactics being carried out in the Aegean Sea between the two countries.
Greece denies allegations of conducting pushbacks, which are illegal under international law.
Read more: Afghan migrant shot dead by Greek security forces, say Turkish media
with AFP, AP