Not everyone who fled Ukraine has the same chance of staying in a European Union country. In Germany, the interim solution for non-Ukrainian refugees without a visa ended on August 31. Only three German states have found transitional arrangements so far. InfoMigrants looks at the legal situation and options for these migrants.
Of the roughly 450,000 people with citizenship other than Ukrainian who lived in Ukraine when Russia launched its invasion at the end of February, an estimated 309,000 have left the country so far, IOM figures from August 31 show.
According to the German Interior Ministry, around 29,000 of these third-country nationals (TCNs) have fled from Ukraine to Germany so far.
Thanks to the EU's temporary protection directive, people fleeing the war in Ukraine automatically received temporary protection for up to three years. The protective measures, which includes a residence permit as well as access to housing, medical assistance, employment and social welfare, were provided to the war refugees without them having to go through lengthy asylum procedures. The scheme essentially means that everyone is allowed to enter EU countries regardless of their nationality.
While it has been comparatively easy for Ukrainians to obtain a residence permit, it's been more complicated for non-Ukrainians.
Germany is no exception: Even though the government said that it would take in refugees fleeing the war in Ukraine no matter their nationality, many TCNs (Drittstaatsangehörige) might not receive a residence permit beyond the end of August and would thus be obliged to leave the country. Here's what third-country nationals in Germany need to know.
What's the legal situation for TCNs and what changes on September 1?
Under the so-called Ukraine residence interim decree (Ukraine-Aufenthalts-Übergangsverordnung, or UkraineAufenthÜV), everyone who was in Ukraine on February 24 and fled to Germany has been able to legally reside in Germany up to August 31.
In order to qualify for a residence permit beyond August 31, there are several things to keep in mind. The rules and conditions vary depending on the general situation of the applicant and when they entered Germany.
Who is entitled to a residence permit?
Unlike Ukrainian nationals, only certain groups of third-country nationals are entitled to a residence permit under the German Residence Act. (This applies to both up to and beyond August 31.)
Family members of persons who fall under the scope of the temporary protection directive, i.e. Section 24 of the Residence Act in Germany.
Those who enjoyed international protection in Ukraine, such as refugee status.
TCNs with a permanent or temporary residence who cannot safely return to their home country (see this Interior Ministry mailing piece for details).
Persons who were staying in Ukraine with a temporary residence permit must individually explain in detail why they cannot return (reasons may include political persecution, wars or personal life-threatening circumstances).
According to the German Interior Ministry, a return to Eritrea, Syria or Afghanistan is generally assumed impossible.
After August 31, all those TCNs who are not entitled to a residence permit under Section 24 Residence Act have to look for alternative residence titles. In most German states, it is unclear what will happen to them. Officially, they will be in Germany without a legal residence permit starting on September 1.
Read more: IOM takes stance against discrimination of non-Ukrainian refugees
Rules for those who entered Germany before and after June 3
TCNs who arrived in Germany before June 1, 2022 were obliged to submit their application for a residence title by August 31.
Those who arrived in Germany after June 3 have 90 days from the day of their entry to submit their application for a residence title without needing a visa (The new regulation extends the entry period to Germany to November 30).
During this period, affected persons must take care of a residence permit. If the 90 days have expired and no residence permit has been applied for or issued, the stay is no longer considered permitted.
What do TCNs who want to study in Germany need to keep in mind?
In principle, TCNs can apply for a residence permit to study in Germany to continue to be in Germany legally. However, they have to meet the same requirements as international students:
They first need to be accepted into a university course and show they have around €10,000 in a blocked bank account to show that they can support themselves.
Most university courses in Germany also require a high level of German (C1) and a certificate to prove it.
So far, three of Germany's 16 states (Berlin, Bremen and Hamburg) have found interim solutions for foreign, non-Ukrainian students who fled Ukraine. In the three city states, third-country students from Ukraine are to be granted a one-time, six-month provisional residence permit in accordance with Section 24 of the Residence Act. With this, they can receive social benefits and work.
During this six-month period, third-country students have to fulfil the requirements for continuing their studies in Germany. These include securing their livelihood and proof of a place to study. As soon as these requirements are met, they can apply for a residence permit for study purposes.
The German Academic Exchange Service (DAAD) advises all refugee students from Ukraine through the National Academic Contact Point Ukraine website, which also has information on staying in Germany and visas. According to DAAD estimates, between 1,000 and 3,000 third-country refugee students from Ukraine have come to Germany since February 24.
What's the situation for TCNs in Berlin?
Under the residence regulation for TCNs who have studied in Ukraine, Berlin's senate distinguished between four groups:
Persons covered by the scope of application of the temporary protection directive, persons who claim they cannot return to their country of origin safely and permanently; and persons who meet all the conditions for a residence title other than Section 24 of the Residence Act; and TCNs who have studied in Ukraine.
In Berlin, TCNS who have studied in Ukraine must register at the Ukraine Arrival Center TXL at the State Office for Refugee Affairs (LAF) at the former Tegel airport. 
There, they must prove they were studying at the beginning of the war (February 24). They will also have to meet at least one other criterion, such as having family members living in Berlin, having a permanent place of residence or being transgender.
Next, you have to submit the online application to the State Office for Immigration (LEA) titled 'Residence permit for temporary protection for refugees from Ukraine'.
LEA will then issue a provisional residence document for a one-time period of six months, which includes an employment permit.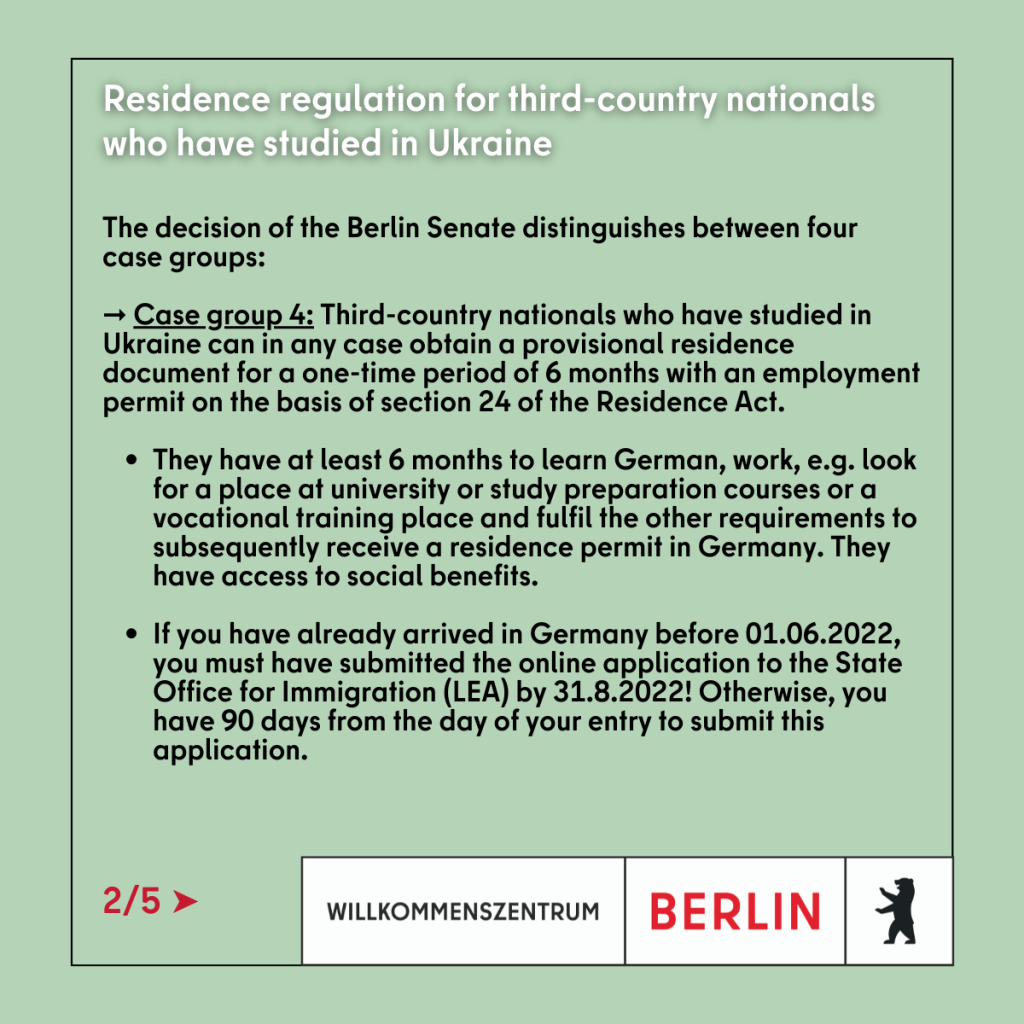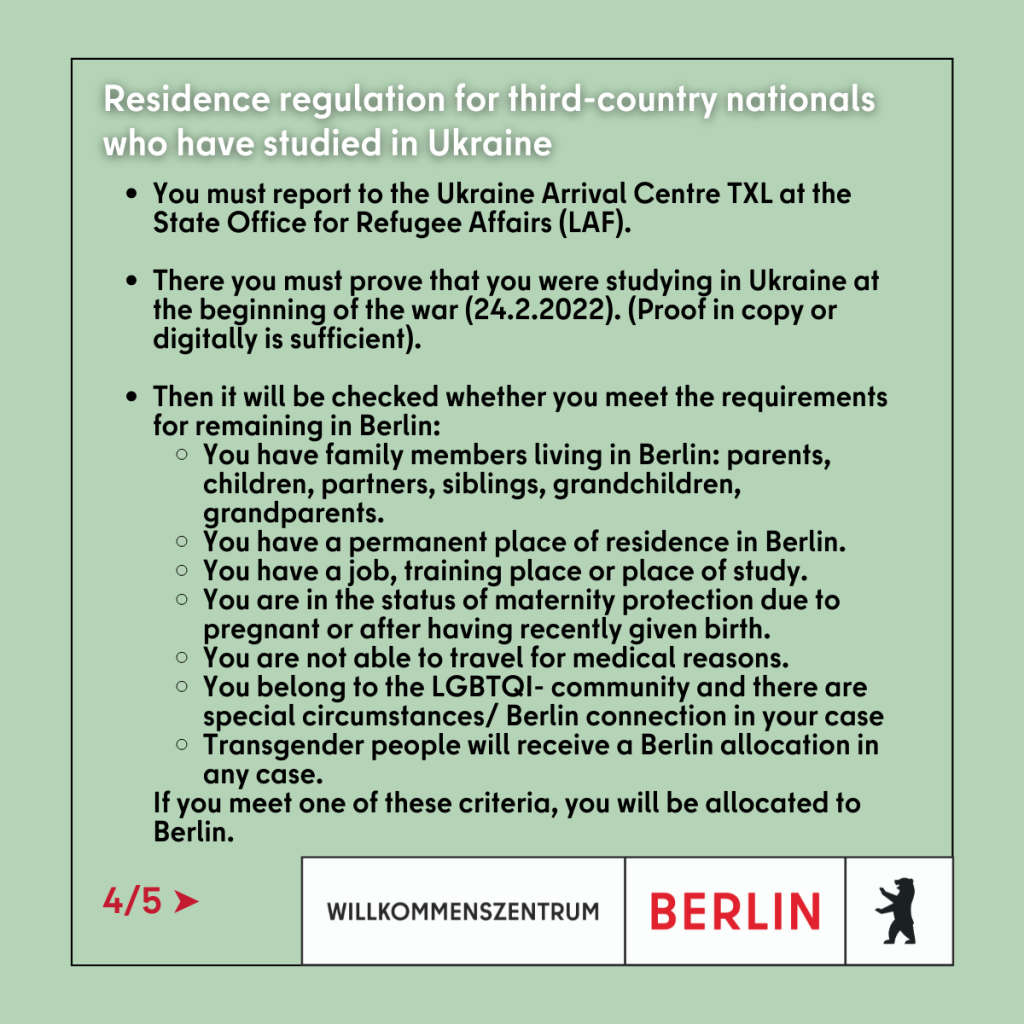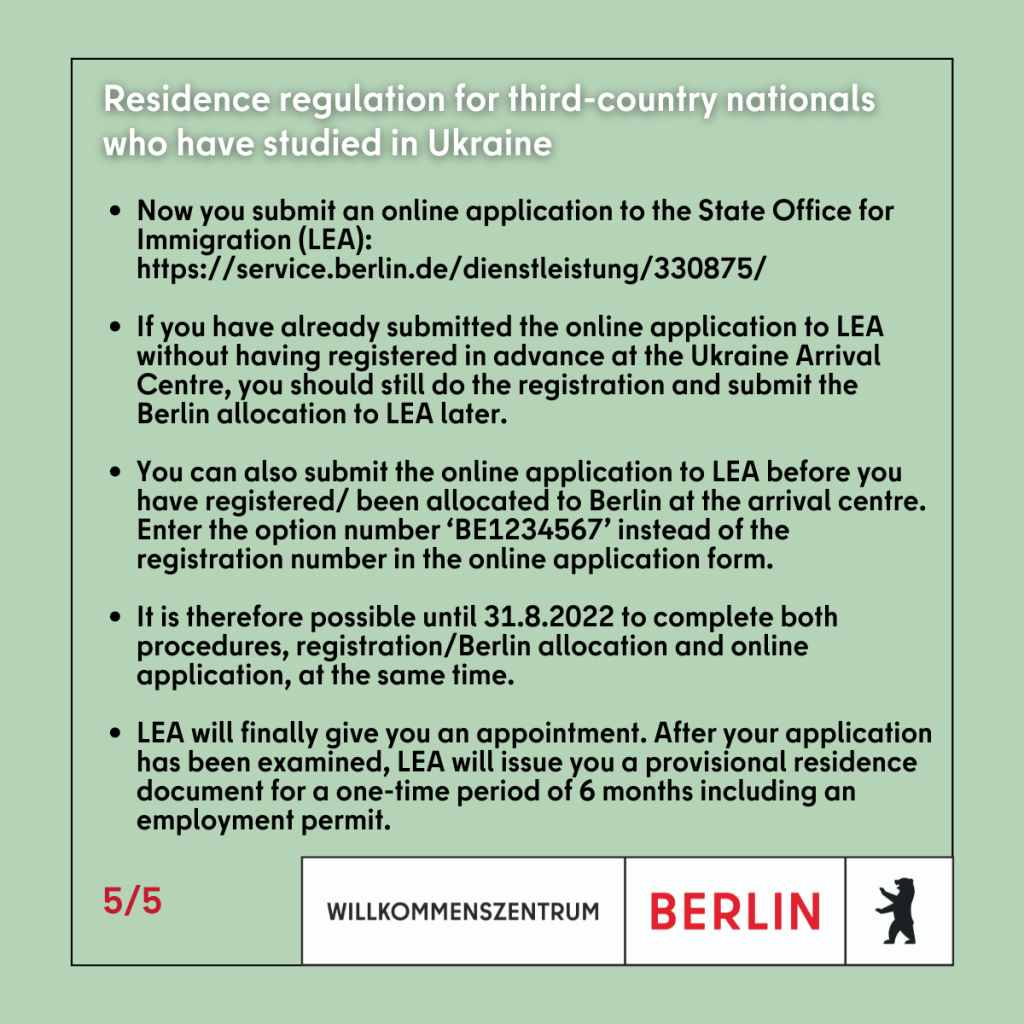 What other options do TCNs have?
Employment or apprenticeship: In principle, third-country nationals can also find a job or training position and obtain a residence title. However, German language skills at B1 level would also have to be acquired for training.
Applying for asylum: TCNs who do not receive a residence title under Section 24 of the Residence Act can apply for a residence title for the purpose of studying or a humanitarian residence title after going through an asylum procedure, among others. German NGO Pro Asyl, however, doesn't recommend it.
Important reminder: There might be slight differences between how Germany's 16 states handle the implementation of temporary protection. In case of doubt, it is therefore advisable to contact regional counseling centers, some of which can be found in this overview.
This piece is partly based on an overview by Mediendienst Integration.