Three migrants have reportedly been killed and eight injured when a car carrying 11 migrants drove off a bridge in southern Hungary. According to police, a people smuggler who drove the vehicle died as well.
At least four people were killed on Thursday, September 1 in an accident involving a heavily overloaded van carrying eleven migrants in the Hungary-Austria border region, news agency dpa reported.
The car plunged off a bridge into the Repce River a few kilometers from the Austrian border in the small northwestern Hungarian town of Kapuvar, the Hungarian 112 Emergency Press news agency reported.
According to the news agency, which reported from the scene of the crash, four passengers -- three migrants and the driver -- were killed and eight other migrants suffered injuries. The cause was initially unclear, but the vehicle was overloaded with a total of twelve occupants, police told 112 Emergency Press.
The weight may have caused the driver to lose control over the vehicle in a right turn just before the bridge, the news agency reported, adding that the barrier of the bridge over the Repce river was missing where the vehicle veered off the road.
The vehicle, which was pulled from the river on Thursday around noon, was carrying Syrian and Tunisian passengers and had a Bulgarian number plate, according to 112 Emergency Press. It also reported that the vehicle was damaged during a previous accident and no one in the car was wearing a seat belt.
Read more: Serbia: One migrant killed, several injured near Hungary border
Balkan route
Hungary is on the so-called Balkan route, which migrants take from Turkey via several south-eastern European countries to Western Europe. Serious accidents involving migrant smugglers are frequent, because the drivers are under a lot of stress, and are sometimes also being chased by the police. In this case, however, no police were in the vicinity, dpa reported citing officials.
According to an advisor to Hungarian Prime Minister Viktor Orban, 157,000 migrants reached Hungary's borders in 2022 through early August, a steep increase on last year's figure.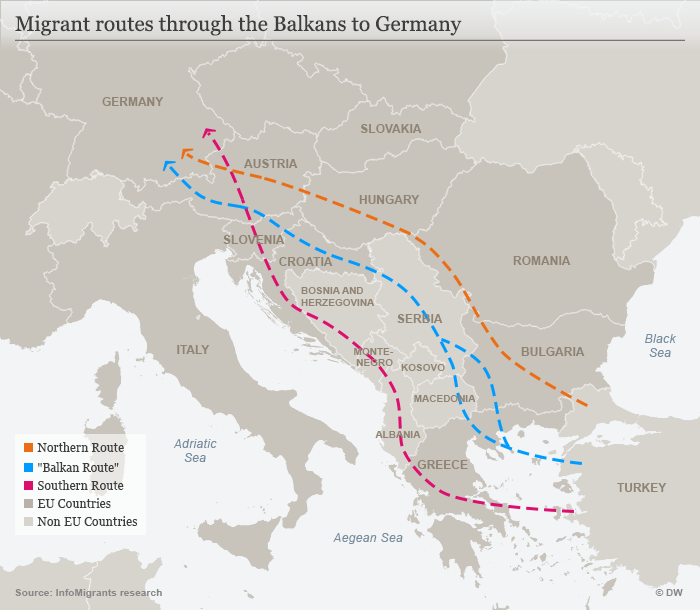 The hardline anti-immigration Orban said last month he would set up a new border security body due to the increase. In 2015, Orban erected razor-wire fences on Hungary's borders to keep out migrants and implemented harsh asylum-seeker policies that have been criticized by rights groups.
Read more: Hungary's Orban slammed for racist remarks
Lucrative and dangerous business
Migrant smuggling is a highly profitable and highly organized business. Some smuggling networks, like the one Europol busted in June, transport thousands of migrants to Europe. Europol considered the busted migrant smugglers "highly dangerous."
According to the UN Office on Drugs and Crime (UNODC), migrant smuggling is the "facilitation, for financial or other material gain, of irregular entry into a country where the migrant is not a national or resident." The main difference between migrant smuggling and human trafficking, according to UNODC, is "financial or material benefit" vs. exploitation of the victim.
Read more: Hungary welcomes Ukrainian refugees but inflexible with others
Migrant smuggling: Series of deadly accidents
The migrant deaths in Hungary highlight the mortal dangers migrants face while trying to reach European countries -- often with the help of smugglers, who are frequently arrested both inside and outside the EU for trying to bring migrants into western Europe. Some incidents -- traffic accidents as well as shootouts involving smugglers -- include:
In early August, three migrants were killed and 11 injured in a car crash in southern Hungary. Police blamed a people smuggler for the accident.
In early July, a shootout between migrant groups near the Serbia-Hungary border left one person dead and at least six others injured. The clash reportedly involved Afghan and Pakistani migrant smugglers.
In June, a pickup truck in northeastern Greece crashed, leaving one migrant dead and at least 16 injured. The driver had been reportedly attempting to evade a police checkpoint.
In April, two migrants died after being hit by a lorry on a highway between the Italian cities of Genoa and Ventimiglia in northwest Italy. A third person was seriously injured.
In January, a Belgian court sentenced a Vietnamese man to 15 years in prison after convicting him of being the ringleader in the trafficking of 39 migrants found dead in a lorry. Their bodies were found in a truck outside London in October 2019.
In December 2021, a car carrying at least ten migrants crashed into a house in Hungary. Seven people reportedly died and four were injured, including the driver of the car.
In July 2021, at least 12 people died and many others were injured when their minibus overturned and caught fire in Van province in eastern Turkey.
In March 2021, a truck carrying Syrian migrants crashed near the Croatia-Bosnia border, leaving four migrants dead and at least 11 people injured.
In August 2015, Austrian police discovered an abandoned truck containing the bodies of 71 Iraqi, Syrian and Afghan migrants. Among the suffocated victims were eight children. The truck, found parked along a highway, had crossed into Austria from Hungary.
In June 2000, 58 Chinese immigrants were found dead inside an airless truck in the English port town of Dover. The Dutch truck had transported the immigrants across the English Channel from Belgium.
With dpa