Spain's practice of pushing back migrants from its North African enclaves to Morocco is controversial. But is it permitted by law?
In June, when about 2,000 men tried to enter the Spanish enclave of Melilla from Morocco, at least 27 people lost their lives and many were seriously injured in the ensuing violence.
Scores of people managed to get over the high fence surrounding the Spanish territory and were taken to temporary migrant reception centers. Others were 'pushed back' by Spanish authorities, according to human rights groups – meaning that they were immediately expelled back to Morocco without being given the opportunity to ask for asylum.
Experts from the UN and others expressed concern about this practice, which they say violates European human rights law. But in fact, according to the European Court of Human Rights (ECtHR), pushbacks at Europe's land borders, or 'hot returns', do not necessarily breach the European Convention on Human Rights.
Decisive case
This was decided in 2020 in the case of ND and NT v. Spain, which was brought by two men, one from Mali and the other from Ivory Coast, who had climbed the fence surrounding the Spanish enclave of Melilla.
The court said the two could have applied for international protection at a border crossing point, or at a Spanish embassy. According to migrants and observers, however, Black migrants from sub-Saharan Africa are prevented from approaching the border posts, and except in cases of family reunification, there is no procedure for seeking asylum in a Spanish embassy or consulate abroad.
The two men had also acted unlawfully by crossing the border as part of a large group and by force, according to the court. Therefore, they were to blame for their inability to assert their rights.
Carte blanche warning
Spain has been carrying out hot returns (devoluciones en caliente) since 2005. Following the 2020 ECtHR judgment, some legal experts warned that they had finally been given the green light.
In Melilla it is certainly common procedure that as soon as migrants set foot in Spanish territory, they are returned to Morocco without any further process or opportunity to claim asylum.
This also happened on June 24, 2022, according to the testimonies of migrants. One young Sudanese, Atroon, who had already tried 10 times to get into the enclave, said he had been forcibly deported back to Morocco after having reached EU soil. "They just send you back to Morocco. Sometimes they even allow Moroccan police officers to get you," Atroon told DW. "Most people think they've made it once they cross the border. But often they just push you back."
This practice was also witnessed by a journalist Javier Angosto, who told DW that he had seen 30 to 40 migrants deported to Morocco after they had succeeded in reaching Spanish territory.
Moreover, Melilla's head of government, Eduardo de Castro, conceded that not all the migrants who tried to jump the fence on June 24 would have been given a chance to seek asylum.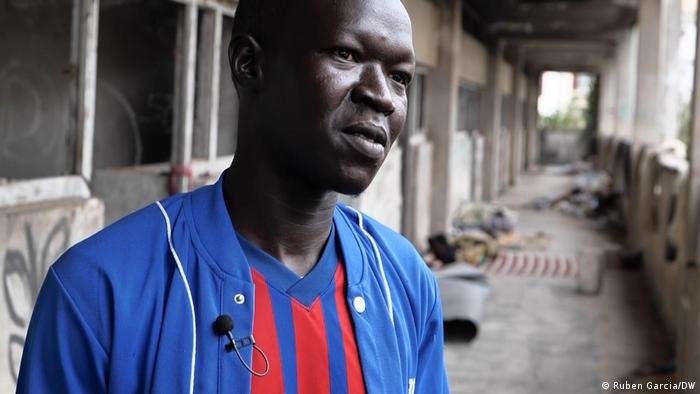 'Nothing left to lose' 
Even if the ECtHR judgment is seen as having vindicated the hot returns policy, Spain still remains bound by other legal obligations, such as the prohibition on refoulement. In the case of the two migrants ND and NT, "Spain simply was lucky that of all the people who were returned … the complainants could not substantiate in court that they had a protection need," says Anna Lübbe, a professor of public law based in Fulda, Germany.
It follows that if any of the mostly Sudanese and Chadian men who were pushed back on June 24 faced persecution, torture, or other serious human rights violations, their expulsion from Melilla would be unlawful.
Atroon, who was planning his next attempt to jump the Melilla fence when he was interviewed by DW, says he does not want to return to his home country under any circumstances. "You either have to join the army or look for illegal work," he says. "I will try again and again. We have nothing left to lose."