Refugee groups in Germany have condemned the deportation of Pakistani asylum seekers while the country is experiencing catastrophic flooding.
A deportation flight took off from Munich on Tuesday (September 6), bound for the Pakistani capital Islamabad. The Bavarian Refugee Council, Abschiebungsreporting NRW -- a project for the documentation of deportations -- and Hum Hain Pakistan called it an example of "humanitarian bankruptcy."
About 33 million people have been affected by the floods in Pakistan, which were caused by unusually heavy monsoon rains. At least 1,300 people have died, according to the United Nations.
Samar Khan, from Hum Hain Pakistan, said deporting people against their will to a situation of "pure chaos" was irresponsible. He pointed out that the UN is sending emergency aid to Pakistan, while Germany is deporting vulnerable people back to the country.
Also read: Germany: Human stories of deportation
Family had lost everything
In recent days, several people from Pakistsan are said to have been held in pre-deportation detention in Bavaria and neighboring Baden-Württemberg. Many of them come from Punjab province, where some regions have been massively impacted by the floods.
'H.' from Holzkirchen/Ingolstadt had lived in Germany since 2015. He faced forced return to his home province of Punjab, though his village had been submerged and his family had lost everything, the refugee groups said. The fact that H. also had a job offer did nothing to prevent his forced return.
The organizations said some of those facing deportation might have been eligible for the 'right to remain'. Under the new coalition government's proposed immigration reforms, people who have lived in Germany for more than five years with a so-called 'Duldung', or tolerated status, will have the prospect of being granted residency rights.
Some German states have already introduced regulations to prevent deportations of migrants who could be eligible for residency under the reforms. In 2021 Germany deported 513 people to Pakistan.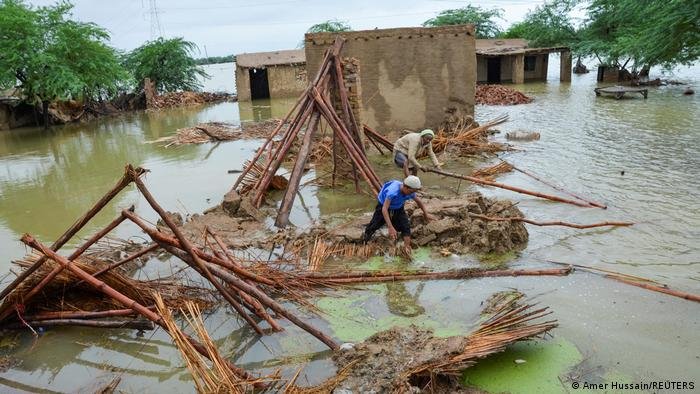 Hit by climate change
The Pakistani government has described the floods as a climate catastrophe of epic proportions. The refugee organizations claim that Germany has a special responsibility, as an industrial nation, in the fight against global warming, while Pakistan is among the countries hardest hit by climate change.
Experts believe that extreme weather events like storms, heavy rain or droughts in Pakistan will become more frequent and more intense as a result of global warming.
Sebastian Rose, from Abschiebungsreporting NRW said that because of the present "catastrophe of the century" in Pakistan, a rethink is needed.
With epd