InfoMigrants speaks to journalist Gabriela Ramírez about the detention of refugees in Lithuania and a creative project that seeks to help them cope with their situation.
Gabriela Ramírez is a multimedia journalist from Venezuela based in Berlin. As a journalist and a migrant herself, she mainly covers migration, migration policies, human rights, discrimination, etc. She is also the Head of Data and Multimedia at Unbias The News, a remote cross-border newsroom focused on giving a voice to underrepresented communities and committed to more diverse and inclusive journalism. 
While living in Lithuania for several months, she began covering a project facilitating refugees detained in a former prison turned reception center to create art as a way of improving their mental health. The Sienos Group, a Lithuanian civil society organization, started the project in the summer of 2021, aiming to help about 4,000 people who came to Lithuania through the Belarus border. Gabriela visited these detention centers in Lithuania as a volunteer with the Sienos Group, who would bring canvases, watercolors, pencils, brushes, and other art supplies to the artists in detention.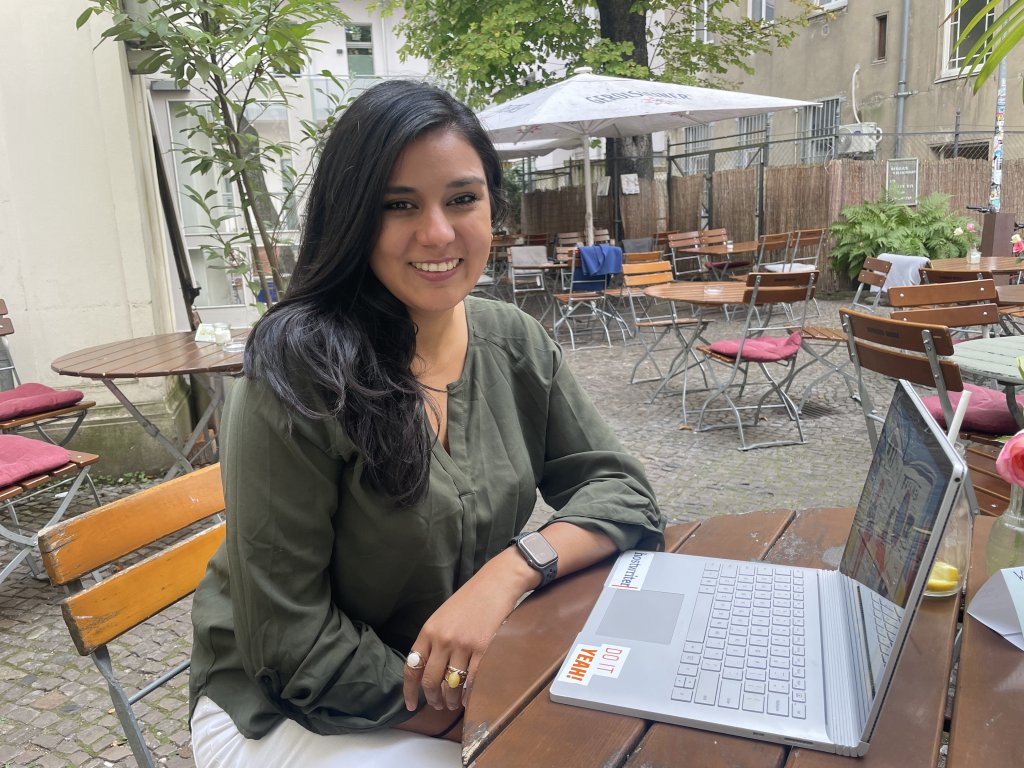 Tell us more about the project in the detention center in Lithuania?
This initiative was started by two Lithuanian women who saw the need of these people who were receiving a poor treatment by the Lithuanian border guards. At the beginning of this initiative, they just wanted to support people coming through the Lithuanian-Belarusian border with humanitarian aid, food, and clothes, etc. But soon, the initiative became life-changing for the people living in these camps, who were offered not only food but found someone in the country who saw them as "good people", in contrast to the way they were being treated and viewed by the media.
These people tried to cross the forest that divides Lithuania, Poland and Belarus, seeking asylum in the EU. However, their journeys were traumatic. They were pushed back on multiple occasions by the Lithuanian State Border Guard using physical violence, they were also verbally and physically abused, and their documents and phones were taken away… This behavior was backed up by the government, which instructed officials to "turn migrants away by force if needed."
Who are the people living in these detention centres?
Most of these people are under 30 years old and come from Middle Eastern and African countries. Most of them are from Iraq, but also people from Syria, Afghanistan, Cameroon, Congo, Egypt and Nigeria are in detention. There are over 4,000 people still remaining in the country, 500 kids among them.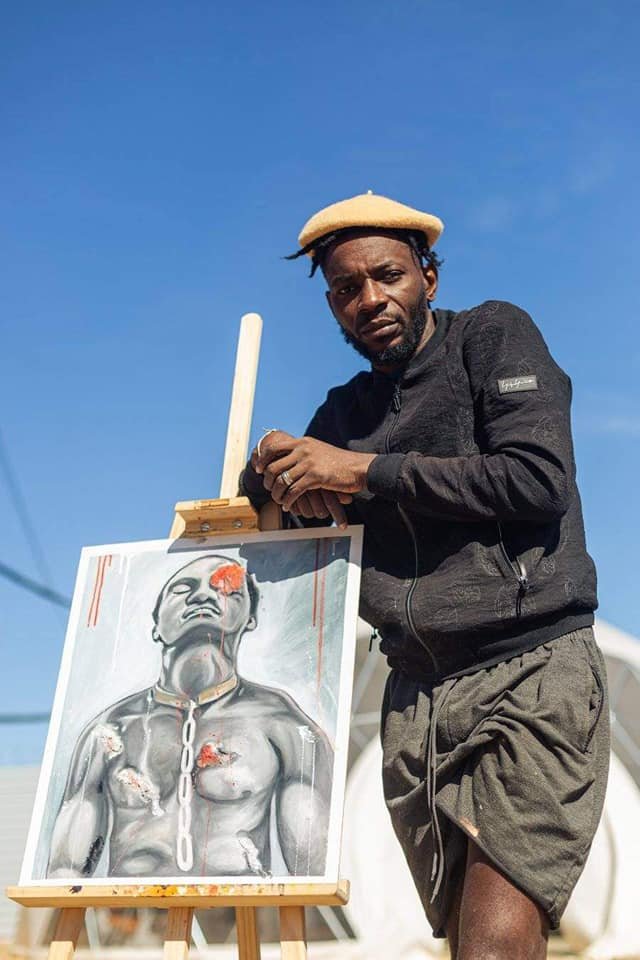 Where are these detention centres?
There are five "Foreigner Registration Centers" (as they are called) in Lithuania. I visited three of them. For example, Kybartai Foreigners Registration Center is a former prison the Lithuanian government converted into a "Foreigner Center" to accommodate thousands of migrants. However, the only change made was the name. It still looks and feels like a prison with barred windows, a high perimeter wall, and a small square with a single tree in the middle where its inhabitants can look at the sky.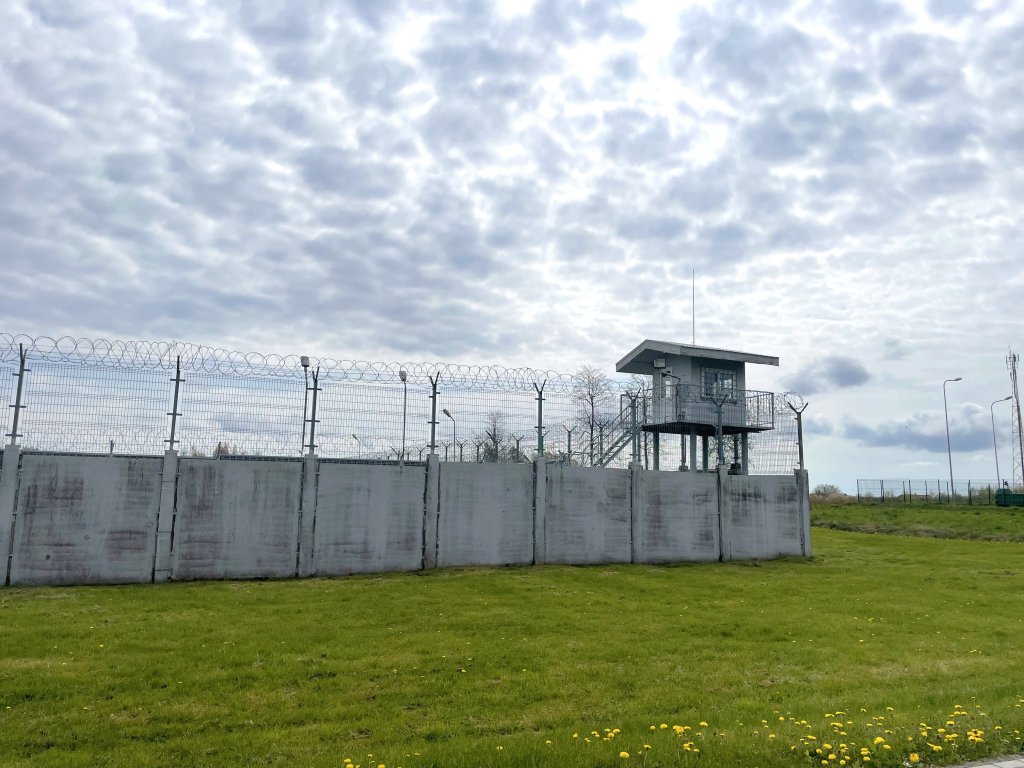 Many of them told me about the lack of coverage for their basic needs. For example, lack of food and water. They don't have soap or shampoo for their personal hygiene. The bathrooms are dirty without running water for the toilets. I even saw a video that one of them showed me where the water that would come out from the sink was dark brown. Amnesty International published a report in late June that exposed the poor living conditions these people have been in for over a year since they were detained in Lithuania. 
Can you provide some background on the government policy and attitude to refugees in Lithuania?
Lithuania's response has been determined by pushbacks and an extended detention policy that violates international law and human rights. The Lithuanian government insists using the speech that "these are not refugees, but economic migrants." They have also insisted on calling it a "hybrid war orchestrated by Belarus." However, the 1951 Refugee Convention, to which Lithuania is a signatory, does not however protect people fleeing war but individuals seeking protection on the basis of persecution because of their race, religion, ethnicity or other bases.
Also read: EU court rules Lithuania's strict asylum policy is unlawful
How does Sienos help refugees generally?
Sienos Group is only an initiative. They are not supported by the government. In fact, they have received attacks from politicians who consider them "a threat against the country" for supporting these people. Sienos Group is an example of civil society organized to amplify the voices of these vulnerable people and bring attention to an overlooked issue by public authorities.
Sienos Group has been in contact with at least 100 detained artists, but they have been able to support only around half of them due to lack of resources. Most support has come from their own pockets and the solidarity of their friends.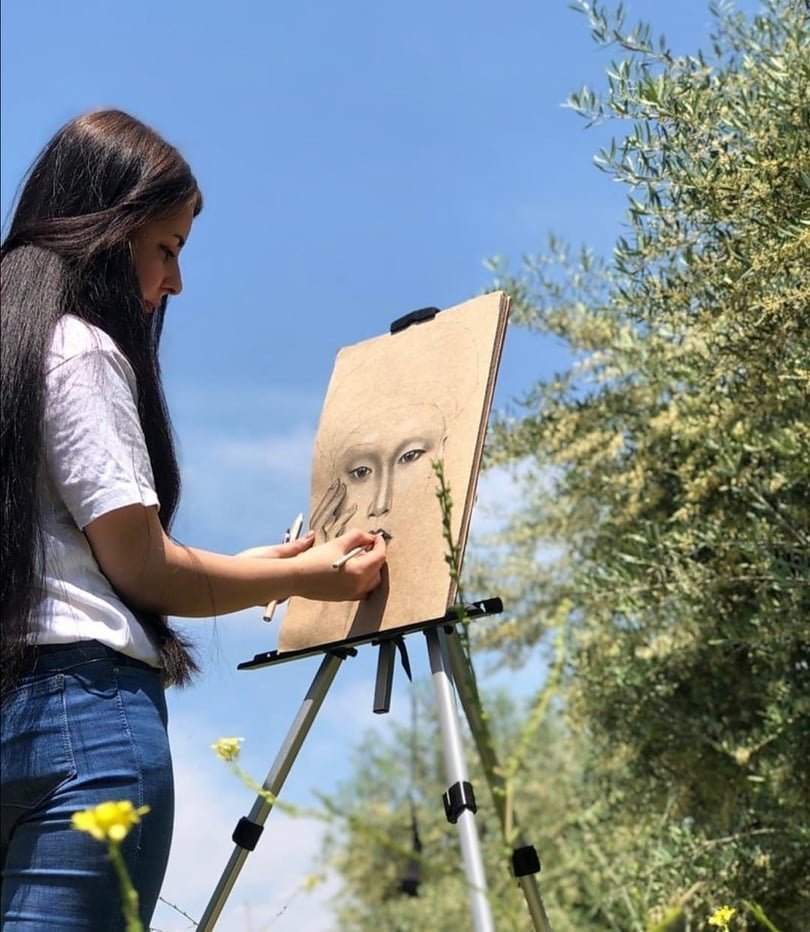 However, the lack of financial resources is not the only limitation this collective faces in continuing its work. It is also challenging to find volunteers in Lithuania, primarily because of prejudices and the media narrative used in the country against migrants and asylum seekers.
Can you tell us a bit more about some of the artists you met at the detention center?
I met several of them. Some of the things they told me still resonate in my head. For example, Amir*, who is a math teacher from Iraq and does beautiful oil paintings. His smile, kindness and some how the calm and peace he transmits is just inexplicable.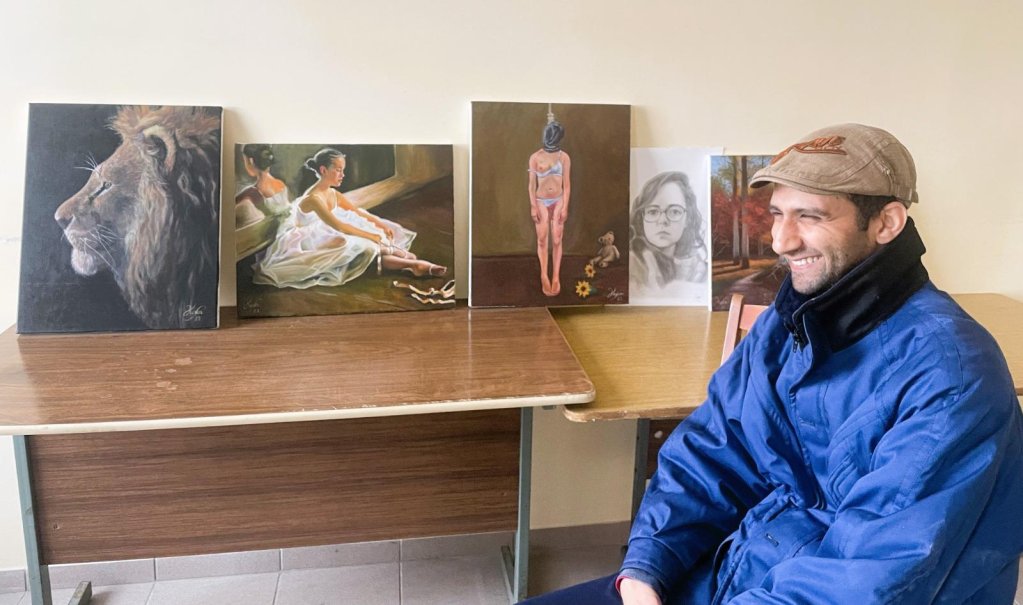 Some of them have painted since they were kids. Very talented people trying really hard to get the most out of their situation. I think if there is anything that I admire so much of these people is their perseverance, endurance and enthusiasm to help each other. They have created a network of community support for each other. For example, Carla, from Cameroon, who used to study to become a nurse, teaches English, French, and Russian for up to eight hours every day with three different lesson groups depending on the skills of her students. 
What struck you the most about the paintings you saw?
Their artistic styles vary widely, and what they paint is very different from each other. Some of them draw from their experiences, their traumas, and the violence they have suffered. On the contrary, some try to escape the harsh reality they are living through their art. Amir, for example, told me: "In this world, I can't draw anything, but when I draw, I am in another world." In that sense, one of his paintings shows a beautiful forest in Lithuania, far away from how it was for him to cross the Lithuanian forest when he first entered the country.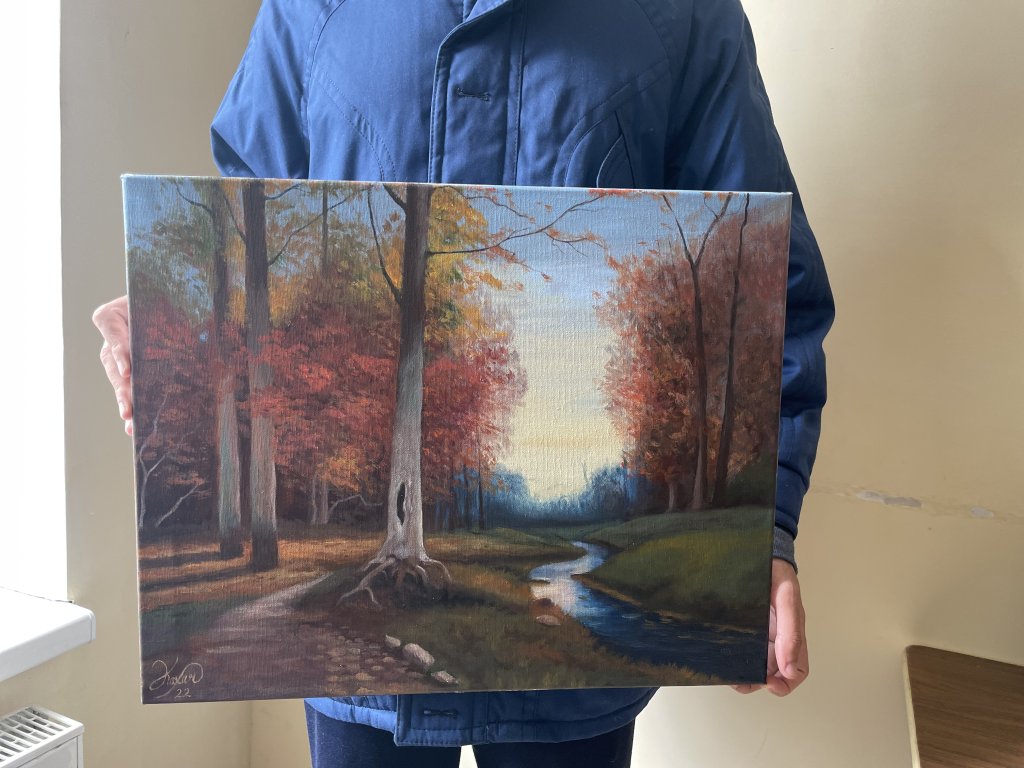 On the other hand, for many of them, art is also a way to remember. For example, Daniel draws a pencil protait of his girlfriend every month. He has now collected over 12 portraits from her. "When I miss her eyes, I draw her eyes", he told me during our conversation. 
What did the artists tell you about their experience in being detained and taking part in this project?
"The only reason why I haven't gone crazy in this prison is that I have paper and a pencil," Daniel told me. Being able to paint has been crucial to cope with the uncertainty, lengthy delays processing their asylum solicitudes, rejections on top of the fact that they are living as prisoners, they can't go for a walk or enjoy the sun, and basic things that are totally necessary for the wellness of any human being. 
Some of them still dare to dream. For some, making plans can be a way to overcome the uncertainty of not knowing what their legal procedures are. After all, dreams do not have an expiration date. For example, Amir told me about his desire to go to school again. This time not to study Math, though. He wants to go to Art School. Others told me about their dream of seeing their artistic work at museums and exhibitions worldwide. Others hope to see their family after more than seven years without seeing them… 
Also read: MSF urges Lithuania to end lengthy migrant detention
What happens to these paintings?
Making art is the only resource they have to feel alive, useful, and productive while in prison. Being able to paint has also empowered them to believe in their talent and potential, especially after seeing their artwork displayed in exhibitions at universities, community, and cultural centers across the country. There was even a recent exhibition at the parliament of Lithuania, where some of the artists were allowed to attend. For most of them, this was the first time breathing fresh air outside the detention centers since they were detained.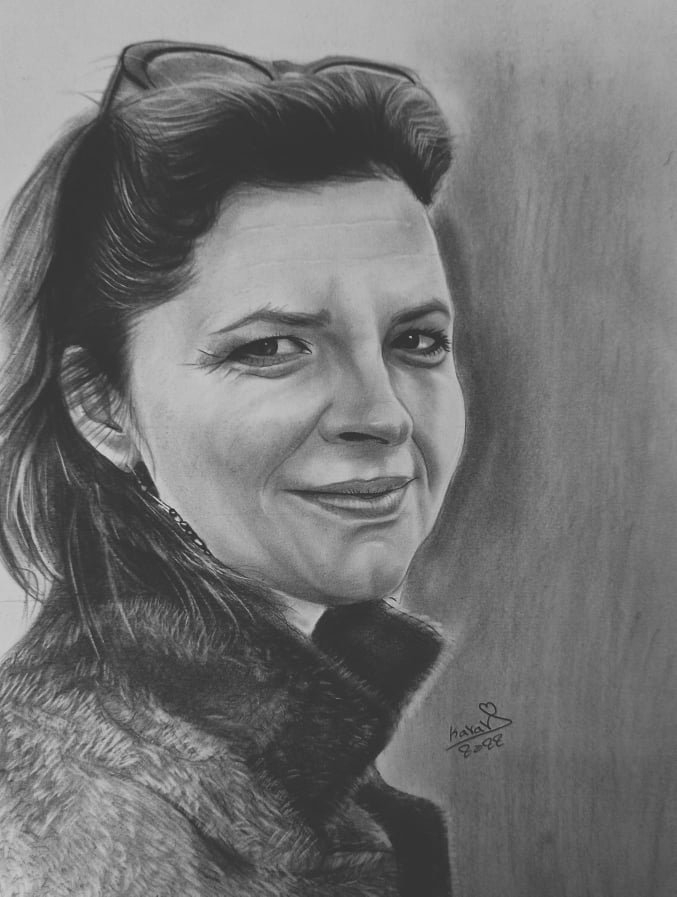 Many of their paintings are sold in the centers to the personnel working there, Lithuanian guards and kitchen workers, for example. They often ask these artists to draw them or their kids, wives, etc. Also, Sienos Group and its volunteers publish their work across different social platforms. They also receive donations that come from the goodwill of anyone who wants to support them. But money is the last reason many of these artists paint.
What do you think the consequences of the Lithuania border wall will be for people fleeing violence?
By now, we should have learned that building walls does not avoid migration. Migration has always existed, and it always will. In fact, migration will not decrease in the future. One of the main drivers is climate change.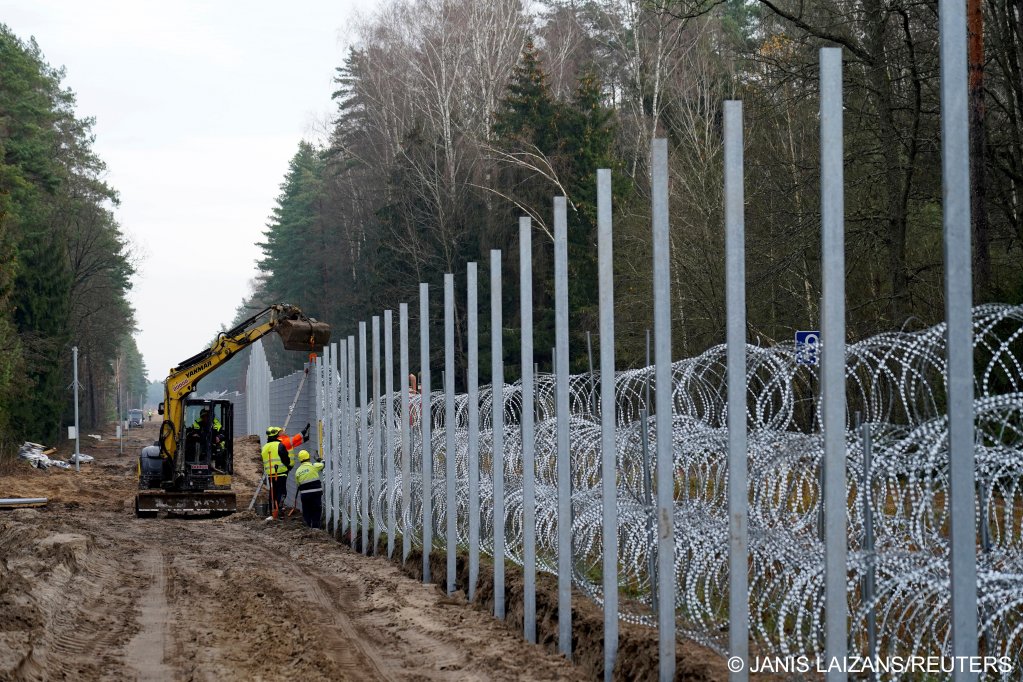 I wish I don't have to hope for a fair response for these people, but rather I would prefer to see how governments implement the same efforts for all migrants and people seeking asylum. Lithuania, on the other hand, had given an example by receiving over 48,000 refugees from Ukraine since February, when the war started. However, it declared a state of emergency and detained over 4,000 from the Middle East and African countries due to a "lack of infrastructure." I think the numbers speak for themselves. This has demonstrated that when there is political will, everyone can have a place, but for that, racism and discrimination need to be left behind. 
Also read: EU border states extend physical barriers to stop migrants