Nearly 600 migrants and refugees arrived on the Italian island of Lampedusa on Tuesday; more than 170 did on Wednesday. One man was found dead on a boat that reached the island. Meanwhile, nearly 400 people were rescued from a drifting fisher boat off Calabria on Wednesday as well.
At least 745 migrants and refugees arrived on the southern Italian island of Lampedusa on Tuesday and Wednesday (September 13 and 14).
In addition to 572 people -- mainly from North Africa -- who arrived on the island aboard 25 boats on Tuesday, another 56 people on three vessels arrived on Wednesday morning.
One migrant found dead on boat from Libya
Also on Wednesday, Italian police reportedly intercepted a boat half a mile from the port of Lampedusa. One of the 118 passengers was found dead.
The man -- a 35-year-old Bangladeshi national -- had been ill prior to the boat's departure, had reportedly vomited repeatedly during the crossing and died on the boat, other passengers told police. An inspection of the body reportedly confirmed that the man did not die a violent death.
The boat had departed at around 8 pm local time on Sunday from Zawiya in Libya, sources said.
The passengers on the boat included citizens of Bangladesh, Syria, Egypt and Pakistan. Most were reportedly adult men, but there were three women and two minors among the group.
Lampedusa hotspot overcrowded once again
Migrants and refugees hosted at Lampedusa's hotspot continue to face difficult living conditions due to severe overcrowding.
There were a total of 1,392 people staying at the reception center as of Wednesday morning. That's roughly four times the facility's capacity, which is built to accommodate just 350 people. Many migrants and refugees were expected to be transferred to less crowded facilities across Italy.
Lampedusa is not the only region that has registered a spike in boat arrivals so far this week -- newly arrived migrants and refugees were also registered in the area of Siracusa, Sicily.
Nearly 400 migrants, refugees rescued off Calabrian coast
Italian coast guards also rescued more than 380 people from a fishing boats adrift off the coast of the southern region of Calabria. A small group of them was quickly brought to nearby Roccella Ionica to receive medical care; most were transferred to the coast guard ship Diciotti, which brought them to Crotone, further north in the region. They disembarked there during the night between Wednesday and Thursday.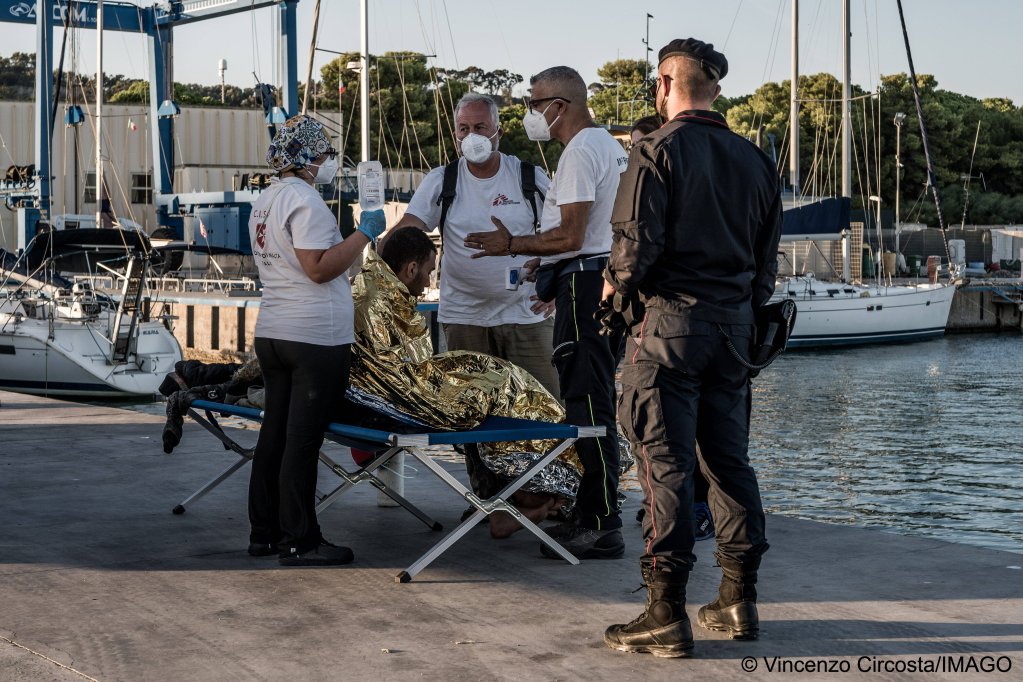 Several migrant groups were also blocked from setting sail for Italy from North Africa over the past few days. Tunisian authorities reportedly stopped 34 departures which they described as "operations of illegal crossings of maritime borders" on Tuesday.
Tunisia and Libya are the two main African countries of departure for migrants and refugees hoping to cross the central Mediterranean Sea to Italy.
Foundation calls for more rescue efforts, safe pathways for refugees
Meanwhile, the Fondazione Migrantes released a statement on Wednesday, calling for safer pathways for refugees trying to reach Italy. They said that the "Mediterranean is once again a tomb, a cemetery," commenting on the death of six migrants on a boat that reached Italy on Monday.
Monseigneur Gian Carlo Perego, the president of the migrant aid foundation of the Italian Bishops Conference (CEI), demanded "joint action of NGO-run rescue vessels and military planes of European countries" to save people in the Mediterranean and a "European action in Libya to plan humanitarian and legal pathways for those who have a right to a form of international protection."