They were enslaved, raped or murdered: In 2014, thousands of Yazidis suffered a gruesome fate at the hands of the Islamic State terror militia. Survivors were often deeply traumatized. After spending years in IDP camps in Iraq, over 1,000 Yazidis have found refuge in Germany since 2015. InfoMigrants spoke to two of them about their escape, their traumas and their lives in Germany.
In Bad Saarow, a sleepy town in eastern Germany known for its hot springs, a mansion with weathered red tiles lies between a quiet street and a lake. Once an hour, a bus departs right outside the gate to Fürstenwalde, the next bigger city. Visitors have to register with security staff that guard the large building around the clock. Signs on the street reveal it's a shared accommodation facility run by Caritas, the Catholic relief organization.
The spacious estate, the remote location and the serene atmosphere are no coincidence: The facility is home to 51 Yazidis who survived the atrocities by the Islamic State. Fatma* is one of them. The 36-year-old arrived in Bad Saarow, which is located around 50 kilometers southwest of Berlin in the state of Brandenburg, in the fall of 2019 together with her aunt and two cousins.
"Before the attack by IS, we led a very simple but happy life in Iraq," Fatma tells InfoMigrants during a visit in July. "But after we fled, I didn't feel comfortable. I had a lot of family members and friends around me, but I couldn't share my sorrows with them as they had the same problems. There was nobody to pass all this pain inside me on to. That's when I missed my parents and siblings the most."
Of Fatma's core family, only one of her four brothers survived the IS terror. The other three and her parents have been missing ever since the Islamic State (IS) attacked her village in northern Iraq.
'I cannot shake off my problem'
The plight of the Yazidis started with a horrific massacre in the town of Sinjar on August 3, 2014. It was the beginning of the large-scale, violent offensive by the IS against the Yazidi people in the areas they traditionally populated in northern Iraq.
During the atrocities now widely considered genocide, more than 5,000 people were killed, and 7,000 were forcefully removed or abducted. Girls and women in IS captivity were subjected to rape and other ordeals.
Fatma was one of those who were abducted by IS fighters, who kept her as a slave. In 2016, she was freed and brought to a camp for internally displaced people. Others never returned -- at least 2,500 women and children remain missing to this day.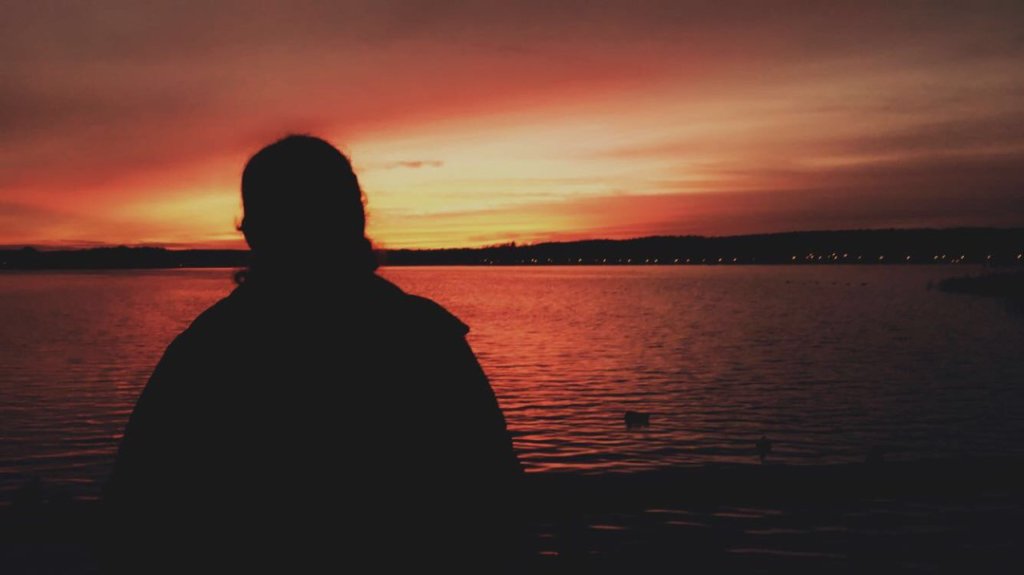 In the IDP camp, Fatma kept a distance from people. "I didn't want them to ask me about what I had been through. And I didn't want to ask any questions," she says in the Kurdish language Kurmanji, her mother tongue.
Thanks to a NGO that supports traumatized Yazidis, Fatma had access to psychotherapy in the camp. She also did yoga, which helped her a lot, she says. "I was able to deal with the problem, but I cannot shake it off to this day."
Narrow escape
Dheyab Ali grew up in the small village of Kocho not far from Fatma's hometown in the Sinjar district of northern Iraq. It is located about 110 kilometers west of Mosul and 60 kilometers east of the Syrian border. When the IS took control of his village in 2014, Dheyab and some 50 family members hid in a friend's basement before they managed to escape to the Sinjar Mountains together with tens of thousands of other Yazidis.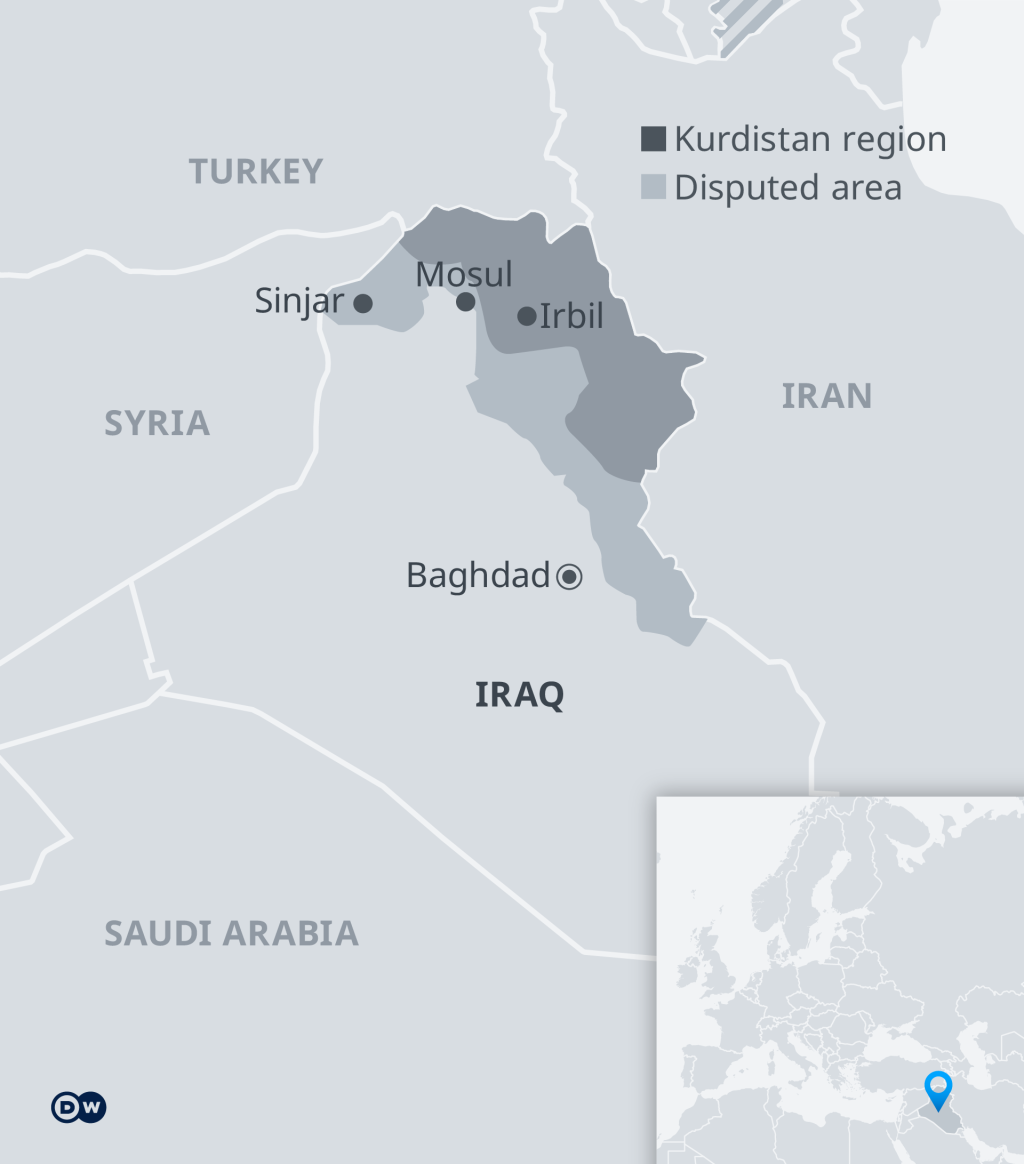 "Our friend told us: 'If you don't leave my house, they will come back and kill all of you right here," Dheyab tells InfoMigrants during the same meeting. "I knew that if they find us, they'd kill me and take my wife and children with them. I cannot describe this feeling. And then we spent 12 days in the mountains without even having bread, we had nothing. Sometimes we felt dead, sometimes alive."
Surrounded by IS fighters who were firing on them, up to 50,000 Yazidis were trapped in the Sinjar Mountains for more than a week. Being largely without food, water or medical care, they were facing dehydration and starvation. Kurdish fighters and US airstrikes eventually broke the siege, and Dheyab and many other Yazidis were brought to IDP camps in the Iraqi Duhok province.
Shared sense of loss
Dheyab's hometown Kocho was the site of one of the most gruesome massacres of Yazidis by the Islamic State. Around 600 Yazidi boys, men and older women are believed to have been killed there in August 2014. "That's the story every Yazidi shares: We worked all our lives to establish our livelihoods; but within one day, it was all gone," Dheyab says, his face looking pensive.
Like Fatma, the 40-year-old now lives in the Caritas facility in Bad Saarow with his wife and their three children. They are two of more than a thousand traumatized Yazidis from Iraq who have arrived in Germany since 2015 via two special humanitarian reception programs, one in the southwestern state of Baden-Württemberg, the other one in Brandenburg.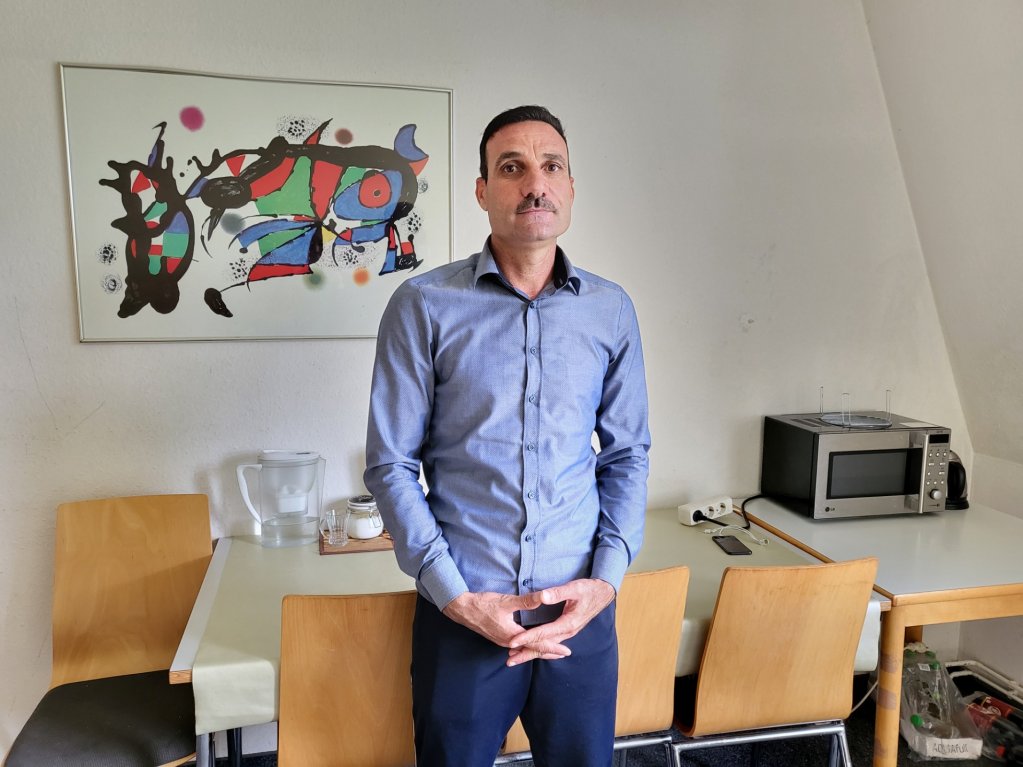 Among the first Yazidis who arrived in Germany in 2015 was Nadia Murad. The now 29-year-old, who grew up in Kocho like Dheyab, received the Nobel Peace Prize in 2018 for shedding light on the plight of her people at the hands of IS, including the abduction of Yazidi women into sexual slavery. 
Leaving his family behind in the IDP camp was very difficult, says Dheyab. "Being far away from my family in a safe place is an uncomfortable feeling. My mother and my family aren't safe in Iraq, so I had feelings of guilt when I left them. That's why I don't have a sense of security here in Germany yet."
With an estimated 150,000 members, Germany is home to the largest community of the Yazidi diaspora worldwide. It is also the country from where many of the perpetrators had joined the radical Islamic terror militia IS, some of whom physically abused Yazidi slaves.
'Fire on the snow'
When asked about her life in the IDP camp, Fatma says she felt like "fire on the snow," a Kurmanji expression used to describe a situation of great insecurity. Yet her job at a women's advice center with a Yazidi NGO gave her life structure and meaning, she says. It also allowed her to return to her village regularly.
After two and a half years in the IDP camp, Fatma says, the five of her siblings who had arrived in Baden-Württemberg in 2015, asked her to join them. But it took six months before she got permission to go to Germany. And even then, leaving the people she met there over the years was difficult. But she says she needed a positive change in her life.
"At the airport, I had goosebumps and my heart was racing," Fatma tells InfoMigrants. "I thought my life's task was to receive and bury the bone remains of my relatives in my village. But at this moment, I decided to leave it all behind and fly to Germany."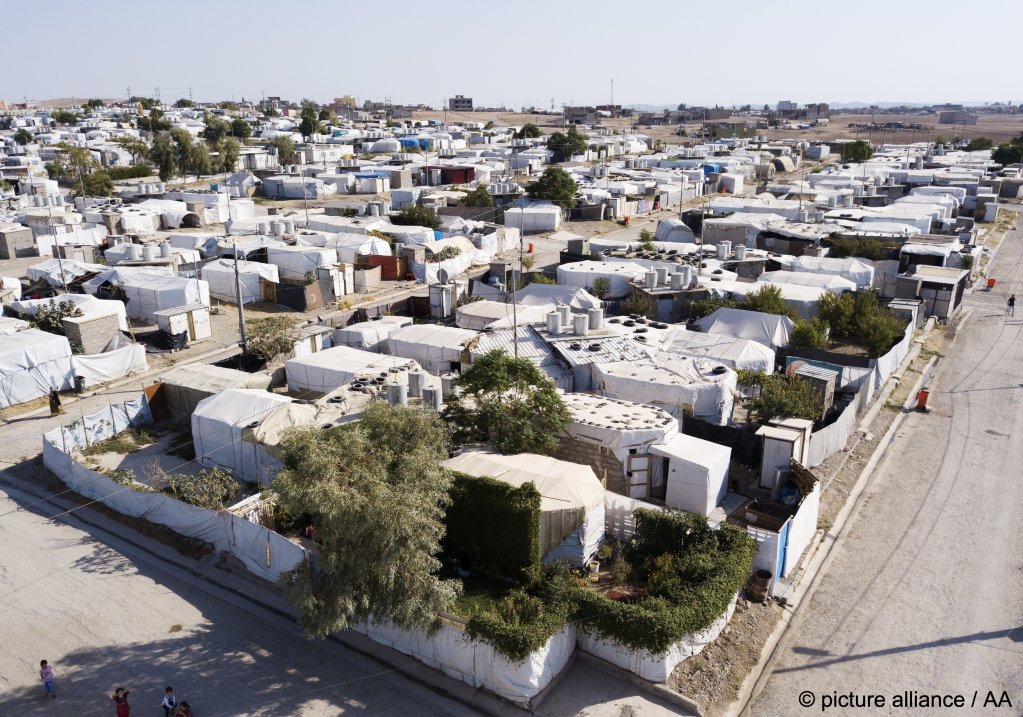 Fatma says she found "inner peace" in Germany upon finding out she could return to Iraq anytime. So far, she has been back twice. And although she never wants to return to Iraq for good, she still feels like she hasn't fully arrived in Germany yet, she says.
"I arrived in Bad Saarow three years ago, but my journey has lasted for eight years really. It's mostly been a really bad time. It's because I cannot trust people. I don't have any friends. I miss that very much."
Life without fear
In July, Germany's national Parliament, the Bundestag, unanimously approved a petition calling for the 2014 mass murder of Yazidis to be recognized as genocide. Several UN bodies, the European Parliament and at least ten countries, including the US, the UK and Australia, had already taken this step.
"The recognition by Germany is good, but it's not enough," Dheyab tells InfoMigrants. "If more European countries, and more large countries followed suit, it would help us more. Perhaps we cannot completely forget everything, perhaps not even our children. But my hope is that more countries recognizing the genocide means our children can have a better life in our homeland without fear. Seeing this makes processing our traumas easier for us."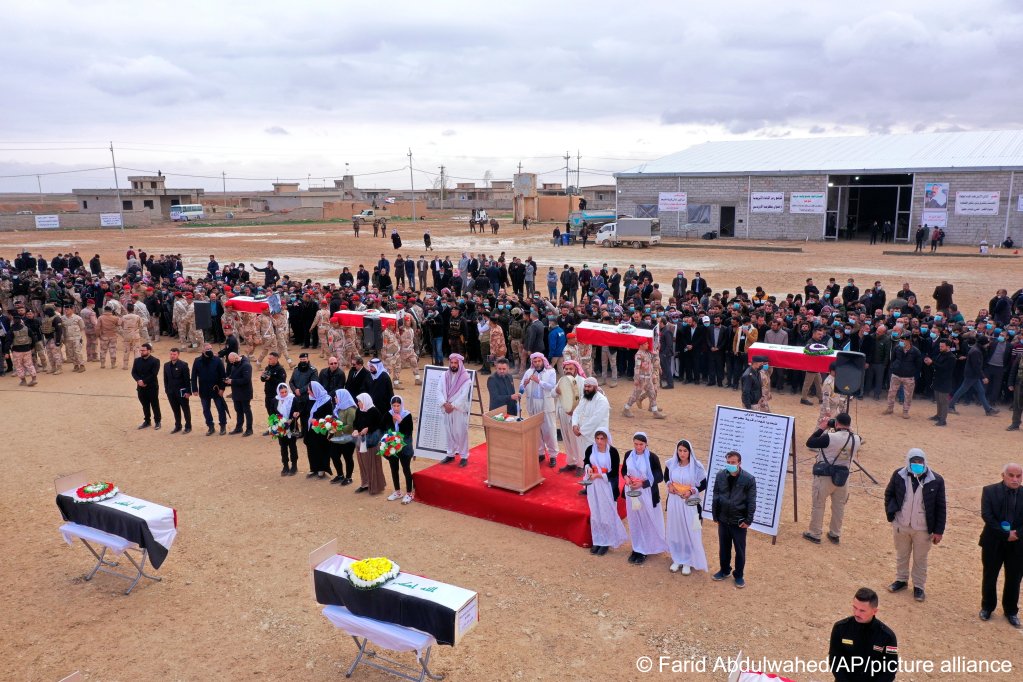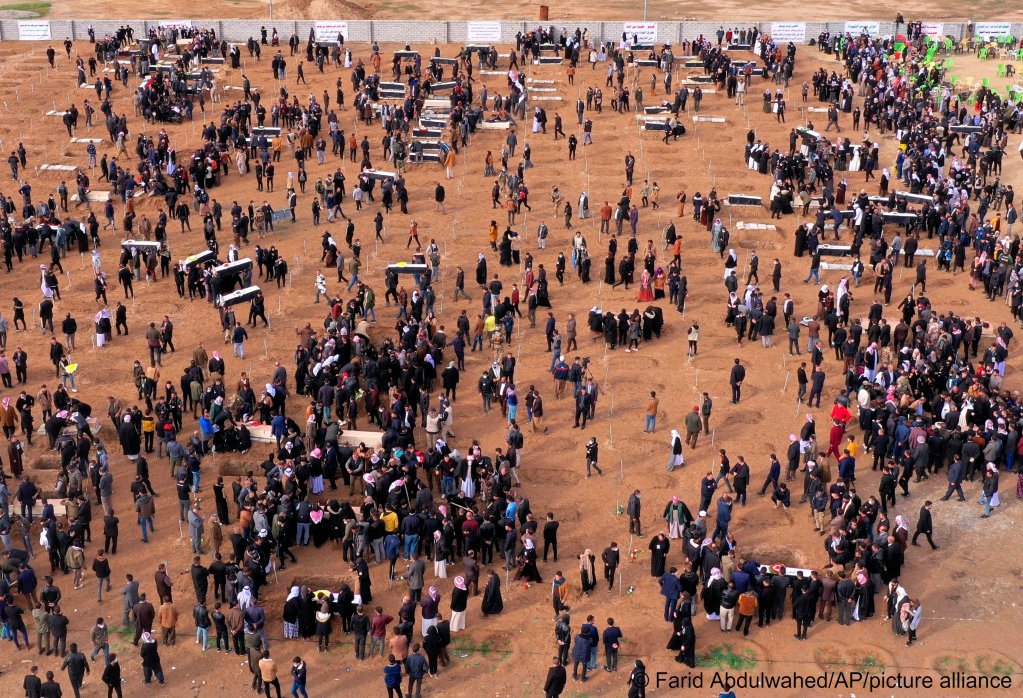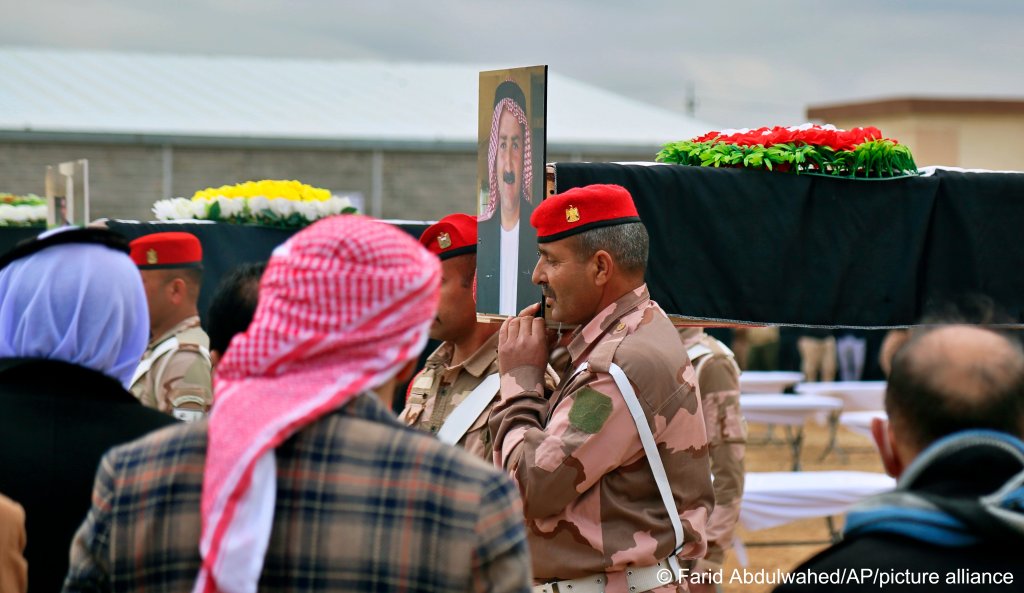 Even though their religion has been a major reason for their persecution for centuries, Fatma considers it very important for the Yazidi community to keep practicing it peacefully as well as living and sticking together. "There's no script that says we are to judge any other religion," she says. "I like that a lot. Our religion is a peaceful one."
Group prayers and fasting is how she and other Yazidis worship at the Caritas facility, Fatma says. For important Yazidi religious festivals, they are invited to pray at the local Protestant church. They also attend regular church services there every now and then.
Beliefs of the ancient Yazidi religious minority unite elements of different Middle Eastern religions -- particularly Islam, but also Christianity. Their religious center is Lalish, located around 50 kilometers north of Mosul. Today, most Yazidis are located in northern Syria, northwest Iran, southeast Turkey and, primarily, in northern Iraq.
Finding peace in nature
Fatma says the atmosphere in and around the Caritas facility makes her feel calm and comfortable. While she doesn't have enough money to afford a gym membership, she exercises regularly at home, she says. She also likes to go for long walks outside.
"Sometimes, when I don't feel well, I just go to the lake. It calms me down. I often talk to the lake, too. If I could swim, I'd dive and leave everything down there, and then come back up without sorrow."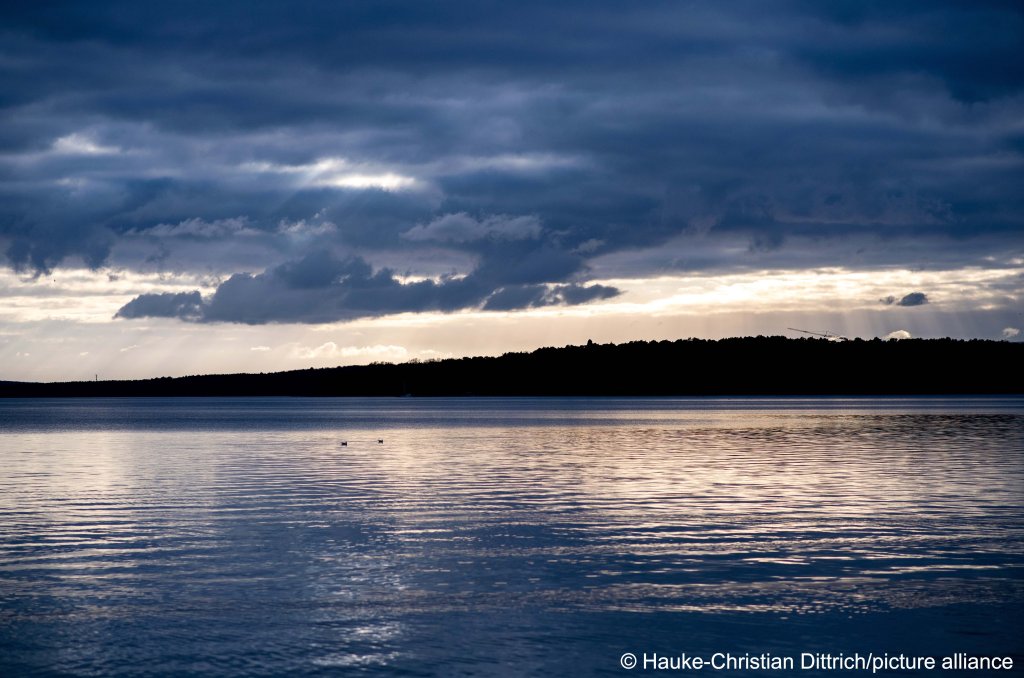 In the Caritas facility, Fatma shares a "comfortable and clean" room with one of her two cousins. But this arrangement also means sharing emotional baggage often. "Sometimes, I think it would have been better to room with somebody else who didn't share my problems."
Still, she describes her small community as "one big family," for which the community kitchen serves as the central meeting point. "We talk a lot there, also about sad topics. And we always cook together. When there's a nice occasion, we eat outside, together with the Caritas employees."
While she enjoys cooking meals like the typical Kurdish dish Kutilk -- dumplings filled with bulgur and meat --, eating it isn't enjoyable. "I cannot taste anything anymore," she says with an empty gaze.
Stranger in a strange land
Until June, all Yazidi residents took obligatory, daily German language and integration lessons. In July, Fatma passed the B1-level language exam. Fatma and almost all of the other female residents have also been doing psychotherapy and art therapy several times a week.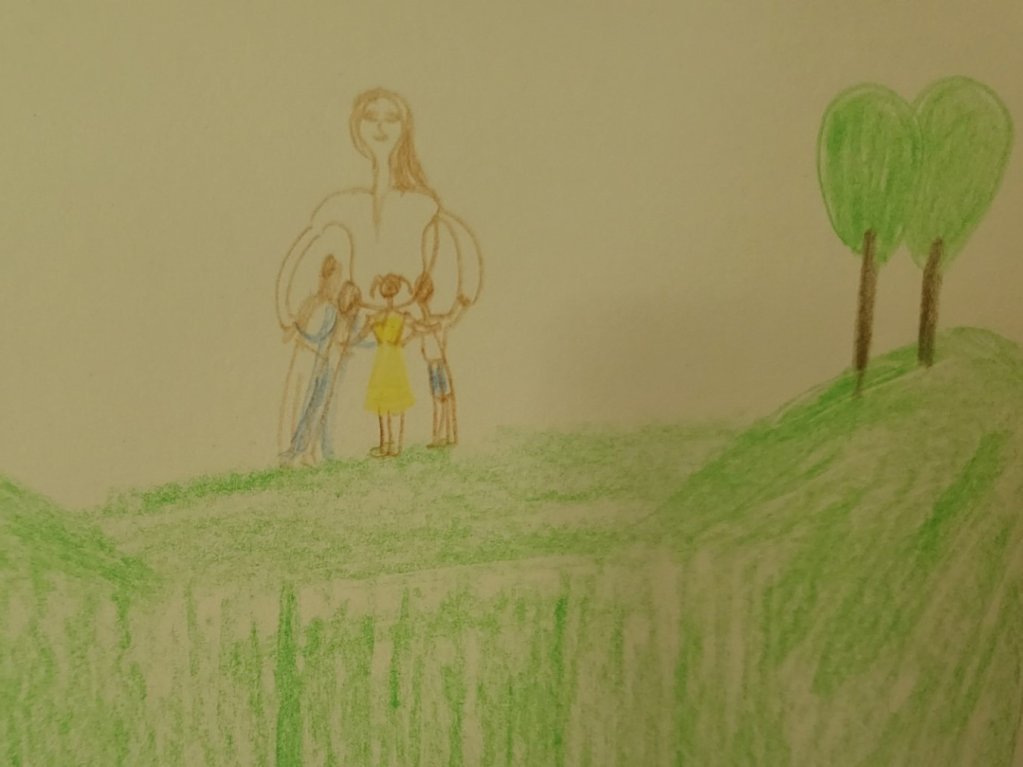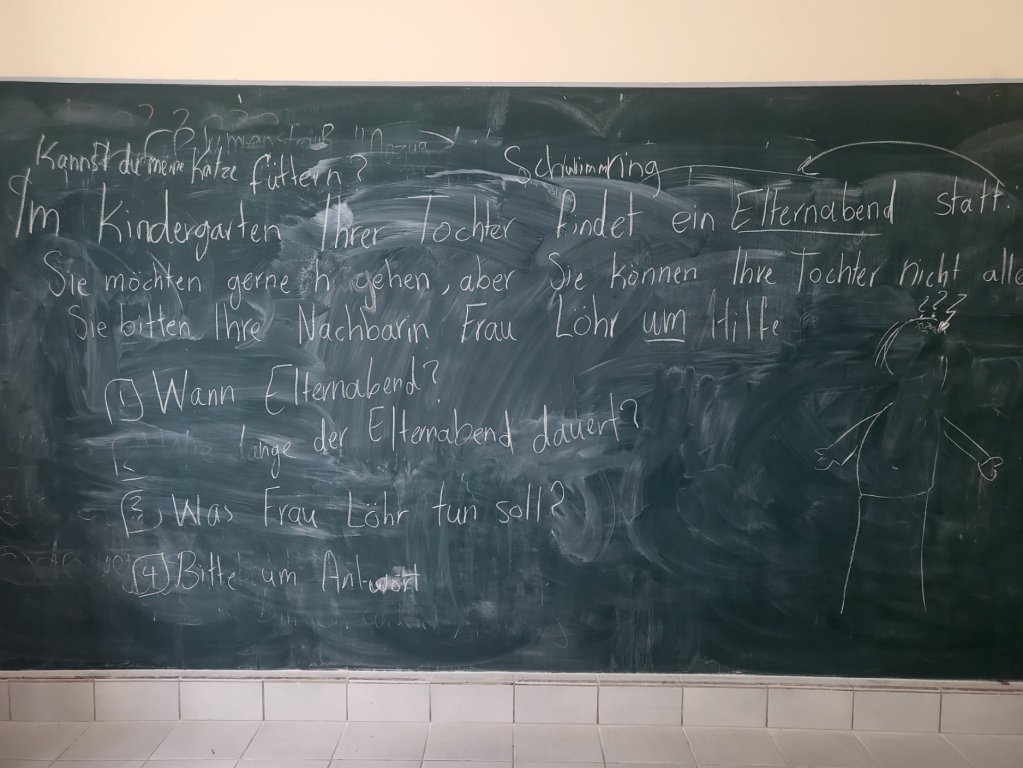 Children, teenagers and younger adults attend schools in Fürstenwalde, the next bigger city. Others are currently in the application phase for apprenticeships, and a few have already taken up paid employment -- including Dheyab, who started working for the Mercedes Benz dealership in Fürstenwalde as a caretaker in August.
Aside from the 51 Yazidis, 17 Ukrainians and 11 people of other nationalities currently call the facility home. But they hardly talk to one another, mainly due to the language barrier, Dheyab says.
Fatma only has a few contacts outside the Caritas facility. "I feel like the Germans in this town don't want anything to do with us," she tells InfoMigrants. "Perhaps it's because we don't speak the language well. But sometimes I go to Berlin with the other people who live here."
A home away from home
Unlike Fatma, Dheyab found a second home elsewhere: FSV Preußen Bad Saarow, the local soccer club. Together with another Yazidi, the father of three practices twice a week and plays a league game on weekends during the season. When asked about his favorite team in the world, he answers promptly and without hesitation: "Bad Saarow".
"My coach told me: 'You don't play like you're 40 years old. You always play well the whole 90 minutes," the defender says proudly. When he talks about soccer, his face lights up.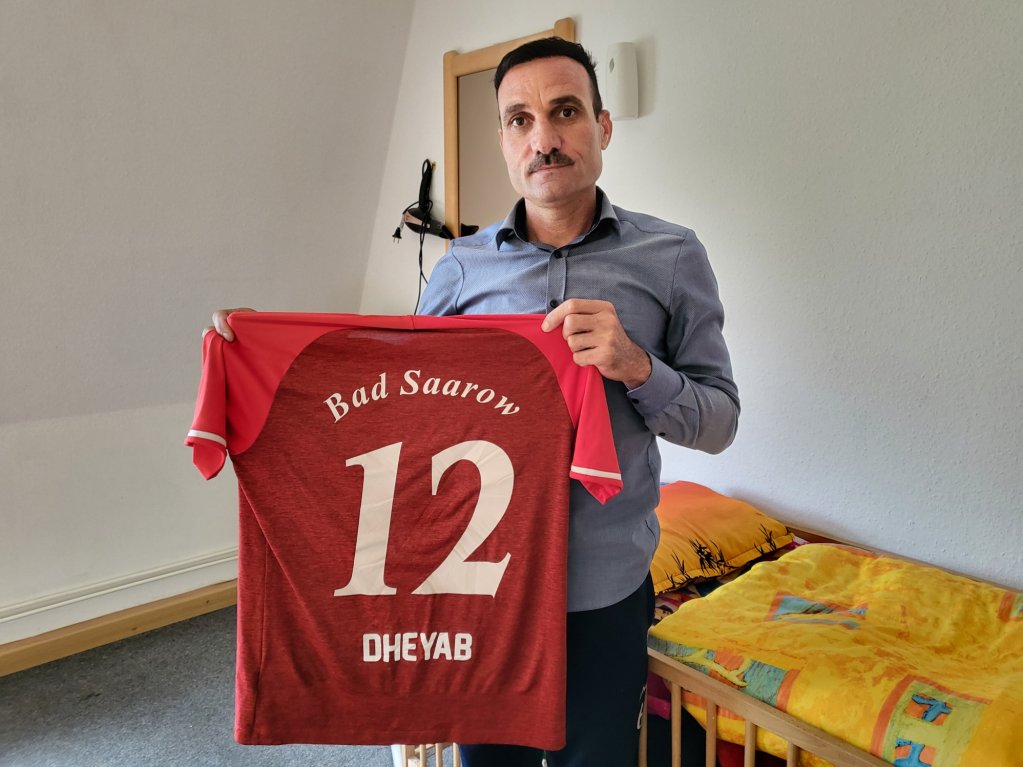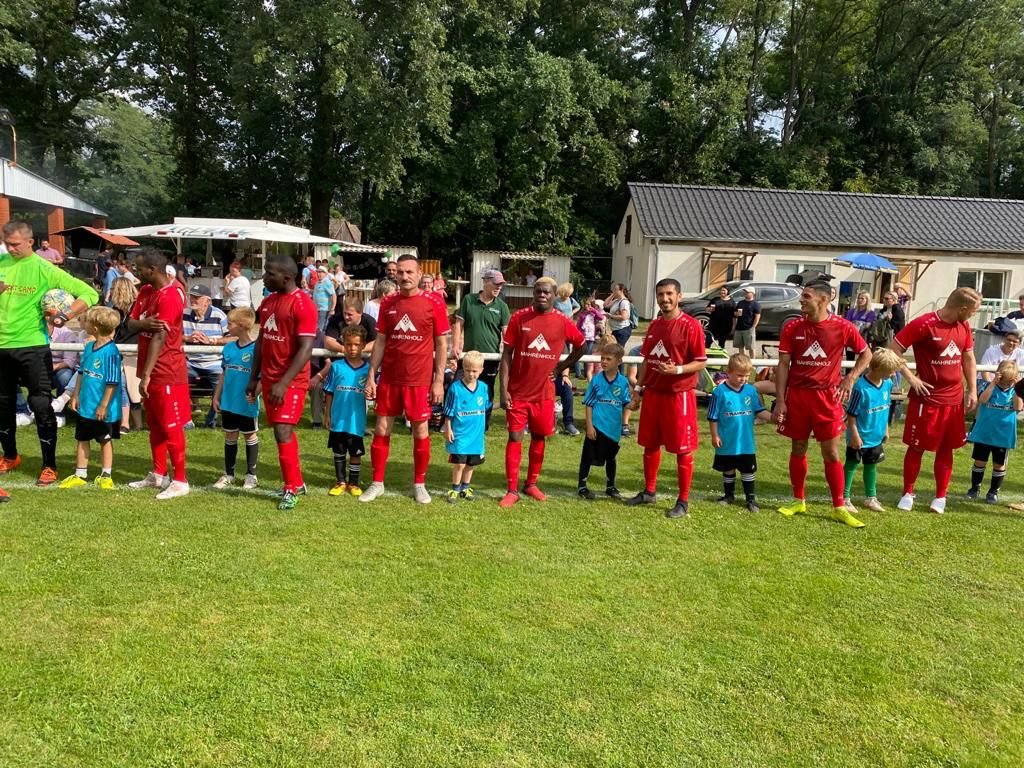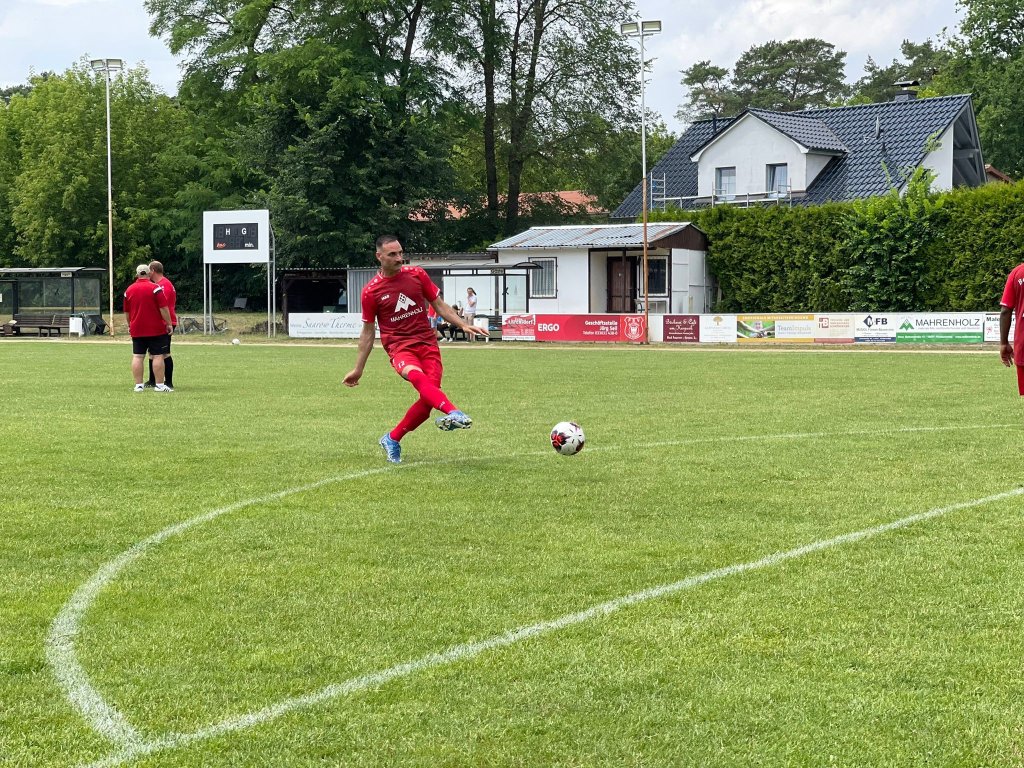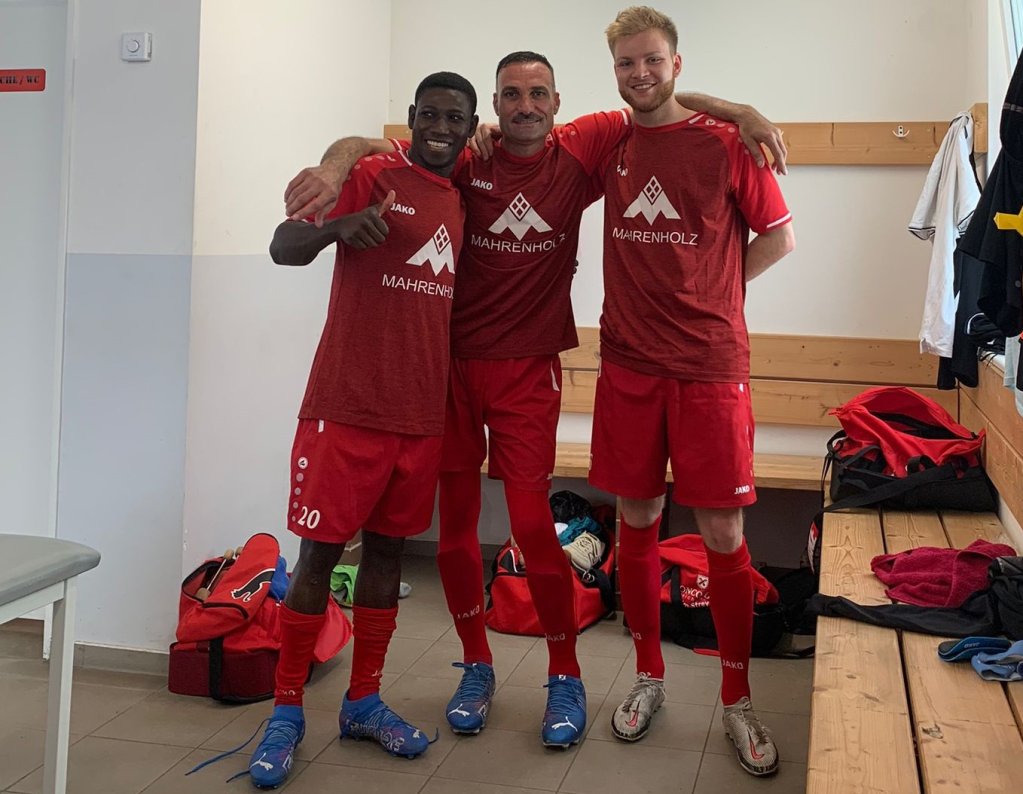 On weekends, Dheyab and his teammates regularly meet by the lake to swim or play basketball. "When it's late in the evening and the trains or buses no longer run, one of the Germans on the team always helps me with his car," Dheyab says. "He is a good man." Two of his teammates are from Africa who have been in Germany for six years.
Dheyab's youngest child just turned two, his four-year-old son is in kindergarten and his ten-year-old daughter started secondary school in August. In the Caritas facility, the family of five share two separate, medium-sized rooms on the third floor. The kitchen and washing machine being on the ground floor and the building lacking an elevator is hard for his wife, Dheyab says. Each month, they receive around €1,300 to live on. 
"Our family has a good life here," Dheyab tells InfoMigrants. "But it can also be difficult. Germans always talk about work, about being on the move. Where I'm from, it's different: If you wanted to work, you worked. But if you wanted to stay home, you just stayed put. Sometimes you earned €100 per day, sometimes just €10."
'Germany is a good country'
An estimated 327,000 displaced Yazidi refugees still live in camps for internally displaced people in Iraq and cannot return to their homeland. According to Dheyab, who visited his mother and other relatives once since he left Iraq for Germany, many people still live in small tents like he and his family did for five years in the IDP camp.
"None of the Yazidis there are content with their lives," he says. "When it's winter, they are afraid of thunderstorms. And during the summer, they are afraid of the heat." Just in May, around 1,000 Yazidi families fled from fighting in the Sinjar region between the Iraqi military and a Yazidi militia.
Dheyab has plans to move out of the Caritas facility like one family already did, but trying to find an apartment for his family in Bad Saarow is proving difficult because of a housing shortage, he says. "I will stay in Bad Saarow for two to three years and earn some money," he tells InfoMigrants over Kurdish food. His ultimate goal is to join his brother in Cologne. But Dheyab first has to pass the B1-level language test.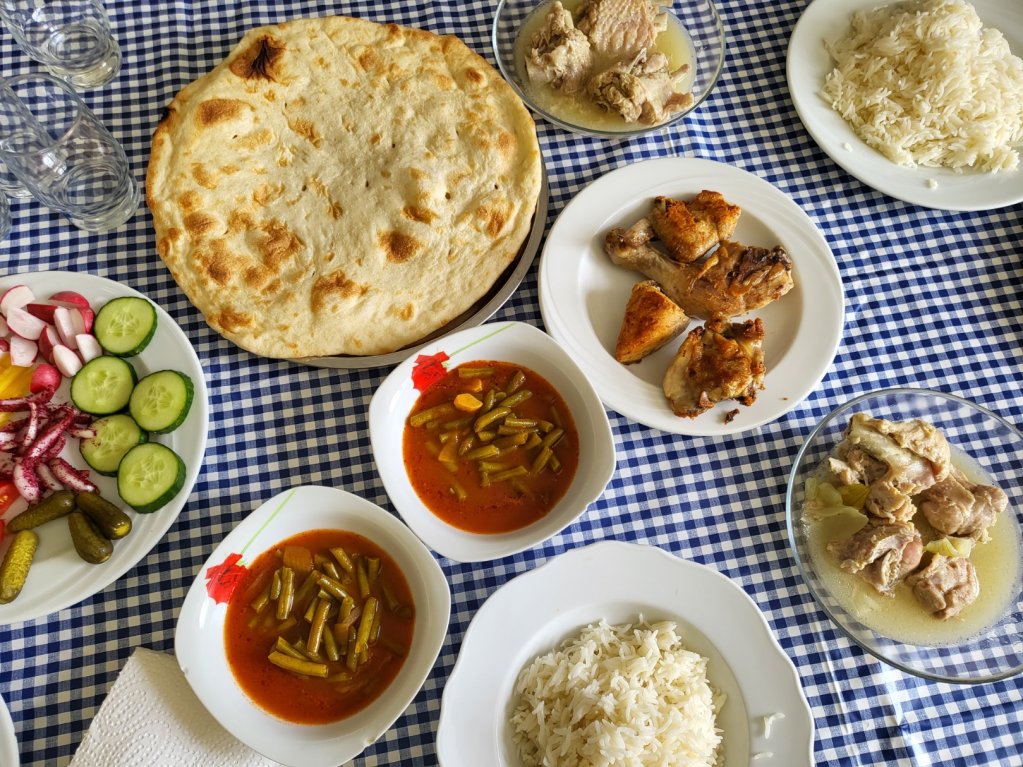 "We receive a lot of help from the government here. Our children can go to school, their food is paid for. Germany is a good country with good people."
Hopes and sorrows
As for Fatma, she plans to join five of her siblings in Baden-Württemberg, whom she saw in 2019 for the first time in six years. "It was so great to see them, especially their children, which I had never seen before." Once in Baden-Württemberg, she says, she'd like to work in a daycare center or an orphanage.
"We Yazidis are everywhere. Time and again we're at new places, where we meet new people. Here in Bad Saarow, we got to know social workers and other people. It will be hard to leave this place. But if I go where I want, I think I can lead a happier life."
Even after years of psychotherapy, Fatma still has a hard time trusting people and building friendships. But she's made big strides since she arrived in Bad Saarow, she says. "I feel very strong inside now. Over the past three years, I learned how to distance myself from my family so I can work on myself and get ahead."
Part of this distancing process, she says, is accepting the possibility that she might never get closure over the disappearance of three of her brothers and her parents. "I don't think they'll ever find their bone remains," she says. So far, only those of one brother and two uncles have been identified and returned. Deep down, however, she still hopes to be able to visit her relatives' graves one day.
Although the ghosts of their past will likely haunt them for the rest of their lives, Fatma and Dheyab have found stability, safety and orientation in Germany -- something their relatives in Iraq can only dream of.
* name changed