Aid organization Oxfam has highlighted in a new report a dramatic increase in famine in areas severely affected by climate change. Global warming is bringing more extreme weather events such as droughts, hurricanes and floods to some of the poorest parts of the planet, which could fuel new migration patterns.
A new Oxfam study says that in the ten climate crisis hotspots most affected by extreme weather events, more than twice as many people are struggling with acute hunger than six years ago, potentially resulting in displacement and irregular migration patterns.
"Climate change is no longer just a ticking time bomb, but one that is exploding right before our eyes," said Oxfam International Director General Gabriela Bucher. "Millions of people already suffering from ongoing conflict, rampant inequality and economic crises are now losing their livelihoods to severe weather disasters, climate extremes and the creeping changes," she added.
Oxfam cites the African nations of Somalia, Kenya, Niger, Burkina Faso, Djibouti, Madagascar, and Zimbabwe as climate crisis hotspots, alongside Afghanistan, Guatemala and Haiti.
These ten countries have most frequently been affected by extreme weather events in the past two decades, according to the study, which says that a total of 48 million people in these ten countries now suffer from the acute threat of facing hunger -- more than twice the number in 2016.
"We see now 10 times more displacement worldwide because of climate change and conflict and of course, they are inter-linked. So we are really worried about the compounding effect of COVID, climate change and the war in Ukraine," said World Food Programme (WFP) regional director Corinne Fleischer last month.
Read more: Food scarcity hits refugees and displaced people the hardest, experts say
Sobering numbers
According to the Internal Displacement Monitoring Center (IDMC), some 23.7 million people were newly displaced in 2021 due to extreme weather events and natural disasters in their country and their consequences. By comparison, only 14.4 million people were internally displaced by conflict or violence. The total number of people currently displaced due to conflicts and natural disasters stands at 59 million.
The UN High Commissioner for Refugees (UNHCR) meanwhile says that each year, natural disasters force an average of 21.5 million people to flee heir homes around the world, roughly corroborating Oxfam's findings.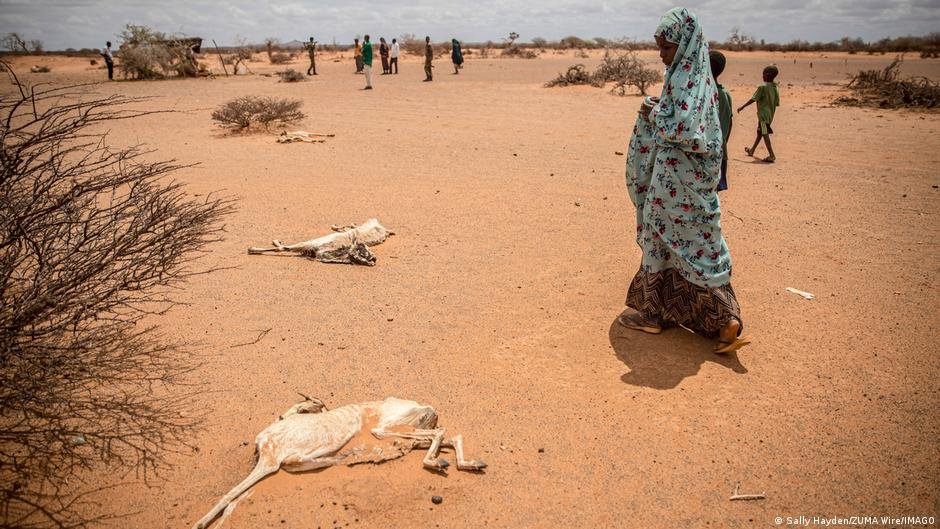 But according to the UN's Intergovernmental Panel on Climate Change report published earlier this year, 143 million people are likely to be uprooted by rising seas, drought, searing temperatures and other climate catastrophes in the next 30 years. The numbers are chiefly driven up by ensuing hunger crises potentially impending in several countries, though experts stress that most climate-related displacement tends to happen internally.
Read more: Conflict and climate change drive water crisis in Syria
Suffering across much of Global South
In Afghanistan, which is already facing a grave humanitarian crisis since the takeover of the Taliban in August 2021, as many as 23 million people are acutely affected by hunger, fueling irregular migration from the landlocked central Asian country. 
The reports also said that in Somalia, one million people have already been forced to flee their homes due to drought, as the country is facing an unprecedented food crisis.
For Niger, the number of people facing extreme want was put at 2.6 million, marking an eightfold increase compared to 2016.
In Burkina Faso, more than 3.4 million people are reported to struggle with extreme malnutrition — about 13 times as many as six years ago, according to the study. 
And in Kenya, a prolonged drought has killed nearly 2.5 million livestock, resulting in nearly as many people there now struggling with hunger. But it's not just drought that is cited as an ensuing result of climate change. 
Elsewhere in Kenya, Lake Baringo has doubled in size in the past decade, due primarily to heavy rainfall tied to global warming. The expanding lake has swallowed up homes, causing some people to lose everything they own.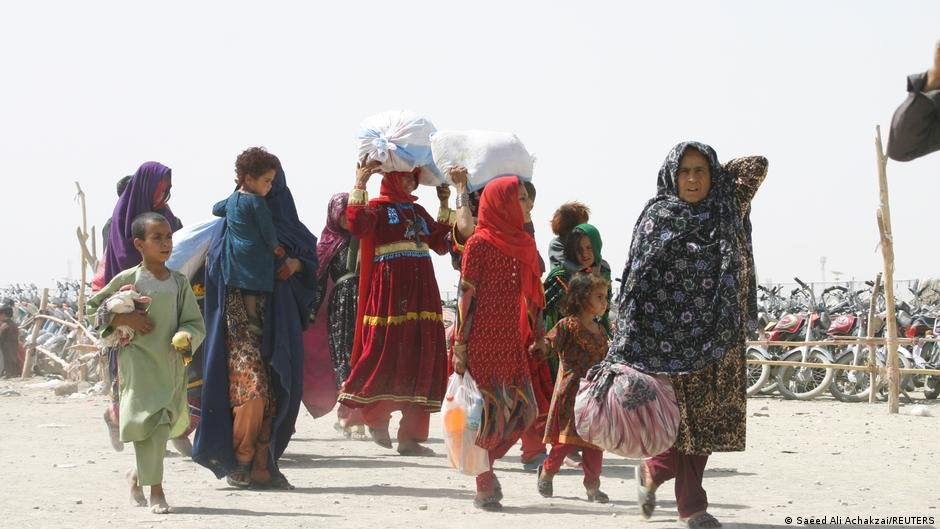 Read more: Horn of Africa: Drought threatens 10 million children, UNICEF
On the cusp of disaster
The suffering of people in Kenya and other parts of the Horn of Africa does not go unnoticed, even though little progress seems to happen on the political stage; UN Under-Secretary-General for Humanitarian Affairs and Emergency Relief Coordinator Martin Griffiths said that in Somalia alone, more than $1 billion (€1 billion) is needed to prevent the worst from happening.
The International Federation of Red Cross and Red Crescent Societies confirmed just earlier in the week that more than 200,000 are at risk of dying by the end of the year.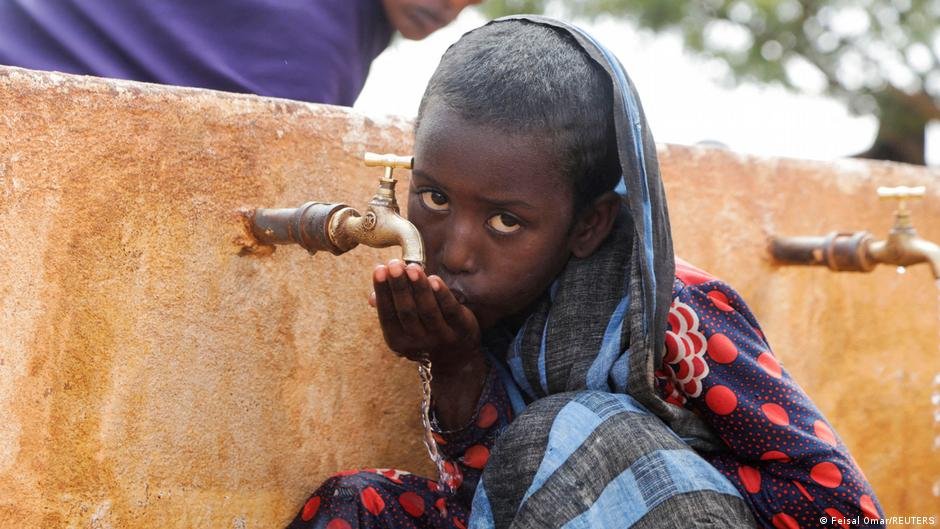 Meanwhile, Ugandan climate activist Vanessa Nakate recently underscored the importance of living under the constant threat of starvation after taking a trip to the region, which now has been hit by several years of severe drought conditions. Nakate spoke to various children suffering from starvation "because of the climate crisis" -- only to learn one day later that one of the boys she had met there had died.
The 25-year-old has now been made a UNICEF Goodwill Ambassador, who says she wants to make the voices of those who are suffering heard.
UNICEF says about half of the world's children -- roughly 1 billion -- live under conditions classified as "extremely high risk" due to the consequences of climate change.
Read more: UN guidelines to protect migrant children from climate change
Growing inequality
Oxfam meanwhile says that the increase in such extreme weather events and their consequences also reflect other inequalities in the world: while people in low-income countries are less able to cope with the consequences of climate change, they are also among the countries that contribute the least to global CO2 emissions.
"We cannot address the climate crisis until we address the fundamental inequities in our food and energy systems," Oxfam's Bucher warned.
Read more: COP26: UNHCR tells world leaders to act now
With AFP, AP, Reuters