Lebanon is mourning the death of almost 100 people, who drowned in the Mediterranean last week after setting off from its northern shores. Many say that the deadly voyage could have been prevented if rich politicians put the money where their mouths are.
At least 97 bodies have been recovered so far following last week's tragedy at sea; many of the victims who died trying to leave Lebanon on a rickety boat were reported to be children. To say that the entire country is in mourning would be an understatement.
Stories of those who lost their lives are now beginning to surface, as people across the small Middle Eastern nation are trying to understand what led to the disaster.
Hope dies last
Among the victims were Mustafa Misto and his three young children, whose bodies were found off the coast of neighboring Syria on Thursday (September 22).
A taxi driver in the city of Tripoli, Misto and his family were among more than 100 people who tried to escape the clutches of poverty and despair in their home country: Misto had reportedly fallen heavily into debt amid the worsening economic situation in Lebanon; he had to sell his car -- which as a taxi driver was his main form of income -- just in order to feed his children. 
Relatives told the Reuters news agency that after selling off family gold and other possessions as well, he had become unable to even afford simple food staples for his family like cheese. Misto's cousin, Rawane al-Maneh, said that Misto and his children had left their country "not to die, but to renew their lives. Now they are in a new life. I hope it's much better than this one here."
"Everyone knows they may die" during the perilous sea journey across the Mediterranean, al-Maneh adds, stressing however that all migrants remain hopeful to find a better life elsewhere despite such great dangers.
The UN Refugee Agency UNHCR says that neatly 3,500 individuals have left or have attempted to leave Lebanon by sea this year alone -- more than double the number in the whole of 2021.
Read more: Cyprus rescues hundreds of migrants at sea, plans to disembark in Turkey
Years of despair and desolation
The tragedy in the easternmost corner of the Mediterranean Sea has once again shed a light on just how much people are suffering in Lebanon, which is now in its third year of being in a state of financial collapse. 
Once hailed as the richest and most modern country in the Middle East, the nation is increasingly divided on account of the inequalities between the rich and poor; at least three in four people exist under the poverty line, according to the United Nations.
The north of the country, where Misto and many other of the migrants who died in last week's disaster came from, is particularly struck by a sense of devastation and despair following years of neglect.
Many in Tripoli and surrounding regions are now increasingly voicing their anger at the country's mighty politicians -- many of whom live in their proverbial backyards.
Read more: Mediterranean: Boat missing with dozens of Lebanese and Syrian migrants
Growing inequality
After all, the city of Trpoli is home to several rich and influential politicians who are part of the country's traditional elite. Lebanon's Prime Minister Najib Mikati -- a business tycoon with an empire worth an estimated $2.8 billion -- is part of this elite class, whose members, locals say, don't appear to pay much attention to the needs of the poor.
"We're in a country where politicians just suck up money, talk, and have no regard for what people need," al-Maneh said, reflecting on the fate of her cousin. The World Bank seems to agree with that assessment; it has referred to the situation in Lebanon as a deliberate depression "orchestrated" by the country's elite.
Indeed, there has been little development in the region for many years. While elsewhere in the country, leaders have invested funds into communities to shore up political support, Tripoli and the north of Lebanon seem to have gone ignored for many years in a row.
Read more: Six Syrian refugees die of dehydration at sea
A man of the people?
But the prime minister disagrees with the assessment of being a politician who just "sucks up money;" his office said in a statement that Mikati has been the "biggest supporter of socio-economic development in Tripoli" for more than 40 years, highlighting the work of his charitable foundations.
The document also painted the leader in a sympathetic light, saying that Mikati understood "the agony the people of Lebanon in general and Tripoli in particular are going through."
Despite such messages of reassurance and appeasement, rallies continue to take place outside his mansion in Tripoli, which was already considered Lebanon's poorest city before the financial crisis even started.
With a population of roughly half a million, Tripoli has now seen decades of corruption and bad governance -- much like the rest of the country. And much of the public ire emerging out of those circumstances is directed squarely against the prime minister, especially when scores of people lose their lives trying to leave the desperate situations they find themselves in.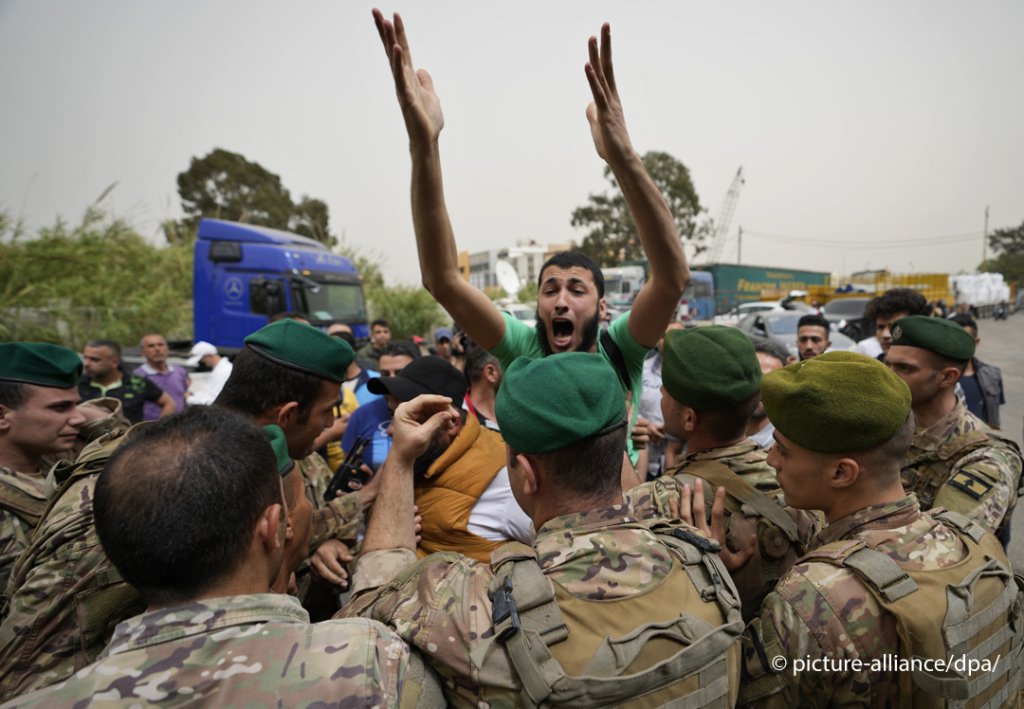 Poor people suffering the most under corruption
Some believe that the prime minister is indeed to blame for the staggering levels of destitution across the country, which are forcing people to risk life and limb in search of better opportunities elsewhere: in October 2019, a Lebanese prosecutor charged Mikati with illicit enrichment for using funds designated for a subsidized housing loan scheme intended for poor families.
Mikati's office said the charges were "politically motivated to smear" his reputation. 
Another judge then dropped the case earlier this year, without the issue being properly investigated and resolved.
Read more: Mediterranean: Boat missing with dozens of Lebanese and Syrian migrants
A breeding ground for extremism
This kind of perceived corruption and lack of leadership is also fanning the flames of extremism across the region; the north of Lebanon's has also become one of the more volatile regions since the end of the civil war in the country in 1990. 
Tripoli and its surroundings continue to attract Islamist militants, who channel their overall sense of discontent into violent jihadist activities. Some of them are part of the Palestinian minority in the country, who have been living in refugee camps for decades.
Many the those who drowned last week had left from the Palestinian refugee camp of Nahr al-Bared. Those left behind are now having to organize the funerals of their relatives — people like Mustafa Misto's cousin, Rawane al-Maneh.
Very few, in fact, are fortunate enough to have had their relatives survive the tragedy -- and even they have stories of devastation and pain to share. Yahya Rifai was one of the few survivors -- but he lost his daughter and his four grandchildren. He told Reuters that this crisis with all its repercussions was becoming worse than the civil war, which destroyed large parts of the country for 15 years.
"I don't know what's wrong with these politicians," he said. 
"They will have to answer for this."
Read more: Little boy found hugging his mother on the bottom of the sea off Lebanese coast
with Reuters