Giorgia Meloni has claimed victory in Italy's election, and is set to become Italy's first female prime minister. This is expected to be the most right-wing government since World War Two, and will likely mean a strict anti-immigrant course.
The Brothers of Italy came in top in Sunday's general elections, and the right-wing coalition with the League and with Silvio Berlusconi's conservative Forza Italia, looks set to secure a majority in both houses of parliament.
A century after Benito Mussolini's 1922 March on Rome, which brought the fascist dictator to power, Giorgia Meloni, leader of the Brothers of Italy, is poised to lead Italy's first far-right-led government since World War II and become its first female premier.
Often intense and combative as she rails against the European Union, mass immigration and "LGBT lobbies", the 45-year-old has swept up disaffected voters and built a powerful personal brand. This will alarm much of Europe as Italy is the EU's third-biggest economy.
The head of Italy's Social Democrats (PD), Enrico Letta, who announced his resignation in the wake of his party's loss in Sunday's elections, said it was now the task of a new generation to form a strong opposition to the expected right-wing government.
"Today is a sad day for Italy and for Europe," said Letta, referring to Meloni's anti-EU stance. "The PD will not allow Italy to disappear from the heart of Europe."
Who is Giorgia Meloni?
Wary of Italy's huge debt, Meloni has emphasized fiscal prudence, despite her coalition's call for tax cuts and higher social spending. Her stance on Europe has moderated over the years -- she no longer wants Italy to leave the EU's single currency, and has strongly backed the bloc's sanctions against Russia over the Ukraine war.
However, she says Rome must stand up more for its national interests and has backed Hungarian Prime Minister Viktor Orban in his battles with Brussels.
She remains deeply divisive, not least over her Catholic family values that many fear will see a step backward on rights such as abortion. Meloni vowed Monday to unite the country, saying she would govern for "all Italians". "It is a time of responsibility," she said, adding that "Italy has chosen us, and we will not betray her."
'Safety as a priority' - outlook for immigration
Meloni has taken a hard line on immigration, with the right-wing coalition citing public safety as a priority, promising to fight everything from street crime, domestic violence, drug trafficking, as well as anti-Semitism and Muslim fundamentalism.
Immigration has been a key part of the campaigns for Meloni and the leader of the League party, Matteo Salvini with promises of stricter border controls, blocking boat landings. They have also encouraged establishing EU-managed centers to evaluate asylum applications before refugees arrive in the EU.
Violence and discrimination has become more prevalent in the run up to the Italian general elections. At the end of July a 39-year-old Nigerian street vendor Alika Ogorchukwu, was beaten to death in broad daylight in the center of the central Italian town of Civitanova Marche. His murder led to a number of protests and to a wider debate on racism in Italy.
Sunday's election coincided with the Catholic church's World Day of Migrants and Refugees. "Migrants are to be welcomed, accompanied, promoted and integrated," Pope Francis told the assembled crowd at an open-air mass in the southern Italian city of Matera
"Let us renew our commitment to building the future in accordance with God's plan: a future in which migrants and refugees may live in peace and with dignity."
Although, the pope did not make a direct reference to the election, his message urging Italians to help migrants was clear, as millions of Italians queued to cast their votes.
From teenage fascist activist to prime minister
From a teenage activist who praised Mussolini to favorite to become Italy's first woman prime minister, Giorgia Meloni has had quite a journey, leading her far-right party to the brink of power.
"I am Giorgia, I am a woman, I am a mother, I am Italian, I am Christian," she declared at a 2019 rally in Rome.
Brothers of Italy grew out of the country's post-fascist movement, but Meloni has sought to distance herself from the past, while refusing to renounce it entirely.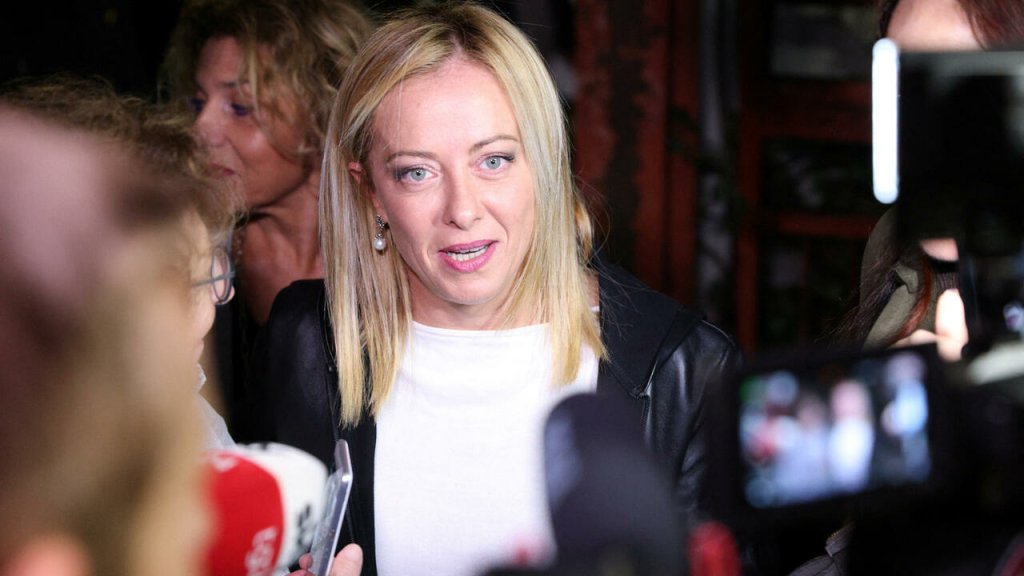 In the 2018 general elections, her party secured just four percent of the vote, but looked set to secure 26 percent in Sunday's general elections. That put Meloni ahead of not just her rivals but also her coalition allies, Matteo Salvini's anti-immigration League and Forza Italia's Silvio Berlusconi, in whose government she served in 2008.
Meloni has benefited from being the only party in opposition for the past 18 months, after choosing to stay out of outgoing Prime Minister Mario Draghi's national unity government. At the same time she has sought to reassure those who question her lack of experience, with her slogan "Ready" adorning billboards up and down the country.
On abortion, she says she has no plans to change the law, which allows terminations but permits doctors to refuse to carry them out. However, she says she wants to "give to women who think abortion is their only choice the right to make a different choice."
Governing for 'all Italians'
Giorgia Meloni, head of the nationalist Brothers of Italy party, said on Monday Italian voters had given a clear mandate to the right to form the next government and called for unity to help confront the country's many problems.
"Italians have sent a clear message in favour of a right-wing government led by Brothers of Italy," she told reporters in Rome.
"If we are called upon to govern this nation, we will do so for all Italians, with the aim of uniting the people, of exalting what unites them rather than what divides them," Meloni added. "We will not betray your trust."
With AFP, AP and Reuters