Following the Belarus-EU border crisis, thousands of asylum seekers entered Lithuania. A year later, many still remain in detention with little contact with the outside world. These are stories of several artists who are trying to create connection through their art.
Last winter the border crisis between Belarus and the EU saw an influx of tens of thousands of asylum seekers, primarily from Iraqi Kurdistan, into countries bordering Belarus, namely Lithuania, Latvia, and Poland. The crisis was orchestrated by the president of Belarus, Alexander Lukashenko, who has been accused of weaponizing vulnerable people fleeing violence and hardship, by offering them a route into the European Union. As a result, thousands of asylum seekers were stranded on the EU's frontier in the depths of winter, leading to a deadly humanitarian situation. The reported scenes were extremely haunting, as people hid in the forests at freezing temperatures trying to find a way out.
Those who entered the EU were faced with further challenges. Almost a year later most asylum seekers remain in detention, unable to make their case to authorities. Many of the detention facilities are former prisons or other institutional buildings, but unlike prisoners there is no crime committed nor a clear end date for the asylum seekers being housed within them. Unable to leave the facilities, with very little support or contact to the outside world, some detainees are trying to find connection through art.
Multimedia journalist Gabriela Ramirez visited a number of artists currently detained in Kybartai camp in Lithuania to speak to them about their art and their dreams for the future. You can read her full account and more about the Sienos project, which organizes the art materials for the detainees, here.
Amir
Amir* from Iraq paints realist paintings of nature and people. Since arriving in Lithuania, he has been transferred to three different camps and describes his situation in the Kybartai center as "paradise" compared to the other detention camps.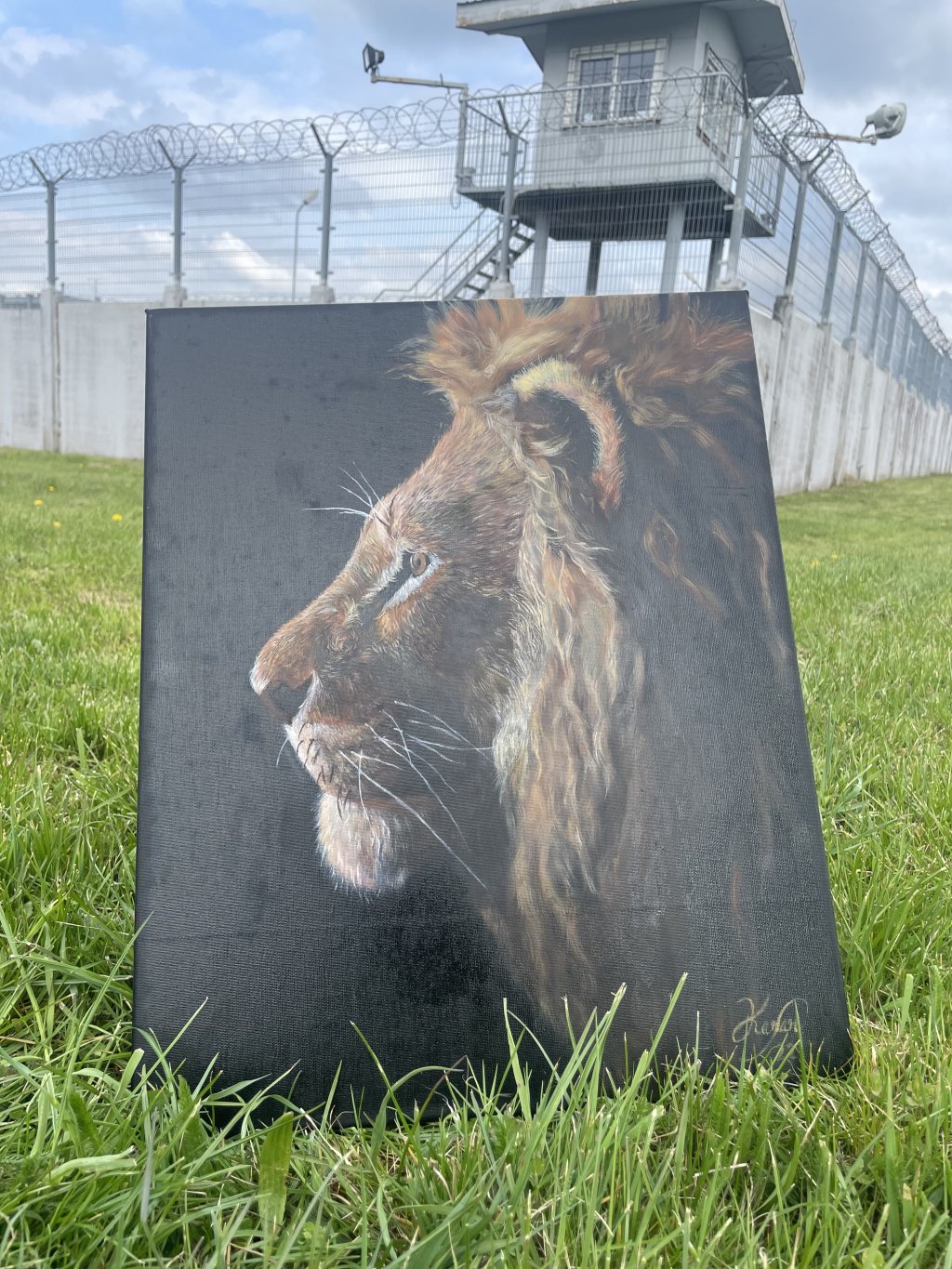 One of the main reasons for this is that he is able to create his art here with materials provided by the Sienos project. However, he remains confined indefinitely, with art being one of his only means of escape.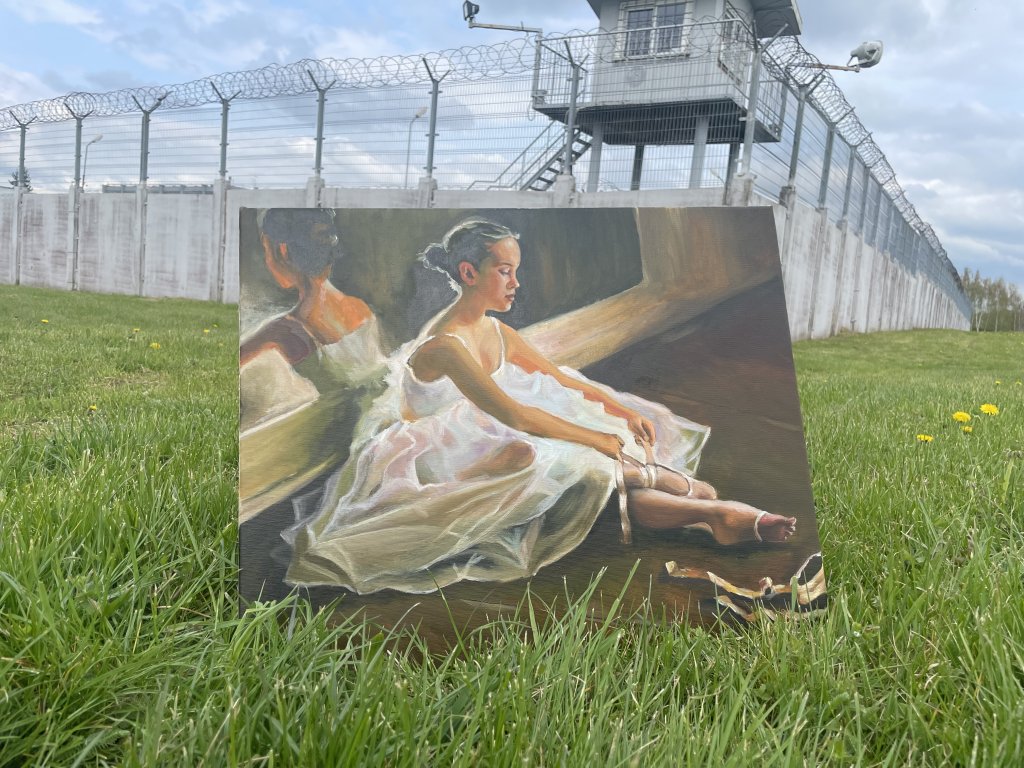 Anna
Anna* (22) is originally from Iraq and has not seen her family for seven years, having moved through several countries over the past few years. She has been living in a container at the detention center along with three other Iraqi women for a year.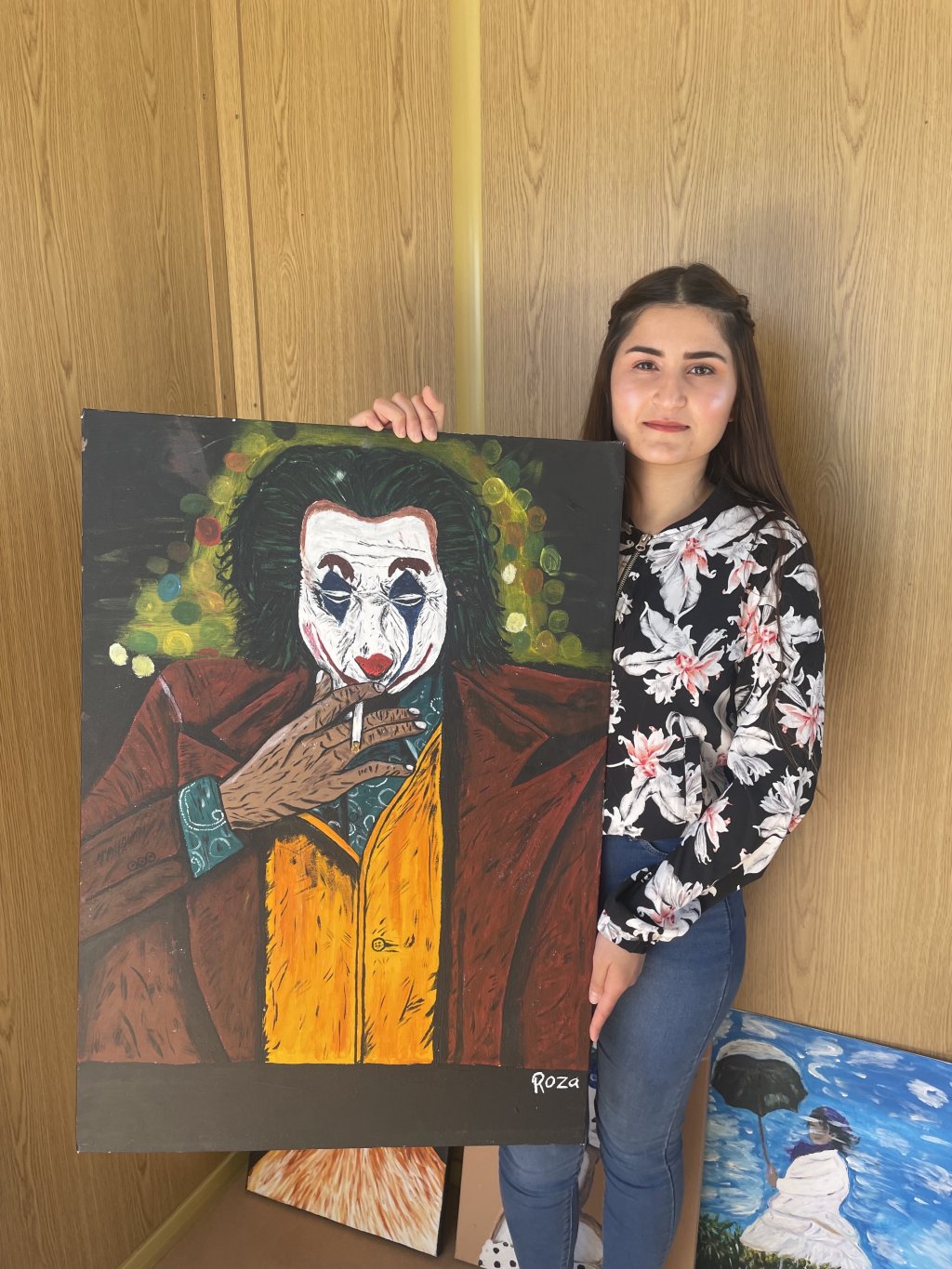 A lot of Anna's artwork is very colorful and often incorporates natural scenery, she uses a barbed wire fence that borders the refugee camp to paint, prefering to be outside.
Luis
Each artist has his own distinct style and draws inspiration from their own story, using different materials and subjects. They all share the vital role art is playing in their lives, helping them to cope with their current situation.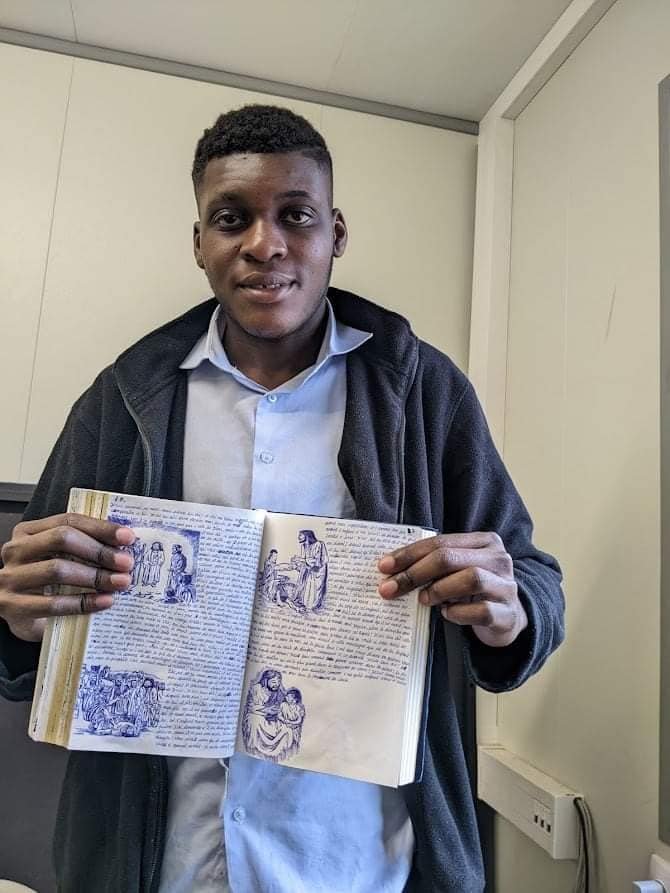 Luis* (21) from Cameroon has spent the past year illustrating and writing bible stories in biro in his native French language, including Noah's Ark and Adam and Eve from the Old Testament, as well as stories from the New Testament. His art has earned him the name "The Bible Refugee."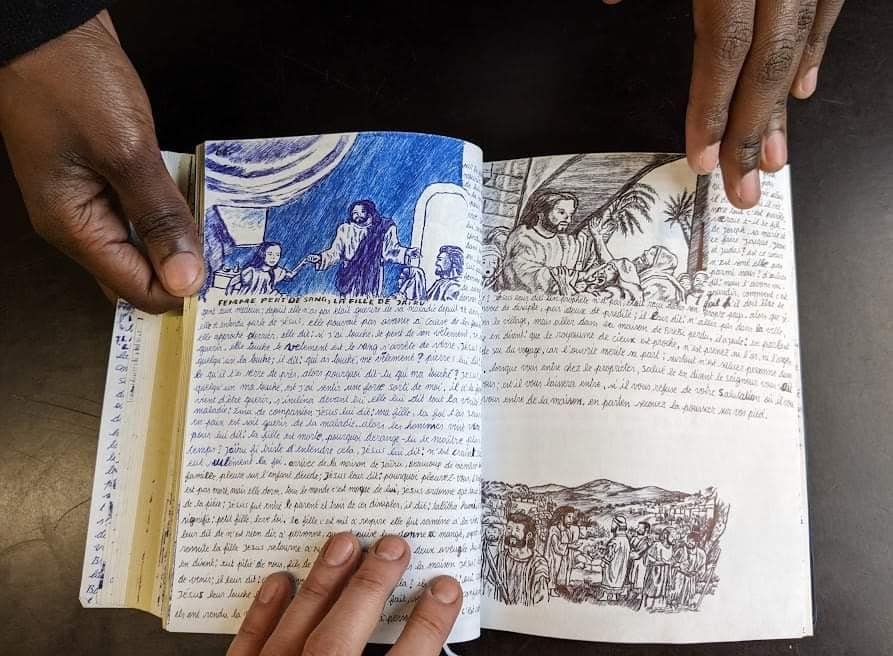 Daniel
Daniel* from Iraq, creates life like pencil drawings, mainly portraits. For over a year, he has been waiting for his request for asylum to be processed. In Iraq he used to work as a Spanish translator for the North Atlantic Treaty Organization (NATO) in Baghdad, he began drawing to help him improve his mental health during his detention.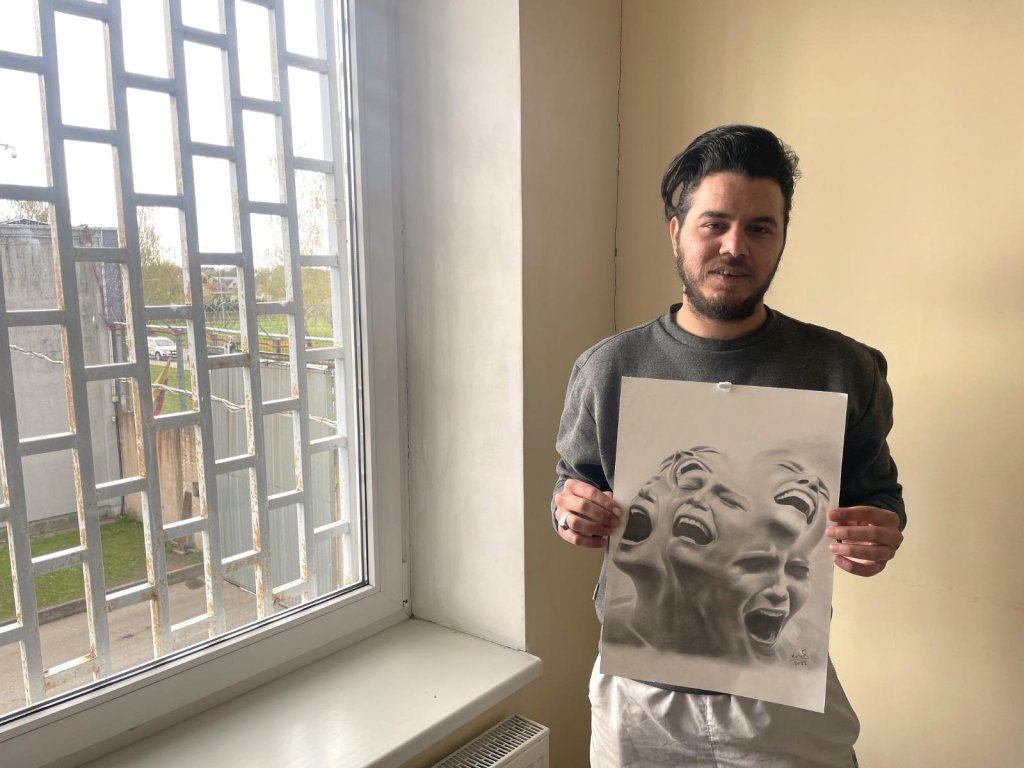 He explains that this drawing depicts his headaches and the sleepless nights he is experiencing in the center. The detainees receive very little mental health support, if any. The confinement has had a huge effect on those housed in the center, with very little contact with the outside world, aside from volunteers and NGOs who occasionally visit.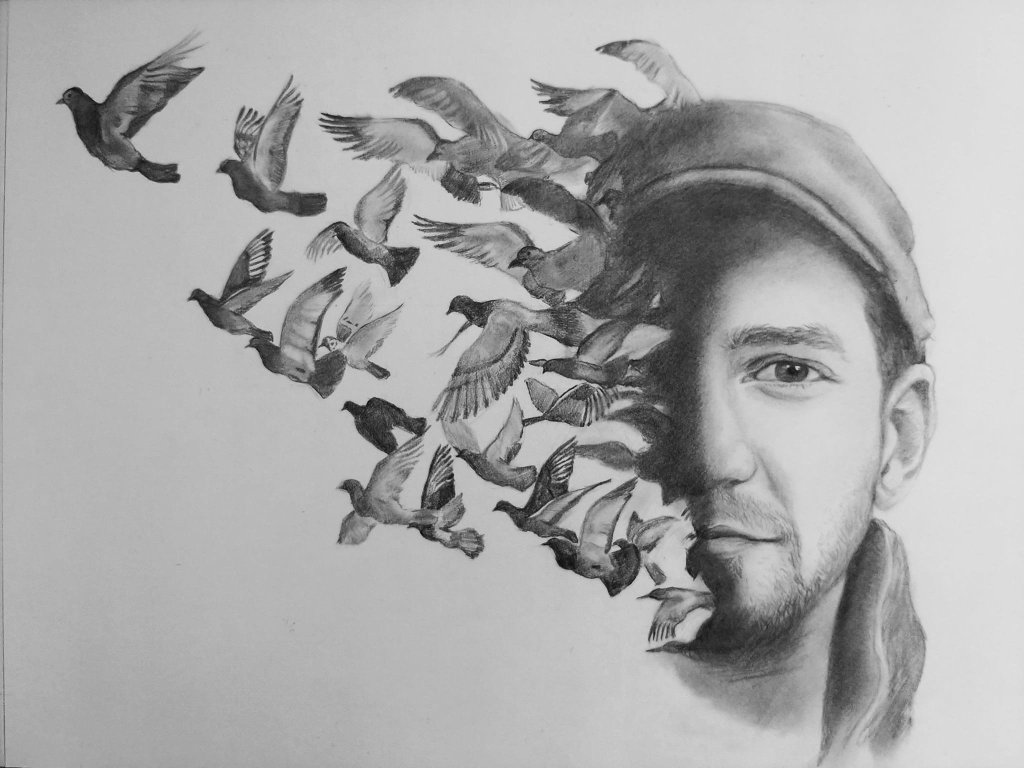 With their future remaining unclear, art is providing a glimmer of hope for some of the detainees at Kybartai. Many of their paintings are sold to staff working in the centers and the Sienos Group publishes their work across different social platforms allowing them some contact to the outside world as they wait for their freedom.
*Names changed
With Gabriela Ramirez