After reintroducing border checks, Central European leaders have been discussing further measures to block migrants who use their countries as transit routes to the rest of the EU.
As part of efforts to strengthen the EU's external borders against migrants, the leaders of Hungary and Austria have agreed a plan with Serbia to try to stop people from entering the EU irregularly via Serbia. Austrian Chancellor Karl Nehammer on Monday (October 3) said that the three countries will boost police cooperation along their borders, while Austria and Hungary will "directly support" Serbia to deport migrants back to their countries of origin.
An EU-candidate country but not yet a member, Serbia has promised to bring its visa policy into line with the European Union, so that people hoping to cross into the EU irregularly from Serbia will be less likely to be granted a visa.
"We will thus prevent the situation where someone uses Serbia as a country of arrival … not because of their real needs but for illegal migration toward the West," Serbian President Aleksandar Vucic said at the leaders' meeting in Budapest.
Among those said to have taken advantage of Serbia's current visa-free regime are Indian nationals who arrived in Serbia and then traveled on to Austria. A number of them are in detention there after they allegedly applied for asylum in order to avoid immediate deportation, the Associated Press reports.
Also read: Why has the Balkan migrant route become more active again?
German opposition concerns
Calls for the German government to crack down on irregular migration at the Czech-German border have come from Germany's opposition spokesperson on home affairs, Alexander Throm. In an interview with the newspaper Die Welt, Throm also said that Germany should work with Serbia to stop migrants using the country to enter the EU without a visa.
"Anyone who wants to go to the EU must also accept the EU's visa system," he said.
Orban calls for hot spots
Hungary's president, Viktor Orban, called for an overall change in Europe's approach to irregular migration, saying, "We are not satisfied at all with the situation that has developed." The Hungarian leader, who has taken a hard line on migration since 2015 and has advocated for racial purity, repeated a proposal for asylum applications to be processed outside the EU in so-called hot spot centers.
The idea, being pursued amid extreme controversy by the United Kingdom and Denmark, is against the national laws of some European countries, including Germany, which guarantee the right of every foreigner to apply for asylum and to have their claim examined on an individual basis while staying in the country.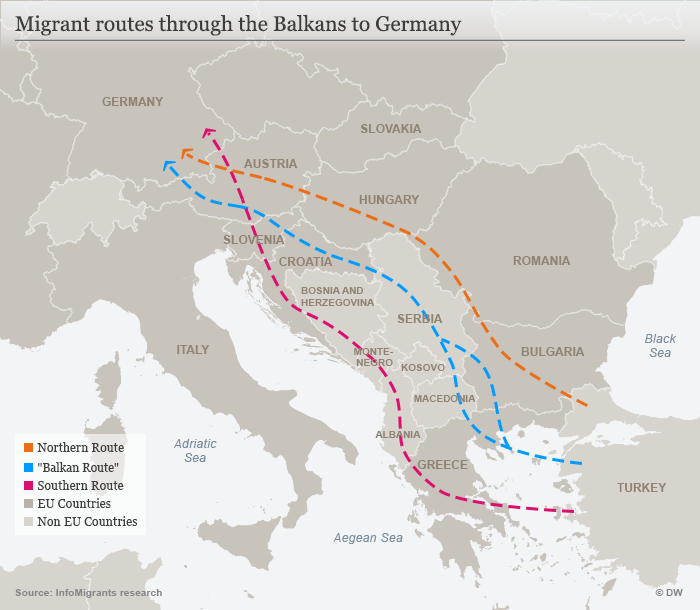 Interior ministers seek to block routes
In addition to the meeting in Budapest, the interior ministers of Slovakia, Austria, Hungary and Czech Republic also held talks on closer coordination on migration and border security.
"We're facing problems that affect the whole of Europe," said the Czech minister, Vit Rakusan.
The meeting in Bratislava was called by Slovakia's interior minister, Roman Mikulec, after the Czech Republic and Austria last week said they would introduce temporary border controls at their crossings with Slovakia to stop migrants from entering.
Austrian authorities for their part expressed concern that migrant smugglers might divert their route through Austria, instead of the Czech Republic, so that migrants could reach northern countries such as Germany.
During the meeting, the interior ministers also called for the return of migrants to countries through which they entered Europe under the so-called Dublin Regulation.
Figures released this week showed that the number of deportations from European Union member states is on the rise. Almost 100,000 people were ordered to leave countries in the bloc in the second quarter of 2022, according to Eurostat. 
With AP, dpa