The Centro Penc in the Sicilian captial Palermo offers a safe space for women and girls and is designed to support migrant women build networks and explore their futures in Italy. InfoMigrants spoke with Deborah and Mimi, two cultural mediators working at the center.
Deborah Sunday Igiebor from Nigeria and Mimi Outtara from Mali are two of the cultural mediators working at the Women and Girls Safe Space (WGSS) in Palermo. Both joined the center about two years ago.
"To do this type of work," explains Mimi, "you need to have real passion. A wish to help most of all."
Many of the women and girls who come to the safe space have experienced hardship and trauma in their lives. "So many of the women go through so many awful things on their journey, in the desert, in Libya, the crossing at sea, that are very difficult. When we hear people's stories here, it makes me want to help them even more," Mimi says.
We are in the basement of a busy school, a few kilometers from the center of Palermo. It's here that the safe space is based, in several old classrooms which were taken over by the Centro Penc, a non-profit association founded in 2015.
It runs what it calls an anthropological and psychological "geoclinic". Supported by the UN children's charity UNICEF and the International Rescue Committee IRC, the WGSS's mission is to benefit the most vulnerable migrants in Palermo.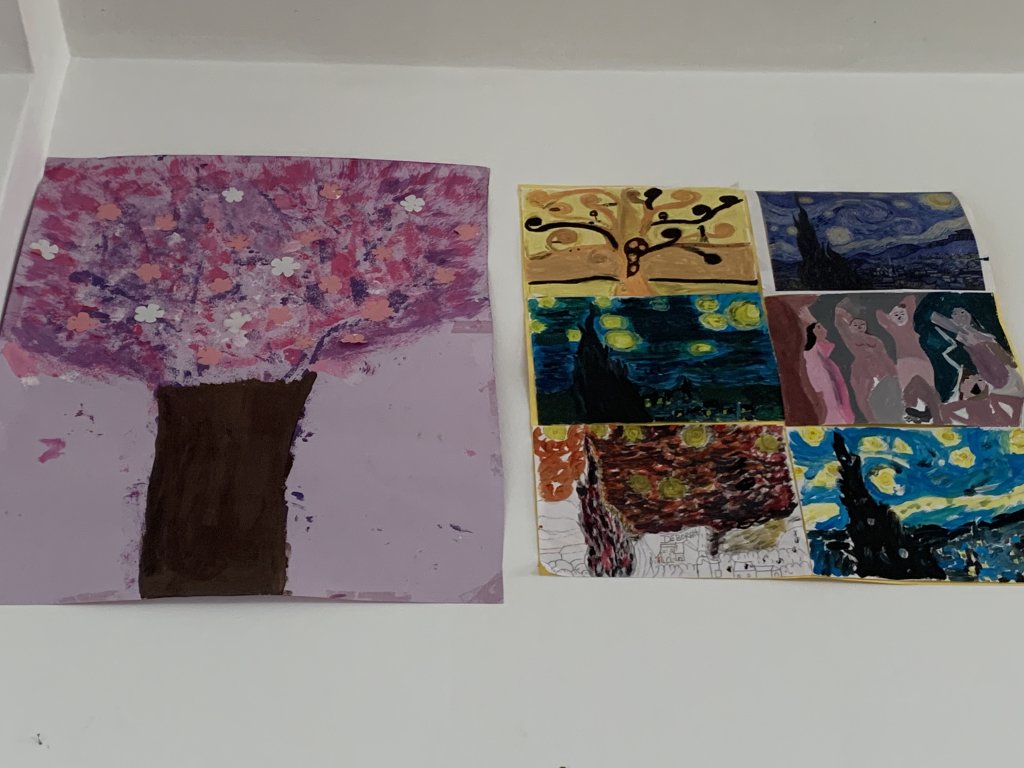 360 degree support
Some of those who use the various projects on offer at Centro Penc are migrants who have been victims of torture and extreme violence, unaccompanied minors, children and adolescents, and single women who may have been victims of exploitation or violence.
The center, however, doesn't want to concentrate on the womens' pasts or the reasons they might be there, explains Deborah, who arrived on a student visa 25 years ago. Rather, as the name would suggest, when women come to the space, they need to feel completely safe and to be able to trust the mediators and psychologists who work with them. They do not want to be labeled or to continue to carry what may have happened to them forward in the way they are defined.
"This place came into being after we observed how many difficulties women were facing getting a residency permit here," explains Deborah. That however was just the start. "I met so many Nigerian women and mothers who had documents but they were being blocked by their lack of Italian, or they didn't have the skills to start a job. Being a single mum also makes it harder to find work here," says Deborah.
A place to call home
The staff at WGSS, explains Deborah, recognized the need for many of the woman to have a safe space they "could call home." From that basis the staff began to work out what kinds of problems the women were facing and start to help them solve things step by step.
Mimi too underlines the "family feeling" at the center. In fact, the two women say they are often referred to as "aunty" by the women and girls who come to the space.
"If there wasn't a space like this, then many of these young women, especially those who are on their own and living in a reception center, they could end up working on the street if they didn't have this basis."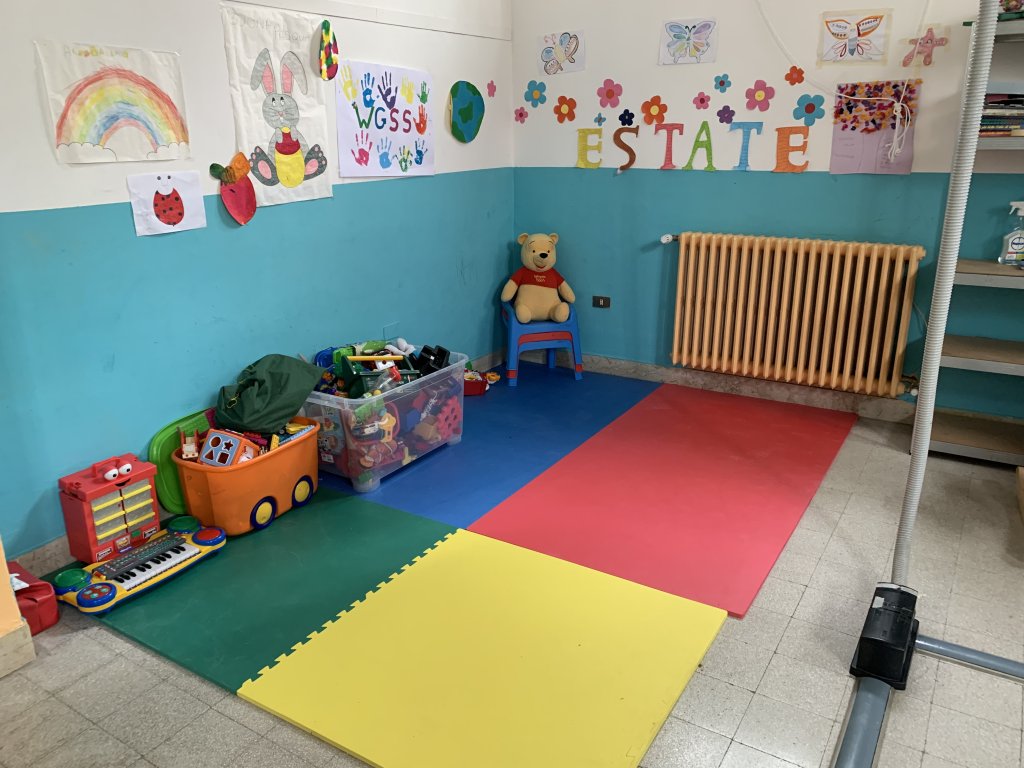 Deborah adds to this, "the women call us 'Zia' (aunty) because they might be lacking that kind of figure here now they are far away from home. They know they can come to us for any kind of advice, be it bureaucratic, personal, linguistic, about their relationships, and that is really important for the women to have."
Mimi adds that the aunties and the rest of the staff also help women find contacts with services they might need that the safe space doesn't directly offer. For instance finding a gynecologist, or a pediatrician, or a lawyer.
'Here I am'
When InfoMigrants visits, WGSS is empty of women, they are due to arrive a bit later on, but their presence can be felt nevertheless. Names are written alongside drawings, some photos adorn the walls of the corridor, and one wall is covered in flags representing the different countries from which they come.
"Often," says Deborah with a smile on her face, "when a woman first arrives, she will look at the wall and then say, 'my flag is not there,' and we say, 'OK great, draw your flag for us, and then we will put it up.' This is a great activity to break the ice. And then afterwards, the women feel seen, and proud that their flag is up there too. They are happy to be able to draw their flag and say, here I am."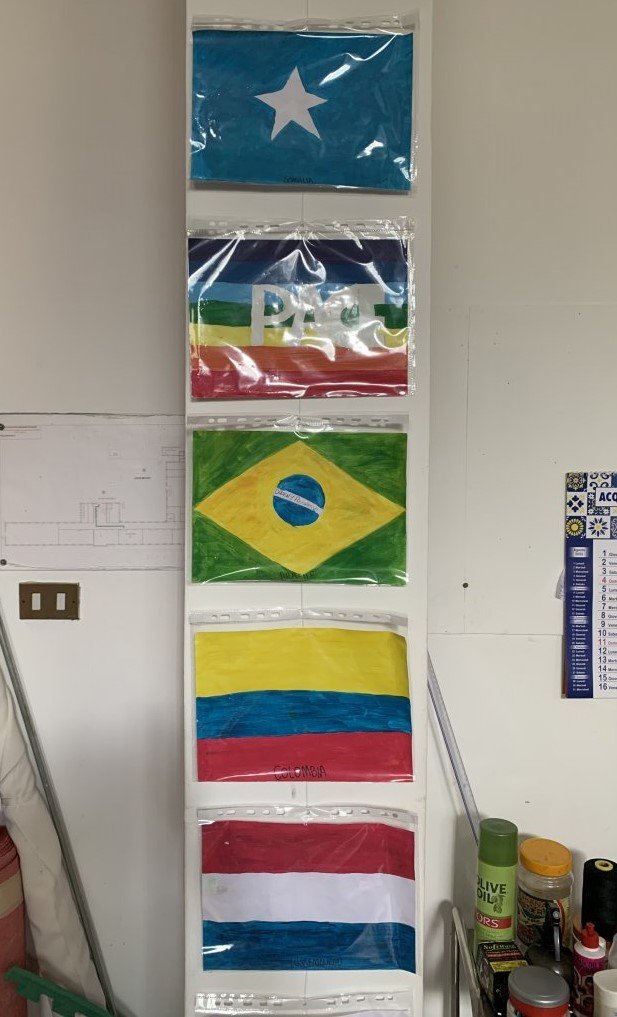 "We have [women from] Mali, Nigeria, Afghanistan, Bangladesh, Ghana, Philippines, Ivory Coast, Ukraine, Eritrea, Tunisia, Brazil, Colombia, Angola, Somalia, the list is long," laughs Mimi.
Each corner in the space is designed for different activities. There is a dressing table where women can learn to braid hair, or give manicures, a skill that can be useful for them later when they need to start thinking about earning money.
Learning skills or just a space to think
"Us Africans, we know that getting your hair done can cost loads of money," says Mimi. "So we offer them the space where they can get their hair done here for free but also learn some skills and learn to braid someone else's hair. We also offer computer lessons, yoga, pilates, social skills, the list goes on and on."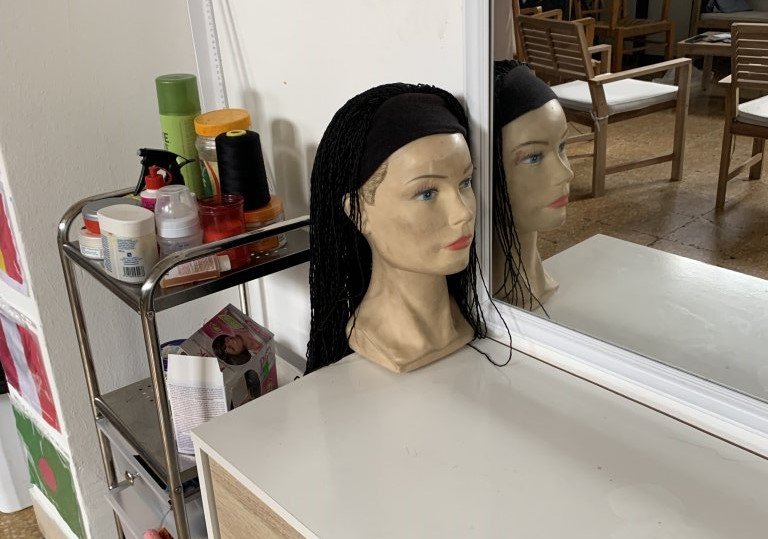 There is a classroom where women can learn Italian to help with integration, as well as keep their English or French up to scratch. "Some women realize, like myself," says Deborah, "that once you are living here in Italy, you can forget the languages you brought with you from home. They want to make sure that their English or French is also good enough, so they asked to have refresher lessons in these languages."
The classes don't give out certificates, instead, they want to make sure that the women can answer questions and communicate their needs and their rights, explains Deborah. "Everything we teach here is about making sure you know who you are and being able to communicate that, that is the most important thing when you are in a foreign country."
Support for children
Most of the women who attend are already mothers. A corner in one of the rooms is reserved for the women's children. A qualified nursery nurse helps look after the children, so the women can engage in other activities. "Women come here when they want to, sometimes they come often, sometimes only when they have time."
Many of the women can be scared of going to the doctor's for fear it will cost them money. WGSS equips them with the knowledge and tools to access free public health care, as well as to help them find a pediatrician and inform them about getting the right vaccinations and health check ups for their babies.
As such, the center's activities are all designed to help women build a network and gain confidence. And to give them the feeling they are not being left alone. "You can come here to do activities, or you can just come for a coffee or to relax or think. We make sure that people know that they can just be here, and we won't leave them half-way through their journey."
"When people first come here," says Deborah, "we leave the women to communicate with each other. At first they might only be able to offer a few words in common, but week after week, they learn to be able to communicate with us and each other in Italian and they build their confidence that way too."
Psychological help
Psychological help is also on offer at the center -- to help the women "overcome the unseen damage that they hold within," says Mimi.
"The women are often exploited in the Arab countries, in Libya, they are sold, some of them are forced to be prostitutes," says Mimi. "Some of these woman may have been all through this, so of course they are traumatized when they arrive. They have had to confront so many dangers."
Sometimes, however, the women can be suspicious of the psychological help at first. "Most of them can't talk about what they have been through when they arrive. But slowly the psychologists help them to talk about that too."
Having a supportive environment like the safe space is key. "[e]verything depends on how you are welcomed in Italy. If you are in a center and you are left to your own devices, you can fall back into these exploitative circles," Mimi explains.
Changing the belief that psychologists only help the insane
Deborah says that many Africans believe that only clincially insane people need psychologists, so there is a lot of distrust initially towards the idea that they might need a psychologist as a support.
"We try and tell them that it is important to look after our minds as well as our body. But we have to go carefully with the women. If you tell a mother directly, there is a psychologist here who could help you, the woman will probably answer 'I'm not mad!' and we know to stop. But allowing the psychologist just to be in the space, they realize how helpful they are and they start to trust. Then, if you write to them and say the appointment has been changed to another day, you get loads of responses, saying 'no I need to speak to her tomorrow, it's really important.' If we tell them that the psychologist will be visiting the group the next day, you can guarantee there will be loads of people turning up to talk to her."
After the end of the day, the team will all discuss with each other the kinds of behaviors we have seen from the women. "We try and work out how someone might need help and how to approach it to offer the best services for those women. 90% of us women are born into trauma in Africa," says Deborah, "but here, women start to realize that they don't have to put up with all that stuff, that they can master what they have been through and begin to feel better. Their problems are not just money, residency permits, clothes, they need to understand how to care for their mental traumas."
Making dreams come true
"We try and make their dreams come true," Deborarh smiles. "One woman, she said to me 'aunty, I would love to be able to go swimming here. I smiled and said, well, I can't just dig a hole and build you a swimming pool, but we have the beach right on our doorstep, so then we organized days out to the beach. To relax, to learn to swim. Alone they often don't have the courage to go, but with us, they come and discover a new place."
That said, laughs Deborah, "I have to be careful, after the beach, another woman asked to be taken to the mountains, I said, oh, 'wait a second, we have just taken you to the beach, in a week they will be asking for the moon! Let's go step by step, that's important too.'"
Deborah laughs and then her smile broadens even more when asked about the journey she has seen some of the women go on after coming to the center.
"Some of the first women who came to our center two years ago will still drop by. They might even come and ask for some more advice, like tell us they have a job and they need a play center for their child to cover the hours until they finish work. This is a success for us, to see a woman who didn't have a work permit, who couldn't speak a word of Italian, is now working, and asking for different types of advice."
"Two of our women found jobs at this school, one as a cook and another in the administration. We were able to support someone 360 degrees. When a woman finds her own road forward, that is what makes our job worthwhile. One woman was a graphic designer, she knew what she wanted and she has finally got contacts on line."
Success stories
Mimi remembers the same woman. "When she came here, she didn't want to stay in Palermo. Her cases were all packed, and we said, 'OK, let us help you with this problem,' and then she fell in love with this center. She used to come with her son, her daughter, it was so lovely working with her. These women have been kept down for so many reasons, because of religion, the societies from which they came, and then they come to Italy and we want to try and encourage them to live the beautiful things from their countries."
Every Saturday, the group cooks and eats together. "Watching the women choose who will cook and who they want to cook with, everyone gets to try something new from another country. One might learn from another nationality how you cook that," explains Mimi.
Deborah adds that on Saturday, if your birthday occurred that week, the group will celebrate your birthday too. "The women teach each other things and that makes them feel important, being useful to someone, that is priceless, especially for us women, we want to be appreciated, not just as mothers or women, but for all our skills. That is what we are trying to teach women who come here. When a woman feels appreciated, she will manage to realize her potential. From a small thing, you can feel useful, and then you start to feel you can take on the world. We watch how someone starts with cooking and then might come and say, 'I want to write a book' and we say 'Go for it!'"
For more information about Centro Penc, you can visit their website here, or you can contact them on the following Italian mobile number: +39 3471580224. They are also on Facebook, where you can find out more about how to attend their group.