A 38-year-old Eritrean man who was arrested in Ethiopia two years ago has been extradited to the Netherlands. The man is accused of running a large human trafficking ring.
On Wednesday, October 5, an Eritrean man accused of running a large human trafficking ring and extortion was extradited to the Netherlands.
The man, who was named in news reports at the time of his arrest two years ago in Ethiopia as Tewelde G., landed in Amsterdam's Schiphol airport and was due to start his trial behind closed doors on Thursday, October 6, according to news agency AFP.
According to the Dutch prosecution service, the suspect is being accused of playing a leading role in a criminal gang which made sure migrants were brought from Africa to the Netherlands. "On the way," said Dutch prosecutors, "victims were abused, tortured and raped in Libya, while being locked up in camps with hundreds of others."
Trafficking resulted in deaths
Several migrants are also thought to have died in these camps as a result of the alleged trafficking ring.
In order to pay for their passage, relatives already in Europe were blackmailed and forced to pay large sums of money for their relative's release and onward journey to Europe.
Crossing the Mediterranean in crowded and unsafe boats then resulted in some people dying, said Dutch prosecutors.
Tewelde G is suspected of being an associate of another alleged human trafficker, reports the French news agency Agence France Presse (AFP). This trafficker, also 38 years old and named as Kidane Zekarias H., reportedly escaped custody while on trial in Ethiopia last year. He was later sentenced in absentia to life in prison, reports AFP.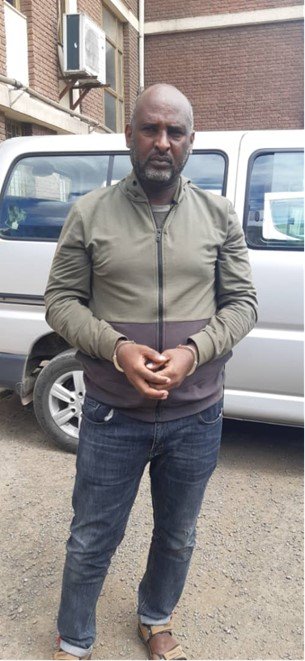 Most wanted
Kidane H. was placed on the Netherlands' list of most-wanted suspects in 2021.
Trafficking gangs are known to operate throughout the route from countries in Africa, through Libya, across the Mediterranean and on to Europe. The instability in Libya after the fall of former leader Muammar Ghadaffi in 2011 and the resulting conflict has only served to make conditions worse.
According to numerous reports from UN agencies and NGOs like the medical humanitarian charity Doctors without Borders MSF, many migrants are repeatedly imprisoned in Libya often subject to torture and violence before being released for ransom and sent across the Mediterranean.
Reuters reports that in the Netherlands, Dutch law, using the concept of universal jurisdiction, "allows cases to be brought against foreign nationals for crimes committed abroad if victims are in the Netherlands." Because some of the criminal offenses the suspect is accused of partly took place in the Netherlands -- including extortion of family members already there -- the Dutch prosecution service has the right to prosecute the suspect.
The news agency Associated Press (AP) reported that Dutch prosecutors worked closely with their counterparts in Italy, Europol, Interpol and the International Criminal Court in the Hague in order to put the suspect on trial.
With Reuters, AP, AFP