With the number of people fleeing to Germany this year set to exceed the 1.2 million who arrived in 2015-2016, the government is under growing pressure to avert a "refugee crisis".
As the number of asylum seekers and refugees arriving in Germany rises again, so do the comparisons to 2015, when more than 1.2 million people crossed the borders. Today, with even more expected to arrive than during the so-called "refugee crisis", there is again talk of becoming "overwhelmed" and "pressure" from an influx of migrants.
While setting up tent cities and gymnasiums to accommodate the growing numbers of people, mayors and state interior ministers have complained that they are being left to deal with the situation on their own. At a meeting with the federal interior minister, Nancy Faeser, on Tuesday (October 11), Saxony's interior minister warned that his state could be forced to close its external borders. His counterpart from Bavaria, which has already done so, said the states would need billions more euros to provide for the newcomers. Pressure is also mounting on the federal government to call a European refugee summit to tackle the issues and ensure a "fair distribution" of asylum seekers across the bloc.
Most newcomers have fled Ukraine war
The concerns expressed by state leaders in Germany are largely framed in terms of insufficient resources and capacity to provide for large numbers of recent newcomers, most of whom have fled the war in Ukraine. According to the interior ministry, around 998,000 refugees from Ukraine were registered in the Central Register of Foreigners between the end of February and the end of September 2022, reports DW's Sabine Kinkartz. Of these, about two thirds are women and girls.
The number of Ukraine war refugees in Germany may in fact be higher, Kinkartz points out, since Ukrainians can enter the European Union without a visa and can move freely within EU member states of the Schengen area for 90 days. 
According to the UNHCR, more than 700,000 Ukrainians in Germany have received protection status as war refugees.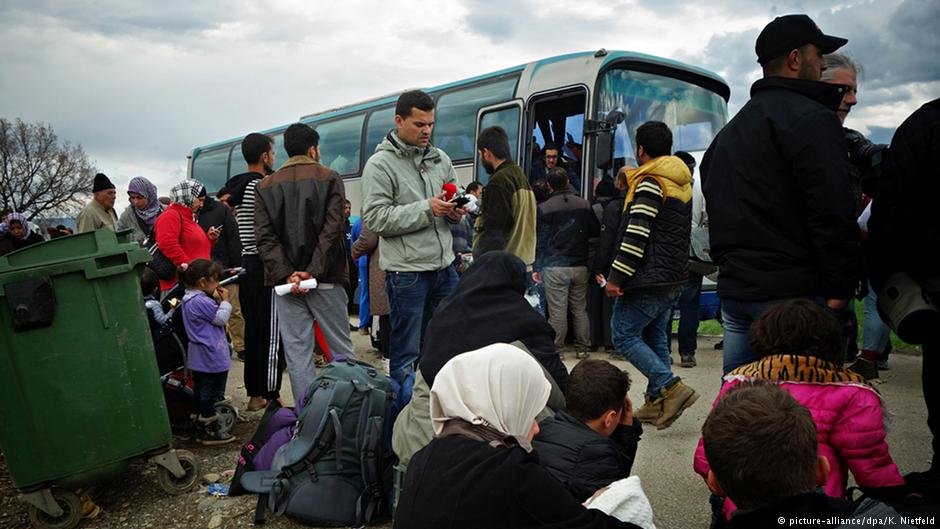 Rise in asylum seekers 'worries' Faeser
The substantial rise in arrivals to Germany is mainly a result of people fleeing Ukraine, and there is no doubt that they will continue to be welcomed, Kinkartz says. The opposite applies to those coming through "safe countries" via the Mediterranean and the Western Balkans to seek asylum. The pressure is increasing not only on Germany but at the EU's external borders generally, according to Faeser. "That worries me," she told the state and district authorities.
From January to August 2022, 115,402 initial applications for asylum were submitted to the German Federal Office for Migration and Refugees (BAMF). In the same period of 2021, there were 85,230 initial applications, an increase of more than 35%.
Syrians were the most represented with around 34,000 initial applications for asylum, slightly fewer than in 2021. Afghans made 19,730 initial applications, almost 58% more than in the previous year. Iraqis made 10,288 initial applications, an increase of around 45%.
Accommodation, education authorities struggle to cope
In June there were sufficient accommodation places in apartments and hostels in most cities and municipalities. But in the meantime that has changed, and in more and more municipalities there is no longer any space available. As was the case in 2015 and 2016, sports halls and other public facilities have had to be set up as emergency shelters.
To add to the problem, the housing market in Germany is especially tight, with vacant apartments increasingly only available in remote, rural areas. There are concerns that the situation in the coming months will become even more serous. As the migration researcher Gerald Knaus recently told the Funke Media Group: "We are facing a historic winter of displacement if the situation in Ukraine worsens and heat and electricity supplies no longer work as a result of the Russian war." 
Also read: Germany: Finding housing as a refugee – An obstacle course 
German schools are facing significant challenges. More than 193,000 children and young people who have fled Ukraine are attending classes in Germany, Kinkartz reports.
Udo Beckmann, chair of the German Press Agency, says the problems include a lack of space, a lack of teachers and a lack of support from other professions, for example in dealing with trauma. Kinkartz quotes Beckmann as saying: "[These things] mean that successful integration is hardly achievable despite a great commitment from teachers."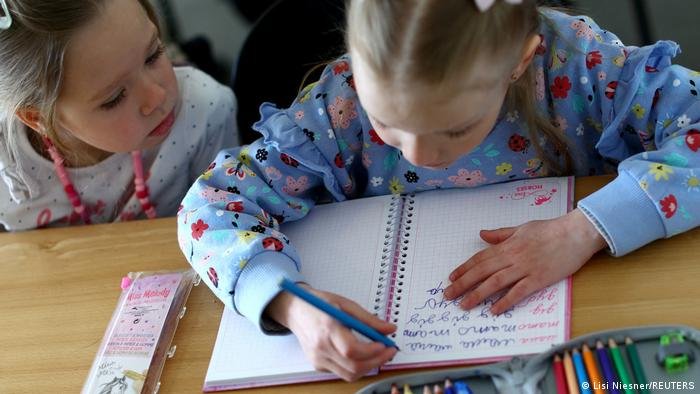 Germany to limit migrant arrivals
German municipalities are demanding more money as well as expanded reception facilities to provide for the asylum seekers and refugees. In April, the federal government paid an additional €2 billion to the federal states and municipalities for refugees and asylum seekers. Faeser confirmed this week that the federal government would be providing 4,000 accommodation places, but she said the states would have to wait until November for an announcement about further funding.
At the same time, the government is focusing on limiting arrivals by blocking migrant routes, especially from the Western Balkans. In a move strongly criticized by the German Greens on Tuesday, border controls with Austria have been extended beyond November for another six months, and the federal police are increasingly checking the Czech border.
Faeser has also pledged to tackle the situation in Serbia which she called "unacceptable". As Serbia allows visa-free entry for Syrians, Iraqis, Indians, Pakistanis and others, more and more people have been flying to Serbia and then traveling overland through Croatia, Slovenia and Austria, as well as via Hungary, Slovakia and the Czech Republic to Germany. "Serbia's visa practice … contributes to the movement on the Balkan route," Faeser said, adding that the European states are "jointly responsibly for stopping illegal entries."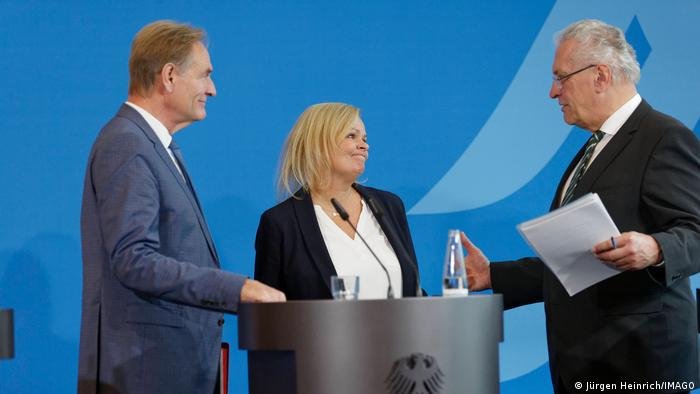 Common system stalled
In addition, the German government wants to discuss a revived Dublin agreement with other European countries which would see asylum seekers who come to Germany from other EU states returned to those states.
For now a binding agreement on the distribution of asylum seekers in Europe remains stalled. As the leader of the FDP (Free Democrats) parliamentary group, Stephan Thomae, said in a newspaper interview, the proposed Common European Asylum System (CEAS) has "not made any progress" in recent years. "We now need a European migration summit as soon as possible to create clear rules on how Europe will deal with this and future refugee movements," he said.
Meanwhile on Tuesday, the first group of 74 migrants was transferred from Italy to Germany under an interim agreement known as the European voluntary solidarity mechanism. 21 European states agreed in June to the procedure, which is initially to run for one year. Progress has been slow so far – apart from France, which flew in 38 people in August, the transfer to Germany this week has been the only one, according to the German news agency dpa. In total the German government has agreed to take in 3,500 asylum seekers by the middle of next year. Too many, says the opposition, at a time when the country is already stuggling to cope.
This article is partially based on Sabine Kinkartz' article 'Refugees in Germany – Questions and answers' (in German) which can be found here.