More rejected asylum seekers were sent back to flood-ridden Pakistan this week as German groups claimed that many migrants are unlawfully detained pending deportation.
Another deportation flight took off from Germany to Pakistan on Tuesday (October 11) despite floods which have had a devastating impact on the South Asian country. There were 21 people on board the flight, three of whom came from areas affected by the flooding, German refugee councils said.
The UN Secretary General warned last week that Pakistan was on the verge of a public health disaster, and said severe hunger was spiking.
"Deporting people to this humanitarian emergency situation shows a displays a particular harshness," said Johanna Böhm from the Bavarian Refugee Council.
In early September, at the height of the disaster, 36 people were returned to Pakistan on a similar deportation flight.
German asylum authorities (BAMF) do not consider the floods as sufficient reason to grant protection to people from Pakistan, because of what are called internal flight alternatives – places within the country of origin where the individual could be safely relocated.
Kai Weber, from the Refugee Council of Lower Saxony, accuses BAMF of making bad decisions, and says the interior ministry should tell it to adapt its guidelines and decisions to "give more consideration to climate-related disasters as an obstacle to deportation."
Right to legal representation
German authorities also came under fire on Wednesday from human rights groups claiming that around 50% of migrants due to be deported were detained unlawfully. According to a position paper signed by Amnesty International, Pro Asyl and Terre des Hommes, as well as 47 other organizations, all migrants in deportation custody should have the right to a lawyer paid for by the state.
In the paper, the groups say that people who are detained prior to deportation are often poor, lacking in language skills and unfamiliar with the legal system. They would therefore have no chance of defending their fundamental rights in court without professional assistance, especially in such complex cases, they add.
Under current law, detention pending deportation is inadmissible "if the purpose of the detention can be achieved by a milder means," according to the German Press Agency dpa.
The groups also say that minors are often unlawfully detained because their age has been incorrectly assessed. (Children and adolescents are generally safe from deportation in Germany, but they lose this protection after their 18th birthday.)
The 50 signatories are calling for all migrants in deportation custody to be assigned free legal representation. Without this those concerned are "helplessly exposed to a procedure which they do not understand and therefore cannot influence, but as a result of which they lose their freedom," they say.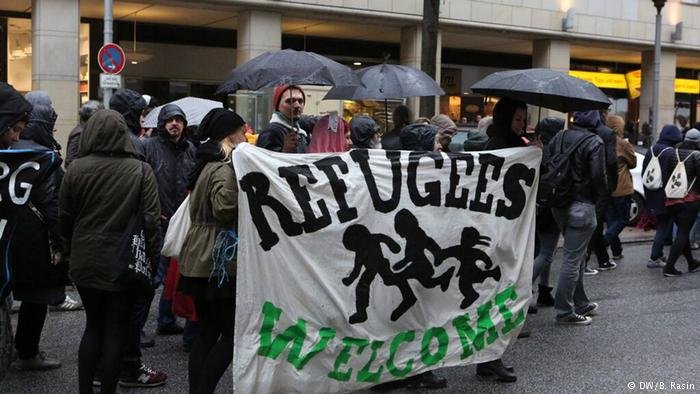 A fair chance
Meanwhile, Germany's center-left government is planning to introduce a so-called "new right of residence" as part of its migration reform agenda. This is meant to give migrants who are well-integrated but have overstayed their legal right to remain the chance to stay in Germany for the longer term, and potentially obtain permanent right of residence.
The change means that those who have lived in Germany for at least five years, have a job and have a good level of proficiency in German, and who had previously been granted exceptional leave to remain – known as "tolerated" status or "Duldung" – will no longer have to live in fear of deportation.
"We want people who are well-integrated to have a fair chance of staying in our country, too," said the German interior minister, Nancy Faeser, commenting on the reforms.
With dpa, epd