Protests have erupted in the coastal Tunisian city of Zarsis, following an apparent attempt by local authorities to bury the bodies of migrants who died in a boat accident without first identifying them.
Residents of the Tunisian coastal town of Zarsis have been angered by reports saying that authorities have buried four bodies found at sea without identifying them, or notifying their families.
The incident has sparked huge demonstrations, with protesters calling for a more intensive search for the many migrants still missing in the aftermath of the accident.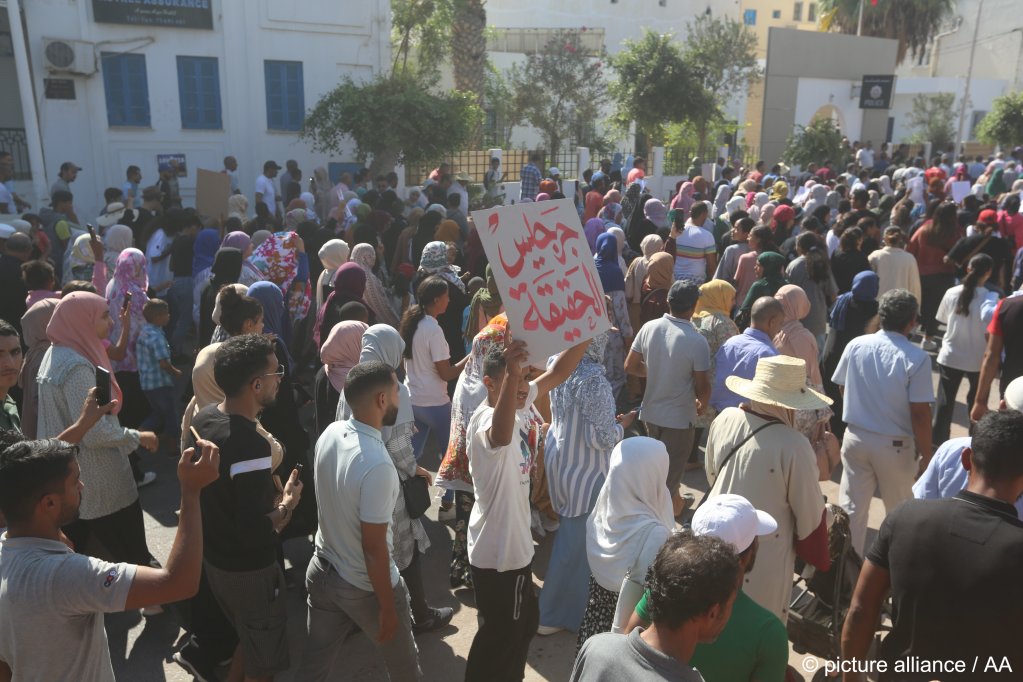 Media reports said that as many as 4,000 protesters, including relatives of the missing, marched along the city's main street on Tuesday, many holding up pictures of lost loved ones or signs saying "we want the truth."
The protests come four weeks after 18 Tunisians boarded a boat headed for Italy. The boat disappeared, however, last week local fishermen searching for the wreck found eight bodies.
Protestors accuse authorities of burying the bodies in a graveyard for undocumented migrants rather than working to identify them, and say officials were slow to search for those missing.
President addresses protests
Tunisian President Kais Saied spoke about the Zarzis protests on Monday in a video filmed during his meeting with Prime Minister Najla Bouden. He said the government had tried to identify the missing and would seek to find those responsible for people trafficking.
However, local activist Ezzedine Msalem told AFP "we want to know the truth," denouncing what Msalem referred to as "a state crime perpetrated against the inhabitants of Zarzis."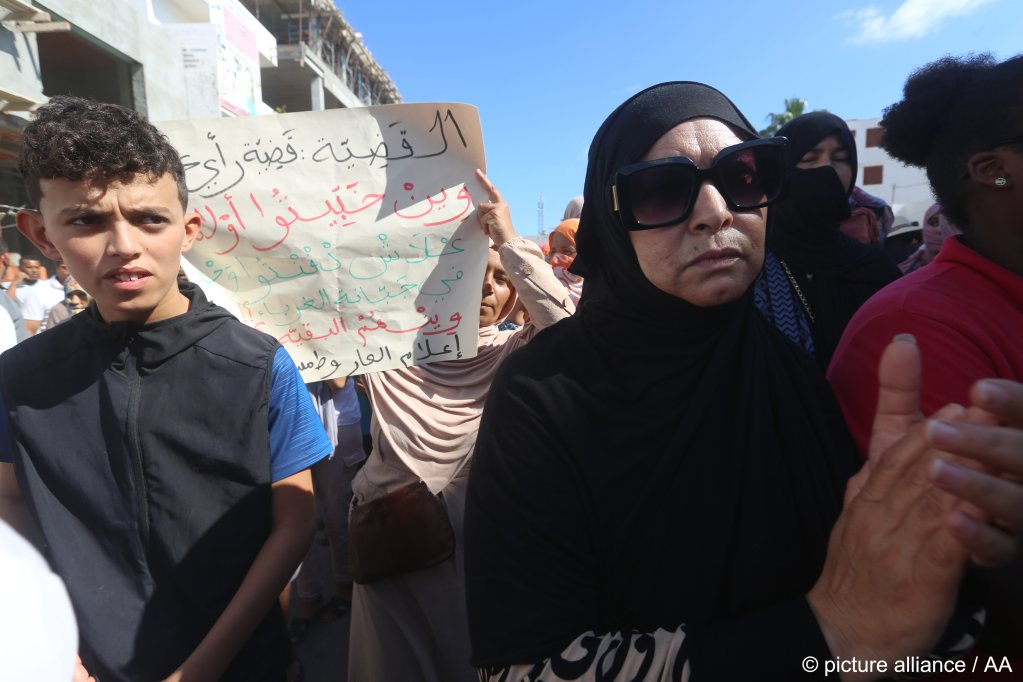 Protesters demand investigation
The Tunisian Human Rights League said authorities had "not devoted the necessary resources to search and rescue operations in a timely way" and called for an inquiry into the burials. The powerful UGTT trade union federation also demanded an inquiry into the rescue effort and into how the bodies were buried.
On Tuesday, President Kais Saied asked Justice Minister Leila Jaffel to open an investigation "so that Tunisians can know the full truth and who was behind these tragedies."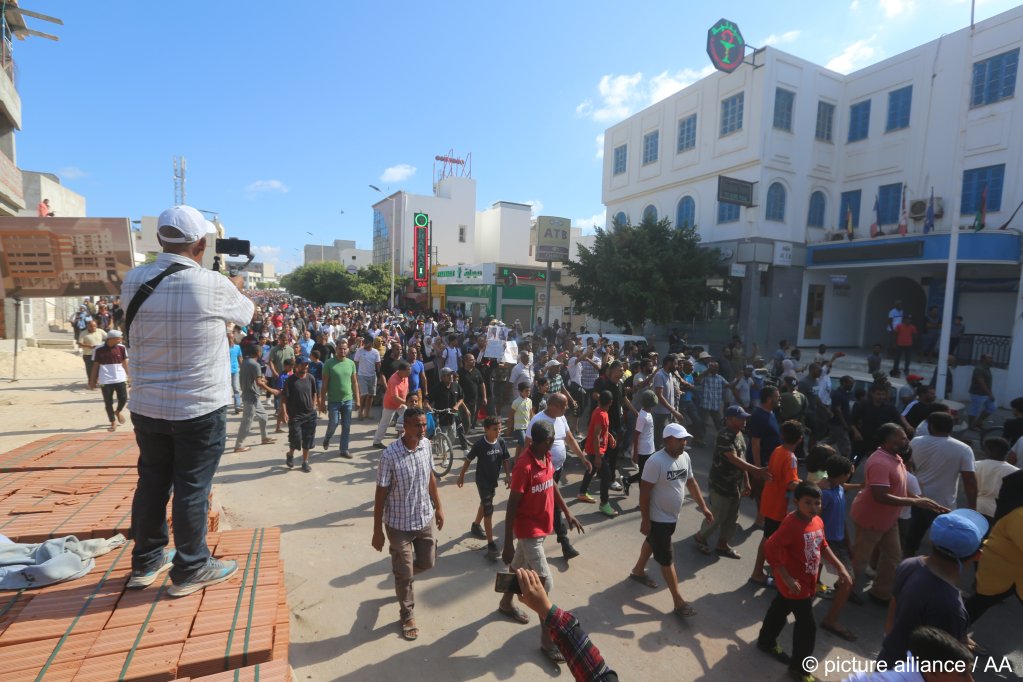 The burial of four unidentified people, suspected of being missing Tunisians, has caused nationwide outrage. They are believed to be passengers from the boat who were buried in a nearby cemetery for foreign migrants mostly coming from sub-Saharan Africa.
Tunisia is used to dealing with such migrant tragedies, as the bodies of foreign migrants regularly wash up along the coast after similar incidents. However, while the incident perhaps exposes attitudes towards such undocumented migrants from Sub-Saharan Africa, who perish or go missing at sea off the north African coast, it also shows how fed up Tunisians are with authorities.
The buried bodies have since been exhumed for identification, while another two bodies believed to be Tunisians have also been found; authorities have also carried out DNA tests on the deceased. They are to be reburied in the presence of their families.
However, even if the four buried bodies and two bodies found recently turned out to be six of the 18 missing Tunisians, it would mean that 12 passengers from the boat are still missing. Protesters have therefore called for a more intensive search effort for the many migrants still missing in the aftermath of the accident.
General strike to demand action
The powerful UGTT labour union called a general strike in the town on Tuesday, bringing to a head days of smaller protests. They demand authorities do more to find missing bodies and improve living conditions of locals struggling under extreme economic strains.
Images showed the streets of Zarzis packed with protesters chanting anti-authority slogans, with shops and government institutions closed.
"Today, the state continues to ignore us and does not even search for those drowned," said Salim Zreidat, whose 15-year-old son Walid was among the missing.
"What has the state done for us to stop our children running? Is there employment? Nothing," he said, adding that Walid felt he had no future in Tunisia despite being an excellent student.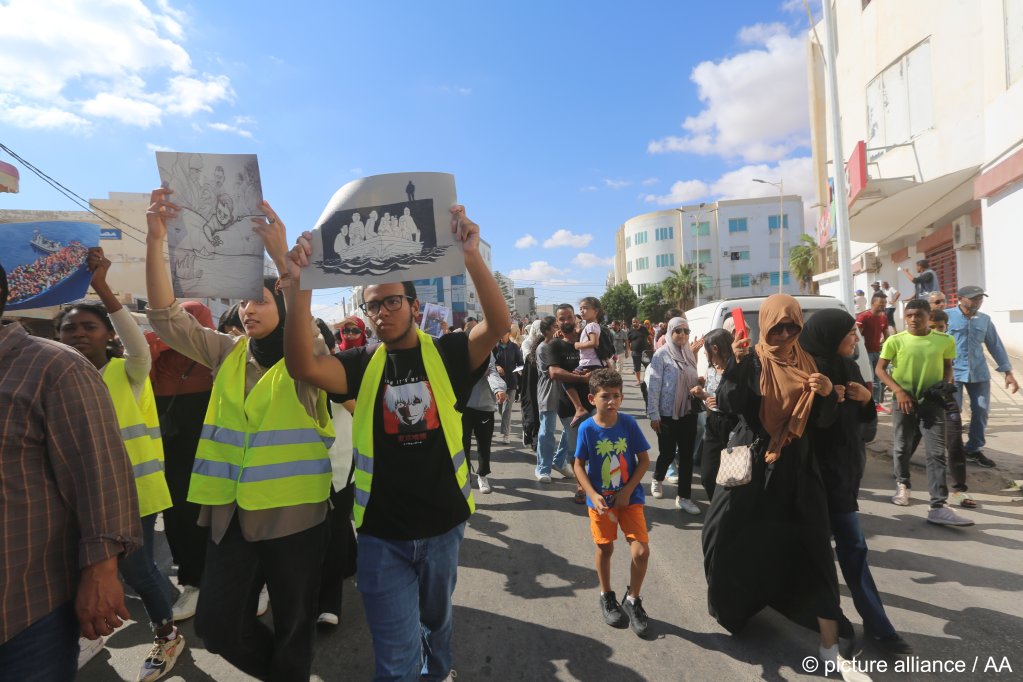 As anger over unemployment and shortages of food and fuel intensified across Tunisia, there were four consecutive nights of protests in the capital's poor Ettadamen district as youths clashed with police.
On Saturday, opponents of President Saied, who regard his recent expansion of powers as an undemocratic coup, also protested in their thousands on the streets of the capital, Tunis.
Deaths at sea on the rise
In the face of Tunisia's worsening economic crisis, young Tunisians in particular appear to struggle to see realistic prospects for themselves in their home country.
The number of Tunisians fleeing to Europe and hoping for a new start is therefore increasing, with Italy on the opposite side of the Mediterranean being their closest port of call. Almost 76,000 migrants have already reached Italy's coast this year, according to the Italian Interior Ministry.
Last year, in the same period, this figure stood at 50,000. UN reports cite 1,120 deaths or missing migrants on the Mediterranean route this year alone.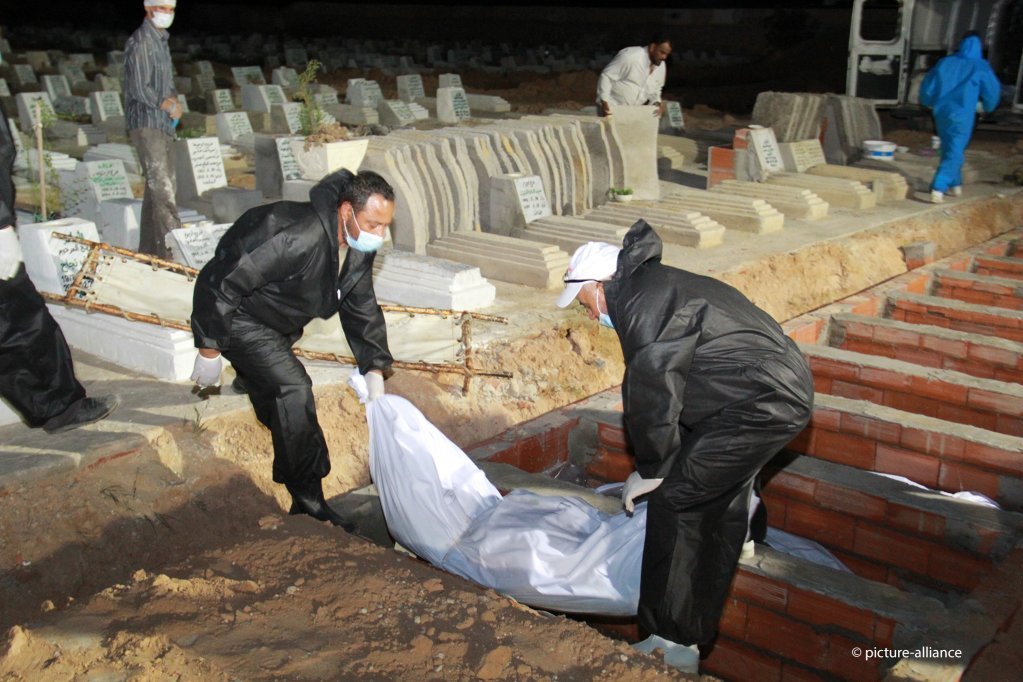 The North African country has a long coastline, which in certain places is just 130 kilometers (80 miles) away from the Italian island of Lampedusa. Despite generally favourable weather conditions in the region from spring to autumn, these perilous voyages on barely seaworthy boats often end in tragedy.
Earlier this month, AFP journalists saw the coastguard intercepting migrants aboard several overcrowded boats. Tunisian authorities intercepted nearly 200 migrants attempting to reach Europe over the weekend alone, the defence ministry said Tuesday.
According to official figures, more than 22,500 migrants have been intercepted since the start of the year, around half of them originating from sub-Saharan Africa.
With AFP, dpa and Reuters