Suella Braverman has returned to running the UK's domestic affairs after a six-day absence. Her return, however, has been criticized by many, who fear that under her leadership as home secretary, the UK may become less welcoming to asylum seekers and other immigrants.
It appears more like a brief absence of leave rather than a hiring, firing and rehiring narrative, but Suella Braverman's return as Home Secretary (Interior Minister) just under a week after her quitting the job has caused somewhat of a stir across UK politics. 
Last week, the daughter of Kenyan-Indian and Mauritian-Indian immigrants to the UK was regarded as one of the final nails in the coffin of Liz Truss' premiership. A day later, Truss resigned, making history as the shortest-serving prime minister in the history of the United Kingdom.
On Monday, it became clear that Truss would be succeeded by Rishi Sunak, who since has reinstated Braverman in the position of Home Secretary. One of the top jobs in the cabinet, the Home Secretary heads the Home Office, which among other things is in charge of immigration matters and border security.
Keeping migrants offshore
Braverman was already seen as a divisive figure during her first stint as home secretary under Truss, defending policies introduced under her predecessor Priti Patel, such as the UK Nationality and Borders Act 2022, which limits the rights and protections of migrants and refugees who arrive in the UK using irregular means.
But above all, both Patel and Braverman were noted for their explicit support of the migration policy of sending migrants and refugees offshore for processing and resettling. 
The practice, which resulted in a partnership with the government of Rwanda has not yet been enacted, as various court cases and legal proceedings effectively halted the process; however, Braverman's advocacy for the policy has raised eyebrows even from some of her own party, not to mention opposition politicians and human rights advocates.
Read more: UK report slams Rwanda asylum pact
Deal or no deal
Prime Minister Sunak's reappointment of Braverman as Home Secretary was regarded as laziness to seek any other qualified candidate by some; while others like opposition Labour Party leader Keir Starmer suggested that there was a "grubby deal" involved between the PM and Braverman, saying Sunak needed her support (as one of the leaders of the right-leaning wing of the Conservatives) to secure his lead in the latest Conservative party leadership contest following the departure of Liz Truss — an accusation he shared with Scottish National Party (SNP) Westminster leader Ian Blackford.
Starmer also referred to his own experience as head of the Crown Prosecution Service in the past, saying he knew "first hand how important it is that we have a home secretary whose integrity and professionalism are beyond question." 
Sunak responded by accusing the Labour Party leader of being "in favour of unlimited immigration."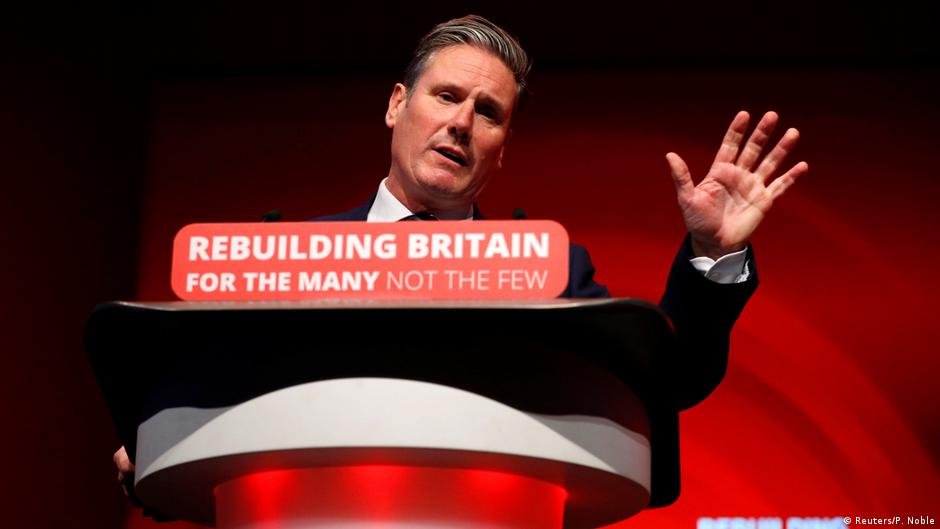 Read more: UK report slams Rwanda asylum pact
Opposition to Braverman
Whatever the motivation for the appointment, criticism of Braverman's views have been echoing through the halls of Parliament; the Liberal Democrats have even said they wanted to have an inquiry opened looking into Braverman's appointment regarding "any promises Sunak made to her behind closed doors."
Others appear to want to brand Braverman as incompetent on little more than a technicality: The home secretary admitted to accidentally having sent a sensitive official document to an unauthorized person, thus committing what she referred to as a "technical infringement" of the ministerial code of conduct, which reportedly led to her resignation last week.
Read more: Terms and acronyms that asylum seekers need to know in the UK
Labour Party MP Angela Eagle expressed interest in having an independent ethics adviser investigate Braverman's mistake. Yvette Cooper, the shadow home secretary for the Labour Party, meanwhile said that the prime minister's actions amounted to his illicit support of what she called "chaos."
"Our national security and public safety are too important for this kind of chaos," Cooper told MPs in parliament.
"He has just appointed Suella Braverman to be home secretary again, a week after she resigned for breaches of the ministerial code, security lapses, sending sensitive government information through unauthorised personal channels," she added.
The Liberal Democrats' home affairs spokesperson Alistair Carmichael meanwhile went further by saying that a "home secretary who broke the rules is not fit for a Home Office which keeps the rules."
The prime minister meanwhile justified his decision of appointing Braverman to the post, saying in the House of Commons, the UK's lower house of parliament, that "[t]he home secretary made an error of judgment but she recognized that, she raised the matter and she accepted her mistake."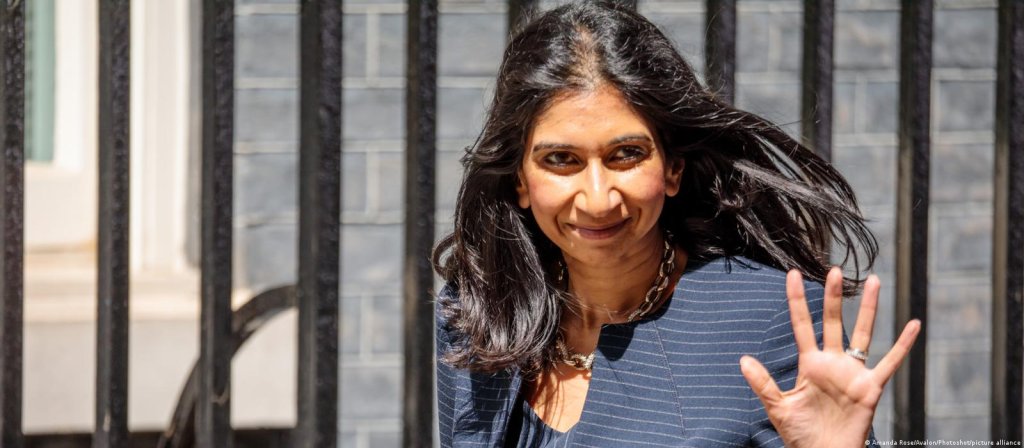 Read more: UK government warned not to embark on Rwanda policy by own advisers
'Dreaming' of Rwanda
Braverman's short and contentious career-to-date in the top echelons of government has already caused plenty of headlines in the UK national press.
At the Conservative Party conference earlier in the year, she talked about her "dream" of making the controversial Rwanda policy work, saying this would set Britain on the path of getting annual immigration levels down to the "tens of thousands." On the sidelines of the event, Braverman even admitted to having an "obsession" with witnessing an airplane transport asylum seekers to Rwanda.
In her resignation letter last week to Liz Truss, Braverman had expressed having "serious concerns" over the government's commitment to reducing overall migration numbers and stopping illegal immigration.
According to a statistic evaluated by a team of researchers at The Migration Observatory at the University of Oxford, net migration to Britain has averaged above 200,000 annually, though at least twice in the past decade it peaked at nearly double that rate.
Alternative solutions
Meanwhile, outside the realm of politics, various charities and civil society groups have also expressed their disappointment at Braverman's reappointment. The Migrant Voice charity tweeted that the UK needs "safe and legal routes [of immigration], not deportation flights to foreign countries."
As the so-called 'cost of living' crisis continues, immigration might not appear to be top of the prime minister's new agenda, but as business leaders like Julian Metcalfe, the head of the food chain Itsu, told the BBC this week, reinstating two-year visas for young migrants would be one way of helping to solve the crisis in the hospitality business and help promote the growth that the Conservatives hold so dear.
For Rob McNeil, deputy director of the Migration Observatory at Oxford University, speaking on the BBC Today Programme on October 26, instead of wasting money on plans like Rwanda which would only address a few thousand people even if it actually begins, the government would do better to address the backlog of over 100,000 asylum claimants they already have.
Two peas in a pod?
But beyond Home Secretary Braverman's own personal views on migration issues, her appointment also seems to reflect how the new prime minister will seek to approach immigration issues in his cabinet.
During the Conservative party leadership campaign over the summer, when Sunak ran against Truss, he spoke in favor of introducing an annual cap on the number of people claiming asylum in the UK, saying he also was committed to doing "whatever it takes" to ensure that the Rwanda scheme was put into practice. Sunak also promised he would make sure that anyone who was denied asylum would be "sent back home."
Sunak, meanwhile, is well aware that all eyes are on him, as the Conservative Party cannot afford any further gaffes and mistakes before the 2024 UK elections.
Read more: UK plans to deport Tamil refugees on British territory in Rwanda-style plan