The UK's official borders watchdog has decried the "wretched conditions" encountered at a migrant processing center in Kent, UK. The facility in Ramsgate has been under fire for days, following reports of a diphtheria outbreak.
The independent chief inspector of borders and immigration, David Neal, who acts as the government watchdog in charge of overseeing migrant reception facilities, slammed the quality of service provided at the Manston migrant processing center, located near the town of Ramsgate in the county of Kent.
Among other grievances, he noted that the facility, which is designed to serve as a short-term solution to process new arrivals in the first 24 hours, had migrants and refugees who had been staying there for over a month. 
The maximum stay at the center is meant to be five days — under exceptional circumstances. After completing checks, asylum seekers are meant to be taken to long-term immigration detention centers or asylum accommodation.
Threat of 'unlawful detention' legal claims
However, Neal highlighted that he had spoken to a family from Afghanistan who had been living in a marquee there for 32 days. 
He said he had also encountered two families from Iraq and Syria respectively, who had been living in tented accommodation solutions for two weeks and were sleeping on kit mats with blankets at night.
Keeping the asylum seekers under these circumstances at the Manston facility could be regarded as grounds for lawsuits. The Home Office could face claims of unlawful detention, as many of those stuck at the facility couldn't leave, even after having stayed there for the maximum time limit of five days.
Read more: Asylum accommodation under scrutiny in UK
Running above and beyond capacity
In the greater scheme of things, the threat of legal action might, however, be the lesser of a number of worries for those responsible for running the Manston migrant processing center. 
The facility currently has to provide accommodation to about 3,000 refugees and migrants who have arrived in the UK by trying to cross the English Channel. This is three times its intended capacity and double the capacity it is designed to stretch to hold under exceptional circumstances.
"The numbers that have been described are clearly outstripping the capacity of the site," Neal said. 
Officials in charge of the center meanwhile have commented that as the year went on, it became increasingly difficult to move refugees and migrants out of there, with more arriving than those earmarked to leave. 
In total, more than 38,000 migrants and refugees have arrived in the UK so far in 2022, according to official data.
Read more: Over 1,000 migrants cross Channel to UK in one day
Diphtheria outbreak at Manston
Meanwhile last week, there were reports of a diphtheria outbreak at the facility — a communicable disease which can be fatal if left untreated. The Home Office announced, however, that there were very few cases, adding that those instances of the disease had been treated with medication.
"We are aware of a very small number of cases of diphtheria reported at Manston. Full medical guidance and protocols have been followed," the Home Office said in a statement. However, health care officials are worried, as diphtheria was considered to have been eradicated in the UK, resulting in many doctors in the country being relatively unfamiliar with the illness.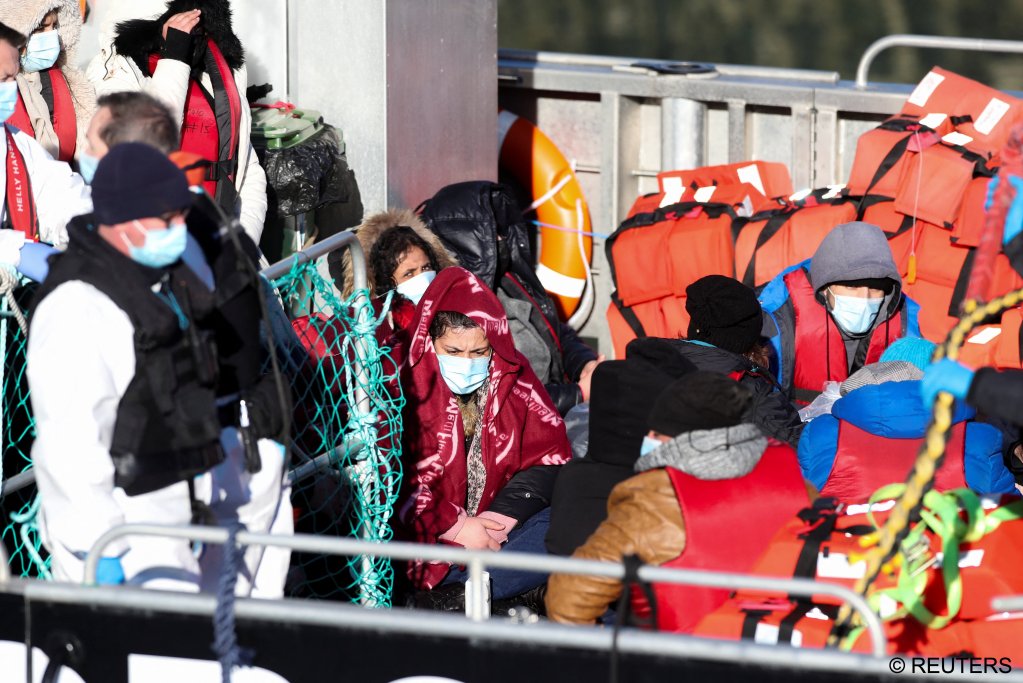 Dr. Liz Clark, a clinical adviser at the charity Medical Justice, said that "[m]ost GPs in this country have never seen a case of diphtheria so I wonder how long it took to diagnose this."
Previously, there had been an outbreak of norovirus at Manston, and asylum seekers who were processed there also reported having witnessed instances of scabies.
Read more: Report criticizes UK's handling of Channel migrants
Staffing issues
The Manston facility, which only opened at the beginning of this year, also appears to have a staffing problem. Chief inspector Neal said that some of the personnel in charge of guarding people at Manston were not specifically qualified to do the job.
The company that runs the facility, Mitie Care & Custody, says it hires specially trained detention custody officers, whose training is accredited by the Home Office. However, the company also has to recruit private security staff, who do not have to pass the same training standards.
Neal said he had raised the issue as a matter of urgency with the Home Secretary Suella Braverman and with the Chief Inspector of Prisons, Charlie Taylor.
Neal said that the facility showed a "creeping lack of ambition from the Home Office," adding that he was left "speechless" when he toured the Manston migrant processing center, stressing that he's "not someone who is normally speechless."
Read more: Prison inspectorate criticizes UK government holding facilities for Channel migrants