Germany's new humanitarian program to evacuate vulnerable individuals from Afghanistan is said to be in chaos as aid groups are swamped with calls and messages from applicants.
A few weeks after the official start of the German government's new admission program for Afghanistan, aid organizations are reporting a huge increase in the number of applicants.
"We receive emails every minute," said Axel Steier from "Mission Lifeline", a charity helping to evacuate Afghans to Germany.
Steier told the Funke media group, a German newspaper and magazine publisher, that by the beginning of November his organization had received 17,000 inquiries.
According to Steier, aid workers from the civil society initiative "Kabul Luftbrücke" (Kabul Airlift) said they had received 15,000 messages via social media accounts and email, some of them sent to their own personal addresses.
The German branch of the non-government organization Reporters Without Borders (RSF) said Friday (November 4) that it had received 12,000 registrations and 3,700 requests for help. In addition there are "hundreds of phone calls, emails and messages via social media, and the trend is growing," according to a statement on the group's website. As a result, it has "temporarily removed the online form for at-risk Afghan media workers."
Meanwhile, the German foreign office said it had received inquiries about the admission program "in the five-figure range," the Funke group reported.
Civil society organizations engaged
Germany has admitted at least 26,000 Afghans since Kabul fell and the Taliban returned to power in August 2021. In mid-October, the government launched a new federal admission program to provide for a further 1,000 vulnerable Afghans to be evacuated to Germany every month.
The new program is aimed at protecting media professionals and human rights activists, as well as those working in the judiciary, police or politics, who have been in danger since the Taliban took power.
However, vulnerable people in Afghanistan cannot apply for admission to the program themselves. Instead, they are selected and put forward by aid organizations such as Reporters Without Borders and Kabul Airlift.
The German foreign office says the pressure to leave Afghanistan is "very high, so it happens that people give false information or present forged documents." This is one of the reasons why the government "wants to make use of the specialist knowledge of civil society organizations that have worked in Afghanistan or have particularly good knowledge of the group of people to be admitted."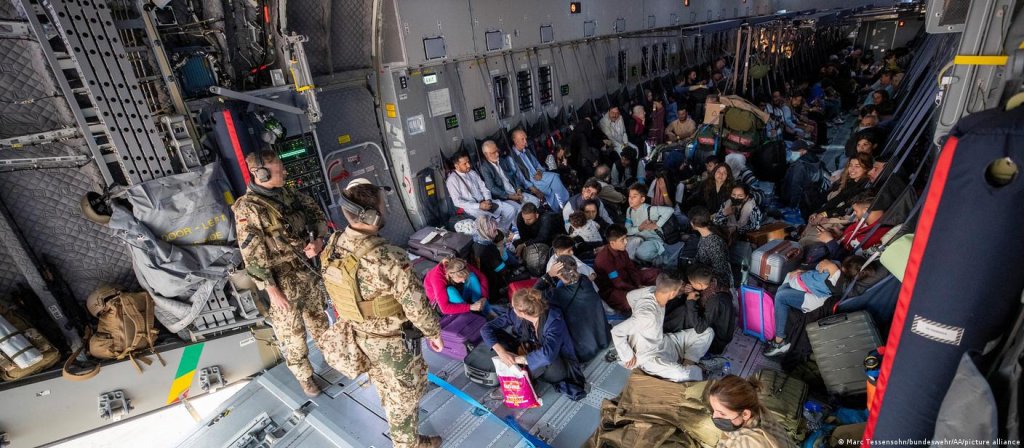 Government blamed for 'chaos'
Reporters Without Borders blames the German government for creating chaos by failing to prepare for the official start of the program: as of October 17 there was no information hotline and no central application form. "Those affected initially searched in vain for information in Dari or Pashto on the website specially created for the program by the foreign office and the interior ministry," the RSF statement said, adding that the site was "initially only available in German, not even in English, and is unclear and vague in parts relevant to those affected."
RSF called for a central point of contact for Afghans in need of protection to be set up as soon as possible.
The program has also been criticized by the asylum and refugee advocacy group Pro Asyl and the German Left Party for being too restrictive. Pro Asyl's head Günter Burkhardt said the procedure involved to obtain protection status under the program was too complicated and created a "crazy bureaucratic effort."
With KNA