A new joint plan to stop migrants from crossing from France to the UK is in its final stages, the British government has said. The announcement follows talks between the leaders of France and the UK on the sidelines of the COP27 climate summit.
The British prime minister, Rishi Sunak, said Monday (November 7) that he was optimistic about working with France to "stop people coming illegally" to the UK.
Sunak's comments came after his first in-person meeting with the French president Emmanuel Macron, which took place at the international climate summit in Egypt.
The British leader is facing extreme pressure to address the issue of irregular migration, amid allegations that the Home Office (interior ministry) has been holding migrants under unlawful conditions in the overcrowded Manston processing center.
By October 30, 39,766 people had crossed the Channel to the UK in small boats since the start of the year, according to government figures.
Previous efforts to curb Channel crossings – including the stalled plan to send asylum seekers to Rwanda – have failed to reduce the numbers. A report by the Chief Inspector of Borders and Immigration in July 2022 denounced the Home Office response to the rise in small boat crossings as 'poor'.
Renewing confidence
Relations between France and the UK have been strained over the issue – during her campaign to become prime minister, Sunak's predecessor Liz Truss questioned whether Macron was a friend or foe.
While he said the situation remained "complex" and would not commit to a timeframe, Sunak told reporters in Egypt that the government would tackle the issue as quickly as possible, and said France and the UK would be able to "get a grip of this situation."
"I'm actually leaving this with renewed confidence and optimism that working together with our European partners, we can make a difference, grip this challenge of illegal migration and stop people coming illegally," he said.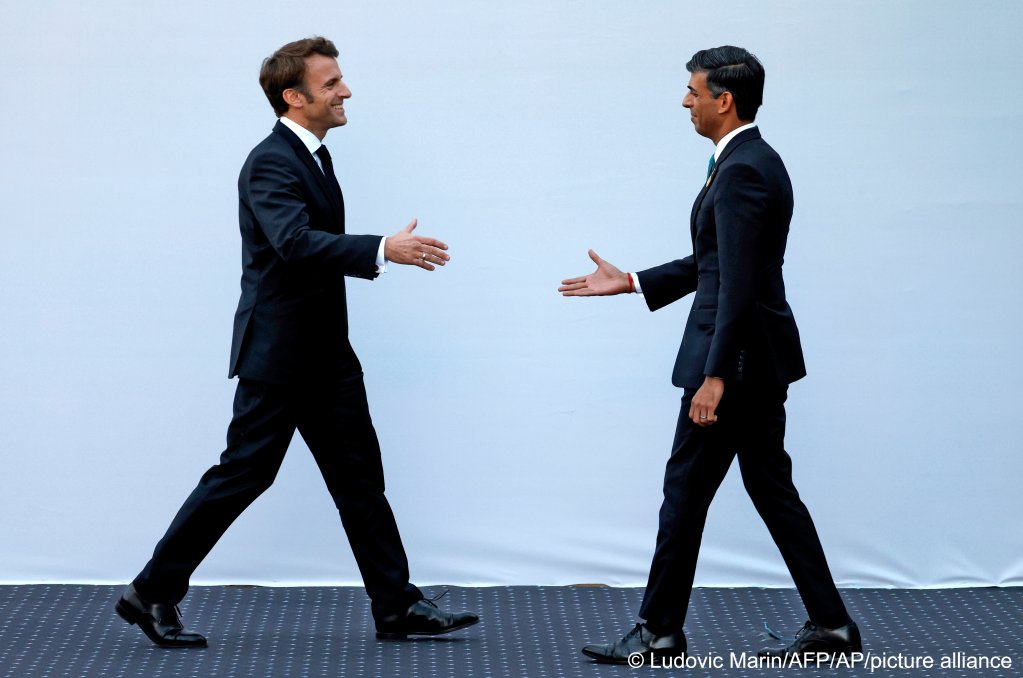 Deal 'close'
Shortly afterwards, Sunak's spokesperson said the two countries were close to agreeing a new deal to prevent large numbers of migrants making their way to England in the boats.
"A deal is being discussed and I think is in its final stages," the spokesperson said.
British officials have previously said they would like to have their own immigration officers on the ground in France, working alongside French police to prevent more boats from leaving French beaches.
In July 2021 the two countries signed a deal worth about €63 million to fund more police patrolling the shores of northern France.
British immigration minister Robert Jenrick told parliament that French authorities had prevented over 29,000 migrant crossings this year and destroyed more than 1,000 boats.
Most granted asylum, not 'economic migrants'
Jenrick also said Britain was working to prevent migrants from "safe countries" such as Albania -- as opposed to those fleeing persecution or war -- from arriving by boat as asylum seekers.
"At the moment, the system is frankly overwhelmed by the sheer number of individuals coming here, a very large proportion of which should not come here, because they're economic migrants," Jenrick said.
Despite these claims, however, 94% of people arriving by small boat in the UK make a claim for asylum, and more than 75% are successful.
In the first six months of 2022, official statistics show that 51% of small boat arrivals in the UK were from Albania (18%), Afghanistan (18%) and Iran (15%). 
The current rate of asylum granted to Albanians is 53%, compared to 76% for all nationalities. These figures do not relate to the Albanian nationals arriving in small boats in recent months who have increased to 11,102 (42% of total arrivals) from May to September. 
However, even if grant rates for recently-arrived Albanian nationals were substantially worse, according to IPPR, a think tank, the majority of applicants for protection in the UK would be successful if their claims were properly considered.
With Reuters