A 14-year-old Sudanese refugee boy, Mazen, was abducted in August near his house in Warshafana, Libya. He was first held in a militia prison and he is currently detained in a juvenile prison in the Tajoura area, east of Tripoli. His father told ANSA that he still doesn't know why his son is being held and that the boy is in poor health.
Months ago, Mazen, his three siblings and their father left the Immigrant Detention Center in the Ain Zara area, south of Tripoli, and moved to Warshafana, 45 kilometers west of the Libyan captial. They were assisted by the UN refugee agency UNHCR in the process.
In Washafana, Mazen's father (Muhammad Azam, a 42-year-old Sudanese national who migrated to Libya in 2019 with four minors), found work in construction while his teen son was employed as an assistant blacksmith in a workshop near their place of residence.
Mazen's abduction in August
Every day, Mazen went to his workplace near his house in Warshafana, but on August 29, 2022, he did not return home. On the same day that Mazen disappeared, his older sister received a video via WhatsApp showing Mazen being beaten, intimidated and threatened with death. The video spread among the WhatsApp networks of the Sudanese community in Libya and other social media groups.
InfoMigrants reported on the case when the video showing the abuse of Mazen first surfaced at the beginning of September.*
Mazen's father in an interview said that he had "no idea why my son was kidnapped, and I did not have money to pay the ransom demanded by the kidnappers."
The day after the abduction "a person called me and claimed that he belonged to the UNHCR and asked me about my exact place of residence. I told him the address, and he told me he wanted to meet me a little later," the father said.
He said that four cars with armed people stormed his house shortly after, and took him with them. "They tortured me. I spent 10 days detained in a place where I did not know anything, without having done anything, and I did not understand where Mazen was and what they had done to my three other children."
The father's disappearance
Tariq Lamlum, a member of the organization Belady Foundation for Human Rights, said that "several people claiming to be members of security authorities in the city contacted us and promised to arrest the perpetrators and later confirmed that they were able to capture a Libyan person who was in the video without mentioning data or information about this person."
However, the following day Mazen's father disappeared for several days, said Lamlum. The identity of kidnappers and reason behind abduction are still unknown.
An ANSA reporter asked Mazen's father whether he recognized his abductors. He appeared to be nervous and said: "I don't know who kidnapped me, but they looked like militias. I don't understand why my son was kidnapped, but I think they kidnapped me because I told UNHCR about the abduction of Mazen."
He said that one of the gunmen asked him why he had told the UN about his son's abduction: "I told him that I have been a refugee and displaced for about 19 years, registered in the refugee lists of the UNHCR, and I'm a father of four orphaned children. What else should I have done?", he said.
After ten days of unjustified detention, the man was transferred to the criminal investigation center in the Maya area, which is close to the Warshafana region.
"I was referred to the police station in the area. They interrogated me again, told me I had committed no crime, and released me immediately," Mazen's father said.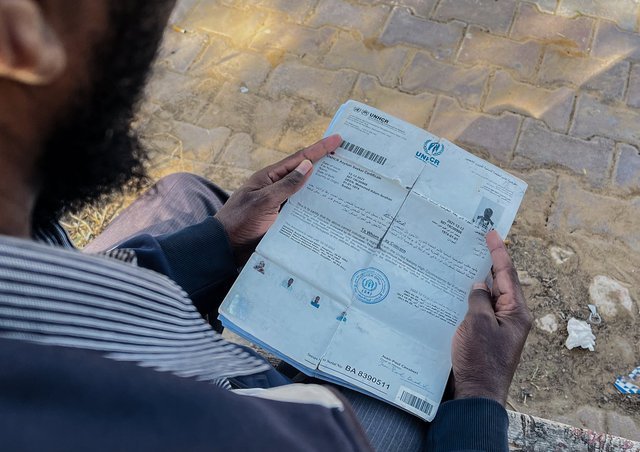 Mazen is currently in a juvenile prison in Tajoura
Two days after returning home, "Mazen called me to tell me that he was detained inside a 'reform and rehabilitation institution (Juvenile Prison)," located in the Tajoura area, east of Tripoli, the father said.
He explained that he was allowed to visit his son in prison for 10 minutes in mid-October. During the short visit "I wasn't told why my son was in this prison; my son Mazen does not understand the reason for his detention either."
"Ten minutes were not enough to answer all the questions in my mind, especially since we were being watched, but what I can confirm is that Mazen's health did not seem to be good, traces of torture were evident on his body, and he told me he was taken to the hospital for a severe illness," he added.
Legal status is 'flawed'
Tariq Lamlum added that the legal status of Mazen is "flawed" because the teen was kidnapped and then a legal authority confessed that he was being held in a juvenile prison and that "he is currently under the supervision of a prison affiliated with the ministry of justice."
"Mazen suffers from a complex health condition, including notably the trauma he received after the kidnapping incident," Lamlum explained.
What remains unclear is who was responsible for sending Mazen to the juvenile detention center. Lamlun wondered whether the kidnappers' denial of any responsibility were "supported by official authorities" or whether the abductors wanted to "embarrass security authorities who did not find a justification for the video and the presence of a Libyan person threatening and blackmailing the child after allegedly saying that the child himself fabricated the video".
*Note: In a report published September 8, 2022 InfoMigrants stated that Mazen was 15 years old, as was reported by several sources at the time. More recent reports suggest he is 14 years old. Moreover, different spellings of the boy's name are used -- either Mazen or Mazin.