Sinsheim is a small town in Germany, not far from the city of Heidelberg. A café in the town has been sheltering refugees and migrants for the last 20 years. InfoMigrants went to find out more about the café and the people who attend it.
Upbeat music blares as women from Syria and Iraq remove their headscarves and long jackets and coats to reveal exercise tops and trousers. They giggle as they grab small plastic bottles filled with water, but used as weights, for part of their routine, something they say they look forward to on Monday mornings at the SAM International café in Sinsheim, Germany. 
Sinsheim, best known for a technical museum and a thermal spa, is about a half-hour drive from the picturesque university town of Heidelberg. It has sheltered refugees and migrants from the Middle East, Asia, and Africa for nearly 20 years, and now it has taken in some Ukrainians too.
The organization, SAM International (Sinsheimer Arbeitsgemeinschaft Migration eV) has played a major part in helping them adapt to life in Germany through its café activities found in the center of town. It was one of the first in Germany to provide such support. 
'A missile sheared off one side of the building where my family once lived'
Hala, a Syrian refugee from Aleppo is a regular at the exercise class. "A missile sheared off one side of the building where my family once lived," she says of her home left in ruins by fighting between government and rebel forces during Syria's brutal civil war. The family fled to Jordan where they faced other challenges as refugees, when one of her sons, an unaccompanied minor at the time, made the traumatic journey via Turkey to Germany in search of stability. Other family members followed.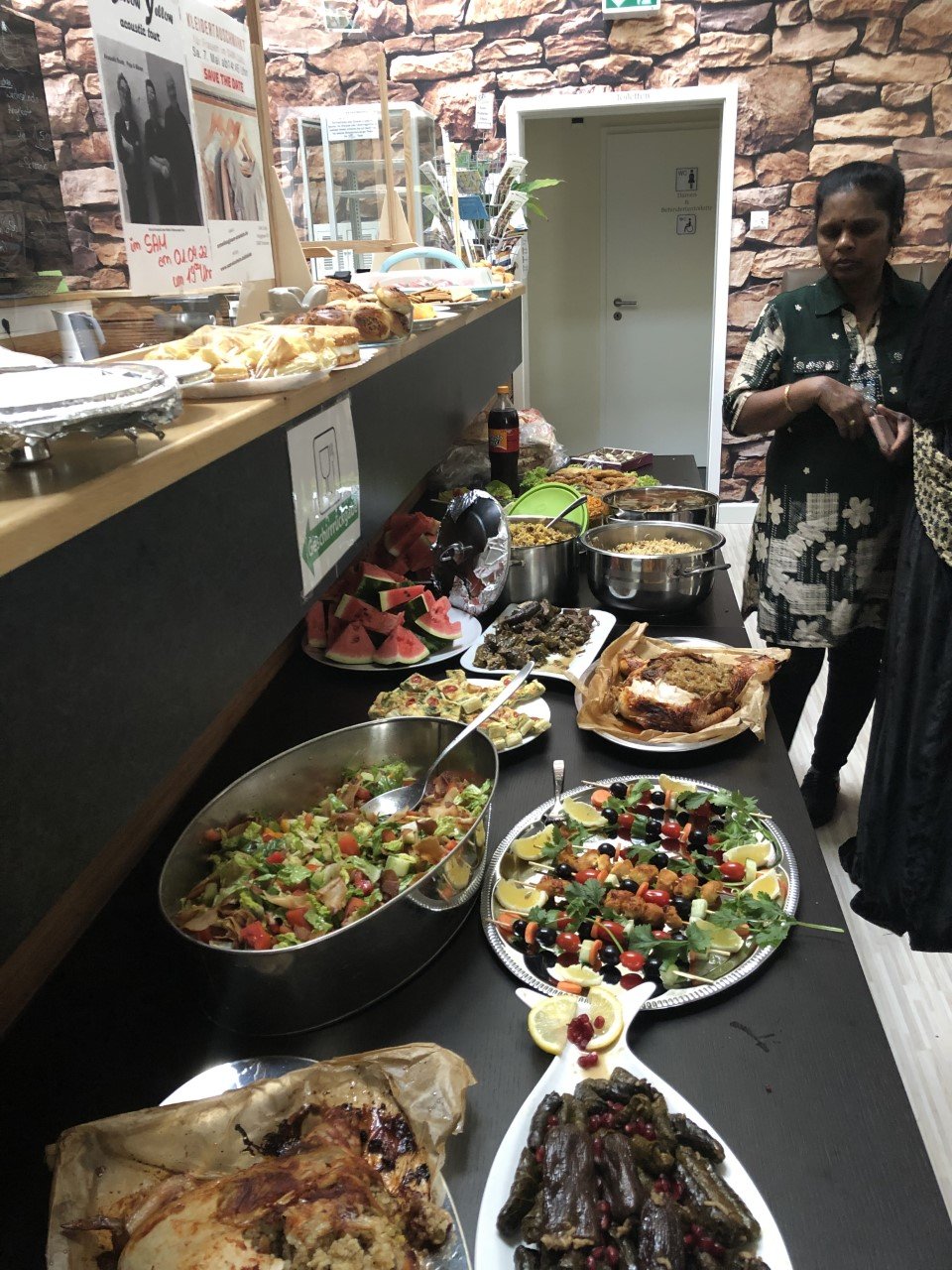 Hala as the sole parent for her family in Germany found herself overwhelmed without the traditional male household's breadwinner and disciplinarian that is traditional in most Arab families. Unable to navigate the bureaucratic paperwork as the family's head, Hala increasingly turned to SAM's multilingual staff for practical and emotional help. "Being a [responsible woman alone] in this strange country without any support, for her was a nightmare," explains SAM's Hertha Ganz, who with her husband Thomas, have lived in the Middle East for some 30 years, also helping refugees. 
"It was overwhelming for her. It was her salvation to have somebody speak her language and help her with the paperwork because it would have been easy to drown," Ganz says sympathetically. 
Ganz has also been called upon by the local school's administration and counselor as a 'cultural mediator' to interpret and explain tensions that grew between Hala and her daughter, Leila, who have struggled to adjust to cultural differences in their adopted home, in contrast with norms and mores expected back in Syria. 
Cultural clash
Leila, who arrived in Germany at the age of 9 and is now 15 years old, does not want to wear the Muslim headscarf to school because she says she is mocked and called ISIS. Her brother, Yousef, insists that she wear the scarf as a proper Muslim teenager and insults and sometimes beats her if he sees her not wearing it, or if she walks in a mixed group of girls and boys from school.
School authorities say the law backs the girl's rights. Hala says she feels caught in the middle between her daughter and son. However, Yousef's harassment could see Leila placed in foster care under Germany's child protection laws. 
And now Yousef has his own set of problems having fallen foul of the police. Currently, he is in a special program run by Seehaus e.V for offenders who live in a detention facility undergoing strict education and vocational training. Ganz has also been involved in providing counseling to such troubled young refugee men. 
Escaping to Germany
Meanwhile, an Iraqi Kurdish woman named Aya takes a break from the workout. Due to the ongoing sectarian violence and instability wracking her homeland, Aya says she was "forced to move from place to place until she was able to escape to Germany." 
The arduous journey, from Iraq to Turkey and onwards through Yugoslavia and Hungary, until she reached Germany took a drastic toll on her body, forcing her to use a wheelchair for part of the way. While Aya is now able to walk again and enjoys the exercise class to help rehabilitate, her doctor says she cannot fully restore movement in her right arm due to an injury and lack of medical treatment. 
"She is the sweetest person. We call her the 'mother' of the café," says Ganz of the petite woman, a trained midwife and nurse, who was forced to work as a child in Mosul. Aya was married off at a young age to a man who beat her with a hammer. Her husband suddenly disappeared one day and has never been heard of since. It's believed that he may have been taken by insurgents in Iraq. Aya lives in a tiny flat with her son who is training to be a barber. Despite having few financial resources, Aya says "she loves to cook for all the people who come to the SAM café."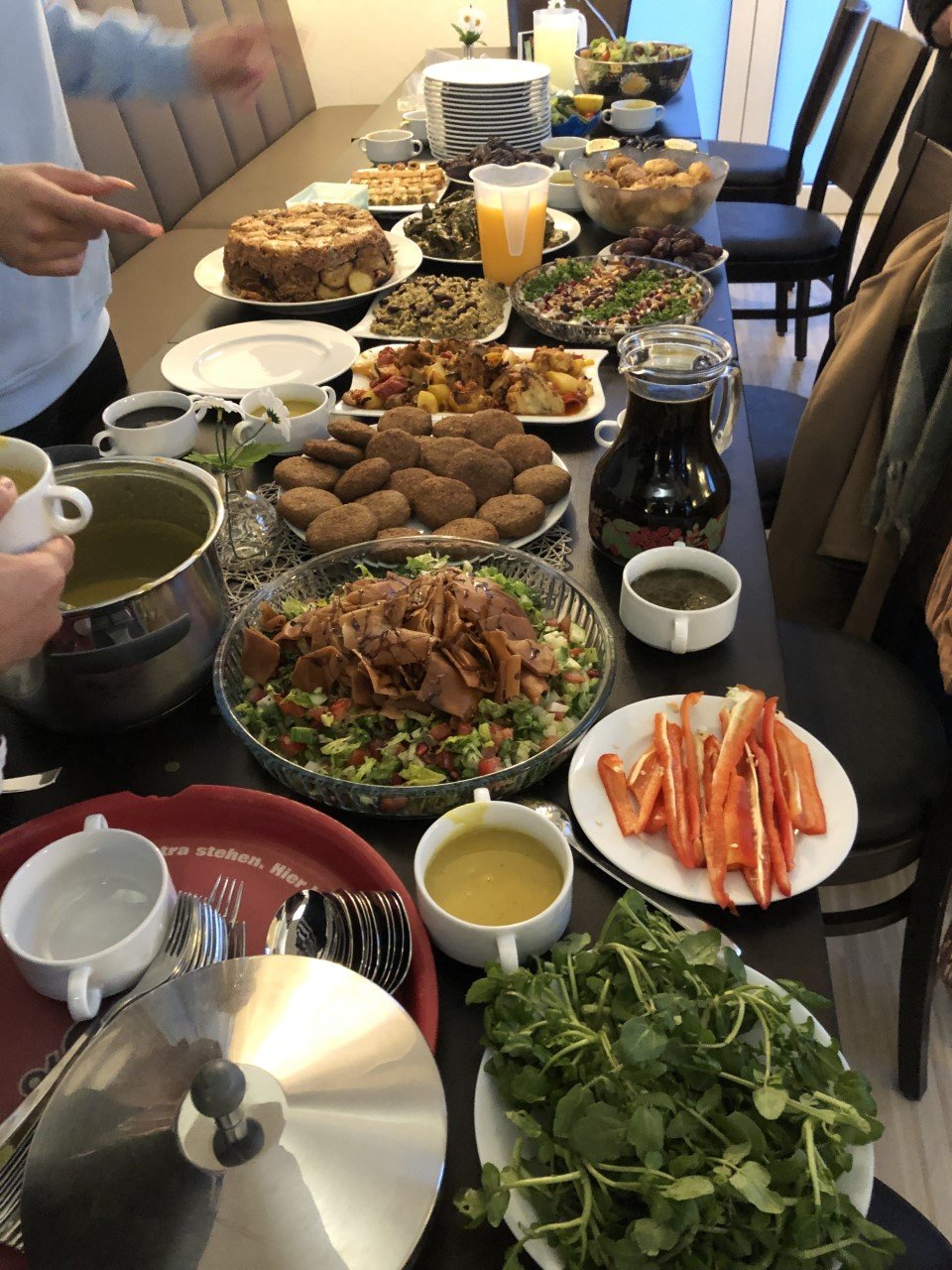 Food and counseling
Besides fitness exercises for women and German language instruction, SAM International provides trauma counseling for women exposed to conflict, counseling for refugee youth having trouble with the police, and a variety of intercultural activities bringing refugees and Germans together with food and fun. Cooking lessons involving various national dishes are offered during special holidays as well as an event where people bring a signature dish for a monthly breakfast from their homeland. It's all an important part of building community at the café.  
In late summer, many of the regulars at the café gathered to celebrate a Gambian connected to the café being awarded a diploma permitting him to work as an aid in an elderly care home.
"I'm not allowed to bring my parents to Germany to celebrate as they won't get permission to come here. So it was important to me for my 'German family' to come and celebrate instead," the young man told Marcel Fink, who founded SAM International in 2004 and heads the organization dedicated to helping refugees. 
"It's a really big deal to pass the exam and achieve that diploma," says Fink. "A lot of people now caring for the elderly are no longer Germans, but refugees and migrants. We have to recognize that it is these people who are taking care of us in the future." 
Birth of the café
Fink says the journey to aiding refugees began nearly 20 years ago.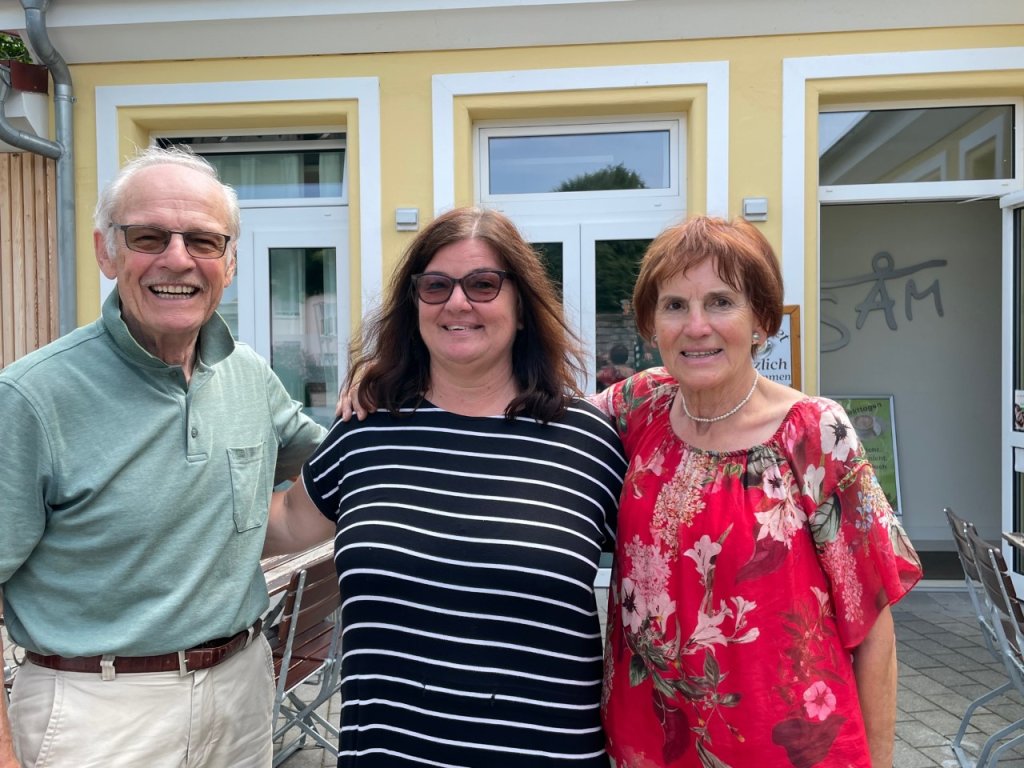 "We visited the refugee camp (consisting of dormitories) on the outskirts of Sinsheim and realized that these people had little to no contact with the German community," said Fink, who has a vast experience in cross-cultural work having spent time abroad. 
"There were some refugees from Nigeria, Sudan, Myammar, Afghanistan and even one person from North Korea, but the numbers were few in 2004, compared to some 2,000 Syrians, Iraqis, and others that arrived in Sinsheim, after flooding into Germany in the refugee wave of 2015."  
Then, Sinsheim's residents did not recognize the refugees sheltering in their midst, but circumstances changed dramatically in 2015. 
"People in the community tried to help initially, but often burned out in the weeks that followed," observes Fink. "It's a marathon, not a sprint. We need to go a long time with the people by investing in long-term commitments to individuals and families. We have to go the extra mile all the time."  
Fink says that the German government normally provides housing and other benefits for newcomers to care for their physical needs. "But the problem is for refugees and migrants to meet people socially and provide friendship and a community to which they can belong." 
Individuals not case numbers
"Many of these people come from disaster zones and are really down by the time they get here. We try and help them move from that rock bottom back towards something resembling their normal life and to find a way of integrating into society," he underscores. "We think of them as human beings, not cases." 
Fink says that he has noticed that Germany seems to have been more welcoming towards refugees coming from the crisis in Ukraine, and he wishes the country could have been more welcoming to other refugees previously.
He notes though that in 2015 many of those arriving were single young men from the Middle East, compared to mostly women and children coming from Ukraine in 2022.
"For the first generation that moves into this society, they are grateful that they are no longer in war or danger. Maybe they can somehow integrate and become independent, earning their own money. But it is really difficult. It takes time, language skills, and connections with a lot of people. Without that, it's very hard," Fink notes of the adaptation process. 
After refugees have established a new life in Germany, some may experience flashbacks with PTSD and depression, even mental illness because of the trauma they have experienced, he found.
Accommodation
Hartmut Brax and his wife Bärbel from Heidelberg have worked with SAM International from its inception, also after years spent abroad. 
Brax explains that when refugees or migrants arrive in Sinsheim they are first placed in the 'camp' outside of town. "It's like a block of apartments with shared bathrooms, kitchens. A bit like an old army barracks with a large courtyard where the kids can run around. But of course, they are happy when they can move on to more reasonable locations," he says. 
After some time, authorities move them to places in town and in neighboring villages. Some enter a so-called 'integration' house, which is temporary housing. However, the city council can choose to move them any day from there.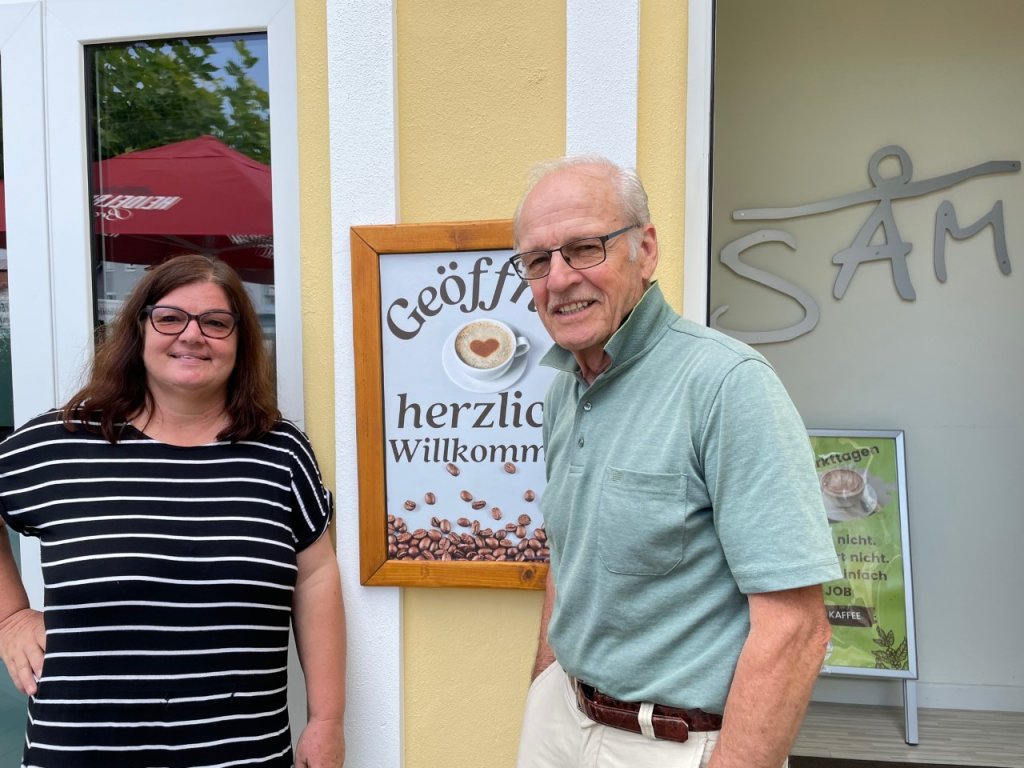 Challenges to learning
From what he has witnessed so far, Brax sees less integration and more adaptation. Brax says it has been quite easy for many of the Ukrainians to adapt. Many of them are even able to start work in their former professions from Germany.
For some Afghan women though, who never had the opportunity to attend school and receive education under the Taliban regime, learning the language has been a huge challenge.
"They aren't literate in their own language. Often the way lessons are taught in Germany assumes you know how to learn, and can read and write in some language," says Ganz. "Another challenge in these circumstances is for the second generation who have adapted to German culture and experience tensions with their family members over differing viewpoints and desires about how to live." 
Providing a sense of family and safety
Despite these challenges, SAM International and its café continues to reach out and provide a helping hand to those in the Sinsheim area. 
Riham, a Syrian also from Aleppo, who joins the Monday exercise group with her mother says the escape from war-torn Syria to Europe yielded a series of challenges and traumas, without providing details. 
"But this café is the only place where I feel safe and accepted in Germany," says Riham because of its personal care for her. "I feel accepted here and people treat me nicely and with respect." Riham says that as a woman wearing the Muslim headscarf, it sets her apart and she feels that people in the street look at her strangely. 
SAM International founder Fink says that all who are part of the café are valued. "That's what we try to do. There are some people for whom we have cared for years, and they call us their German family," he smiles.