Security forces in Paris have once again cleared a migrant camp and moved nearly 1,000 people into emergency shelters, Paris police said Thursday. According to police, more than a dozen evacuations have been carried out in the French capital so far this year.
Paris police have once again cleared an improvised migrant camp in the French capital. The 956 men who lived in the tent camp under precarious conditions in the north of Paris were taken to quarters in the greater Paris area and beyond, police said on Thursday (November 17).
In a statement circulated on Twitter, police said Thursday's action was the 17th eviction of a camp in Paris this year, with a total of more than 5,600 migrants moved to permanent housing. The migrants will moreover be provided with health checks, help to deal with their paperwork and "social support," according to the statement.
New tent camps regularly form in Paris and its northern suburbs in or near the place where they were cleared soon after.
Read more: Makeshift camp in Paris 'the only option' for hundreds of migrants
'Vicious cycle of evictions'
Most of the migrants were from Afghanistan, many of whom had only recently arrived in France, according to a spokesman for the aid organization Utopia56. Speaking to news agency AFP, the spokesperson criticized the "vicious circle" of evictions and the emergence of new camps.
In a tweet, Utopia56 claimed that one hundred of the nearly 1,000 migrants at the camp were "once again forced to wander the streets of Paris. They have nowhere to go."
A similar camp at the same site under the elevated railroad near Paris' Gare du Nord station was cleared only three weeks ago, at the end of October. 
According to AFP, there is not enough accommodation in Paris for recognized asylum seekers, who would have a right to it. Other migrants would be obliged to apply for asylum in Italy or Spain because they were registered there after arriving in Europe under the Dublin regulation. Still other migrants have no residence permit and therefore no right to emergency shelter, AFP reported.
France's government plans to present a new migration law in early 2023 that is intended to facilitate deportations.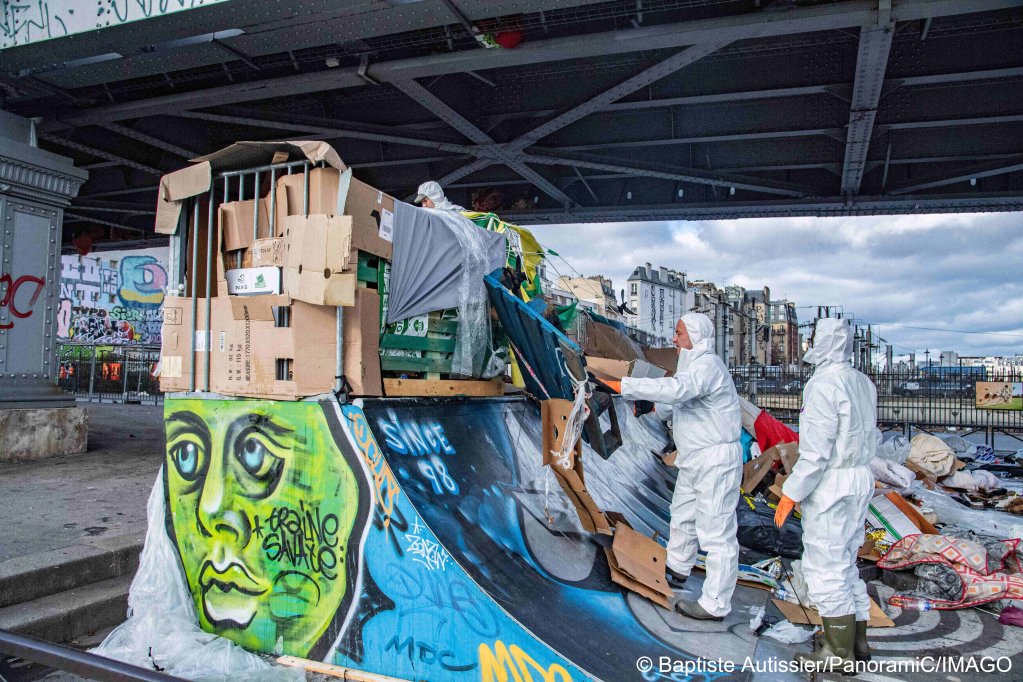 Read more: 'My mother wouldn't sleep if she knew': 200 young migrants live under Paris bridge
With AFP, dpa