Authorities in Portugal have arrested a total of 35 people on human trafficking charges in addition to allegations of money laundering and falsifying documents. Dozens of migrants were reported to have fallen prey to the trafficking ring.
The suspects reprimanded by the police include both Portuguese nationals and others from other parts of Europe. They were reported to be between the ages of 22 and 58 and include both men and women.
A police source referred to the scale of the arrests as "unusual" for the south-central Alentejo region, on which the operation was mainly focused; many migrant workers in Portugal however are usually employed using legal channels, especially in the agricultural sector.
"The suspects are part of a criminal structure dedicated to the exploitation of migrant workers, most of whom have been lured from their home countries to work on farms," police sources said.
Read more: Britain recruits migrant workers from new countries to pick fruit harvest
War on trafficking
"These migrants were working in inhumane conditions with very low wages and living in dilapidated houses," a police source told the Agence France-Presse (AFP) news agency, adding that the migrants' identity documents were confiscated by the traffickers, effectively limiting their movements.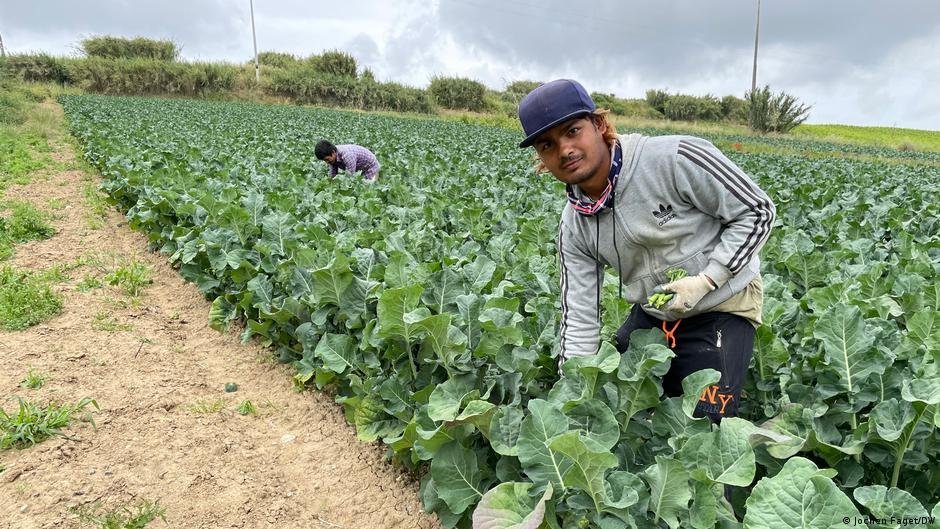 The victims were only identified as originating from Algeria, India, Moldova, Morocco, Pakistan, Romania and Senegal. The exact number of those affected is unknown, however, a report published by a Council of Europe group of experts on human trafficking (GRETA) says that a total of 1,152 trafficking victims were recorded in the country between 2016 and 2020.
The police added that the raids were built on the work of 400 judicial police inspectors who had conducted 65 searches in the municipalities of Beja, Serpa, Cuba and Ferreira do Alentejo, all of which are located within close proximity of each other at the center of the Alentejo region.
Read more: Cheap Asian workers flock to Portugal's farms
with AFP