The lack of qualified workers, predominantly caused by the departure of baby boomers from the job market, is making economists in Europe fear huge economic losses in the future. Like many other countries, Germany sees targeted migration as part of the solution. But there are still many obstacles in the way.
➡️ Click here to read part 2: Employees wanted in Europe: A Tunisian perspective (2/2)
Testimonies from company directors, in search of qualified personnel to fill job vacancies, is not hard to find in the German press in recent months. There was the story of one factory owner who makes car parts in Berlin who said he was ready to offer at least 15 people jobs the next day if they applied.
"It is a worry every day. We should be welcoming the whole world with open arms, whether or not that person comes from Europe or not. Even a person's level of German is not that important to me. If the person can work hard, I wouldn't be particularly worried that a person can only manage a few words in Germany," stated the company director on Germany's public radio Deutschlandfunk.
At least 400,000 workers needed per year
According to the Institute for Employment Research, the German economy needs to attract at least 400,000 qualified workers per year. This need was calculated before the war began in Ukraine.
Figures from the German Ministry of Employment show that the number of employees are tending towards decline in the medium future. A study in August from the ministry explained that the figures were "in part explained by the enormous numbers of employees available on the job market due to the huge numbers of people who have fled to Germany and on the other hand by the decline in economic growth."
'Rare pearls'
Jerôme Lecot is cofounder of EuroJob Consulting, based in Cologne. His agency, for example, is often approached by big companies searching for personnel. They find jobs for between 200 and 250 people per year.
"On the positive side, we get more clients coming to us because they can't find anyone themselves, and that is for recruiting workers to company directors," he said. "In the past, companies came to us just to find real experts, but now we are looking to fill all sorts of different profiles, from service cliental to management positions."
The flip side of the coin is that it is becoming harder to find those "rare pearls," he said. According to Lecot, recruitment times have become much longer from around three months on average to between three to six months.
For Lecot, "ways of doing things in companies is evolving less rapidly than the job market, so for small and medium enterprises, there is sometimes a struggle to get things moving."
Small companies in particular tended to recruit from the area where they were based. "The first step for most small companies is to look for someone based in the region, who already has accommodation, friends or family nearby," says a human resources expert. But now companies are sometimes having to look further afield for workers.
Changing recruitment practices
In order to recruit someone from abroad, companies have to start thinking about using video conference facilities. Luckily this has become much more standard in the last few years, especially following the pandemic.
"If a person from abroad has the required skills and experience and it seems they would be a good fit in the team, you still have to know how to integrate them pastorally, find them accommodation or help them perhaps with filling out administrative forms and bureaucracy. You have to feel good outside work too to avoid them leaving before the year is out."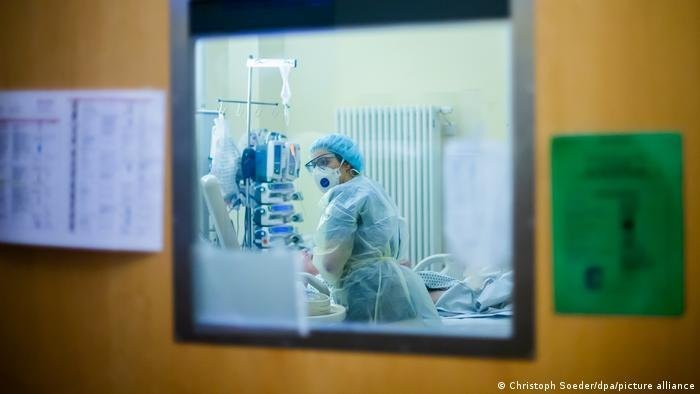 Lecot can see the light at the end of the tunnel. "We meet people less and less face to face. Lots of big companies, thanks to globalization, are used to working with candidates who come from very different parts of the world. I had a recent case where the head of the company was originally from Cameroon. He had studied in Germany and gone through the process of obtaining a visa, so when we offered him a Cameroonian candidate, he wasn't worried about how he would get papers for this person."
Germany needs 'massive amounts of qualified people'
The German government wants to encourage all companies to change their habits. Part of the solution for filling the gaps in the employment sector is to recruit from other countries. According to the Minister of Employment Hubertus Heil, who was speaking on a popular German talkshow at the beginning of the autumn, better training, better integration of women in the workplace, returning to the workplace, and technological progress could all improve the situation.
"But even after activating all these things, we will still need a massive amount of immigration of qualified people," insisted the minister, who fears that "there could be a larger brake on German growth if the lack of qualified personnel continues to grow."
Almost 1.9 million people came from abroad last year with the aim of finding work in Germany. 1.6 million of them came from EU member states, (notably Poland, Romania and Italy). Almost 300,000 arrived from outside the EU, (in first place people from India, and in second place people from the Balkans.)
The whole of Europe is seeking employees
But it is not just Germany who is in need of more workers.
"Almost all European countries are facing a huge lack of qualified personnel," the economic newspaper Handelsblatt wrote. "The continent is lacking engineers, software developers and computer experts. In some countries, employers are also crying out for trained artisans, people to care for the elderly, and those to work in the hotel and restaurant industry."
In Sweden, potential employees are being offered huge tax breaks and big salaries, according to Handelsblatt. In Poland, employers are looking far afield at employees in Nepal and Bangladesh. The Czech Republic is working on installing a points-based immigration system and France is offering stay permits for those who can fill vacancies in professions registering significant gaps.
Germany: New legislation seeks to simplify bureaucratic hurdles
In Germany, new legislation on the matter was adopted in 2020. Previously, immigration laws stood in contrast to attracting qualified workers. "Since then, it is no longer necessary to verify if there is a suitable candidate in Germany or the EU before appointing someone from abroad," explains the official German government website Make it in Germany, which is available in several languages.
The German government is currently working on new legislation that aims to simplify the bureaucratic process involved in hiring someone from abroad. The new coalition want to put in place a sort of points system for candidates who can demonstrate "good potential." The government hopes to make it easier for those people to get to Germany and then start applying for jobs. In certain sectors, namely informatics, the normal language expectations could also be reviewed depending on what the employer is looking for. The new legislation should be voted on next year.
Until that happens, Consultancies like EuroJob Consulting are receiving more and more Cvs from candidates in North African countries. "We need to ask ourselves a series of questions," explains company director Jerôme Lecot. "Have the personnel officers in the companies already got experience dealing with these kinds of candidates? Are they ready to be able to deal with all the administrative formalities which come with hiring someone from here? Some companies tell us it is just too complicated for them and they need employees right now, [not ones who might be held up in administrative processes.]"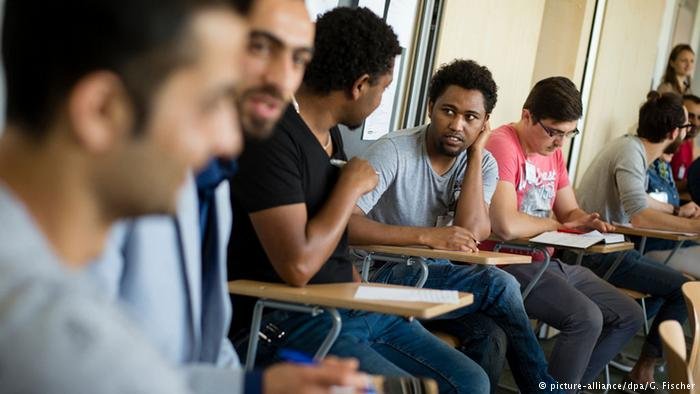 SMEs struggle to 'expand horizons'
Holger Bonin, director of the Bonn-based Institute of Labor Economics (IZA) says "There are a lot of small and medium entreprises who find it difficult to start expanding their job search horizons.
"They are really used to finding people nearer to them. Human resources departments tend to not be so much of a feature. Often it is the head or heads of the company who does the interviews, not someone who is hired just to recruit. That makes the search harder, not just in foreign companies, but also just across the other side of Germany."
Bonin thinks that compared internationally, legal migration to Germany for qualified professionals is relatively generous. If only, he says, the recognition of qualifications and degrees was not so complex.
"It is like searching for a needle in a haystack," says Bonin. "There are very few people abroad who can speak fluent German, who are qualified to German standards and or who have comparable qualifications. The qualification itself is difficult to evaluate for the employer, especially if the candidate went through a very different education and training system than the one in Germany, or if they have professional experience that can't be formally quantified with a certificate. German employers are used to certificates."
Certification can vary from country to country
In fact, work certificates is a tradition strongly anchored in Germany. When you leave one position, the company will give you a certificate which lists the experience you have acquired.
Alongside simplifying the process of recognition needed in Germany for qualifications, the requirements for work visas and language courses also need streamlining, according to the German Federal Employment Agency (Bundesagentur für Arbeit BA). The agency has set up various programs which target certain non-EU countries that could be of interest to the German employment market. Since 2019, exchanges have intensified with Morocco, Tunisia and Egypt, despite pandemic challenges.
"We want to create a win-win situation, so that partner countries also have an interest in supporting us with our migration aims," said Alexander Wilhelm, the director of international relations for the agency.
Tunisia becoming source of personnel for care sector
Tunisia is concentrating on sectors like electronics, hotels, tourism and hospitality.
Tunisia has also become, for Germany, a source of personnel who can work in the care sector, similar to the Philippines, Vietnam and Bosnia Herzegovina.
Before 2025, the care sector needs around 150,000 additional people, estimates BA.
A specialized recruitment program, known as "Triple Win," was launched in 2013, but results have been pretty modest. Since 2013, about 4,000 carers have been recruited, almost half from the Philippines, to work in hospitals or in elderly care homes.
The project describes itself as "sustainable and fair" and promises to take into account the needs of the countries of origin. The Federal Employment Agency (BA) says it is not trying to steal all qualified personnel.
Sustainable and fair recruitment in countries of origin
In Tunisia for instance, BA works with the GIZ, Germany's International Development Agency and with ANETI, The Tunisian Employment Agency.
"I was there [in Tunisia] last May to meet with the director of ANETI. We then make an agreement on how many people we will recruit, say for the care sector, or other qualified workers," explains Alexander Wilhelm.
Wilhelm does admit that quotas are not however coordinated on a European level and that BA "does not have a complete overview" of all the different agreements concluded between countries of origin and EU Member States. He says he has to trust what the Tunisian authorities tell him, especially ANETI.
"Obviously Tunisia needs people who can work in the care sector, just like many other country. At the same time, there are lots of people who are under-employed there or who don't have work at all. They have medical training but their health system doesn't always have the finances to support jobs for all of them. People who can't work in the sector they are trained in run the risk of losing their qualifications if they don't have practical experience. That's why there is interest in finding ways for some of these people working in the care sector to come to Germany and acquire supplementary qualifications," explains Wilhelm.
'Young people want a future'
"What is good for one is bad for another," says Tunisian businessman Raouf Khamassi, who has established himself in Germany and is the President of the German-Tunisian Friendship Association. "We come and take from Tunisia what we need here. Those people have been trained at a cost to Tunisia, and then those qualified disappear little by little towards Germany, Europe and beyond. We don't think about what Tunisia might need. But that is not Germany's fault. It is first and foremost the Tunisian State's responsibility, because it can't offer work to these people and offer them a future."
In Tunisia, the unemployment rate for young people under 25 stood higher than 37% in the second third of the year. "Young people want a future," concludes Khamassi. "It is a shame for Tunisia that they are leaving, but for those young people it is a good thing."