The Greek coast guard says it has temporarily transferred the nearly 500 migrants it rescued in a dramatic operation this week to a ferry for processing. The migrants, picked up off the island of Crete, had reportedly set sail from Libya. Seven of them have reportedly been arrested for alleged migrant smuggling.
The 483 survivors -- including ten women, 128 boys and nine girls -- were crammed on board a delapidated fishing boat that issued a distress call late on Monday (November 21) whilst sailing southwest of Crete, the largest Greek island.
Near-gale winds around Crete made it impossible to rescue the migrants at sea. A Greek frigate, two coast guard vessels, five nearby merchant ships and two Italian-flagged fishing boats were involved in the rescue attempt, the AP news agency reported. It took half a day before the 25-meter fishing boat could be safely towed to the small coastal town of Palaiochora in western Crete on Tuesday, news agency AFP reported.
Because of bolstered patrols by the Greek coast guard and EU border agency Frontex in the Aegean Sea, migrant smugglers are increasingly using a longer and more dangerous route south of Crete. That's according to AFP citing Greek officials.
The group of 483 includes Syrians, Egyptians, Pakistanis, Palestinians and Sudanese, a coast guard spokeswoman told AFP. "The operation is proceeding, but it is slow owing to the large number of people," she said. "We also need to take testimony from them."
Migrants transfered to ferry
In a statement from Thursday (November 24), the coast guard said the migrants were transferred to a Greek ferry on Wednesday evening. The coast guard was not immediately able to say how long they would stay there, AFP reported.
The Greek government has said it would immediately ask fellow EU states to share out the large group. In a letter to the bloc's executive body shared on Twitter on Tuesday, Greek Migration Minister Notis Mitarachi asked the European Commission (EC) to "immediately undertake and coordinate a relocation initiative in response to this SAR [search and rescue] operation, ensuring the responsibility, in saving lives at sea, is fairly shared among member states."
Greece and other countries on the EU's external borders where many migrants first arrive in their effort to reach wealthier European nations "cannot be expected to shoulder an ever-increasing burden out of proportion to their respective capacities," Mitarachi stressed. He called on the EC to move new arrivals to other member states faster and in greater numbers than it has done so far.
Suspected Egyptian smugglers arrested
On Friday (November 25), Greek authorities said they arrested seven Egyptians who were among the nearly 500 migrants who arrived in Crete on Tuesday. AP reported they are suspected of being involved in migrant smuggling following a preliminary investigation that identified them as allegedly having been members of the vessel's crew, the coast guard said Friday.
Spain, Italy, Greece and Cyprus are the four EU countries that receive by far the greatest number of people fleeing Africa and the Middle East in search of safety and better lives in the European Union. Roughly six out of ten of the some 152,000 irregular migrant arrivals in these four countries so far this year were registered in Italy.
The International Organization for Migration has recorded nearly 2,000 migrants dead and missing in the Mediterranean Sea this year.
EU Interior Ministers emergency meeting
The migrants had set sail from Libya and had been heading to Italy, news agency AP reported citing the Greek coast guard. At its shortest distance -- from the eastern Libyan port city of Derna to Palaiochora on Crete -- Libya and Greece are some 300 kilometers apart. The vast majority of migrants arriving in Greece take the much shorter route from the Turkish coast to the eastern Greek islands, which in some cases are less than ten kilometers away.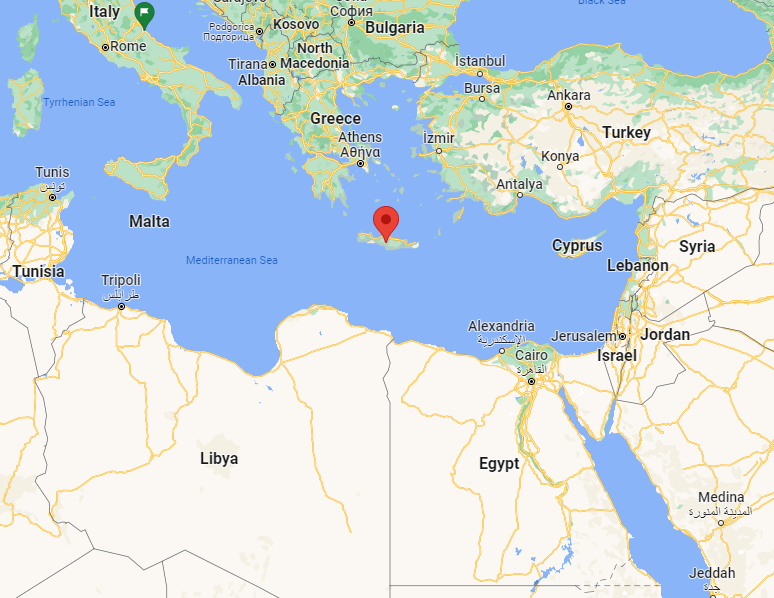 On Friday afternoon (November 25), EU interior ministers are scheduled to hold talks in an effort to find a permanent solution on the distribution of migration. The emergency meeting comes on the heels of an EU 'Action Plan', unveiled on Monday, with the aim of stopping migrants from crossing the Mediterranean from North Africa to Europe.
One of the basic objectives of the plan is to prevent migrants from leaving North Africa, partly by providing support to Libya, Tunisia and Egypt for "more effective border and migration management, and reinforce[d] search and rescue capacities". Another objective is trying to ensure that the responsibilities and costs of receiving asylum seekers are distributed fairly among EU countries. 
With AFP, AP