Italy has welcomed more than 300 migrants via humanitarian corridors over the past two weeks. The new right-wing government has said it says 'yes' to the corridors and 'no' to traffickers and "illegal immigration".
"Italy has a long tradition of welcome," said Italy's Foreign Affairs Minister Antonio Tajani on Wednesday (November 30) while welcoming a group of 114 migrants to Rome from Libya.
"[Italy] is the first country to have activated these humanitarian corridors. The arrival today of 114 migrants from Libya is the best response we can give to human traffickers and to illegal immigration," Tahajni said. His speech was reported in a UN press release.
"We say 'no' to human smugglers and 'yes' to a path that leads to integration," Tajani was quoted as saying by Reuters. "This is the action we want to take on the African continent and in the Middle East to beat wars, famine and terrorism."
The corridor that brought the group from Libya is the result of a collaboration between the Italian government, the Catholic charity Comunità di Sant'Egidio, UNHCR, the Federation of Protestant Churches (FCEI) and the Tavola Valdese (the Union of Methodist and Waldensian churches).
The corridors are funded by the associations themselves and not only help bring people to Italy but also provide them with integration projects and accommodation once they arrive. According to reporting by picture-alliance, the group flown in from Libya came mostly from Syria, Eritrea, Sudan, South Sudan and the Democratic Republic of Congo.
Right-wing government declares itself tough on immigration
Italy's Interior Minister Matteo Piantedosi was also present as part of the welcome committee at Rome's Fiumicino airport. "Welcome to Italy. We are proud of our experience with humanitarian corridors and really happy to offer a future to the numerous families and young children who have suffered," declared Piantedosi.
Piantedosi and Tajani are part of Italy's new right-wing government which has declared itself tough on immigration. However, the policy of humanitarian corridors, said the government, is one they want to get behind.
"The Italian government is really behind these corridors and wants to do more in the future. We want to continue contributing to projects such as this one to help those in need escape the horrors they were facing," added Piantedosi.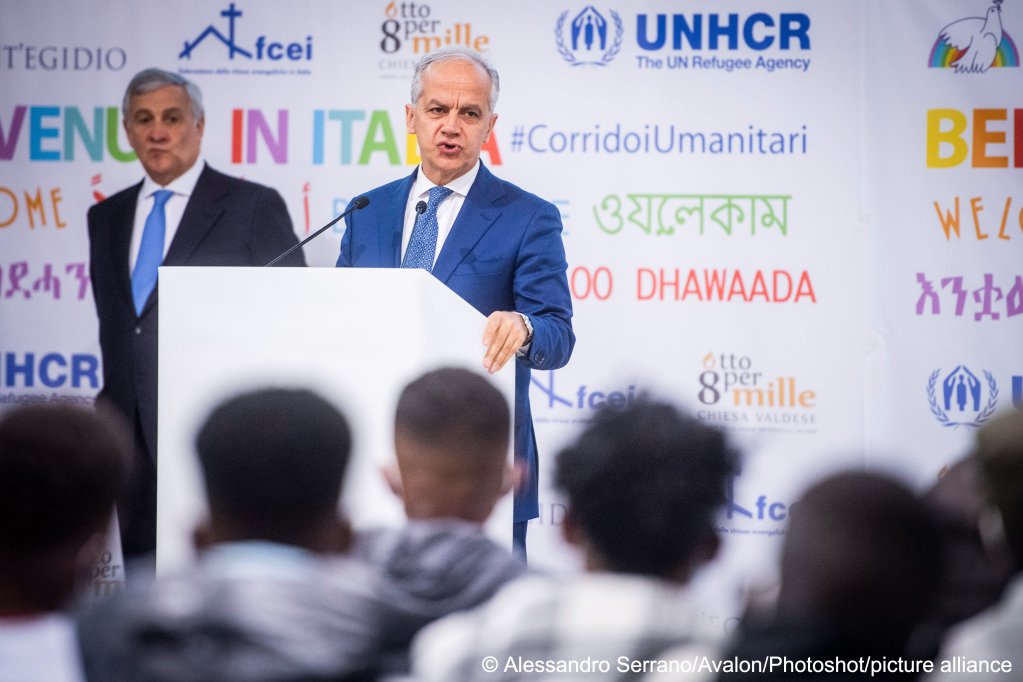 Italy 'only country in Europe to allow humanitarian flights from Libya'
Chiara Cardoletti, Italy's representative from UNHCR, underlined that Italy was "the only country in Europe that allows humanitarian flights from Libya. We all know that Libya has many difficulties and that lots of those who have arrived today have been through some very very difficult experiences."
Cardoletti told the asylum seekers she hoped "your arrival in Italy will allow you to start a more peaceful phase of your life and to look at the future with hope." The UN representative underlined that there were more than "two million refugees who today needed to be evacuated in a decent manner. This year, only 40,000 have been given that possibility."
Earlier in the week, the Communitá di Sant'Egidio reported that it had also lifted 35 Syrians out of Lebanon. On November 28, pictures of the group arriving at Fiumicino were posted on its webpage. The charity said that the refugees had been leaving in camps in the Bekaa valley and Tel Abbas, and about half of the group were minors who had not been able to attend school.
For this group, in addition to Sant'Egidio and the Protestant Churches, the Diocese of Siena and a charity called Operazione Colomba (Operation Dove) provided support. Some of the new arrivals will be hosted by Syrian families who arrived in Italy a few years ago, also by humanitarian corridor, and who are now able to offer a place in their homes to the newer arrivals, stated the Sant'Egidio press release.
Cheers and clapping
As the group arrived at the airport, they were met by volunteers from various charities who were clapping, cheering and whooping. They presented flowers to the new arrivals and some ran forward to hug them. Lots of small children could be seen among the group, as well as some teenagers and young adults.
Last week, Italy welcomed 152 Afghan refugees from Pakistan who also arrived via a humanitarian corridor. On November 29, an additional 26 Afghans from Tehran arrived, ANSA reported.
As this group arrived, Marco Impagliazzo, the president of Sant'Egidio, stated that not only should Italy lead the way when it comes to humanitarian corridors but after several years of successful arrivals, the project is "no longer an experiment but a well-established practice."
"All of Italy celebrates your arrival and welcomes you and wishes to give you a future, through schooling and work to families who seemed to have lost this chance due to war," Impagliazzo concluded.