A labor integration program by the German rail network will soon see 13 refugees become fully-qualified train drivers. It won't solve the country's critical labor shortage, but for the migrant trainees it's a dream come true.
"I really didn't think I could do something like this here." Sonia Alaghehband from Iran has just about a month to go before she formally qualifies as a train driver. When she spoke to reporters from Germany's public television in October, the 45-year-old could already see the light at the end of the tunnel. "Now I'm not nervous any more. I'm happy that I'll be able to drive alone soon."
Alaghehband is the only woman in the class of 13 trainees taking part in a pilot project with the German rail company Deutsche Bahn (DB). Six years ago, she fled to Germany alone, with just her dog for company. As a former English teacher, becoming a train driver was something she could never have aspired to in Iran, where women are barred from the profession.
The refugees, who are from Iran, Syria and Pakistan, began their training in February 2021. In the new year, after their final examinations, all of them will have jobs driving metropolitan 'S-Bahn' trains in Stuttgart.
Martin Seiler, the chief human resources officer at DB, who met with Alaghehband and two of the other Iranian trainees last week, said he was impressed at how quickly they had learned German and become familiar with the technical demands of the trains and routes.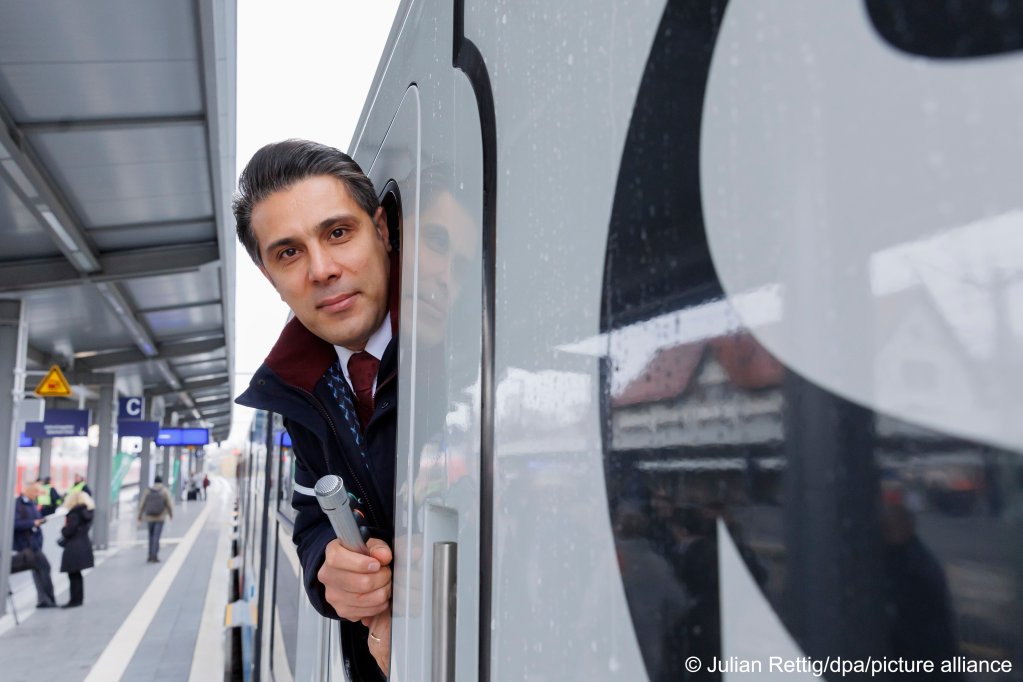 Win-win situation
The pilot program is a win for both the first group of graduates as well as for DB. Like the German economy as a whole, the train company is struggling with a serious shortage of skilled labor. The lack of drivers has led to trains being cancelled in many states, including Baden Württemberg, where the shortfall runs to thousands, according to the interest group Allianz Pro Schiene (Alliance for Rail).
DB has run a huge recruitment drive and hired more than 26,000 people over the past year, so the significance of the group of 13 refugee train drivers is mainly symbolic for the company.
"We are not just gaining badly needed new train drivers, we are also offering people who wanted to put down roots in Germany after they fled here an exciting professional opportunity and integrating them into the German workforce," said Seiler.
Susanne Koch, a regional head at the Federal Employment Agency, is keen to stress that German applicants are also welcome to apply for traineeships with Deutsche Bahn. "It is our goal to contribute to social and labor integration of people from all backgrounds."
DB says it has created around 600 education and training opportunities for refugees since 2015. A separate program launched in April provides employment advice and opportunities for Ukrainian refugees. So far, 65 Ukrainians have got jobs through the program.
We will shortly be arriving
In an effort to fill labor gaps, Deutsche Bahn is also engaged in programs to bring skilled workers to Germany. In October, it announced that it was bringing two young apprentices "on a one-way ticket" from Tunisia. It is also taking part in a pilot project of the EU called THAMM, which enables companies in Belgium, France and Germany that cannot find suitable candidates in their own labor markets to offer those jobs to skilled workers in Tunisia, Morocco and Egypt. As of early October, 234 apprentices and 44 skilled workers from the three north African countries had been placed at companies in Germany, in industries from metalworking, plumbing and construction to bakery, hotel and catering.
For Sonia and 12 other apprentice train drivers in Stuttgart, meanwhile, two years of commitment and readiness to accept new and difficult challenges is soon to be rewarded.
Sonia's family, still in Iran, is proud of what she has achieved. "When I have exams or tests, I write to my father and he says, 'You will manage everything. You can do anything'," she said.
Indeed, having made it this far, why stop at driving a city train? "If I can manage the S-Bahn, I'm sure I could manage the ICE."