Volunteers dressed up as Father Christmas visited migrants and other marginalized groups camping in Calais, or living rough, over the weekend. They distributed food, treats and donations of clothes and shoes to those in need.
Two volunteers from the groups Secours Populaire and Salam dressed up as Father Christmas and distributed food, snacks, warm clothes, little presents and a bit of Christmas cheer to migrants and other marginalized groups living rough around the Calais and Dunkirk areas on Sunday, December 11.
There appeared to be smiles on the faces of many of those who encountered the Father Christmas figures. In a video posted on the regional newspaper La Voix Du Nord, the Father Christmas figures, one dressed in red and another in green, with big white beards, can be seen chatting to the migrants and asking some of the small children present what they hope for for Christmas.
Wishing for a tent and a warm blanket
At one point in the video, a little Iraqi Kurdish boy looks up at 'Father Christmas' when asked to expresss his wish, and shyly asks for "a tent and a warm blanket." One of the female volunteers in the group replies, "I am sorry, we don't have that." The little boy appears to turn away, slightly confused, although still smiling at the magical figure with his basket of goodies.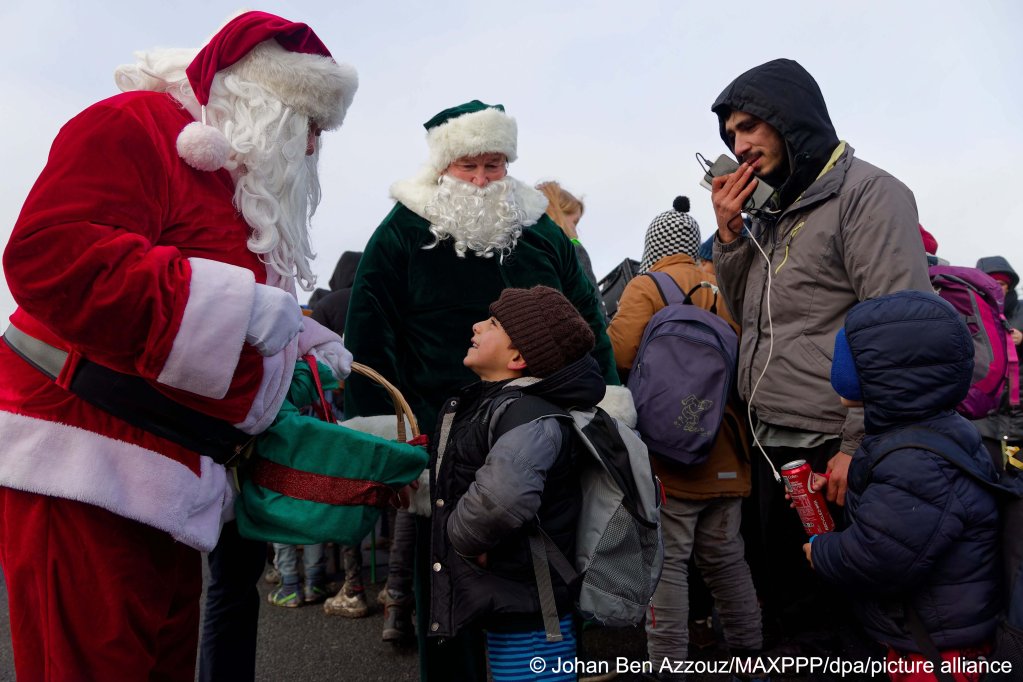 Alongside Father Christmas, volunteers from the Secours Populaire set up tables, handing out bananas, snacks and warm drinks to try and help those sleeping outside face the cold. There is no snow on the ground, but the reporter from La Voix Du Nord notes that the morning began with frost.
The Salam association, which has been working with migrants in the area since 2002, told La Voix du Nord that they aimed to give out packages containing a hat, warming covers to put over shoes to give an extra layer of warmth, and some chocolates, on top of the breakfast that the Secours Populaire serves every day to those in need.
Also read: Tales from the Border Calais, the last crossing to the UK
'Go and find some toys for the children'
The head of the Secours Populaire, Christian Hogard, tells his colleagues to "go and find some toys for the children," when he notices in the group of mostly young men queuing for food, a family from Iraqi Kurdistan turn up with two young children.
According to La Voix du Nord, the father of the family explains that his small daughter, which the reporter estimates must be about six years old, is ill. She is coughing and is "pale," notes the reporter. "They spent the night sleeping outside, and that wasn't the first time," reports La Voix du Nord.
Even the adults queue up to take selfies with the two Father Christmases. "You give me energy, thank you, thank you," says a 20-something Iranian leaning on a crutch because of an injured leg, writes La Voix du Nord.
After the predominantly Iraqi Kurdish camp, the volunteers move on to visit a camp mostly populated by Eritreans and Sudanese. Many of them have pitched their tents on old wooden palettes to try and avoid the worst of the damp, cold ground.
🎧 Listen to InfoMigrants' podcast Tales from the Border and hear what it is like for migrants living in Calais here.
Dreams of becoming a designer
One man, who gives his name Benhur, tells La Voix du Nord that he dreams of becoming a designer when he finally reaches England. Later, at another distribution point, two Sikhs from India smile while accepting their packages. One of the men, who gives his name as Davy, tells La Voix du Nord he has failed several times to make it to the UK.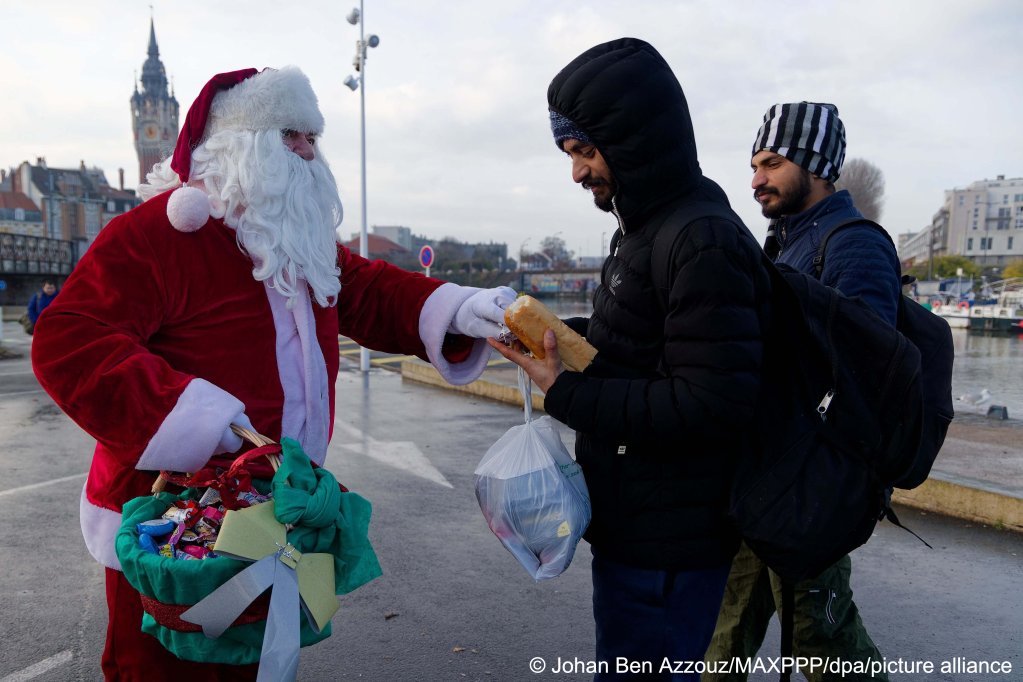 "One time the police caught us, another time the boat broke down, and another time we waited ten hours hidden and the person who had promised to help us cross just didn't turn up," he explains.
Some of the volunteers tell the newspaper that what they find the hardest is how ignored and marginalized these people are. They say for them, that is almost worse than the cold. "They are people just like us. You see them coming, some of them are very elegant, they have all their own things, and then they wind up here," says Annick to La Voix du Nord.
At the last distribution point, the migrants seem the most "downtrodden", the reporter says. One person who comes for help is blind, another is wearing rubbish bags on their feet in place of shoes. Another young man just has flip flops on. The majority of migrants in this group, who are camping out under plastic sheeting along the coast, ask for shoes because their own ones have become ruined in the damp conditions or lost as they attempted to climb on boats to cross the Channel and then failed.
'People look tired'
Towards the area known as Loon Plage, a camp was dismantled by the authorities on Friday, but by Sunday, the reporter says the tents and makeshift shelters are already back up, just a few meters further on. Since the cold has really set in in this area, "things have got worse, people look more tired and ask us more often for help and care," explains one volunteer from the group Help 4 Dunkirk.
Another volunteer from Salam, Claire Millot, tells La Voix du Nord that she has never seen so many people so cold. She says she is worried because there are several children in the camp at Loon Plage. "We are just so scared that someone will die," she says.
Also read: Calais ban on food distribution disproportionate
A local priest, Damien Bidault, tells the newspaper that what is going on is "inhumane, there are no words to describe this." The man dressed up as the green Father Christmas tells the paper that like most locals in the area, he has driven past these camps in his car and seen "the poverty and the human distress." He adds that it made him think about the future of our society and humanity and worries that with all the factors feeding into it, it will be difficult to resolve the situation for these people.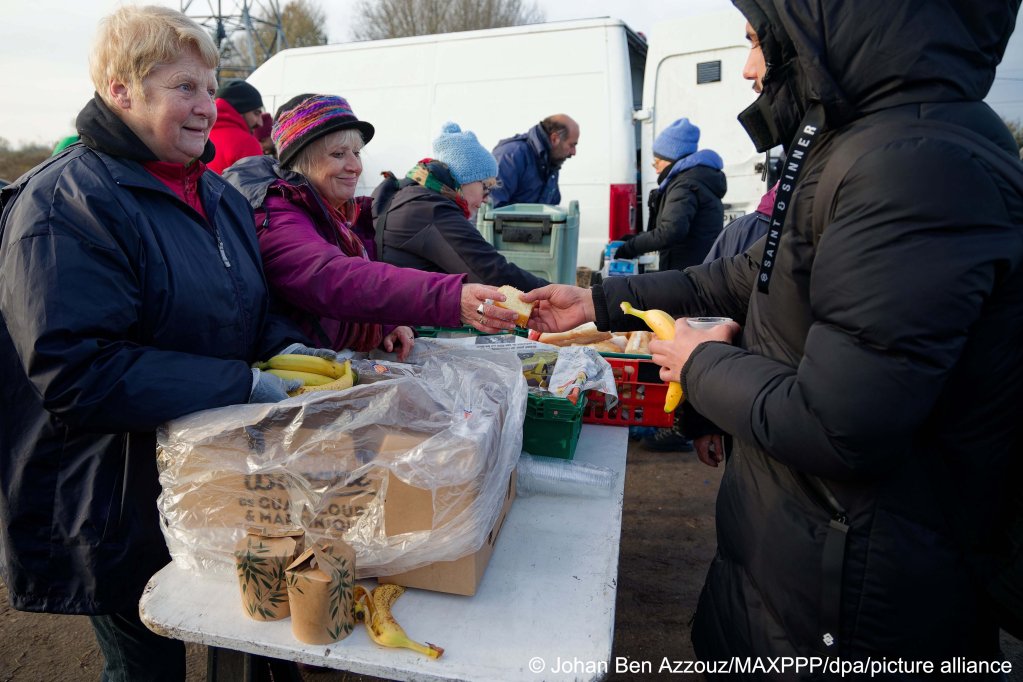 Associations call for donations of shoes
The associations running the distribution are calling out for donations, especially of shoes from sized 40 upwards and socks. If you live close to Calais or Dunkirk, you can drop off your donations and second hand clothes at Via Mondial Relay at the Auchan supermarket at Grande-Synthe or at the shop Vival in Rue des Fontinettes in Calais.
The French authorities have put in place their cold weather plan and opened gymnasiums at night in which people sleeping rough can find a place to sleep. But Jean-Claude Lenoir, the President of the Salam association told La Voix du Nord that the migrants still have to find a place to stay all day. And, many of them avoid going in to sleep at night because that is when they try and cross the Channel. Lenoir adds that it is almost as hard trying to be out all day in the cold. Volunteers added that there are also not always enough places in the gyms to accommodate everyone who might want a place.
Claire Millot from Salam said that they had noticed that on Sunday night there had been several who had been left out in the cold. The authorities were expected to offer 100 places to sleep on Monday night, but that just that day Salam had served up 400 meals, so the demand could be three times as much as the offer, she thinks.
This article was largely based on reporting, photos and video from Laurent Decotte at La Voix Du Nord