The organization Human Rights Watch accuses the EU's border agency Frontex of being complicit in abuse in Libya. It says the use of aerial surveillance enabled the Libyan coast guard to return migrants to that country.
"They used a hose pipe. It was random, they would hit me anywhere all over my body. They would beat us around mealtime," an Eritrean man, Tesfay, told Human Rights Watch (HRW). Tesfay is just one of many witnesses the human rights organization and the investigative journalism outfit Border Forensics spoke to for their latest report, released on December 12.
Tesfay and several other Eritreans he was with say they were intercepted by the Libyan coast guard while attempting to reach Europe, sent back to Libya and detained for between three weeks and several months in a center in Libya known as al-Mabani, which HRW says is "nominally government-run." Almost everyone who has been through centers like this has stories of beatings and abuse.
Tellingly, when Tesfay was still at sea, he or others on the boat say they remember that a plane or drone flew overhead for a while not long before the Libyan coast guard arrived. Other survivors that HRW spoke to also have memories of a plane arriving, and soon afterwards, the Libyan coast guard.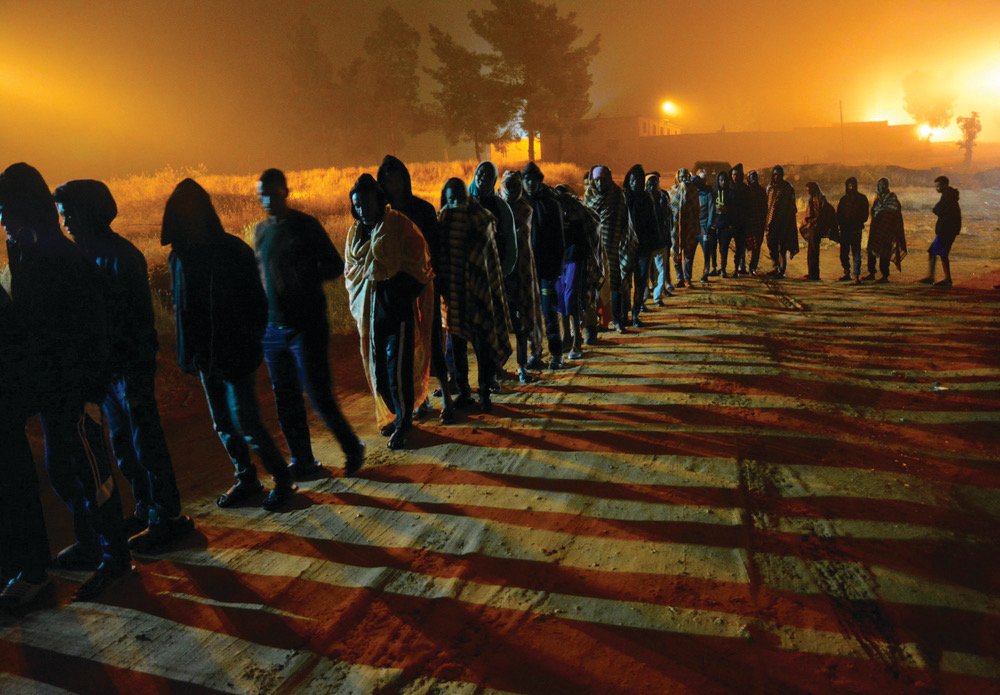 These are claims that are especially difficult to prove, say HRW and Border Forensics, because of Frontex's lack of transparency. After submitting freedom of information requests to Frontex they received heavily redacted reports which sometimes made it difficult to ascertain where planes or drones might have been and what they could have seen.
However, HRW and Border Forensics decided to reconstruct one day in July (July 30, 2021) and the flight patterns of drones and planes present in the area to demonstrate that in their view, the EU's border agency is using aerial surveillance to "enable the Libyan Coast Guard to intercept migrant boats, knowing that migrants and asylum seekers will face systematic and widespread abuse when forcibly returned to Libya," The organizations say this "makes Frontex complicit in the abuse."
Data analysis to demonstrate 'complicity'
Their joint report, entitled 'Airborne Complicity: Frontex Aerial Surveillance Enables Abuse' has used data analysis and research testimony to demonstrate that aircraft chartered by Frontex, including several planes and a drone, played a role in detecting boats carrying migrants and alerting the Libyan coast guard to their presence.
Also read: Sea-watch says Libyans threatened to shoot down their plane
The aircraft themselves were operated by private companies, according to HRW and Border Forensics, but their surveillance was transmitted by video feed to a situation center at Frontex HQ in Warsaw "where operational decisions are taken about when and whom to alert about migrants' boats."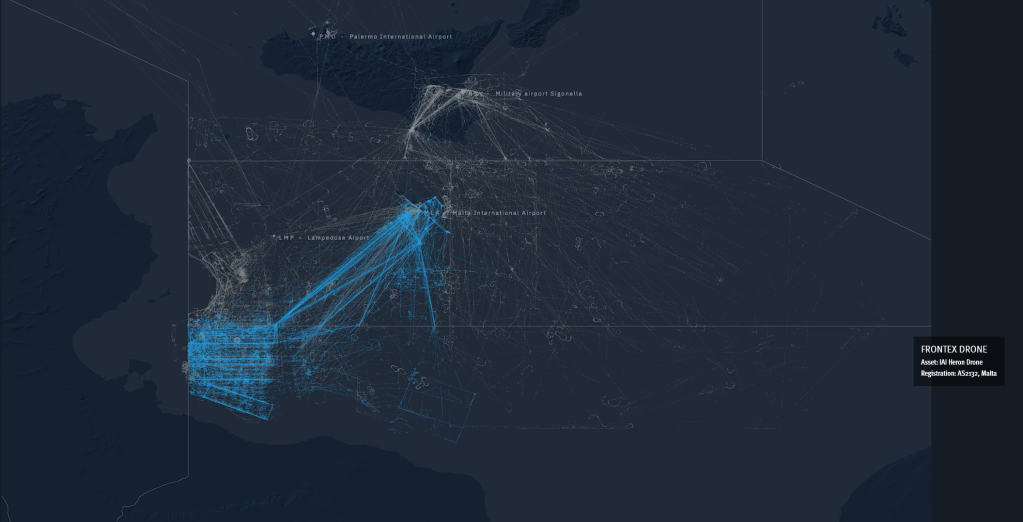 Frontex has repeatedly stated that the aerial surveillance it carries out saves lives, however HRW and Border Forensics say they have gathered evidence which "demonstrates it is in service of interceptions by Libyan forces, rather than rescue by the civilian rescue organizations or merchant ships that also operate in the area."
Judith Sunderland, the associate Europe and Central Asia director at Human Rights Watch, stated that "by alerting Libyan authorities about boats carrying migrants, knowing those migrants will be returned to atrocious treatment, and despite having other options, Frontex is complicit in the abuse."
HRW: Frontex deploys 'tragically empty rhetoric' around saving lives
Sunderland called Frontex's "rhetoric around saving lives ...tragically empty as long as the border agency doesn't use the technology and information at its disposal to ensure that people are rescued promptly and can disembark at safe ports."
HRW and Border Forensics said that in fact Frontex's main role was in preventing as many migrants as possible from reaching EU territory. After statistical analysis, they said that the surveillance had not had a "meaningful impact on the death rate." Instead, they claimed that there was a "moderate and statistically significant correlation between its asset flights and the number of interceptions performed by the Libyan coast guard."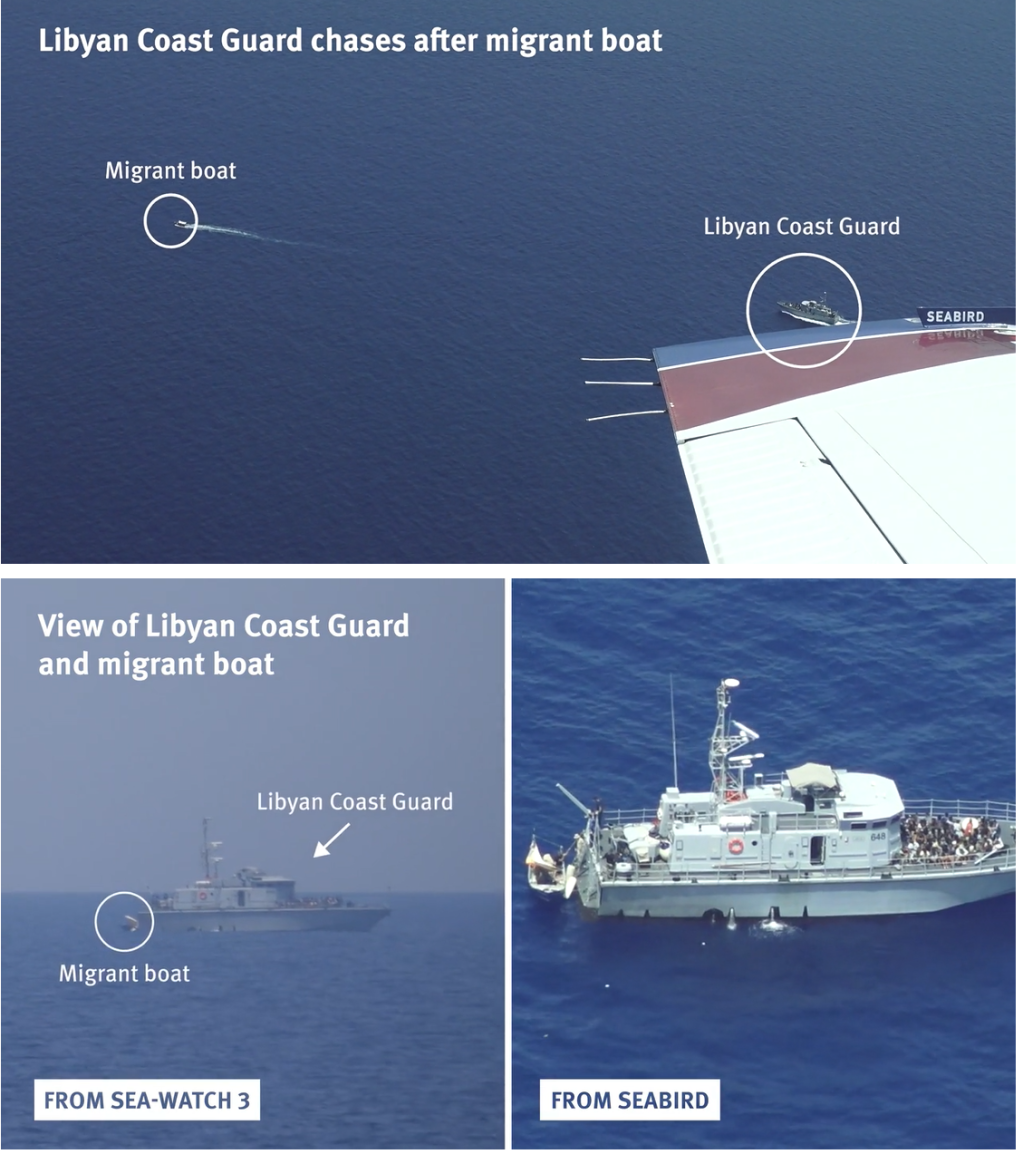 The organizations claimed that "on days when the [Frontex] assets fly more hours over its area of operation, the Libyan coast guard tends to intercept more vessels."
Also read: Heinous killing of migrants in Libya
At the end of November, the European Center for Constitutional and Human Rights filed a complaint at the International Criminal Court saying that Europe held responsibility for crimes against humanity committed against migrants and refugees in Libya.
Heron drone
On that day in July, HRW and Border Forensics think the Libyan coast guard may have intercepted at least five boats. Some of the sources they cross-referenced differ, but at least one boat carrying 120 people is present in all accounts and sources.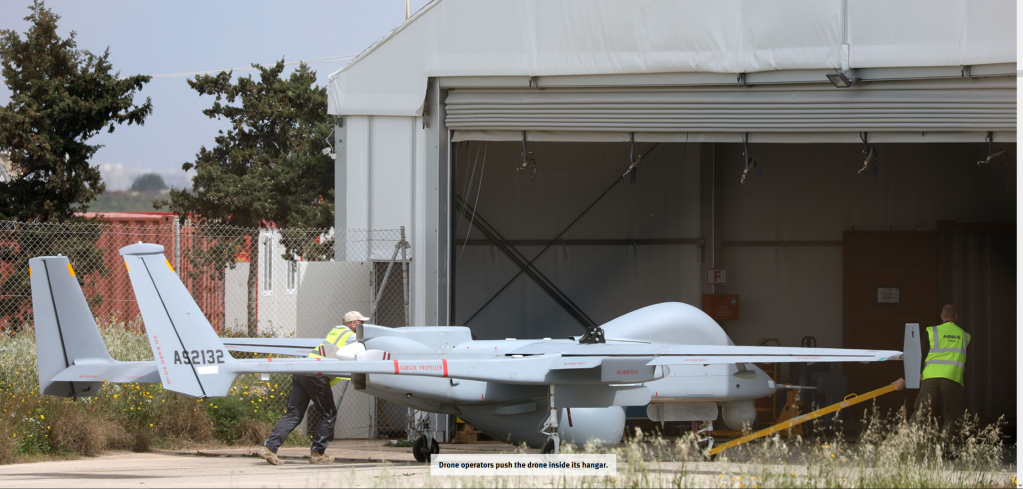 They said they cross-referenced official and open-source data, including the drone and plane flight tracks, and then put that together with information they received from Sea-Watch which had both a ship in the water and a plane in the sky on that day above the Central Mediterranean. The organizations also used information obtained from Alarm Phone, which monitors migrant journeys towards Europe, and testimonies gathered from migrants who were present.
According to HRW and Border Forensics, a track of one of the Frontex Heron drones, flying on July 30, shows it "most likely detected at least two boats later intercepted by the Libyan coast guard." They say that later the private rescue ship Sea-Watch 3 witnessed one of those boats being intercepted by the coast guard, even though Frontex had not issued a distress alert about the presence of that ship.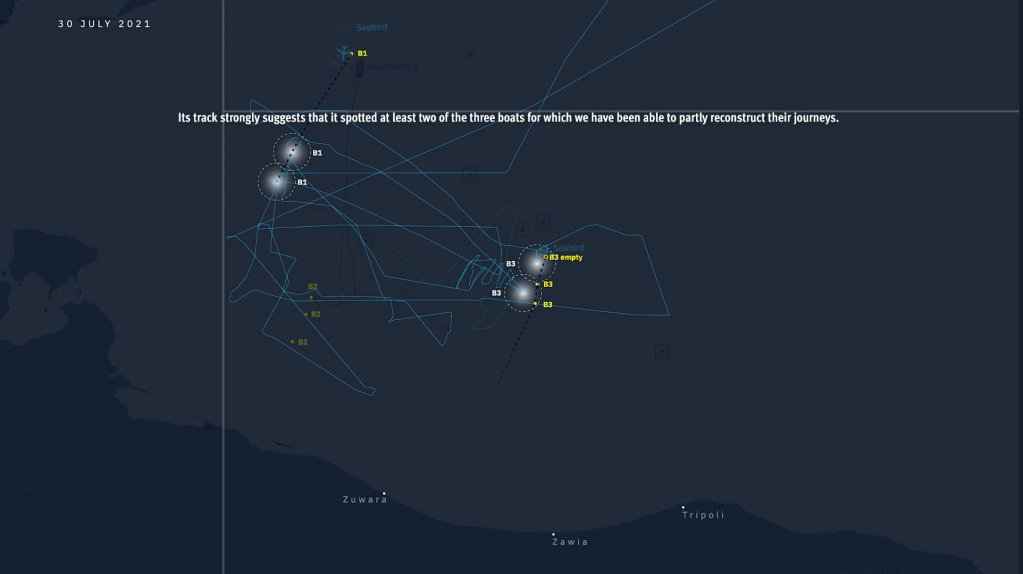 Also read: Migrants accuse EU of facilitating abuse in Libya after interceptions at sea
HRW states in a press release that Frontex's "failure to inform rescue organizations about boats in distress or to issue mayday alerts to all vessels in the area illustrates Frontex's wilfully narrow interpretation of distress."
They say that this kind of behaviour "conflicts with relevant maritime law and the EU regulation on maritime border surveillance, as well as consensus views from the UN High Commissioner for Human Rights and the UN High Commissioner for Refugees (UNHCR)."
Frontex data
Frontex's own data shows that between January 2020 and April 2022 it issued 21 such mayday alerts, according to HRW. This represents a "tiny fraction of the boats sighted by its aerial surveillance," the rights organization claims.
Again, according to Frontex data as published by HRW, in 2021 there were 433 detections of migrant boats through aerial surveillance. That same year, the Libyan coast guard managed to intercept and return around 32,000 people to Libya, around 10,000 of which HRW says were "facilitated" by Frontex.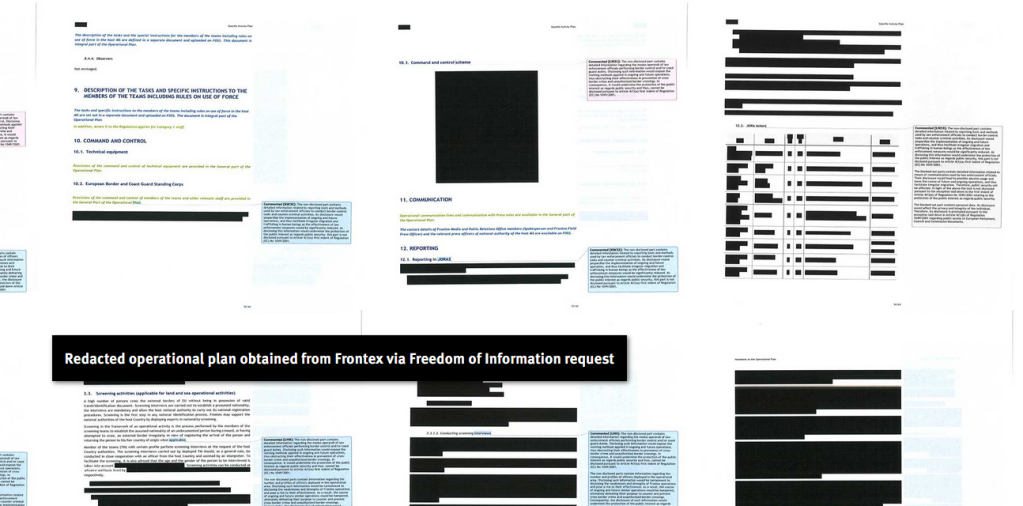 However, HRW admits that "Frontex's lack of transparency makes it difficult to verify the facts and impedes accountability." Giovanna Reder, Border Forensics' lead investigator, said that Frontex was fundamentally opaque. She said that despite this, Border Forensics had "analyzed a vast set of flight tracking and other data to reconstruct its activities in the sky."
EU called to account
HRW and Border Forensics demand that both the EU and its border agency be held accountable for their alleged complicity in allowing migrants to be sent back to Libya. Frontex should examine whether its activities, including aerial surveillance, violate fundamental rights, and it must be more transparent and accountable in its operations, the organizations say.
They are also calling on the EU to "fundamentally reorient its migration policy to enable safe and legal pathways and reset its activities in the central Mediterranean and cooperation with Libyan authorities to make sure people are not returned to places where they would face the risk of abuse, lack of access to international protection, and inhuman and degrading conditions of detention."
In addition, the organizations say that Frontex and EU member states should use their aerial surveillance to support sea rescues and deploy their own ships in areas where they deploy aircraft, so they can respond directly and quickly to migrants in distress at sea.