In the Afghanistan of the Taliban, listening to or playing music is considered a sin. The Afghanistan National Institute of Music has been closed since the hardline Islamists returned to power in Kabul in August 2021. The students and teachers of the school fled the country and found refuge in Portugal. Despite the difficulties of exile, they hope to revive their school and thus preserve the Afghan musical heritage.
On the stage of a large concert hall in Braga, in northern Portugal, seven teenagers play their rûbab, sitar, tabla and other traditional Afghan instruments. They learned to play at the Afghanistan National Institute of Music (Anim), the country's only music school. This November evening, they are performing in front of the donors of a large humanitarian organization in the second concert they have given since arriving in Portugal a year ago.
Hadia, 14, with her santour, a string instrument, placed in front of her, is visibly joyful. "When I'm on stage and the public appreciates my performance, I feel really happy," she says. Ahmad Sarmast, the director of the Anim, watches over his students from the back of the room. "They are like my children, I saw them growing up. Some joined the school six, seven or even ten years ago," he says.
'When the Taliban entered our school, they broke the instruments'
When the Taliban entered Kabul, Ahmad Sarmast admits to having "panicked" before rushing to evacuate his students and staff. "I contacted the leaders of many countries. Portugal was the first and only country to have answered our request. Not only did Portugal grant [our students and staff] asylum, but it offered us a chance to recreate the school here," he says. In total, 284 people were granted asylum.
Sarmast -- an eminent ethnomusicologist -- has given himself a mission: to safeguard the rich Afghan musical heritage. For this, he hopes to continue the activities of the school, despite being thousands of kilometers away from Kabul.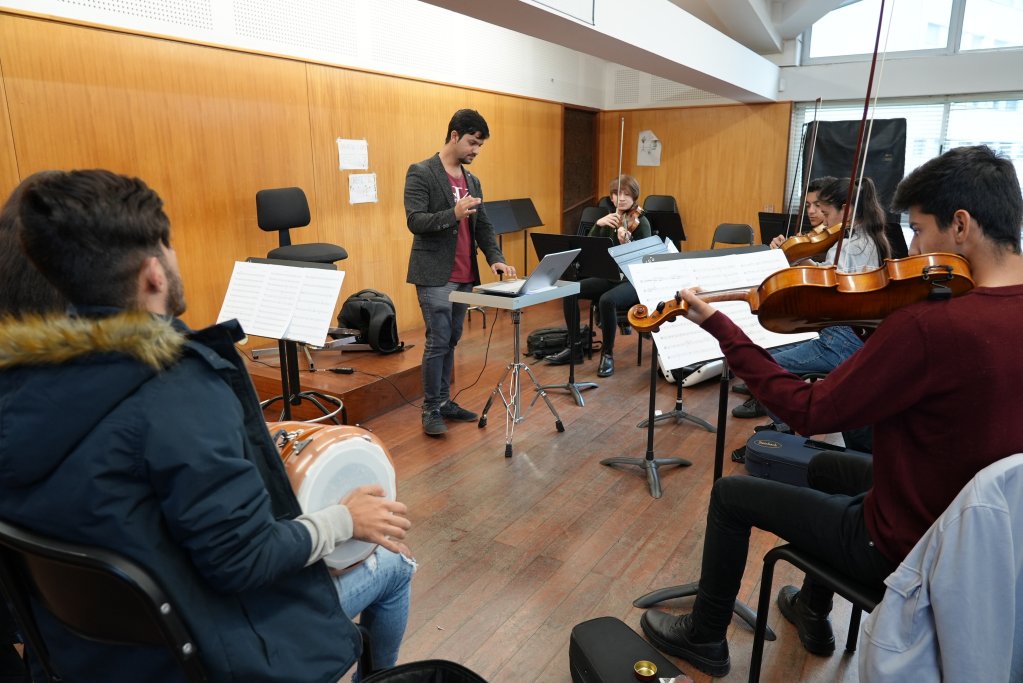 After nine months spent in a former military hospital in Lisbon, Portuguese authorities relocated the members of the Anim to Braga, the country's third largest city. Zohra and Farida, 13, live with their uncle in an apartment allocated by the authorities, which they share with another family from the music institute. The cousins were the last two students evacuated from Afghanistan on November 16, 2021. On that day, the rest of the family accompanied them to Kabul airport. "It was both a stressful and very emotional moment because it was the first time I had left my family," says Farida as she looks at photos of her loved ones on her computer.
Despite the pain of being separated from their families, leaving seemed to be the only option for the two young girls. "We were so afraid that at any moment the Taliban would enter our house and break our instruments before our eyes. Our lives were in danger, this is why we had to leave Afghanistan," says Farida. "The Taliban forbids girls from going to school, so it's obvious that they would have stopped us from going to music school. When the Taliban entered our school, they broke the instruments that were there," adds Zohra.
Building a new life in Portugal
The two teenage girls now spend most of their free time rehearsing in their bedroom, with a violin for Farida and a trumpet for Zohra. They dream of becoming professional musicians, and possibly acting and writing too. A rich and varied career seems more accessible to them in Europe than in Afghanistan, but their homeland remains in the back of their minds. "We would like to go back if the Taliban ever leave. We would bring back the music and teach the children what we have learned," Zohra says.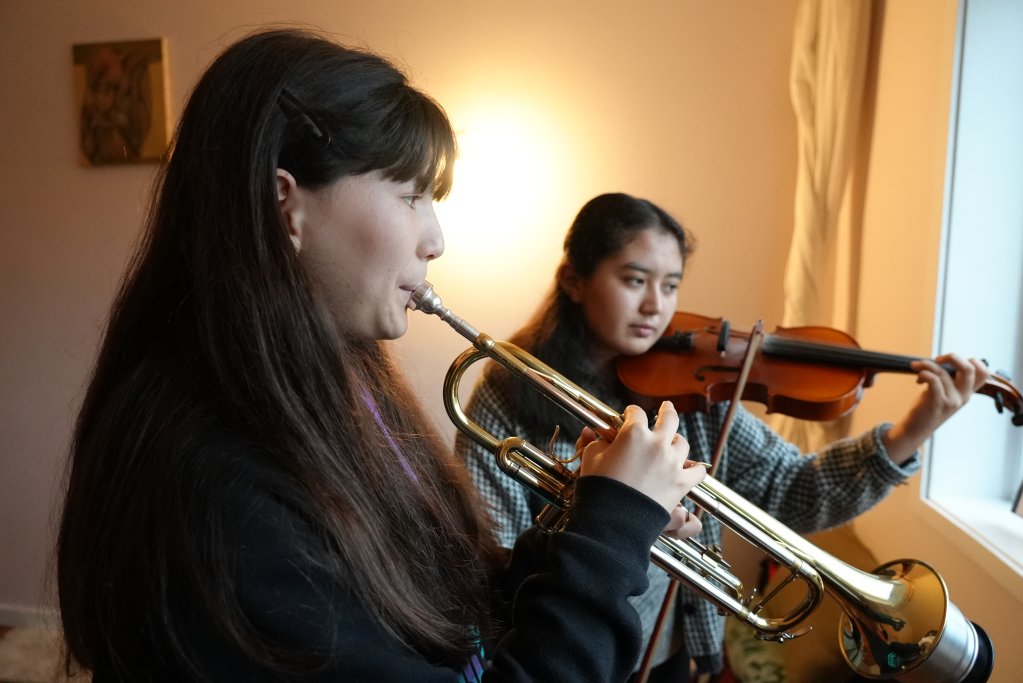 In the meantime, the two cousins have gone back to school. Like other Anim students under 18, they are educated in a high school in Braga. For now, they only attend classes in English, Portuguese, civic education and music, but they are trying hard to adapt to their new environment. "I'm focusing on my Portuguese lessons. If I master the language, I will be able to study more subjects," Zohra says.
For adults, exile is a more bitter experience. Mohammed Qambar Nawshad, a young composer and musician, was part of the teaching staff at Anim in Kabul. He is now struggling to make ends meet. He receives €1,050 per month for himself, his mother, his wife, their three children and his nephew. "We can only eat, we can't do anything else here. There are no jobs in Portugal," he says. In a year, his financial assistance will run out and he will have to pay a rent of €600. Some professors or students preferred to leave Portugal in search of better opportunities. About half of the members of the group who arrived in Portugal a year ago are thought to have moved to other European countries, like Germany, France and Switzerland, or the United States.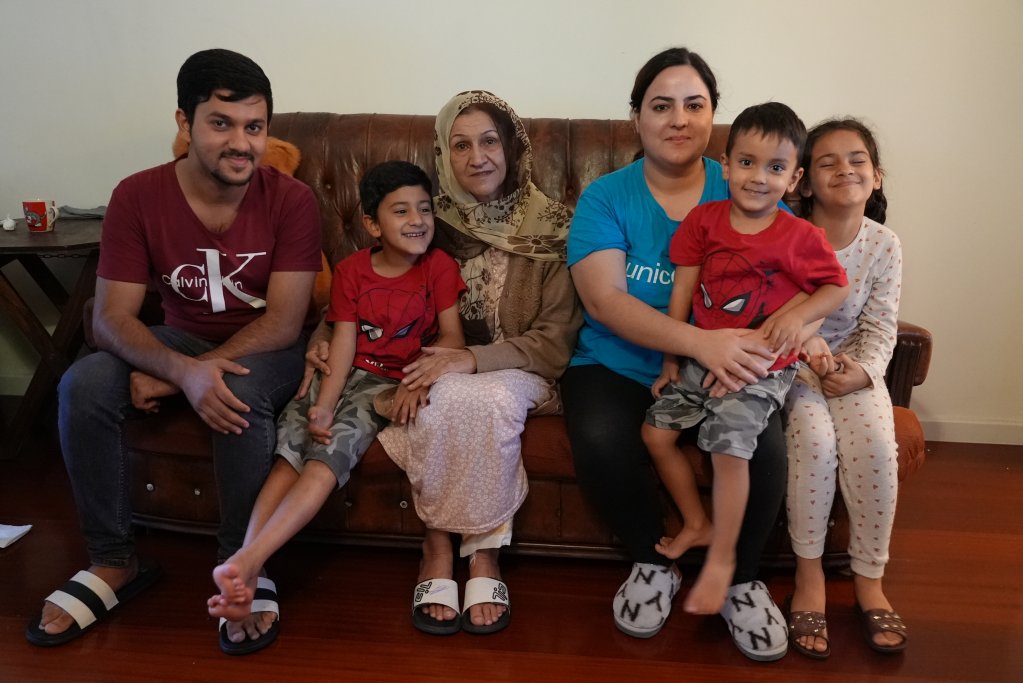 An uncertain future
Mohammed Qambar Nawshad has already considered leaving, but he hopes that his situation in Portugal will improve over time. He has been an employee of Anim for over a month, and he receives a monthly salary of €1,000 to resume his duties as a teacher and conductor. Several times a week, he leads rehearsals with the young people of the school.
The practice sessions take place at the Braga Conservatory, but Ahmad Sarmast hopes to have his own premises soon. "We have a large orchestra, a quintet, an ensemble of traditional instruments and a choir, so we need a place for all these groups to practice in order to maintain and safeguard Afghan music," he says. A condition, according to him, upon which the sustainability of his project depends.
MORE ARTICLES
> 'Creative solutions' to a refugee housing problem in Hamburg
> Afghan refugee recalls chaos and despair at Kabul airport
> Suicide of Afghan asylum seeker in Switzerland raises questions about deportation policy
> Afghan migrants beaten and illegally expelled by Turkish authorities