In the north German city of Bremen hundreds of asylum seekers living in a tent city were moved to alternative accommodation on Thursday after the water pipes froze and the heating broke down.
Sub-zero temperatures in the northwest of Germany have made conditions unsustainable for around 700 migrants living in uninsulated tents in Bremen. "The accommodation situation in the tents has worsened significantly with these temperatures," said Anja Stahmann, the city-state's integration minister. "For a lot of people, it's unbearable."
Finally it became dangerous, as frost damage caused the pipes to freeze and the heaters to break down. On Thursday (December 15) morning up to 400 of the asylum seekers were transferred to an exhibition hall across the city, where around 630 stretcher beds had been set up by German Red Cross volunteers for people expected to arrive in the new year.
Around 45 other people – families with children -- were moved from the tent city to a former office building which has been repurposed to accommodate up to 300 migrants.
150 stay behind
Bremen authorities said that around 150 people chose to stay in the tent city, where water has now been restored but all but one of the large tents remain unheated. Local media reported that the tents are expected to be "winterized" (made weather-proof ready for winter use) at the weekend. Meanwhile, the temperatures are forecast to remain below zero degrees Celsius until at least Sunday.
The exhibition hall is only a temporary measure – the asylum seekers will have to be moved again by the middle of January, in about four weeks. Until then they will be warm, but they will be living in one shared space: aside from areas being for families and single men, there are no single rooms or cabins.
According to the city government press statement, it was not possible to set them up on such short notice and for the brief time they would have been in use. "Regrettably under these conditions there is no longer any privacy," said Stahmann.
Also read: 'Tents are not the answer' – Austria's migrant accommodation crisis drags on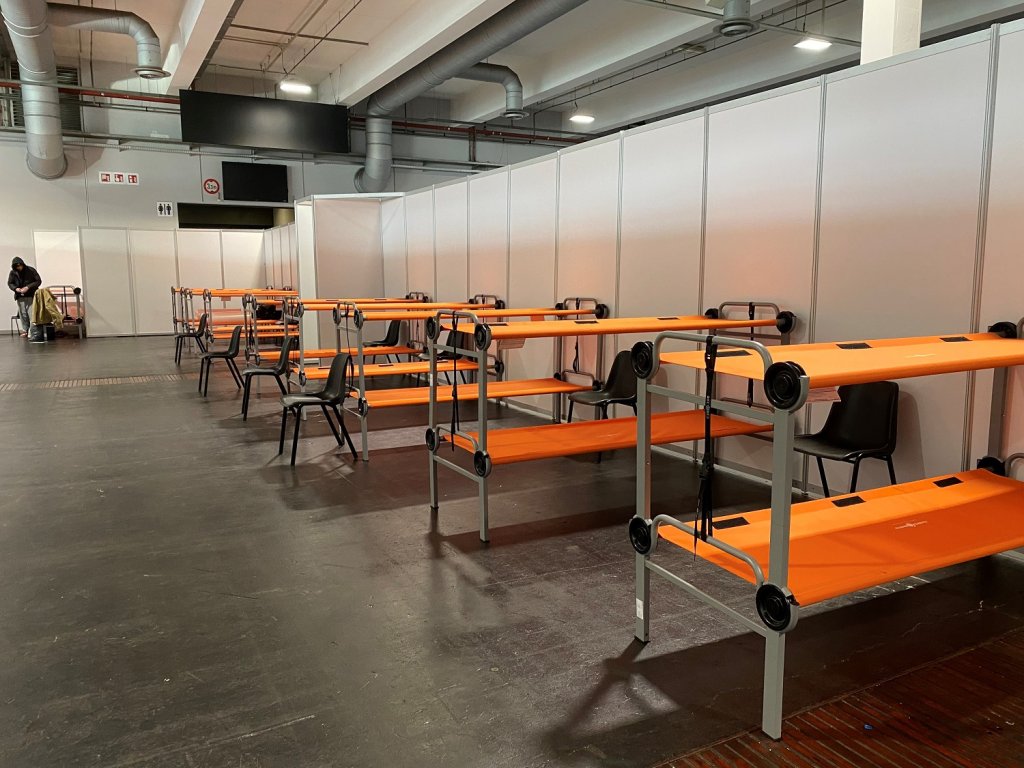 'Not up to the challenges of winter'
The city's plan had been to move the asylum seekers to new insulated buildings near the waterfront, but construction has been held up due to problems getting materials delivered, and they won't be ready now for several weeks. Meanwhile the authorities admit that the large tents "should not be inhabited at this point in time and should only be kept as an emergency reserve."
While efforts have been made to create more accommodation, with over 1,000 new beds in Bremen since mid-2022, they have clearly fallen short, given the unprecedented need. "We are gradually running out of alternatives," Stahmann said.
The opposition CDU migration policy spokesperson Sigrid Grönert said Thursday's evacuation of the tent city showed how fragile the accommodation system for refugees in Bremen is. "The reception system for refugees in Bremen is currently not up to the challenges of winter and urgently needs to be improved," the news website butenunbinnden.de quoted Grönert as saying.
Also read: 'Creative solutions' to a refugee housing problem in Hamburg
1,200 new arrivals a month
Like the rest of Germany, Bremen is struggling to keep up with the rate of new arrivals of asylum seekers and refugees from Ukraine. On average there are now about 1,200 people arriving each month in the city of just over half a million.
Since the start of this year the total number of asylum seekers in Bremen has exceeded 12,500, the largest group (about four in every ten) being people fleeing the war in Ukraine. About 2,700 others came from Syria and Afghanistan.
Also read: IRC warns of winter hardships for migrants as temperatures drop