The number of migrants entering the EU irregularly has continued to rise, according to the border agency Frontex. The largest number -- around 140,000 -- traveled through the Western Balkans.
In the first 11 months of 2022, about 308,000 people irregularly crossed the EU's external borders, an increase of 68% compared with the same period in 2021, and the highest level since 2016, Frontex announced earlier this week.
The Western Balkans was again "the most active migratory route into the EU," according to the agency, which registered roughly 140,000 irregular crossings in the region -- an increase of 152% compared with 2021.
Italy also saw a significant rise in irregular arrivals, with the interior ministry recording over 98,000 migrant arrivals by boat as of mid-December, up from some 63,000 between January and December 2021.
Meanwhile, around 17,000 people have arrived in Greece and Cyprus so far this year.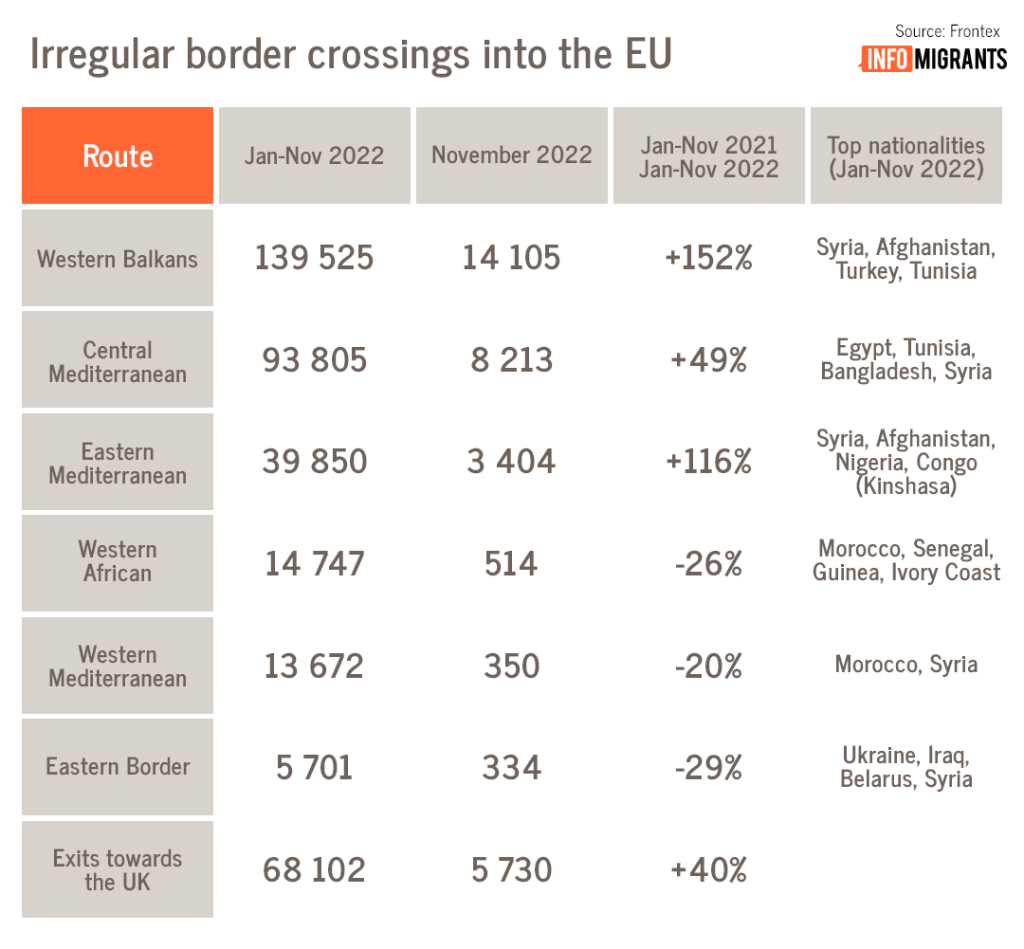 Besides the Western Balkans route, the Central Mediterranean route has been the most active this year, according to Frontex, with people trying to reach Italy, Spain or Greece by boat.
Large numbers of those attempting the Mediterranean crossing have died at sea. According to the UN migration agency (IOM), almost 2,000 deaths and disappearances have been recorded this year. The actual number of deaths is believed to be much higher, as many departures and disappearances go unreported.
Also read: Europe struggles to assist largest number of asylum seekers in six years
UN urges EU to do better
Most people forced to flee their homes stay in their own country or flee to neighboring countries, not Europe, according to the UN refugee agency UNHCR. The agency has called on the EU to do more to protect migrants and refugees by creating fair and fast asylum procedures, offering more legal options for refugees to reach safety in Europe, and saving lives at sea, among other measures.
The UN migration agency chief Antonio Vitorino also said in an interview with the Italian newspaper La Repubblica on Friday (December 16), "Migration has to be managed, not by closing borders, but by opening legal channels."
The call comes as several European leaders are calling for measures to be ramped up to prevent irregular migrants from entering the EU.
Among them is the Austrian Chancellor Karl Nehammer, who wants Brussels to fund the construction of border fences in Romania, Bulgaria and Hungary.
Italy's new far-right government also campaigned on the promise to block migrant arrivals at sea and to support the establishment of migrant camps in Africa.
Warning against the use of "toxic narratives," Vitorino said greater priority should be given to saving lives in the Mediterranean Sea. He also said the increase in "illegal" crossings into the EU was a result of the lack of safe and legal routes.
With dpa
Also read: EU asylum applications reach 'new high' since 2015