Coping strategies used by migrant children to shield themselves from the consequences of abuse can expose them to even greater danger, says the charity Save the Children.
Every year, tens of thousands of children attempt the hazardous route from the East and Horn of Africa to Europe via the Central Mediterranean Sea. Some make the journey alone, without adult relatives to support them or to help bargain with smugglers and border guards, while others travel with families or other trusted adults.
In nearly all cases, children are at very high risk of falling in to the hands of traffickers and suffering bonded or forced labor, sexual exploitation, ransom, kidnapping and abuse.
There is yet another factor compounding the tragedy, according to the charity Save the Children. It says research on children migrating on the Central Mediterranean Route from sub-Saharan Africa has brought to light ways in which children try to protect themselves from the worst consequences of their experiences on route.
And it says these very coping mechanisms may put the children in harm's way.
'Not only Omar's story'
Save the Children tells the story of Omar* (not his real name), a boy interviewed for the study by the social policy research group Samuel Hall, to illustrate the risks many children face on the Central Mediterranean Route.
After Omar's elder brother was killed in communal violence in Eritrea, the 17-year-old moved to Sudan, where he was undocumented, out of school and unable to find work. When he learned that a group of peers planned to go to Libya with the help of a smuggler, he joined them, not knowing of the risks he would encounter.
Once they reached Libya, Omar and the other children were handed over to traffickers, held for ransom, and tortured. Later, after the location where they were being held was stormed by a rival armed group, Omar managed to escape and eventually, he reached Tunisia.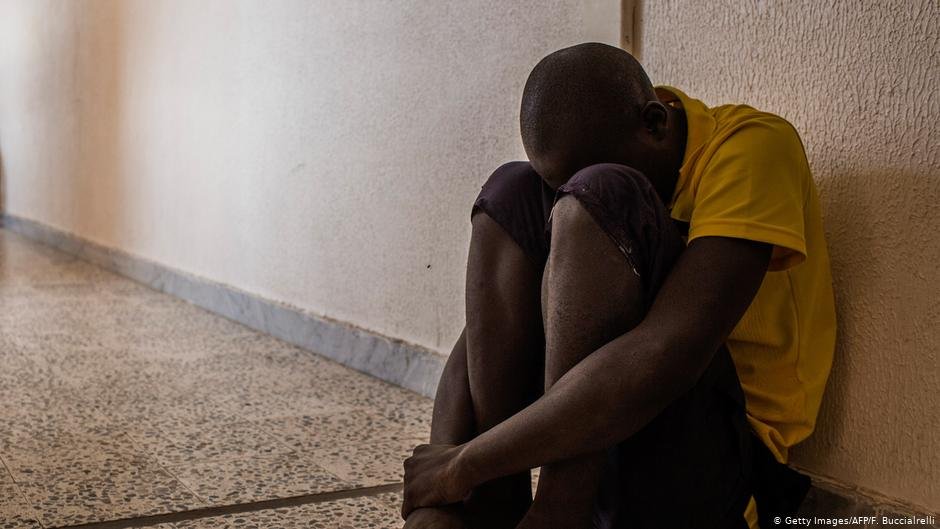 Vulnerability increases risk
The further away child migrants like Omar move from their community, the more exposed they become, says Save the Children. During the journey, they come to rely on other child migrants for moral support, only to become separated again, leaving them alone and in danger.
"When [my friend] was down, I lifted him, and when I felt tired, he helped me to rest till we reached Tripoli. There, each of us went on our way," said Shaba, a 14-year-old boy from Eritrea also interviewed in the study.
Unaccompanied child migrants also often contact their families only once they reach border points or enter transit countries. This makes it hard for families to help them at short notice, the researchers found.
Children often travel with neighbors or family friends – trusted adults who are not related to them. While these relationships make the children feel safer during their journey, they also reinforce the perception that migrant children are commodities for adults, making them open to abuse.
Even traveling together with their parents, children may be exposed to particular risks, according to the study, as adults may conceal important information about contact persons or transit points so as not to put additional stress on the child. This can increase the danger to children in the event of the family's being forced to separate.
Girls' coping mechanisms
Girls and boys face different risks in migration and they have different ways of coping. For girls, there is a high risk of sexual abuse and the exchange of sex for basic needs, according to the study. The main prevention strategy used by girls is to travel with trusted adults, maintaining close contact with their family and "blending in with the local population to be less visible."
Girl victims consider the risk of raping as normal… a sort of price to pay
Many still expect to be raped on the journey, and they start taking contraceptive pills before they depart as a mitigation measure. "Girl victims consider the risk of raping as normal… a sort of price to pay," according to a social worker in Tunisia.
Dani*, a migrant girl from Ethiopia, said she had been advised by one of her relatives to use birth control. "This advice was helpful to me since I had been raped numerous times, and it stopped me from becoming pregnant."
Also read: East and Horn of Africa: Most migrants female
While contraception is described as a coping strategy used by girls, Save the Children points out that it does nothing to reduce sexual exploitation and child trafficking. That can only be achieved with action by governments, aid agencies and communities, to create safe and legal migration routes, ensure children along the routes are given coordinated, cross-border support, and put in place anti-trafficking laws that specifically protect child victims.
*Name changed