A private security firm tasked with safeguarding an arrival facility for migrants and refugees in Berlin is facing serious accusations. Aside from alleged blackmail and coercion, employees of the firm are said to have sold beds and appointment cards to refugees.
A refugee reception center in the Berlin suburb of Reinickendorf is at the center of a scandal, following allegations against security staff. On Tuesday, the news outlet Tagesspiegel reported on claims that security service providers had taken advantage of the situation of those seeking protection.
The allegations included instances of coercion, violence and extortion. Moreover, according to employees who have since left the company because of the conditions, some residents of the facility were given a place to sleep in exchange for money or jewelry.
Katja Kipping, Berlin senator for integration, labor and social affairs, said Wednesday (December 21) the allegations were serious and would be investigated "thoroughly, prudently and transparently."
"The exploitation of the emergency situation of those seeking protection is not only criminal, but also deeply repugnant," she added.
Kipping stressed that arrival and accommodation structures must be placed where those seeking protection can feel safe. One goal in clarifying the allegations is to analyze what needs to be done to prevent the emergency situation of protection seekers from being exploited.
Staff able to make anonymous complaints
On Tuesday morning, customs and federal police had inspected the initial reception center of the State Office for Refugee Affairs (LAF) in Reinickendorf and the companies contracted there by the State of Berlin. The target of the action was primarily employees of the security service.
Kipping announced that a contact point was being set up at the LAF for anonymous tip-offs. All LAF employees should be able to contact the office to report any misconduct within the facility, in particular by security personnel, Tagesspiegel reported on Wednesday.
Due to the nature of the allegations, Kipping said they needed to be taken very seriously and promised a "clarification offensive."
Airport accommodation needed longer than planned
The accommodation situation for migrants and refugees in Berlin continues to be tense. Additional space for 3,000 people will be created in the coming weeks at Berlin's former Tegel airport, Kipping told rbb24 Inforadio. Tempelhof, the site of another former Berlin airport, will also get an additional temporary emergency shelter.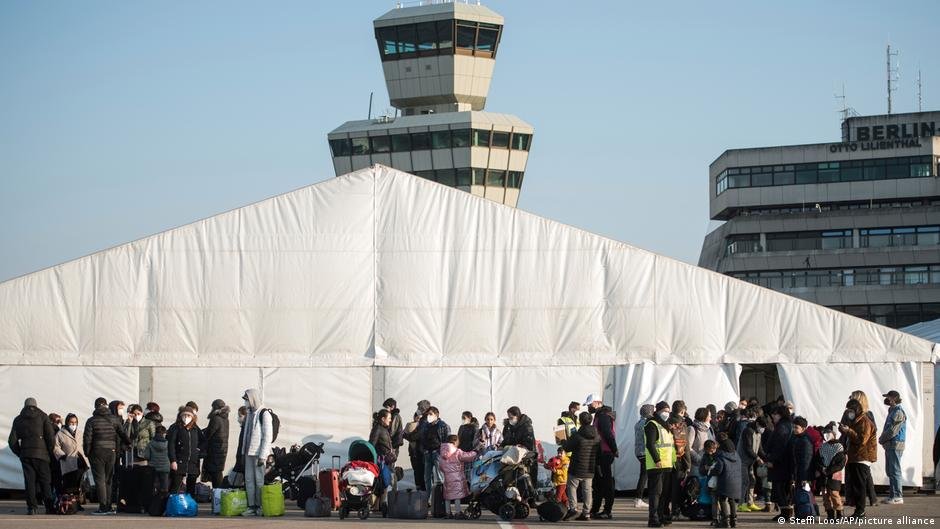 Kipping did not rule out the possibility that buildings at Tegel will be used as refugee accommodation for longer than planned. As things stand, she said, people will be able to stay in Terminals A and B until at least mid-January. For the period after that, there is still no agreement in the city's Senate, she said, adding that "the approximately 1,900 places there will not be easy to replace."
There are no plans to use school sports halls to accommodate migrants and refugees, Kipping said. But talks on making use of hotels which are currently closed are underway. "We already have some hotels and hostels now where you can go in with 50 to 100 refugees."
Tegel airport -- which was decommissioned in mid-2021 -- had already been adapted earlier this year to shelter Ukrainian refugees. In November, the two former terminals were expanded to accommodate 3,600 Ukrainians.
Berlin has welcomed more than 100,000 Ukrainians so far, the majority of whom have found private accommodation or have moved in with relatives. But thousands still rely on the city to provide them with accommodation.
Read more: Berlin and other German cities struggle to house refugees
With EPD, ARD