Migrants who just arrived in Paris often lack access to vital information, according to a new survey. The causes: precarious living conditions, the language barrier and illiteracy.
Where can I find shelter and a hot meal? Where can I take a shower? How can I request asylum in France? Answers to key questions like these are hard to find for many migrants and refugees when they arrive in the Paris metro region, according to a new study, which was published by France Terre d'Asile, Watizat and Action contre la Faim this month.
It is based on interviews with 135 people -- refugees, asylum seekers, and people waiting to deposit an asylum application.
The paper explores why refugees and migrants in France lack access to information, what consequences this has, and what could be done to improve the situation.
InfoMigrants talked to Léa Richardot, project manager at the Action contre la Faim (Action against Hunger), about the study.
InfoMigrants: What kind of information are we talking about in the survey?
Léa Richardot: This information is related to necessities (food, hygiene, health, housing, etc.), and information related to filing an asylum application.
Some of the information is extremely difficult for migrants to understand. For example, concerning the health system, exiled people must observe a three-month waiting period between their arrival on French territory and the start of Universal Health Protection (PUMA). [Editor's note: PUMA allows an asylum seeker, as well as his or her family, to receive medical care free of charge.]
During this three-month period, exiles can only benefit from hotlines for access to health care (PASS), but these services are saturated, complicated to access and there is often no interpreter present on site. [Editor's note: Located in public hospitals, these hotlines are for people without any health coverage, including undocumented migrants. You can find more information in this article: PASS: medical centers to treat the "invisible".]
Health care, food: Less than one in four new migrants know where to get help
Only 18% of migrants interviewed in our survey say they received information about health services in Paris in the first week of their arrival. Yet, a large number of exiles arrive in France in poor medical condition.
There are other examples. Basic information such as the sites and hours of food distribution in Paris is difficult for newcomers to obtain. Exiles often go without eating, because they are not aware that associations distribute meals in places across the city. 
In our survey, only 22% of respondents were aware of food distribution following their arrival in Ile-de-France. The remaining portion spent their first week without knowing where to go to get something to eat.
How do migrants inform themselves?
We have noticed that newcomers refer in large part to their community. This term is broad: the community can be family members, people with whom they have made the migratory journey, individuals of the same nationality or who speak the same language. These are people, who in general, share the same living conditions as them.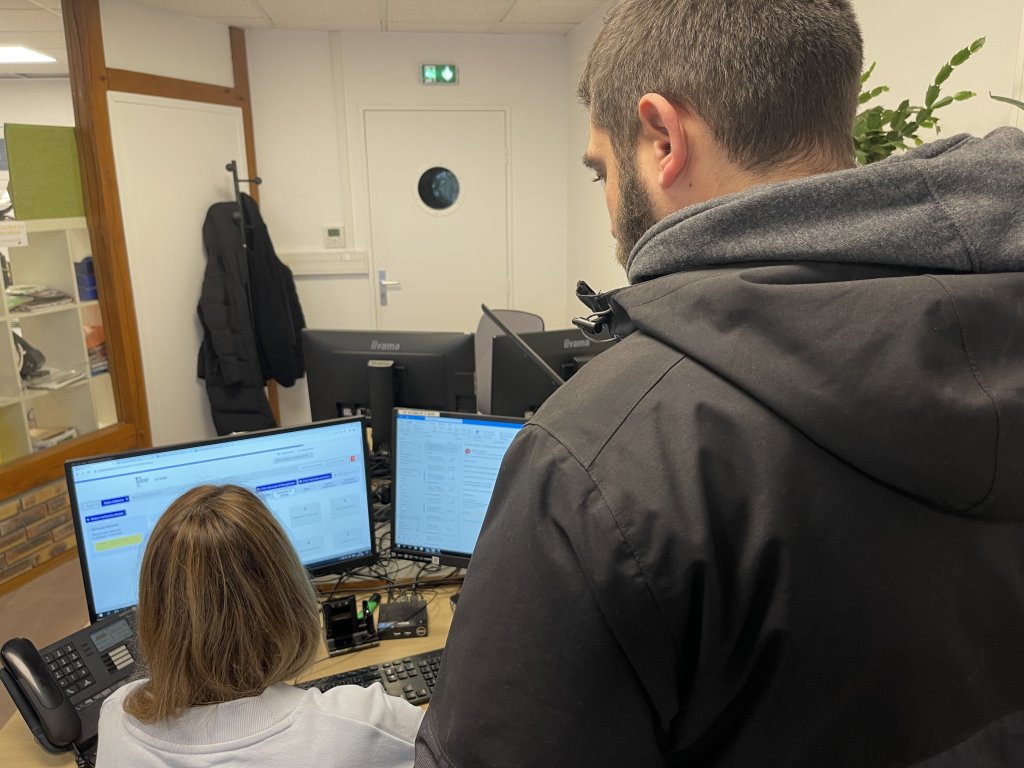 Then there is 115 [editor's note: the emergency call service, usually used for accommodation requests]. This resource is widely used, especially by families. Listeners at 115 provide information, guidance, sometimes on day reception, sometimes on the steps to file an asylum application, etc. It is easier, for exiles, to call 115 than to try to find the answer to a question on the internet [editor's note: even if it is not uncommon for the waiting time for this help service to be up to two hours and 30 minutes]. 115 is well known, migrants have sometimes heard of it before their arrival in France.
Finally, there are those who make what we call "the outward journey", these are the NGOs and associations who travel to meet exiles in the places where they live.
Information often only in French and written form
What are the barriers to accessing information for newcomers?
The precarious living conditions of people exiled in Ile-de-France are an important cause of this lack of access. Being in a precarious situation limits access to information, because moving from accommodation to accommodation takes up a lot of energy. When you don't know where you are going to spend the night the same evening or the day after, it prevents you from taking other steps such as looking into how to seeking asylum. Migrants on the street may also have technical constraints (uncharged telephone, lack of Internet access, etc.).
The language barrier is, of course, another obstacle. On social networks, for example, very little information is available in the languages spoken by exiled people.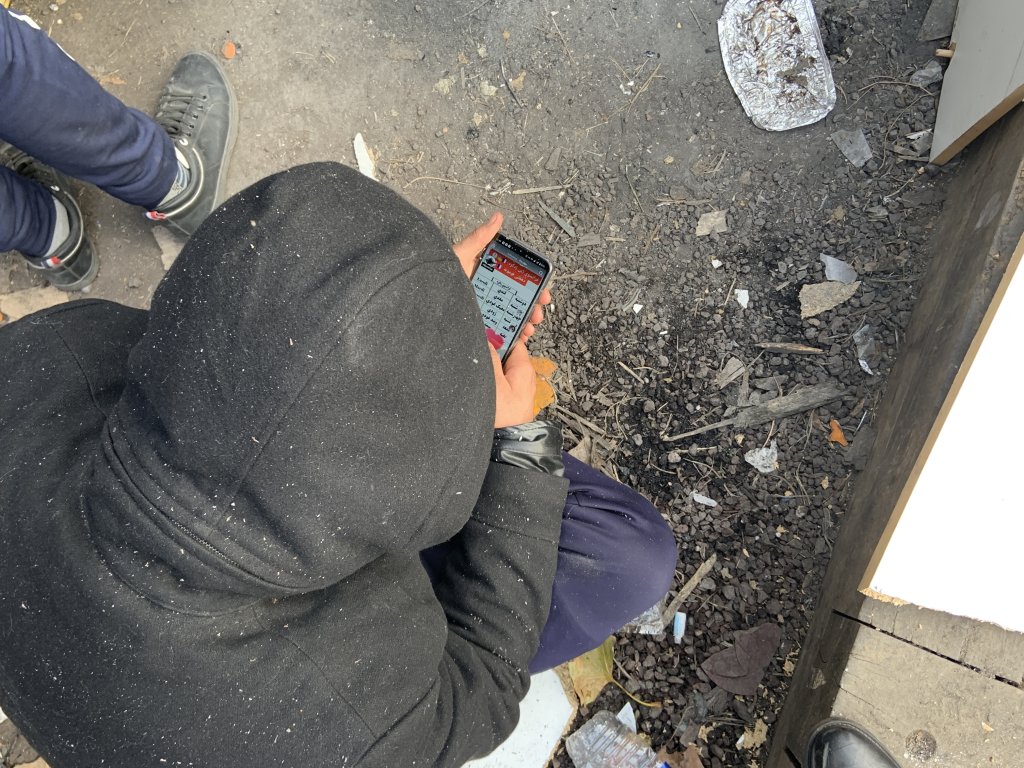 This survey also allowed us to identify another factor that we had not necessarily highlighted until now: illiteracy.
Among the sample population, 30% of people cannot read or write at all. They mostly come the Ivory Coast and, to a lesser extent, from Afghanistan [editor's note: the proportion of people with a limited command of French was around 51%]. Despite this, almost all the information issued by the state on the asylum procedure is presented in paper version.
All these obstacles have concrete consequences for the migrant population. This makes their living conditions even more complicated because, for example, they do not have immediate access to basic health services.
It also has an impact on their asylum application itself. We have collected many testimonies from people who say, 'For now, I'm just looking for food and a roof over my head, and then I'll ask for asylum.' However, there is a time limit for filing an asylum application: it is 90 days after arrival on French territory. After this period, the migrant moves into the accelerated procedure, a shorter procedure than the traditional asylum application procedure and it does not necessarily include the same rights in terms of accommodation.
Recommendations: Cultural mediators, info centers, video and audio information
What are your recommendations for improving the situation?
To respond to the problem of illiteracy, we believe that guides for new arrivals should be produced by developing other formats besides written ones. The population we questioned gave us positive feedback concerning video, audio or social network content, with, for example, pictograms. It could be a lead.
We should also develop more community relays, such as mediators who speak their language and who have experienced similar situations of exile. The latter could work in conjunction with the associations, in order to make the information more reliable and clearer.
It would also be interesting to have information points when these people arrive. [Editor's note: In Paris, many refugees and migrants first arrive at Gare du Nord.] It's easy to imagine a kind of reception point with key information on accommodation, the location of day centers or even access to food. This was done when Ukrainian refugees arrived in French stations and we should draw inspiration from this good practice to extend it to all exiles.
THESE ARTICLES MAY BE HELPFUL FOR REFUGEES AND MIGRANTS IN FRANCE:
> Help for migrants in France: A list of organizations
> Terms and acronyms that asylum seekers need to know in France
> Where to take French classes in France