The number of people arriving in the European Union irregularly has seen a sharp rise this year – despite new border fortifications in Greece, Poland, Spain and other countries intended to prevent just that. We take a look at how the EU is trying to seal off its external borders against migrants and the consequences for the most important migration routes to Europe in 2022.
The increasingly dramatic consequences of climate change, the global ramifications of the war in Ukraine, as well as poverty and persecution the world over: In 2022, there were many reasons driving people to leave their homes in Africa, the Middle East and beyond in search of a better life.
It come as little of a surprise then that the number of irregular border crossings into the European Union increased significantly in 2022 -- despite new fences and controversial new cooperation plans between the EU and third countries designed to ward off irregular migration.
The EU border agency Frontex said earlier this month that it had recorded some 308,000 attempts to enter the EU without permission in the first eleven months of 2022, marking a 68% increase compared to the same period last year.
The scandal-ridden agency, headquartered in the Polish capital Warsaw, spoke of the highest figure in the first eleven months since 2016.
The number of asylum applications in the EU this year also rose sharply compared to last year: 790,000 asylum applications were filed in the EU in the first ten months of the year, amounting to an increase of 54% compared to the same period last year, according to the EU asylum agency EUAA. 
Europe appears to be reacting to these trends by trying to further seal itself off. Human rights activists and UN agencies have been accusing the EU of applying double standards in this process: While war refugees from Ukraine have been readily accepted and welcomed, others in need of help are seen as being turned away at the EU's external borders, they say.
"Tragically, far too many still die at sea in search of protection," reads an appeal to the EU by UN refugee agency UNHCR, adding that "(p)ushbacks and abuses at land borders continue and many people seeking protection cannot enter Europe."
Western Balkans
According to Frontex figures, about 140,000 migrants entered Central Europe irregularly via the so-called Balkan route by November. That's two and a half times as many crossings as in 2021 and the highest figure since the height of the so-called refugee crisis of 2015/16.
This makes the Western Balkans route the most active one for refugees and migrants to cross into the EU, the border agency said.
Austrian Chancellor Karl Nehammer added that 75,000 people had arrived in Austria alone using this route without being registered, typically having crossed into the EU in Croatia; however, he did not provide an exact period for the figure he cited.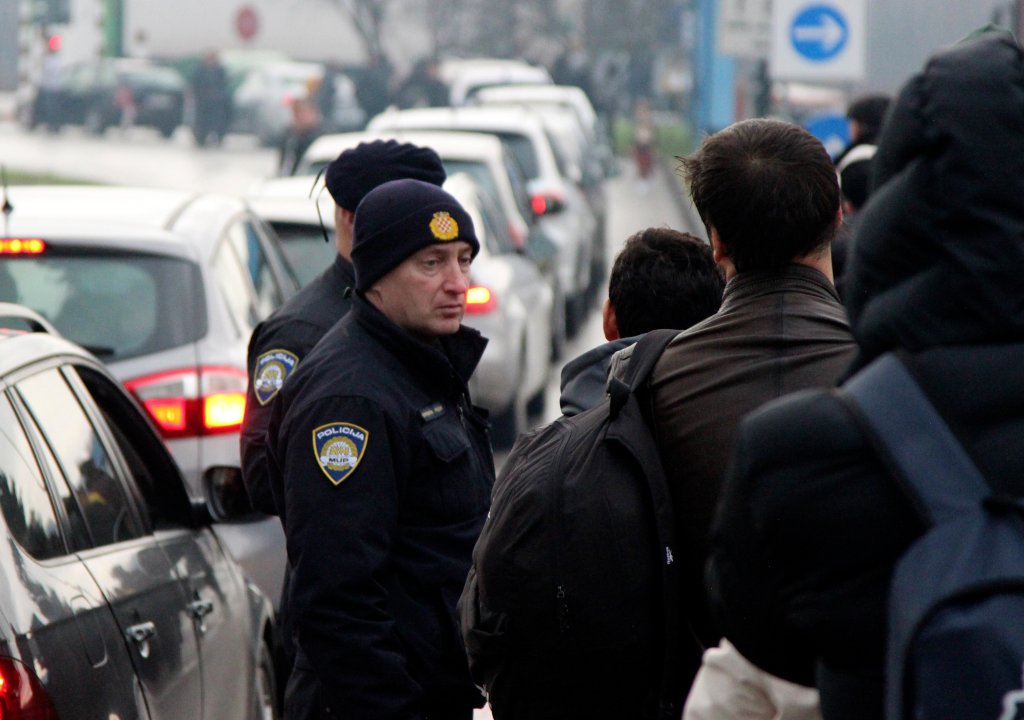 Still, many migrants remained stuck on the Serbian side of the Croatian border, making repeated attempts to cross the border into EU territory despite violent pushbacks by border authorities.
There are several possible explanations for the surge in migrants using this route once more: Certain nationalities like Indians, Burundians, Tunisians or Cuban citizens in Serbia are exempt from visa requirements to enter the country; furthermore, border controls have been tightened on other routes, such as the Central Mediterranean Sea route from Libya to Italy; finally, greater migratory movements seem to be resuming now that the COVID-19 pandemic is considered to be under control, and most travel restrictions have been removed.
This is partly why Nehammer and others have meanwhile also called on the European Union to fund further border fences in places like Romania, Bulgaria and Hungary in a bid to stop illegal immigration there.
"We must finally break the taboo of fences," he said in mid-December at the EU summit in Brussels.
Read more: 'Police come for us at night': Belgrade, a crucial but hostile layover city for migrants on the Balkan route
Eastern Mediterranean
Greece also reported that the number of refugees and migrants arriving in 2022 has risen sharply. As of December 25, some 18,000 migrants had arrived in the eastern Mediterranean nation - about twice as many as in 2021, according to UNHCR figures.
Around one third of all registered migrants had crossed into Greece via its land border with Turkey at the Evros river despite increasing border fortifications there. In August, Greek officials announced an extension of the border fence along said land border with Turkey by 80 kilometers as well as the introduction of new electronic monitoring devices.
By the end of the project, the border with Turkey will be almost completely sealed off. Other plans include boosting the Greek border patrol force with extra boats as well as aircraft for its coast guard in the eastern Aegean Sea. 
The government in Athens said it will even be further beefing up its border security to fend off migrants, in a move which has been prompting fierce criticism.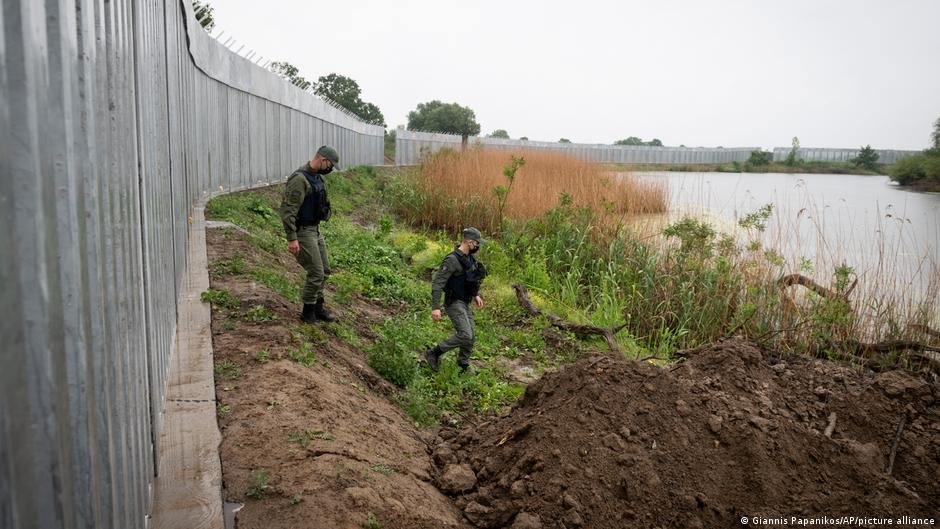 Greece maintains that it is only protecting its national and the EU's external borders. It cites for example that in August 2022 alone, border authorities managed to prevent more than 36,000 irregular crossings when water levels at the Evros were low.
Despite such fortifications, a total of about 5,000 migrants did make it across the river this year.
Greece has also faced repeated accusations in 2022 of committing illegal 'pushbacks' -- claims that have been largely backed up by investigative media reports and international rights organizations, including UN refugee agency UNHCR.
Meanwhile on the de facto divided island of Cyprus, the numbers of border crossings from the Turkish-controlled northern part of the island to the Republic of Cyprus have also increased significantly. Around 17,000 migrants were registered by the Cypriot Interior Ministry by the end of October.
Cyprus last year reported the highest number of asylum applicants per capita. Earlier this month, Cypriot authorities said they had repatriated nearly 7,000 migrants from their territory this year.
Read more: Migrants -- the year 2022 in pictures
Central Mediterranean
By far the most sea arrivals by migrants took place in southern Italy. The Interior Ministry in Rome counted more than 102,000 people who reached Italian shores via the Central Mediterranean route by mid-December.
In comparison, there had been just around 67,000 such crossings in all of 2021, according to the IOM.
Italy's new government in Rome is now taking decisive action against civilian sea rescuers in order to keep the number of arrivals down: On December 28, the far-right government adopted a decree mandating vessels to arrive at an assigned port without delay after each rescue, rather than continuing to provide assistance to other migrant boats in distress at sea until their vessel reaches full capacity.
Humanitarian groups warned that it will stop them from saving further lives at sea.
In early November, a diplomatic stand-off between France and Italy over the Ocean Viking migrant rescue ship ended after the NGO vessel with 234 migrants was refused port by Italy and was rather deferred to France.
Italian ultra-right prime minister Giorgia Meloni is among the European leaders who want to seal the EU's external borders even more tightly.
For instance, Meloni this year proposed a naval blockade in the Mediterranean and camps in North Africa where migrants would be taken to assess their chances of asylum in Europe.
Meloni wants to go even further and invest more in preventing unseaworthy migrants boats from leaving North Africa in the first place. However, Human Rights Watch (HRW) accuses the EU of doing this already:
As Frontex provides Libya's coast guard with GPS data of migrant boats, allowing the controversial force to intercept migrants, Europe is "complicit in the abuse" of people in Libyan camps, according to HRW.
More than 23,000 migrants were intercepted and returned to dire conditions of abuse in Libya with the EU's help in 2022, according to the IOM.
The Central Mediterranean route also remains the most dangerous: more than 2,000 people have died or gone missing during attempted crossings by December 25, according to the IOM's Missing Migrants project. The number of unreported cases is likely to be higher.
Read more: Rescue ships forced by Italy to make longer journeys
Western Mediterranean
Some 30,000 migrants reached Spain this year (as of December 25). Much like in Greece and Italy, the bulk of the people arrived in the EU member state by sea. Roughly half of all migrants who reached Spain in 2022 chose the dangerous Atlantic route crossing from West Africa to the Canary Islands.
In mainland Africa meanwhile, two mighty border fortifications are supposed to stop migrants from entering the Spanish exclaves of Ceuta and Melilla in Morocco.
There however, the situation keeps coming to a head repeatedly. In one of the worst accidents involving migrants in years, hundreds of mainly Sudanese people tried to cross the fence into Melilla on June 24. Morocco's police intervened brutally.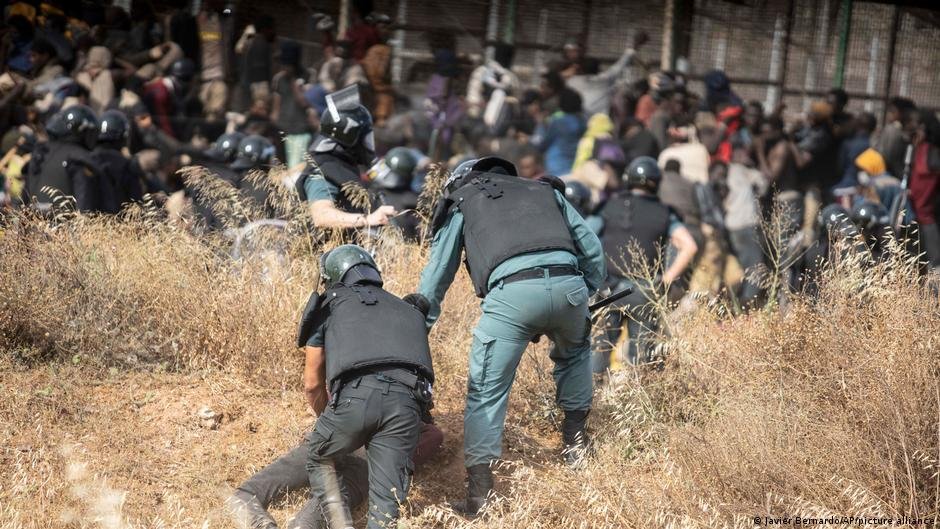 At least 23 people died during the Melilla border stampede and dozens are still considered missing. Spanish Amnesty International Director Esteban Beltran says he saw a "crime against humanity" take place there; Moroccan Association of Human Rights spokesperson Amin Abidar spoke of "unjustified" violence.
A BBC documentary published in November meanwhile raised serious accusations against both the Spanish and Moroccan governments for reacting harshly, disproportionately and violently. Spain's public prosecutor criticized the findings of the programme, and in late December 2022 decided to close an investigation into the deaths.
In total, more than 2,900 people made it into Ceuta and Melilla in 2022, according to UNHCR.
Read more: Since 2018, 6 migrants have died per day trying to reach Spain: NGO
Poland
EU member state Poland also found itself relying on walls of steel and barbed wire in 2022. In June, it completed the construction of a 187-kilometer fence along its border with neighboring Belarus.
The 5.5-meter-high fence is equipped with countless night-vision cameras and motion detectors, and seems to deliver the desired effect: From January to November, 14,900 migrants made it across the border irregularly -- in 2021, by comparison, that figure was about 40,000 people.
However, Poland's new border wall did not stop all migrants from entering Poland from Belarus, with migrants still slipping through the border weekly.
The wall was built as part of Poland's response to increasing migrant crossings into the European Union from Belarus in 2021, which resulted in the deaths of at least 23 migrants in the border region's forests and bogs.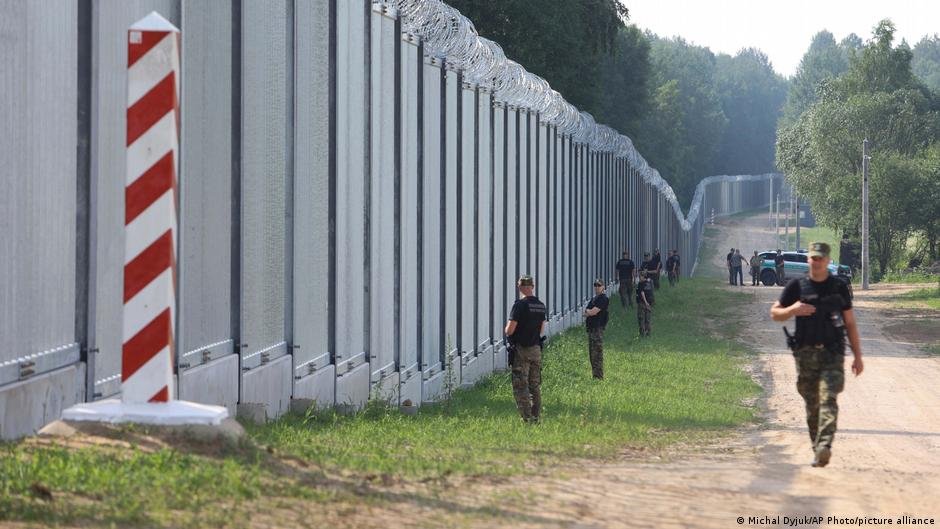 In November, moreover, Poland began building a razor wire fence along its 210-kilometer-long border with the Russian exclave of Kaliningrad to keep out migrants from the Middle East and North Africa using this route to enter the EU.
According to research by a team of German journalists, Kaliningrad is increasingly being used by people trying to reach Europe -- armed with visas from Moscow.
Read more: Barbed wire borders increase in Europe
This article is based on a feature by dpa