On December 31st, in the presence of dozens of police, coast guard officials and medics, the Ocean Viking rescue ship disembarked the last of 113 migrants at the port of Ravenna in northern Italy. Frey Lindsay reports for InfoMigrants.
"The mission is accomplished," says Luisa Albera, rescue coordinator onboard the Ocean Viking. "113 people disembarked safely, in a port that was quite warm and friendly. [The Italian authorities] have prepared for disembarkation for a few days, so I know that all of them have been taken care of properly."
The people aboard the Ocean Viking had been rescued from an unseaworthy rubber boat in the early hours of the 27th of December, on the border region of the Libyan and Maltese Search and Rescue Zones, roughly around 160 kilometers North of Tripoli. 
They had spent more than 24 hours at sea, having set off on Boxing Day from Zawia in northwest Libya.
Read more: Italy: Migrant rescue ship carrying scores of migrants told to dock 1,700km away
Stories of hope and despair
Among those rescued were many migrants originating from West Africa as well as a handful from Pakistan. 34 of those rescued were unaccompanied minors. There were also eight children younger than four years old, the youngest having been born just three weeks earlier.
In the few days between their rescue at sea and disembarkation in Ravenna, many people shared what they had been through as well as their hopes for the future in Europe.
"I want to study, I want to go back to school," said Ibrahim from Nigeria, a day after being rescued. "I want to study painting, I'm very good at it: art and design. I don't know exactly what the name of the course is, but I want to study it."
"I'm the happiest man in the world right now," said Ibrahim; "all the struggle and suffering in Libya is over. Seriously over."
Other migrants, however, rather remember the anguish they're leaving behind rather than looking at the future full of hope.
Seventeen-year-old Emmanuel had traveled with a friend from his native Côte d'Ivoire through the Sahara desert to get to Libya. 
"We didn't have water, people died as we crossed," Emmanuel remembers. Eventually, the tall young man reached Libya, thinking there would be opportunities for work there.
But instead he says he encountered "hell on earth."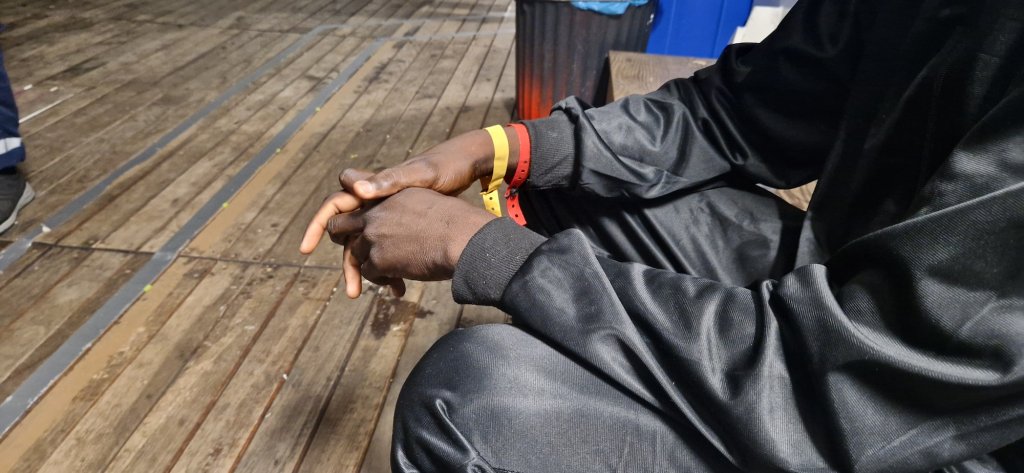 Escaping 'hell on earth'
He recounts that he was repeatedly beaten, extorted, forced to work and spent over nine months in detention. He says throughout the whole experience, he felt terrified, constantly seeing people carrying weapons.
After twice trying to leave Libya for Europe and being intercepted by Libyan militias, Emmanuel found himself among the people rescued by the Ocean Viking earlier in the week. Before leaving, he was separated from the friend he traveled with.
Emmanuel could not afford to finish his education in Côte d'Ivoire. Thinking about his future in Europe, he says he either wants to go back to school and study civil engineering – or pursue a career in basketball. 
"It's my passion. I didn't have the opportunity to show my talents in Africa."
Whatever his eventual career, however, he says his priority is to earn enough to send money home to his family. 
"They don't have anything."
Read more: Three newborns and 34 minors on board of Ocean Viking ship
Seeking a better life for family amid great danger
Helping relatives and family is a common theme and experience for many migrants trying to make their way to Europe – but sometimes that motivation can backfire.
Junior, 16, from Cameroon, was forced to work to support his family after his father was in an accident. 
Like Emmanuel, he set out for Libya hoping to find fresh opportunities there – rather than with the explicit intention to leave for Europe. 
But just after he arrived there, he was kidnapped and held in a prison where he witnessed several murders. His captors extorted his family for the equivalent of roughly €1,000 before he was released. 
Then he was kidnapped a second time – but managed to escape. Eventually, he found a job as a painter and saved enough to board the migrant boat that was rescued eventually by the Ocean Viking.
Junior says he doesn't know what he's going to do in Europe, but is also thinking about a future as an athlete like Emmanuel.
"I have a dream, and my dream is to become a big famous footballer."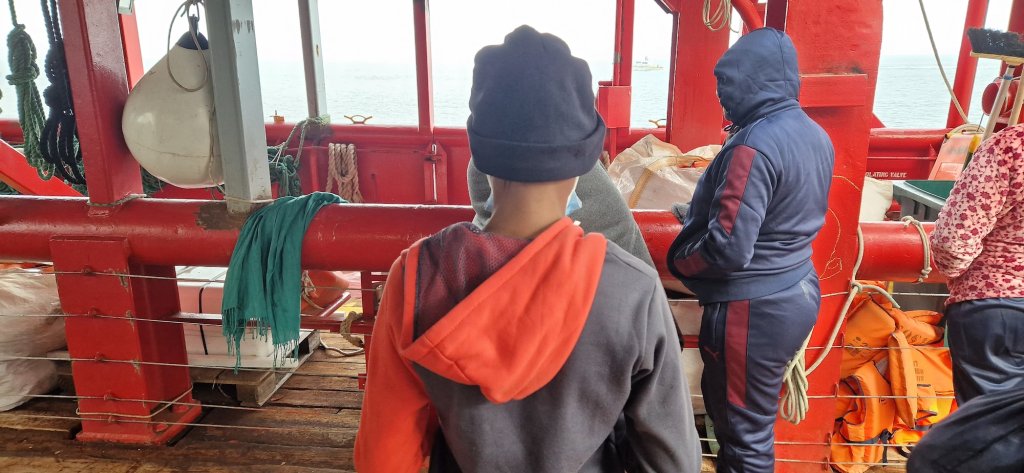 Starting anew – with or without a plan
Mariam, in her early 20s, from Senegal spent a relatively brief time in Libya – just a few months. She said she was overwhelmingly happy to be rescued at sea: "I'm feeling good now, I'm happy."
She hadn't thought much about her future in Europe yet but says if she had her choice she would like to work as a tailor. 
"I'm very good at it, I did it in my home for four years," she told InfoMigrants.
Read more: Italy prompts outrage with clampdown on migrant sea rescuers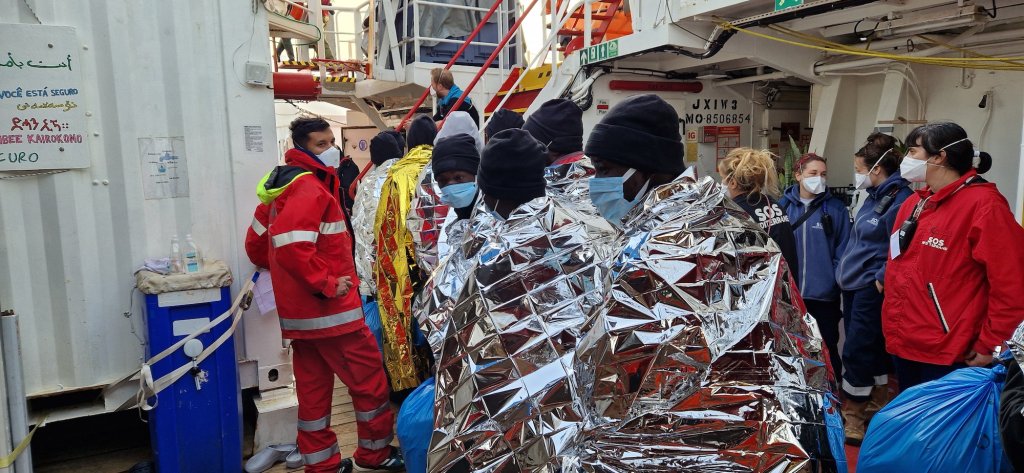 Others have more traumatic background stories for choosing the dangerous journey across Africa and on to Europe:
Andre, 21, left his home in southwest Cameroon to escape the escalating violence of civil war in his country between the Anglophone and Francophone communities. 
He also went to Libya without the intention of not coming to Europe, but to find stability there instead: "I just wanted to find peace, and find somewhere I could work," he told InfoMigrants. 
After experiencing what life was like in southern Libya, he decided he needed to leave, but going home wasn't an option. He heard that some friends would try to cross to Europe, and decided to follow. On his third attempt, he was picked up by the Ocean Viking.
"I couldn't go back to Cameroon. I didn't have anywhere to stay, my house was destroyed. My mother was a farmer, but militants took it from her, and now she has nothing. She also fled – to another part of Cameroon, and it's really not easy for her. And I lost my father as a child.
Before he was forced to flee, Andre says he was a keen student with an aptitude for mathematics. He had been encouraged by a teacher to study finance and economics at university, but that doesn't interest him anymore.
He doesn't know exactly what he wants to do in the future, or even where he might want to end up. 
"It's not important to me which country they put me in. I'm ready to follow what they tell me, and if I follow their rules and regulations, maybe I can work to help my family," he said.
"But anywhere I find myself, I'm okay with it."
Read more: Migrants: The year 2022 in pictures
*To protect their identities, the names of all migrant interviewees in this article have been changed in accordance with InfoMigrants' editorial guidelines.