Humanitarian activists are back in a Greek court on Tuesday, accused of helping migrants cross the Aegean Sea.. Rights groups and EU lawmakers have called on Greece to stop criminalizing their lifesaving work.
The trial of 24 aid workers who helped rescue migrants off the coast of Greece is set to begin on the Greek island of Lesbos on Tuesday.
The 24 defendants, including several foreign nationals, worked for the now defunct NGO Emergency Response Centre International — a search and rescue group operating on the island of Lesbos from 2016 to 2018 — and have been charged with facilitating illegal migration into the European Union, as well as other felonies.
Three of the defendants — Sarah Mardini, Sean Binder and Nassos Karakitsos, who were arrested in August 2018 — have already spent more than three months in pre-trial detention after providing lifesaving assistance to refugees.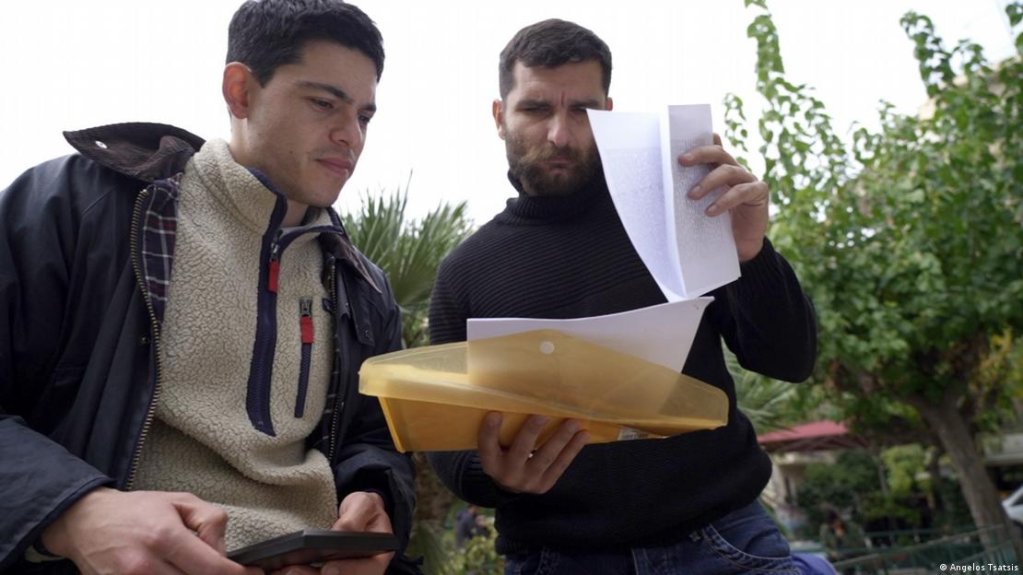 They also face a raft of other charges including espionage, people smuggling, belonging to a criminal group and money laundering — felonies which can carry up to 25 years in a Greek prison.
"When you say something is criminal, or heroic, you somehow imply that it is abnormal. And helping someone from drowning is the most normal thing you could do," Binder told DW in a 2021 interview. "What would you do if you see somebody in the water and they're reaching out to hold you? You would obviously put your hand out and pull them in.
"As soon as you've done so, you've supposedly committed the same crime that I've committed. This isn't a crime and it's not heroic," he added.
Greece trying to criminalize humanitarian work: Amnesty
The two dozen aid workers including Binder, Mardini and Karakitsos first stood trial in November 2021. But the case was adjourned within a few hours, with the Mytilene Misdemeanour Court ruling that it did not have jurisdiction since one of the defendants was also a lawyer.
"But there were other reasons it could have been adjourned," said Binder. "For example, the indictment — the document that was sent to us was in a language we don't understand and if we were to proceed on that basis with this indictment, it would be a violation of our right to a fair trial," he said.
Since the trial was adjourned more than a year ago, Binder said the prosecution has yet to address those issues — meaning the trial could end up being adjourned again on Tuesday. "Or the judge will say, well, we don't see a problem here and proceed on the basis of an unfair trial. So the outcomes either way aren't great, and that is frustrating," he added.
Glykeria Arapi, Amnesty International's Director in Greece, said this complex case is an attempt by Athens to criminalize humanitarian work and deter search and rescue missions.
"There are too many people under this trial at the court, so there might be a reason for the trial to be adjourned again. But that would only exacerbate the ongoing violations of human rights by extending this farcical prosecution," she said.
From migrant to rescue worker
Meanwhile, Mardini, who was also arrested alongside Binder, continues to be barred from representing herself at the trial because of an order banning her from entering Greece. The Syrian will be following the case from afar, said Binder.
At the height of Europe's 2015 migrant crisis Mardini and her sister, Yusra, fled the civil war in their country and made international headlines for surviving the dangerous journey.
They were competitive swimmers, and when their dinghy began to sink in the Aegean Sea between Turkey and Greece they managed to push the boat to shore, saving the lives of the other refugees on board. Their story inspired the 2022 Netflix film "The Swimmers."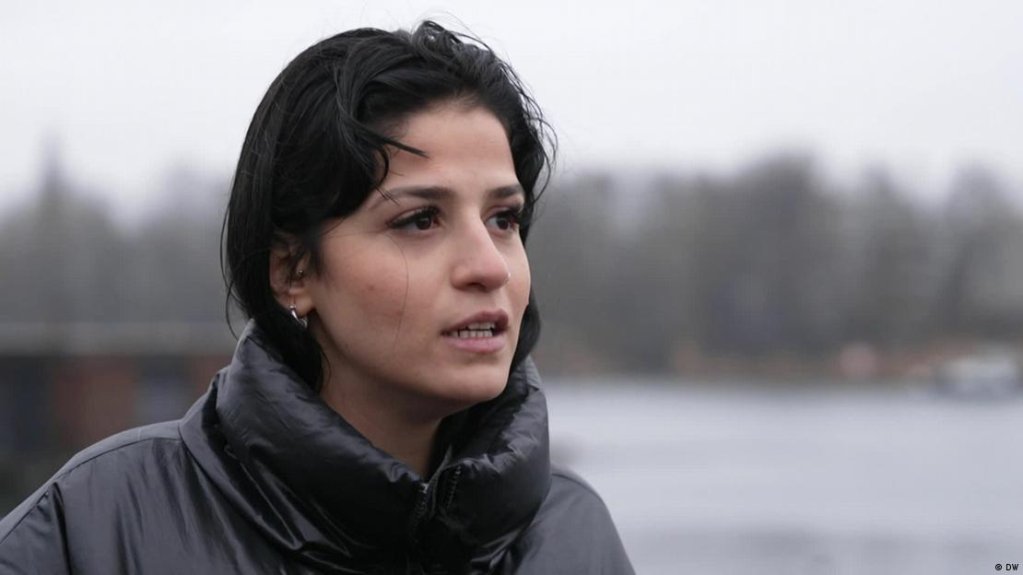 After being granted asylum in Germany, Sarah Mardini returned to Lesbos to continue helping in search and rescue missions at sea. But she and Binder were constantly monitored. In February 2018, they were stopped by Greek police at the shore and asked for their passports. Afterward, Binder's home was searched for drugs and they were made to hand over their laptops and phones.
"We even read a newspaper article in Greek which said something like 'a German spy' — which is me — 'and his Syrian accomplice were trying to infiltrate a military base to steal state secrets.' Completely ridiculous!" said Binder, who has German-Vietnamese roots but was raised in Ireland.
The police released a statement after their arrest, saying they were investigating 30 people believed to be involved in facilitating undocumented migrant crossings into the country. Mardini told DW in 2021 that she has been completely broken by the entire ordeal.
"You know this feeling of having many needles poking your skin? I always feel like I'm being hurt by them constantly. It's been a really tough and emotional period for me, and even my loved ones are suffering, looking at my pain," she said.
Greece cracks down on migrant aid workers
Greece is one of the top entry points for migrants into the EU. The conservative government, in power since 2019, has expressed frustration that other EU countries are not sharing the burden of hosting asylum-seekers. 
Over the past year, Greece's crackdown on people showing solidarity with migrants has increased. The government has arrested those involved in search and rescue missions, and surveilled journalists who report on the government's response to migration at its borders.
"There are so many people who come from anti-refugee families and if they volunteer and help people in need, they get abused when they go back home," said Mardini in 2021. "This needs to stop and we should be protected under European law."
EU needs to recognize work of activists: EU lawmaker
Under international maritime law, saving lives at sea is not a crime and "the shipmaster has an obligation to render assistance to those in distress at sea without regard to their nationality, status or the circumstances in which they are found," according to the UN's Convention on the Law of the Sea.
Michael Phoenix, a researcher supporting Mary Lawlor, the UN's special rapporteur on human rights defenders, told DW that within the EU, there is no law which explicitly recognizes the work of human rights defenders nor does it effectively protect their rights.
"When human rights defenders are criminalized for acting or working in solidarity with migrants, refugees and asylum-seekers, they're most often accused of facilitating irregular entry or stay in a state," he said.
Under international law, Phoenix said such an action is only considered criminal if there's an intent to profit.
"The EU's anti-smuggling framework isn't completely in line with this because it doesn't require the element of financial gain for facilitating irregular entry," he said, adding that this has led to some EU states criminalizing acts of solidarity with migrants, refugees and asylum-seekers.
5 years after Alan Kurdi's death: 'Nothing has changed'
EU lawmaker and Irish politician Grace O'Sullivan thinks there needs to be a solidarity mechanism or EU law that recognizes the work of humanitarian workers like Mardini and Binder.
"In this particular case these aid workers were actually working in cooperation with the Greek government, but all of a sudden something changed. And that's where we need to focus on what happened and question why countries are pushing back now," she said, speaking from Athens.
"The EU is going to see more people in need of refuge as a result of conflicts and climate change. So instead of this knee-jerk reaction and pushback from countries, we need to work as a union around mechanisms of solidarity, not only to support the humanitarian workers, but also to support those who are genuinely seeking refuge in the European Union," she said.
O'Sullivan is among more than 80 members of the European Parliament who have signed a letter asking the Greek government to drop the charges against the 24 humanitarian workers. Human rights groups across Europe have also organized solidarity protests ahead of the trial.
Binder is grateful for the international support, and hopes it will increase pressure on the Greek authorities.
"The pressure internationally is really important as long as it is being heard in Greece and by the prosecution and by the judiciary. But I'll be prosecuted either way. The only thing that I can do is try to advocate for the rule of law and for the respect for human rights," he said.
Author: Priyanka Shankar, Brussels
Edited: Martin Kuebler
First published: January 09, 2023
Copyright DW - All rights reserved
DW is not responsible for the content of external websites
Source: dw.com