The Greek island of Lesbos is no longer overcrowded with migrants. Faced with stricter border controls, fewer people are arriving. For those who still make it to the island, the objective is to get to Mavrovouni camp while avoiding the authorities. Charlotte Oberti reports for InfoMigrants.
Looking annoyed, Roqaya Sido stands outside the Isobox container she lives in and regularly sneaks worried glances inside. There, a volunteer from the NGO Euro Relief is seated on the ground with a group of women who translate what he said to Roqaya.
On this sunny day in January, the volunteer came to inform the 20-year-old Somali woman that she must move to another bungalow in the Mavrovouni migrant camp on the Greek island of Lesbos. We must make room for new arrivals, he says, since the number of five people per container cannot be exceeded. "Well, there will just be six of us in this container. I prefer that rather than moving," says Roqaya, a slender figure with a polka-dot wrap skirt.
Her current accommodation, located in the "blue zone" reserved for women and families, is near the entrance to the camp. It is also near the barracks where unlimited tea is served. But the location is not necessarily the reason for Roqaya's refusal to move.
"She thinks it is her house, when it belongs to the state," says a member of the NGO "European Asylum Agency" who witnessed the scene (and who does not give his name because of the rules of anonymity decreed by his employer).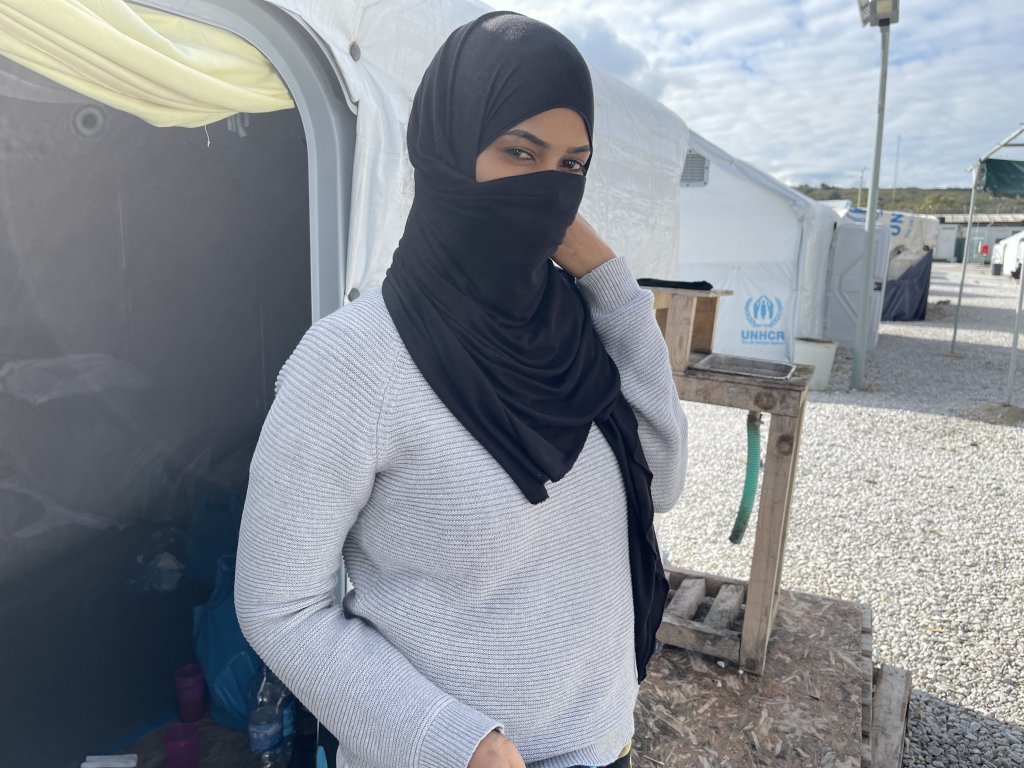 These four prefabricated walls have become much more than a temporary refuge for Roqaya, who arrived in Greece on October 6 after a catastrophic crossing of the Aegean Sea during which 10 people died.
Despite the austerity of the structure, she quickly settled like a bird in a nest. She hung scraps of fabric from the windows as curtains, covered the floor with rugs, and created a high space outside next to the door, for the shoes of those about to enter in order to keep the place free of dirt.
Many of the 1,800 residents of this camp (which has a capacity of 2,500 people) have the same need for a "home". On average, they only stay here between one to six months, the time it usually takes to obtain a response to their asylum request. In this respect, Mavrovouni is their first European home.
Also read: More deaths on Eastern Mediterranean route to Greece
Showcase
This temporary camp is a showcase for the migratory situation on Lesbos, although it is about to be replaced by a new complex currently under construction.
It gives a new image to the island, notorious for its treatment of migrants which generated numerous headlines in the press. "This is a far cry from Moria," says another employee of the European Asylum Agency, also on condition of anonymity, in reference to the sordid camp known for its extreme overcrowding. The camp was reduced to ashes in September 2021, and its remains are merely a few kilometers away.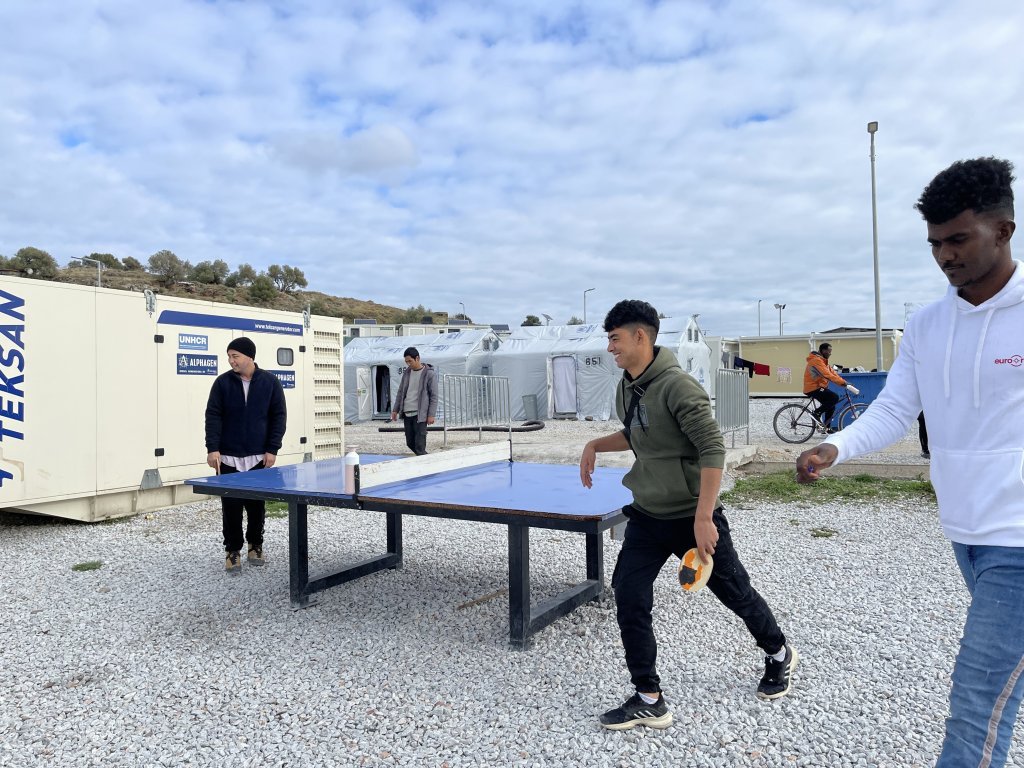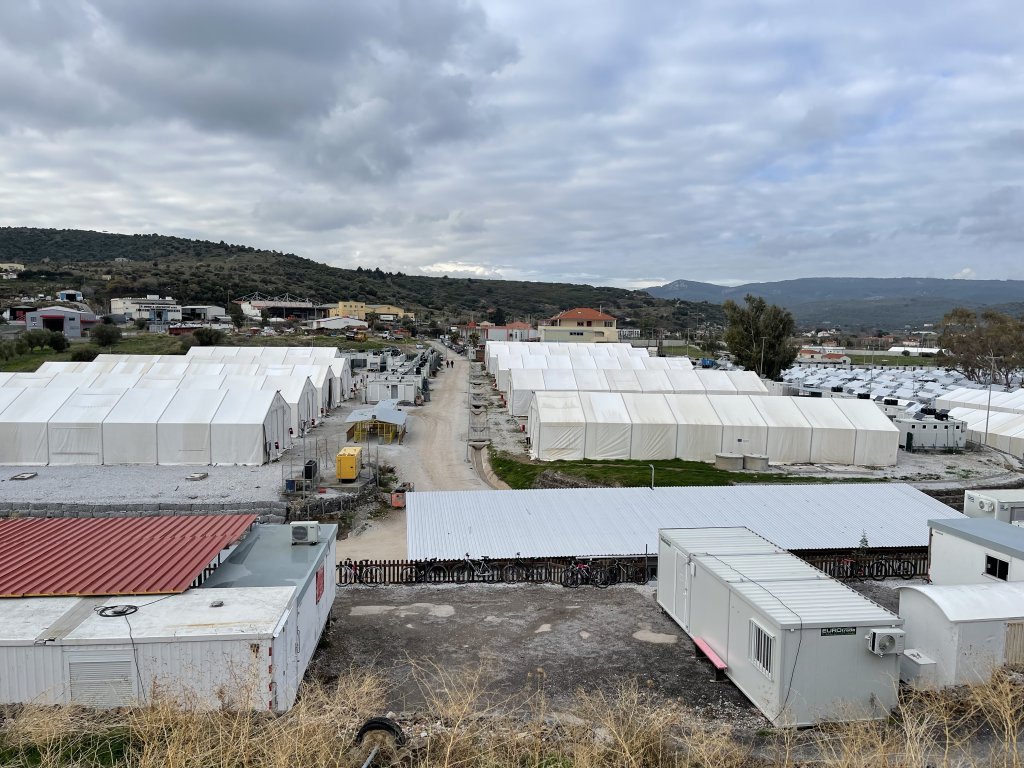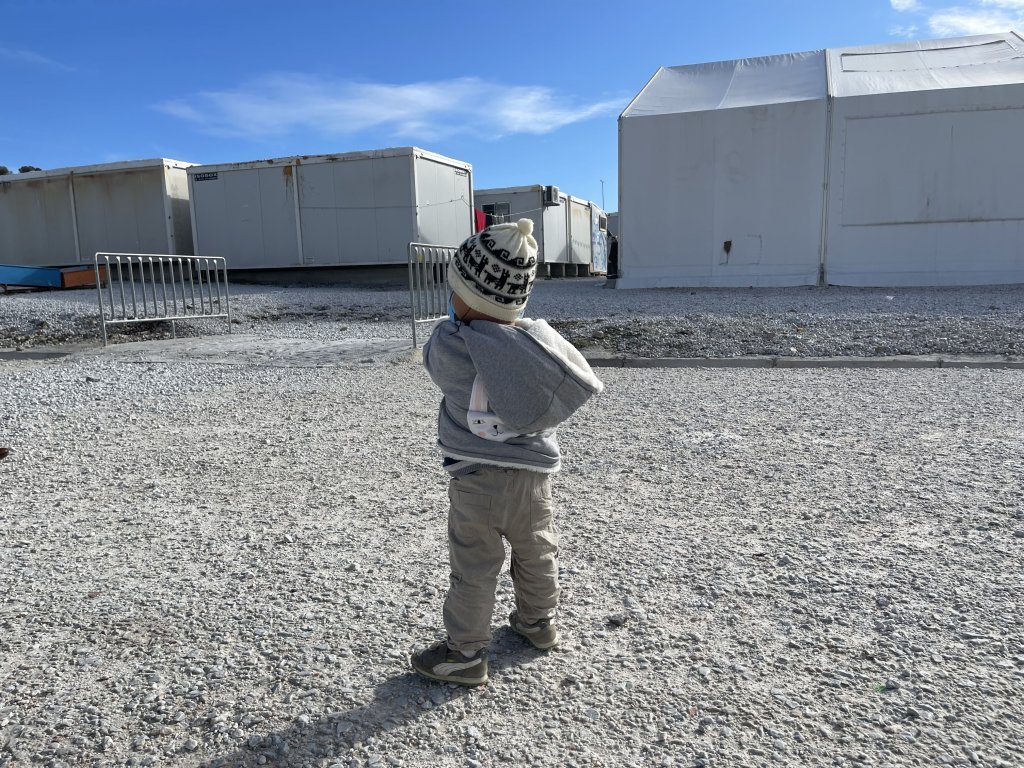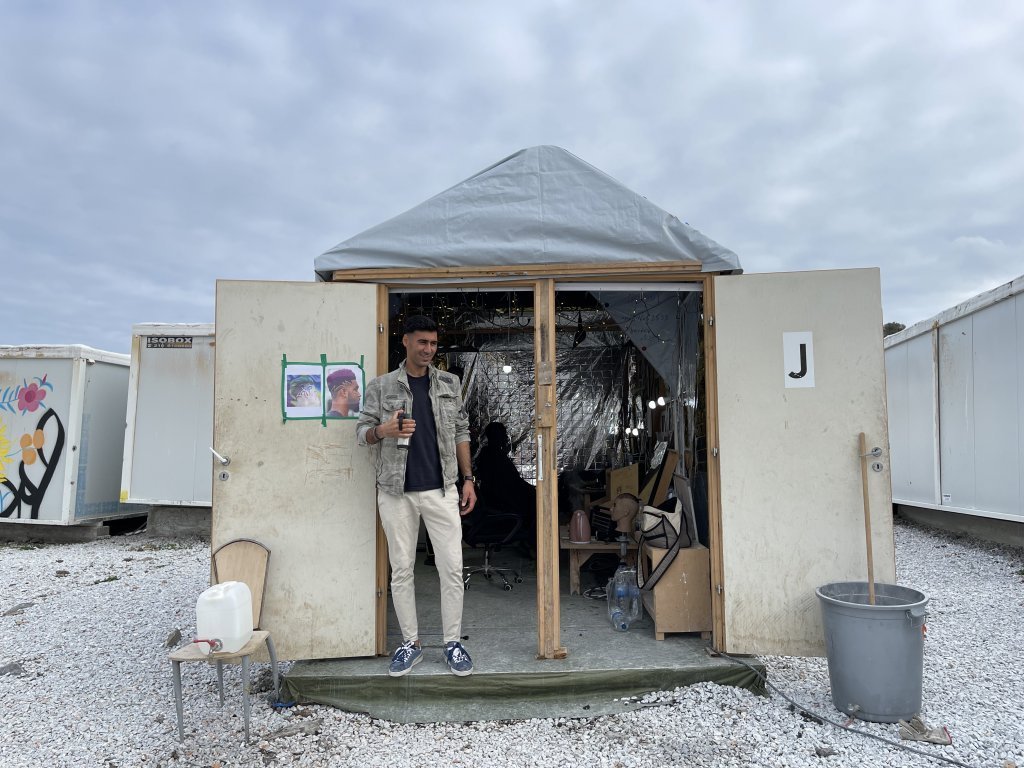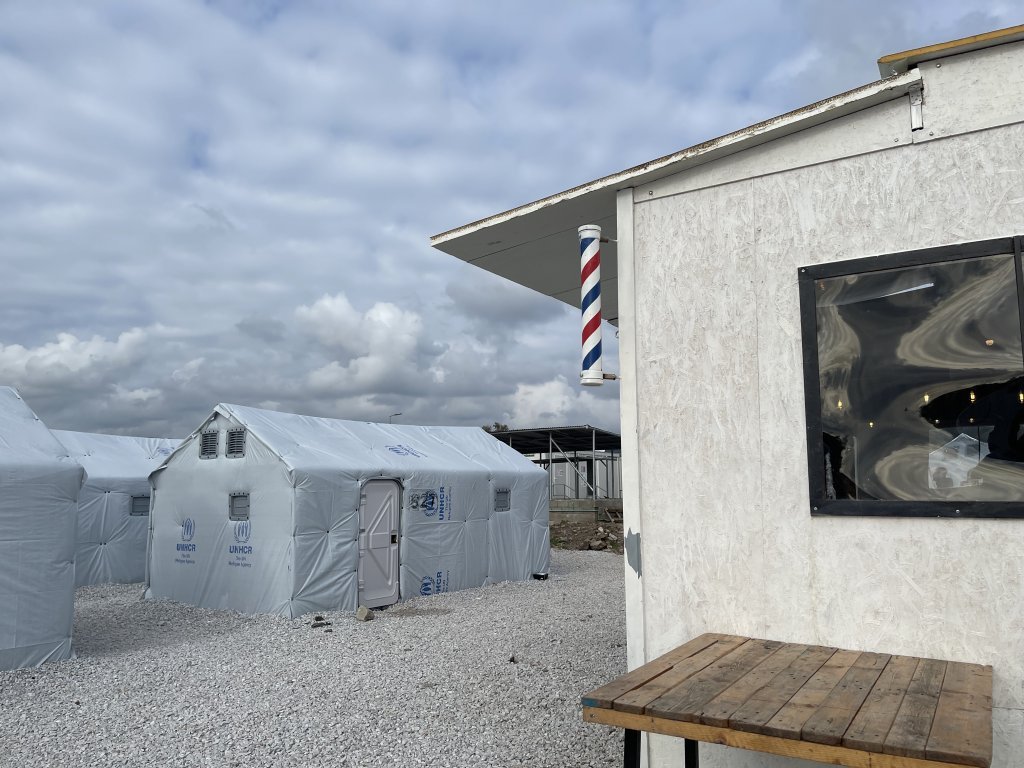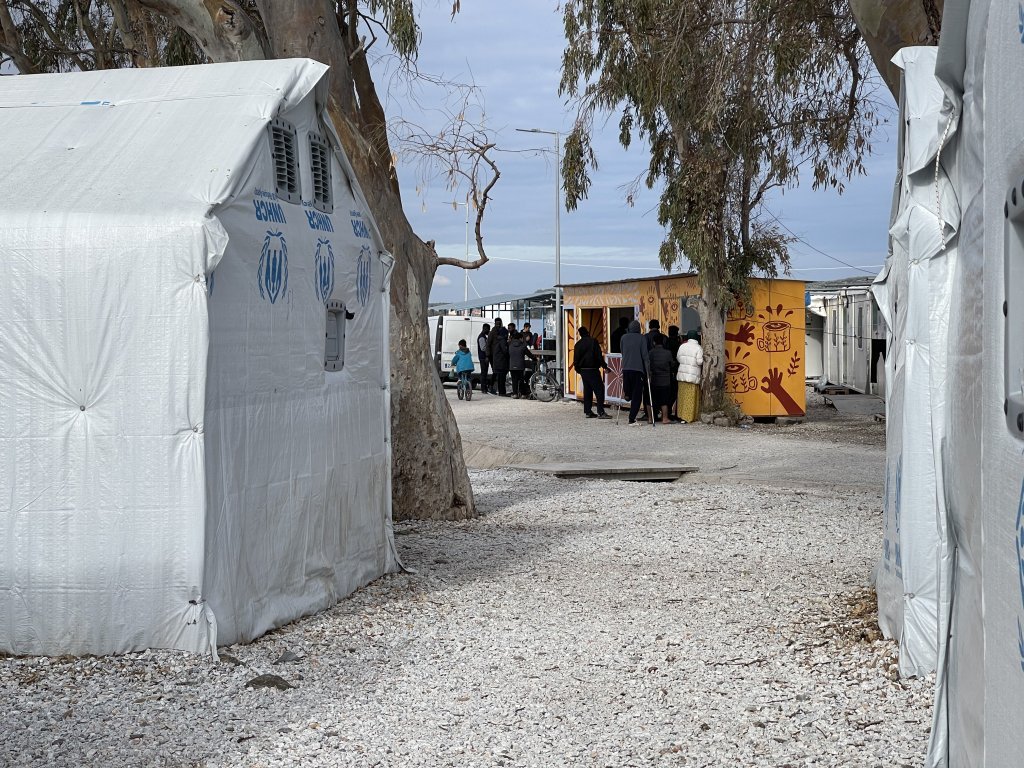 In recent years, the Greek authorities aimed to reduce overcrowding on the island by speeding up asylum procedures which previously took years. In addition, migrants have been authorized to leave the island for the continent. Finally, border controls, particularly at sea, have been reinforced.
As a consequence of this last measure, only 2,740 migrants arrived in Lesbos in 2022, compared to 27,000 migrants in 2019, according to figures from the United Nations High Commissioner for Refugees (UNHCR). These statistics are far below the record of 506,000 registered in 2015. "It is nothing at all to handle", says Theodoros Alexellis, head of external relations for the UNHCR office in Lesbos. "The situation is increasingly stable."
Read more: In Greece, a chaotic trial to deter the arrival of migrants (1/2)
In Mavrovouni, signs of this "stability" are numerous. The tents that once were spread all over Moria have been banned. Here, migrants sleep in emergency houses designed by Ikea which are mounted in one day or in bungalows like the one where Roqaya lives.
Large cement gutters allow water to drain, and at the top of a hill next to the labyrinthine camp is a basketball court, for the youngest members of the camp. The place is an escape where "we do not condemn disorderly conduct," says the second employee of the European Asylum Agency, as he walks between the zones named after "the colors of the rainbow".
But safely arriving to Mavrovouni can be a combat for migrants, and a game of mouse and cat with the police once they set foot on Greek soil.
'We were told to split up as soon as we arrived in Lesbos'
Greek border guards are regularly accused of practicing pushbacks, even on land. The pushbacks appear to be so common that even once migrants arrive in Lesbos, there is no guarantee they can apply for asylum there.
"Between January 2020 and June 2022, the UNHCR collected serious evidence from different sources (locals, migrants, organizations) concerning 690 cases of illegal pushbacks at land and sea borders in Greece, i.e. an average of nearly four per week in average," says Theodoros Alexellis.
In the first six months of 2022, the total number of reported pushbacks was 152, including 103 on land. Some of these "incidents" were reported to the Greek authorities by the UNHCR, "asking for them to be formally investigated". "We are looking forward to the outcome of the investigations," says Alexellis.
On the ground, migrants, terrified of being deported, have adapted to this situation by preparing for it from the Turkish shore. "In the smuggler's house in Turkey, we were told that we had to split up soon as soon as we touched land, otherwise the authorities would arrest us," explains Yusra Ali, a 22-year-old Sudanese who has found refuge at Mavrovouni.
The idea is to hide in the thickets near the beaches while still sometimes soaked from the trip and then call humanitarian workers for help. A few rare migrants try to reach Mavrovouni by foot through Mytilene, in the south-eastern part of the island.
On the day of their arrival on October 21, the 45 passengers on Yusra's boat split up into small groups as planned, but they were quickly spotted. Yusra says she was chased by the police but managed to escape. One woman said police tied up her feet and fists before she too managed to flee. Another group of 12 people disappeared. Did they pass out in the wild? Yusra never saw any of them again in the Mavrovouni camp. She is certain that they were sent back to Turkey "in an inflatable boat" without a motor, like the ones she regularly sees in the videos posted by the NGO Aegean Boat Report on its Facebook page.
"In recent years, many local organizations have seen people arrive in Lesbos and then disappear. Things were not clear. Then we saw accusations of pushbacks in the media," says Teo di Piazza, coordinator of Médecins dans frontières (MSF) in Lesbos, sitting on the first floor of a clinic facing the Mavrovouni camp.
Read more: Pushbacks within the EU: How Italy uses brute force to offload some of its unwanted migrant arrivals
'We come to them with a flag and shout'
In response, MSF has been carrying out emergency operations called EMA (Emergency Medical Aid) since June 2022. "When migrants arrive on the island, they generally contact the UNHCR, the Lesbos Legal Center [editor's note: a legal organization in Mytilene] or Alarm Phone [editor's note: an emergency telephone platform at sea]. They warn us and we intervene, taking care to let the authorities know we are on the way," in order to avoid being considered as facilitators of illegal entries.
The MSF teams then look for the passengers of the boat which has just reached land, since they run off to hide. Mohamed Kader, Yusra's companion, also of Sudanese nationality, remembers being "scared" when he saw a team from the organization coming towards him when he was trying to escape. "It's not easy to gain their trust," admits Teo di Piazza, with a soft look.
"We come to them with a flag and shout, 'We are Doctors Without Borders'. Meeting the NGO, whose mission consists in providing them medical and psychological support, the newcomers drop their guard, as some of them confirmed to InfoMigrants. "Once they are with us, they tell us they feel safe, relieved of their fears. They say they no longer have to hide", says Teo di Piazza, adding that the MSF teams are overstretched and "exhausted". He then has to interrupt the interview to answer a phone call about a new group who just arrived on the island.
The NGO is one of the few organizations active outside the camp. "Since 2016, there have clearly been many fewer (humanitarian) organizations present on the island", says Theodoros Alexellis of the UNHCR. In some cases, these NGOs have gone elsewhere, where the situation was more urgent, "like in Ukraine for example". In other cases, the funding granted to them by the European institutions has been reduced, he says.
Since June, 2,200 migrants have been assisted by MSF's 'EMA' operations. The new arrivals are handed over to the security forces (no allegation of pushbacks after an MSF intervention is known to date) who take them to Mavrovouni, where their administrative procedure begins and their flight escape. "For them this camp is paradise," says Teo di Piazza.