For years Germany has been facing a growing crisis, trying to fill hundreds of thousands of jobs with a dwindling population. Now it is turning to migrants and those still living abroad to try and fill positions and keep society moving.
There are currently almost two million job vacancies waiting to be filled in Germany across many different sectors, reports German state television ARD. In July 2022, the German business and finance newspaper Handeslblatt reported there were 1.7 million job vacancies.
Already last summer, the government said they were considering plans to lighten the bureaucracy needed to employ those who were born outside Germany. However, industry insiders reported that bureaucracy was still holding things up.
For instance, from May to September, the airline industry in Germany experienced significant problems with delays at airports after travelers returned post-pandemic. But those who worked as baggage handlers, cleaners and security guards had not returned, after finding other jobs when the airports had closed their doors during lockdowns.
Care workers needed
On July 18, the Bundesverband privater Anbieter sozialer Dienste e.V (bpa; an association that represents the interests of non-state care facilities and workers – including religious-run hospitals and carehomes and workers within those institutions) called on the government to speed up the approval process for international careworkers.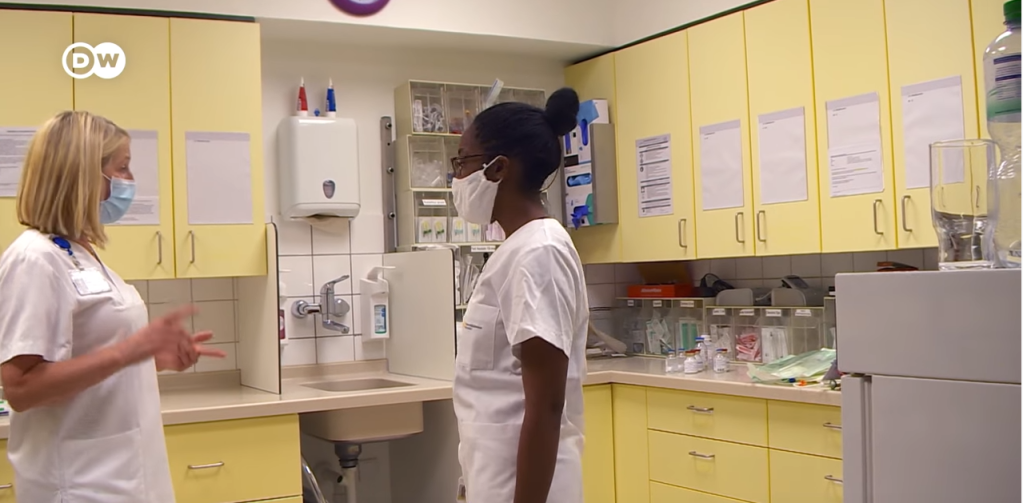 "In the state of Lower Saxony," read a press release from the bpa, "10,000 carers are being sought urgently. Carers from abroad have to wait several months, or in some cases more than a year for their qualifications to be formerly recognized [and thus be able to start work]."
The bpa added that the most important role of the authorities was to speed up this recognition process. "Foreign carers, who want to work in Lower Saxony, must be given a faster start in their jobs," said Ricarda Hasch, the leader of bpa in Lower Saxony.
Also read: Germany on the hunt for labor
The situation has been getting worse for a while. In 2021, Germany had at least 580,000 positions to fill across many sectors of the economy. Studies by institutes, such as the Institute for Employment Research (IAB), have predicted that the country might have seven million fewer workers by 2035 when all the baby boomers (those born in the years following World War II) retire.
Empty words but no political will?
Report Mainz, a documentary program which played on Germany's state broadcaster ARD on January 24, showed clips of politicians talking about how this lack of personnel to fill job vacancies went as far back as 2008 when current Chancellor Olaf Scholz spoke about the problem.
A parade of politicians, including current European President Ursula von der Leyen, to various former ministers who were responsible for work and employment, all said the same thing: year after year, Germany needs to find more personnel to fill its job vacancies. The report was produced by Manuela Dursun and Claudia Kaffanke.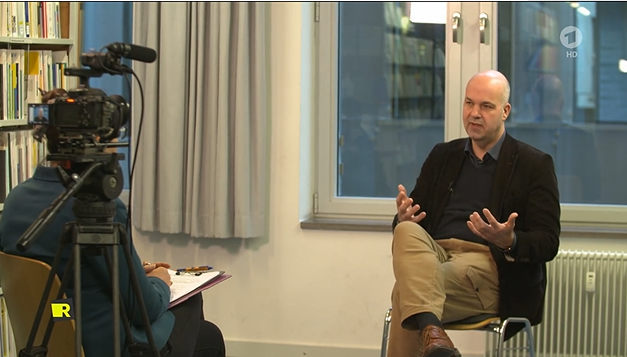 According to Professor Marcel Fratzscher at the German Institute for Economic Research (Deutsches Institut für Wirtschaftsforschung), despite calling out the problem, successive generations of politicians have not done much to solve it.
"They might have had it on their agenda, but they didn't seem to really demonstrate the political will to really change anything significant," thinks Professor Fratzscher. "The logical consequence of all that is that the problem is not only not getting better, but it is getting even worse."
Employers look abroad to fill jobs
Now, it has got to the point where many employers and employers associations all over Germany are turning to employees from abroad in the hope of filling their vacancies.
From agencies working in the care sector in the south of Germany who are trying to recruit carers from Kosovo, to butchers who have resorted to bringing in 13 apprentices from India after they failed to find enough candidates in Germany, to bakers who have had to change their working times and limit night shifts in order to appeal to potential candidates – all these employers are currently, or hoping to employ migrants and those from abroad.
Also read: Refugees train to become train drivers in Germany
Report Mainz visited butcher Joggi Lederer in Weil am Rhein in his delicatessen shop. "I needed to find people who wanted a job, I couldn't find enough suitable candidates. Everyone said to me, what are you doing? Why are you looking to India to fill your positions? And I answered, we are the first in Germany to do this!"
'They are just world class'
Two of Lederer's 13 new apprentices from India are Anakha and Latif. They are busy preparing canapés for the party service that the butcher also operates. "They are just world class," says Lederer overseeing their work. "I am so proud to have them and they are proud to work here."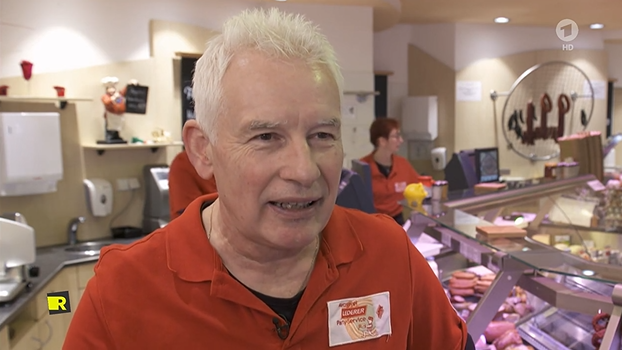 The two apprentices, narrates Report Mainz, began learning German in India before they arrived and already feel at home in in Baden, southern Germany.
"I really love decorating and creating this finger food," says Anakha Mariya Shaji smiling. "This work is really good for my future, I like it."
Also read: Employees wanted in Europe, a German perspective
Lederer has invested his time and skills to training up the new apprentices, but he also received support from the local business federation Handwerkskammer Freiberg. Handirk Von Ungern-Sternberg from the federation explained how complicated it is recruiting apprentices or employees from abroad.
"It is unbelievably complicated. That's why it can be very difficult for small and medium-sized businesses to even attempt to look abroad to fill their vacancies."
More women needed
Some businesses then find it easier to recruit from migrants who have already arrived in Germany. That's what one branch of the project Joblinge does in Essen. The agency aims to help refugees and others who have had difficult starts in life find training places within Germany. The organization works on public and private partnerships "to close the gap between its clients backgrounds and their futures," states the website.
Joblinge, which has 25 branches around the country in cities like Leipzig, Berlin, Munich, Essen, Mannheim and Frankfurt won the German Diversity Award in 2021 for aiding social mobility. Raphael Karrasch runs the agency. The biggest problem he finds is recruiting enough women looking for training.
"I think a lot of them find it difficult to believe in themselves. But businesses tend to be looking to recruit them." One of the success stories from the agency is a young Syrian woman, Maria Samouel, who has been training to become an estate agent.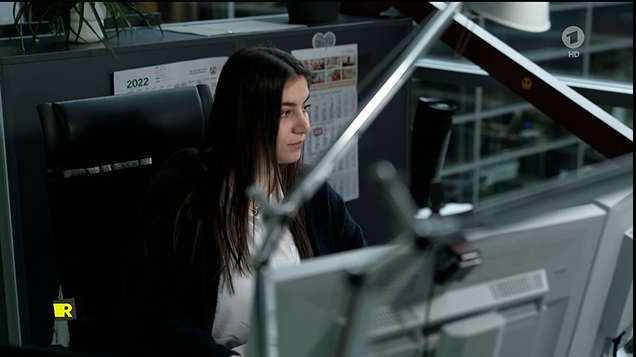 At first, Samouel told Report Mainz, she hadn't realized that she could do any job she set her mind to learning in Germany, that all the opportunities were potentially available to her. "You have to find that out. I have got other rights here, other opportunities. I can do a lot here."
Also read: Germany sticks by plans to ease citizenship rules
Samouel is acting as a kind of ambassador for the agency, trying and convincing more women to give the training opportunities a go and realise their potential.
According to Report Mainz, only about 8% of women who fled their country and arrived in Germany are actually working at the moment.
In a bakery in southern Germany, Alan Nori explains that he came to work at the Matthias Wolter's bakery precisely because he could start at 6am and not work night shifts. He told Report Mainz that he had left his former job in another bakery because of the night shifts.
"As a young person, you don't want to have to go to bed so early. When everyone else is out partying and you have to go to bed at 8pm," he explains, as he busily prepares bread and pastries for the ovens.
Shortage of embassy personnel hampers processing of work visas
The current German government has developed its own strategy to solve the job vacancy problem, based on "technology, talent and tolerance" said the minister of work Hubertus Heil in autumn 2022 while presenting the new strategy to parliament.
But Professor Fratscher has his doubts that will really solve the problem. He thinks many in politics don't really want to recruit employees from outside the European Union and not enough is being done in his opinion to really get women back into the job market. "The hurdles facing women in the job market are just as before still high."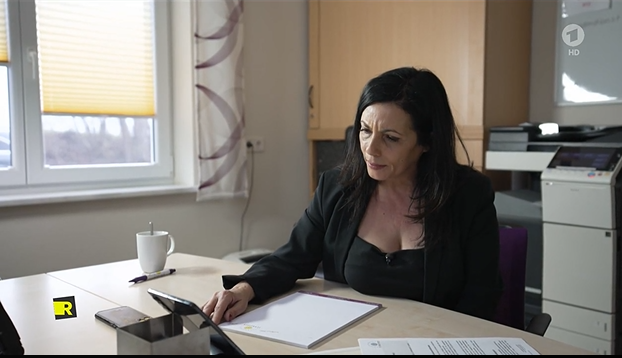 For Rita Schneider, who runs an agency providing workers to the care sector, her attempts to recruit two young women from Kosovo have hit a brick wall. Despite appealing to regional and federal politicians about their case, they have not been issued with the correct visas to take up the jobs they have been offered. According to Report Mainz, that is because there are not enough personnel in the embassies to process the request.
Vacancies in administration are apparently leading to hold-ups in the processing of the very visas needed to fill other gaps in the care sector.
Based on a tv report on ARD television Report Mainz, by Manuela Dursun and Claudia Kaffanke