In a prison on the island of Chios, a dozen migrants, mostly Syrians, are serving sentences after Greek justice prosecuted them as smugglers. InfoMigrants met with them. Charlotte Oberti reports.
Abdallah J., Khiraldin A., and Mohamad B. are all from Baniyas, a coastal city in Syria. As former children from the seaside, they all know how to swim. This is partially what saved them from drowning on December 26, 2021, after the engine of the boat carrying them stopped and the boat capsized off the Cycladic island of Paros. Eighteen people died in the sinking. The three Syrians remained in the water for five hours, hanging onto a buoy.
The men caught the attention of investigators looking into the cause of the boat's capsizing. Their ability to swim made them potential suspects, said Khiraldin A., a well-built 41-year-old. The other survivors also described them as "the captains" of the ship.
According to the trio, smugglers held them hostage for six days in Turkey before forcing them to steer the boat, originally destined for Italy. Abdallah and Khiraldin said they each held the helm of the boat for about two hours. "We were threatened by the smugglers but we weren't the captains," he said.
At his side, Mohamad listened to his friend's story. "I did not drive the boat," he said simply.
On May 6, Greek authorities sentenced the trio to 20 years in prison for facilitating illegal entry into Greece. They are serving their sentence in Chios prison, near Turkey, before an appeal trial in June.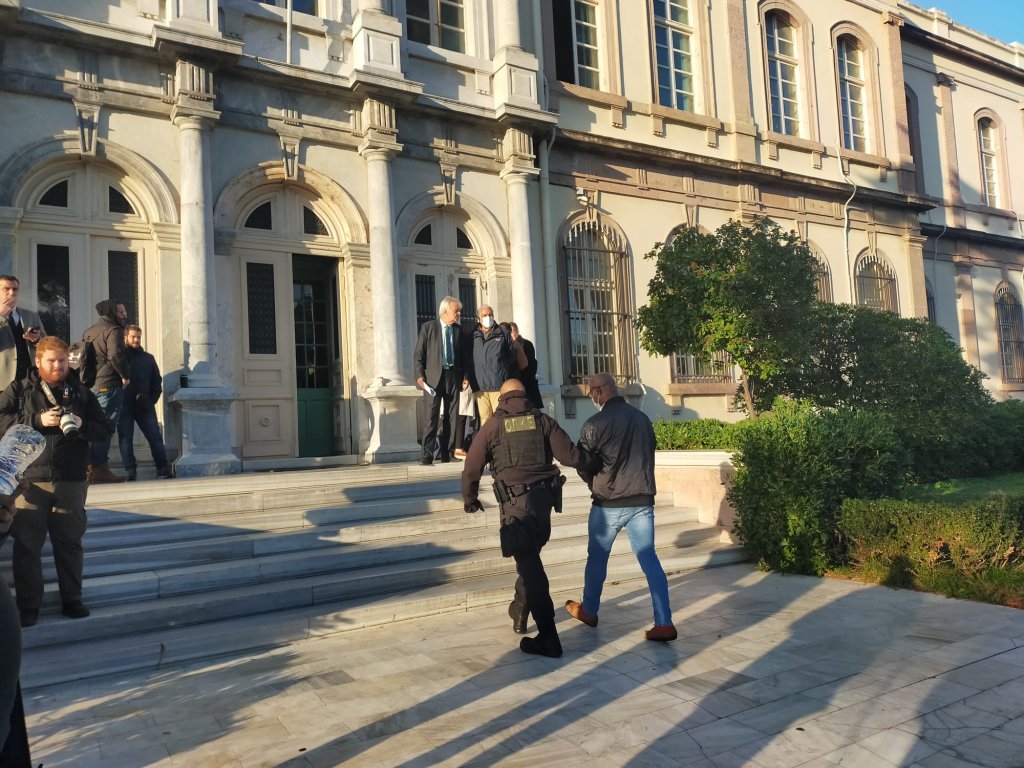 On January 13, the three men from Baniyas who met in Turkey entered an office of a penitentiary center decorated with Christian icons. For the three wide-eyed Syrians who were wearing plastic sandals and mandatory anti-Covid masks, this interview represented a chance to plead their innocence and express their incomprehension.
Read more: In Greece, a chaotic trial to deter the arrival of migrants (1/2)
187 years
While he spoke and especially while he listened, Abdallah, 33, leaned forward, an eager posture that betrayed the hope he placed in the conversation. The Greek legal system is incomprehensible to him. During his trial, he was told he had been sentenced to 20 years in prison but later, "on television", he was stunned to see that his sentence was actually "187 years". For Khiraldin and Mohamad, it was 126 years.
The case illustrates the particularity of Greek sentences, which are the result of a calculation that multiplies the number of passengers present on board the incriminated boat by the number of years of imprisonment. If passengers die, like in the case of the crossing of Abdallah and the others, the penalty is significantly increased. Despite the absurdity of such sentences, the maximum term behind bars is set at 20 years in Greece.
In this country, anyone found steering a migrant boat could be found guilty as a smuggler. "All you have to do is put your hand on the boat's wheel to be found guilty," said lawyer Alexandros Georgoulis. For Greek justice, "it does not matter if it was your intention from the beginning or not, or if you profited from this activity. It is an absurd law that must change. Its purpose is to scare people away from attempting these crossings."
'I'm a prisoner but don't worry, it will be over soon'
Abdallah said that he was unaware of the risks while steering the boat. In Turkey, where he tried to rebuild his life for nine years after fleeing the war in Syria, he left behind his wife and four children. He thought he would reach the Netherlands - "a good country for children, according to a friend" - and then bring his family. Now, he does not know when he will see them again nor how they will survive on their own in Turkey.
Thanks to a prepaid phone card, "which is expensive", Abdallah speaks with his children, aged 3 to 9 years old, from time to time. "Every time I talk to them over the phone, they say they want to see me," said the Syrian. Devastated, Abdallah cuts the calls short. Surrounding oneself in silence seems easier, like denying reality. "I said to my parents back in Syria, 'I am a prisoner in Greece but don't worry, it will be over soon.' What else can I say? They're tired, you know."
Only his wife knows the full extent of his ordeal -- the end of a dream of a new life in the Netherlands and the verdict of two decades behind bars. "When I told her, she didn't understand. She asked: 'How can you be accused of being responsible for the death of the passengers when you almost died yourself?'," said Abdallah, before correcting his wife's sentence: "I am already dead."
Read more: 'I can't imagine the future' – Ajabana, 'exhausted' after nine months of detention in Libya
'That night haunts me'
Whatever he says, Abdallah survived. He owes his life to Khiraldin, the Syrian with an imposing build. After their boat sank in the middle of the night, he and his co-detainee Mohamad lost consciousness in the water, while hanging on to a buoy. "They made the mistake of taking off their shoes before falling into the water," said Khiraldin, because they were even more exposed to the cold.
Khiraldin "kicked his legs" constantly to stay on the surface of the water and rubbed the arms of his friends to warm them up. "To keep them awake", he talked to them continuously, and recited prayers. "It was a very difficult night. The sea was very cold, there were people screaming on one side, people dying on the other, and in front of us there were dead bodies," says Khiraldin. He was losing hope before he finally they saw the Greek Coast Guard approaching.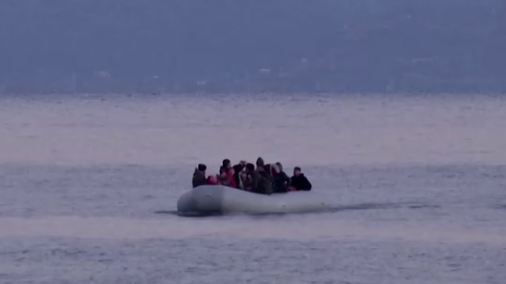 As soon as they arrived on dry land, the investigations began. "We never saw Greece, we went straight to prison," Khiraldin said. Although they were survivors of a tragedy, the authorities never took them to the hospital. In the prison of Chios, they never saw a doctor. "When they are here, they are treated like any other prisoner", said Kostas Vagianos, the director of the prison, which holds 115 prisoners. "That night haunts me," said Khiraldin, "but what we've been living through has taken up all the space in my mind since then."
A sail, a telephone and a rope
Wasseem B. walked into the prison official's office and sat down on a wooden chair. The 30-year-old was born in Aleppo, Syria. His case is distinct from that of the three prisoners from Baniyas. He found himself on a large sailboat leaving Turkey for Italy on June 18, 2022, "because Greece has a reputation for being hard on migrants."
The weather was bad that day and the passengers begged the Turkish smuggler on board to take them to Greece, whose coasts were closer. The captain agreed but, near the Greek coast, he jumped on a jet ski that came to pick him up to bring him back to Turkey, explained Wasseem. The boat, tossed about by violent waves and carrying panicking passengers, was left without a captain.
Read more: Fearing pushbacks, migrants seek a safe haven in Mavrovouni camp of Lesbos
Wasseem set about to tearing the boat's sail, which destabilized the boat even more because of the wind. He also called the Greek emergency services from his own phone. When a boat finally approached them and threw a rope to them, Wasseem grabbed it and tied it to the sailboat.
It was these three initiatives: tearing the veil, using the telephone, and grabbing the rope, which made him become a suspect. According to authorities, he had "helped".
"When I was told that I was going to be presented in court, I thought: 'Okay, I didn't do anything anyways'," he said. "Then I met several people who had been sentenced to 150 years, 160 years. I said to myself: 'It is serious'", he said, his legs twitching and his face between hands.
In Wasseem's case, the court finally recognized the urgency that had led certain passengers to take control of the situation in order to avoid a shipwreck. The absence of a deceased person also makes prison sentences lighter. Yet, the judges considered that Wasseem had "made a deal" with the smugglers in Turkey in order to arrive in Greece. Authorities handed him five years in prison for facilitating illegal entry.
A difficult prosecution to grasp, admits the young man with a frightened look. Anyone who is no longer sure of anything feels like he needs to justify he is "not stupid". "I had dreams and desires, and for that I had to take this road. Where is the good and where is the bad?"
Read more: Greece: Somali man sentenced for migrant smuggling released from prison