According to a spokesperson from Germany's interior ministry, 12,945 migrants were returned from Germany during the course of 2022, a slight increase on the previous year.
Politicians across the EU and Germany are currently discussing ways to strengthen their returns policy for migrants who have either been refused asylum, did not qualify for it, or have committed a crime, which means they can be legitimately returned to their countries of origin.
In answer to a request for information, a spokesperson for Germany's interior ministry stated that Germany had sent back 12,945 foreigners in 2022, reports the German press agency dpa.
In 2021, the figures stood at 11,982. Before the pandemic, returns were a little more than double the numbers today: In 2019, more than 22,000 foreigners were returned from Germany, reports dpa.
The returns include people who were sent back to their country of origin as well as returns that were part of the Dublin accords, which means the asylum seeker had already started an asylum process in another EU country and had to be sent there to complete it, rather than being processed again in a second EU state.
Efforts to step up returns
The opposition conservative parties (CDU / CSU) complained that sending 13,000 people back when there were in fact 50,000 who had had their asylum claims refused was "far too few."
The Left party (Die Linke), also in opposition to the government, says that instead of trying to increase the number of returns, Germany ought to offer better policies so that people can stay and build a future in the country, where they will be able to work and contribute to society.
Figures showed that by the end of 2022, there were at least 304,300 people who had been asked to leave the country overall. Of those, however, some 248,100 were in possession of a 'Duldung' which suspends and essentially overrides, at least temporarily, their notice to leave.
The current federal government in Germany has promised to strengthen German states in their efforts to send people back who do not qualify to remain in Germany. The three governing coalition parties developed a "returns offensive" strategy, which can be read on the website of the interior ministry.
Returns "means when someone is forced to return to their country of origin, after they have not left voluntarily even when they have been asked to do so," the government states. In particular, anyone found to have committed a crime should be sent back to their country of origin as soon as possible, the statement notes.
There are also voluntary returns where someone agrees to leave, and is often helped once they return to their home country with either a sum of money or training opportunities to enable them to envision a future there instead of in Germany.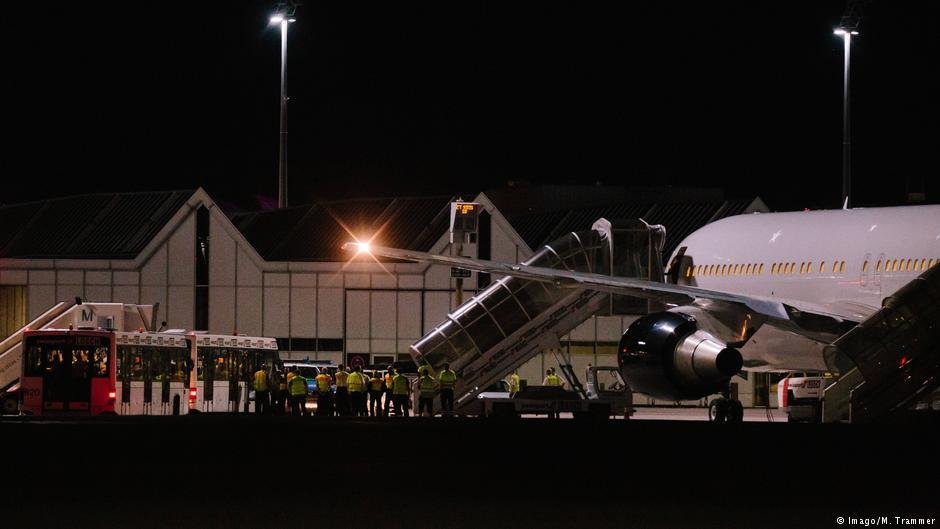 Return agreements
People can be returned for several reasons: some people might have been issued with an expulsion order; for others, their permit to stay in the country may have expired, or they were never in possession of a permit to stay, or they entered Germany without the correct papers, the statement notes.
Many of those obliged to leave the country cannot be returned, according to the government, for instance, because they are not in possession of a passport or papers for their country of origin. If that is the case, the authorities have to first establish that country of origin and obtain a passport replacement for these people. Cooperation from the country of origin is also required in order to send someone back.
The German government states that, consequently, "constructive agreements with countries of origin is a decisive factor" in a successful returns policy as it allows the authorities to "correctly identify the person due to be returned and obtain the correct travel documents for them so the return can go ahead."
According to a government list last updated in January 2023, Germany now holds returns agreements with Albania, Algeria, Armenia, the Benelux countries (Luxembourg, Belgium and the Netherlands), Bosnia and Herzegovina, Bulgaria, Denmark, Estonia, France, Georgia, Guinea, Kazakstan, Croatia, Kosovo, Lithuania, Latvia, Morocco, North Macedonia, Norway, Austria, Romania, Sweden, Switzerland, Serbia, Slovakia, South Korea, Syria, Czech Republic, Hungary and Vietnam.
With dpa
Also read: 'Hot returns,' are pushbacks at Europe's land borders lawful?