More than 300 migrants have been rescued over the last few days by the private rescue ships Ocean Viking and Geo Barents, run by SOS Mediterranee and Doctors without Borders MSF respectively.
The private rescue organization SOS Mediterranee on Wednesday said that it had rescued 95 migrants off the Libyan coast. Survivors reported that at least four people fell overboard before the rescuers arrived, stated the crew of the Ocean Viking, the rescue ship run by SOS Mediterranee.
Speaking in a video tweet, Lucille, one of the communications officers on board the Ocean Viking, said the migrants rescued had spent over 17 hours at sea before being picked up. Among the group were 20 women and five children.
In the video, which looks like it was recorded late on Wednesday night, Lucille said that those rescued were "resting." She added that the boat they had been on was "unseaworthy" and described it as a "blue rubber boat, completely overcrowded."
'At least four people overboard'
"None of them had lifejackets on," added Lucille. On learning from the survivors that "at least four people had fallen overboard before the rescue ship arrived," Lucille said the crew of the Ocean Viking had "engaged in a search pattern for hours, until it was completely dark." They added that they asked two Libyan coast guard vessels in the area to help with the search but were "ignored."
"Unfortunately, we didn't find anyone," explained Lucille. "The medical team is providing psychological first aid for those who witnessed their companions falling overboard," explained Lucille. "Most of the survivors are completely exhausted mentally and physically."
Some of those rescued were suffering from hypothermia after a night spent at sea, said Lucille. Others reported suffering sexual violence in Libya and the medical team are "treating one person who had severe injuries due to violence in Libya," concluded Lucille.
237 people on board Geo Barents
Meanwhile, there are now 237 people on board the Geo Barents ship which is operated by the humanitarian medical charity Doctors without Borders (MSF). The NGO carried out a series of rescues since Tuesday and said that "there are now 22 nationalities" on board.
On Wednesday, the rescue teams picked up 107 migrants, including five women and 36 minors. The ship already had 130 people on board after two rescues on Tuesday, January 24.
Under the new Italian decree, rescue ships are assigned a port as soon as they have carried out a first rescue. In this case, the Geo Barents was assigned La Spezia in the far north-west of Italy not far from the French border.
This was after they had spotted a boat with 69 people on board, including nine women and 25 minors, including two little girls aged just five years old. While heading north to reach the disembarkation port assigned, the crew of the Geo Barents received a distress call from the organization Alarm Phone which monitors migrant sea crossings towards Europe.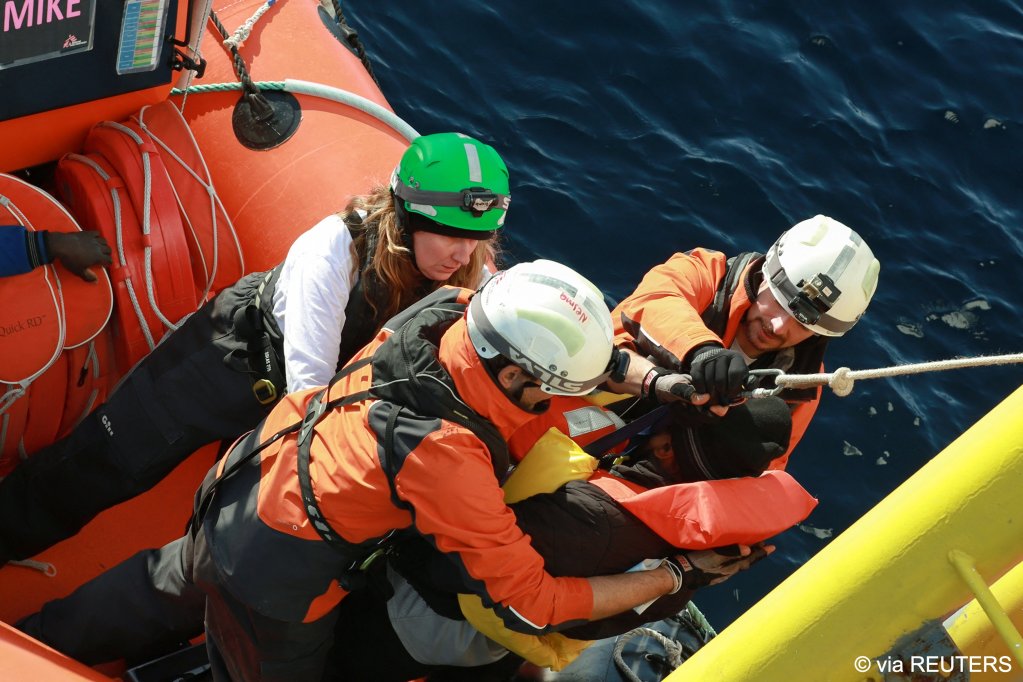 Three rescues en route to northern port
After receiving the distress call, the Geo Barents then located the boat with 61 migrants on board, including 13 women and 24 minors "the youngest one being less than one year old." After carrying out the third rescue, MSF tweeted again about the distance they have been asked to travel from their position in international waters not far from the Libyan coast, all the way up to La Spezia. According to MSF, this could add an additional 100 hours sailing time to their journey.
From their position in the central Mediterranean, at the time of posting on Wednesday evening, MSF said that while the Sicilian port of Pozzallo on Sicily's southern coast was about 216 nautical miles, or 400 kilometers away, and Palermo (on Sicily's north coast) about 760 kilometers or 410 nautical miles away, La Spezia was 1235 kilometers or 667 nautical miles away.
Captioning their Twitter post, the MSF crew questioned why they hadn't been assigned a closer port. They claimed that Italy's action "does not comply with international law." MSF added that "according to international law, a place of safety should be assigned 'with minimum deviation from the ship's voyage' and every effort should be made to 'minimize the time rescued people remain aboard the assisting ship,' meaning as soon as possible."
MSF added that they "call on Italian authorities to reconsider their decision and assign us a closer port to disembark the survivors."
Decree to 'reduce migrant departures'
Writing about the new decree, the right-wing newspaper Il Giornale said in early January that Italy's right-wing government was "aiming to reduce migrant departures, and in consequence the numbers of deaths at sea. That strategy would then also help to protect Italy's borders and also Europe's southern borders."
The newspaper added that the new Italian government, which took office in October 2022, would no longer tolerate NGO rescue ships acting like they were "above Italian sovereignty," and that the decree sought to demonstrate the new government's "tough stance" on the issue.
The commentary in Il Giornale asked the rhetorical question of the NGOs whether they "would like a safe port, or a comfortable [easy to reach] port? Or perhaps it suggested, they just wanted to disembark people according to their own rules?" The article went on to suggest that Tunisia could also offer "easy to reach and safe ports, which are much nearer the waters where the boats are operating."
"[The French owned-island of] Corsica too," suggested the newspaper's commentary was "closer in terms of sailing time for the NGOs than the Italian ports of Ancona, Ravenna and Livorno." The commentary finished by asking, "why is it that NGOs always choose Italy when asking for a safe port?"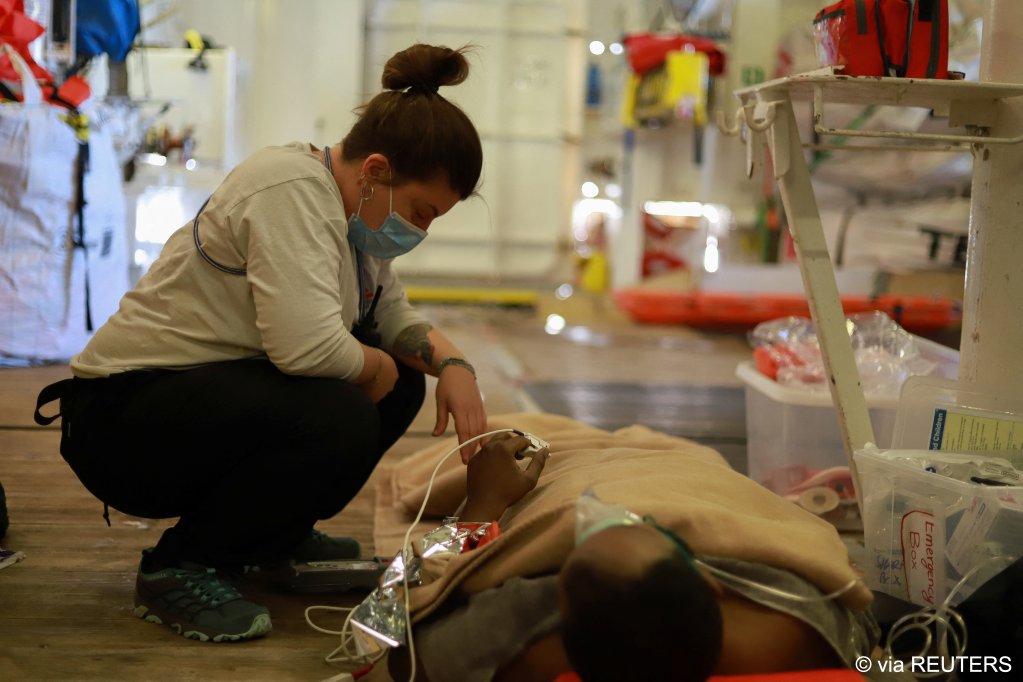 Port rotation
Italy's Interior Minister Matteo Piantedosi commented on Wednesday that MSF had been sent to La Spezia "only because we have a policy of rotating the ports," reported the Italian private broadcaster Telenord.
The center-right wing mayor of La Spezia, Pierluigi Peracchini, told Telenord that the Geo Barents was expected to arrive by Saturday. Peracchini added that his administration was expecting extra funding to help them cope with offering those on board the Geo Barents a humanitarian welcome.
"It would be great if these decisions about how to assign a port [for disembarkation] were accompanied by targeted resources to help with integration in full respect of human dignity, which should always come first. From our side, we are ready to work hard and make sure that everything is ready so the people get all the assistance they need," Peracchini was quoted by Telenord as saying.
The Italian authorities said they were working hard to make sure everything was ready at the port to look after the arriving migrants until their next destination could be determined.
Meanwhile, the Sea-Eye 4 announced it was just about to start its first mission of 2023. The German-registered vessel operated by the rescue organization Sea-Eye is just leaving the Spanish port of Burriana on the eastern coast of Spain.