Can climate change increase and hamper international migration at the same time? Yes, according to a new study from Germany. While climate change generally increases migration, this effect is greatly reduced as climate change also weakens economic growth, thereby limiting people's means to migrate in countries of the Global South.
Given the increasing density of disasters like hurricanes, floods and droughts, it's easy to imagine the rapidly worsening climate crisis leading to an apocalyptic mass exodus of affected people worldwide.
But while it's true that extreme weather events, sea level rise and other consequences of man-made climate change lead to increased displacement, it doesn't automatically lead to more international migration, a new study has found.
According to the Potsdam Institute for Climate Impact Research (PIK) in Germany, one reason for this is that many people in the Global South don't have the means to migrate -- because climate change itself considerably hurts their countries' economic development.
The PIK scientists say that as a result of weakened economic growth, many people cannot afford to leave their countries in the first place.
"Overall, migration related to climate change has increased -- but it has done so to a lesser extent than might have been expected," said Jacob Schewe, head of the PIK FutureLab Security, Ethnic Conflict and Migration and one of the authors of the study, in a press release.
While climate change reduces economic growth in almost all countries of the world, "many people in need who live in poor countries lack the means to migrate. They have no choice but to stay where they are," Schewe said.
Also read: Climate crisis increasingly driving migrants to Italy
Link between economic growth and migration
According to the findings of the study, economic growth affects migration by affecting national income levels. "Relatively few people migrate from both high- and very low-income countries. In the case of poor countries, this is partly because many people simply cannot afford to leave the country," according to co-author Christian Otto. As a result, very poor people often stay in their home country despite being in need or wanting to emigrate for other reasons.
"Our study was not about flight caused by natural disasters," adds Anders Levermann, another co-author and researcher at New York's Columbia University. "Rather, it was about migration motivated by life circumstances," Levermann is quoted as saying in the press release.
Other studies show that migration due to changed environmental conditions is also particularly pronounced in places with a dependency on agriculture. Among them are regions with many small-scale farmers like sub-Saharan Africa.
In their study, the PIK scientists examined how climate change affects international migration by analyzing several country's income levels from 1990 to 2020. Income levels are considered an important factor influencing migration flows; a higher income can remove financial constraints, for instance, and a lower income can correlate with lower average education levels, among other reasons.
The scientists also compared migration flows with a scenario without the effects of climate change. Moreover, they acknowledged that the data and model of migration they used for the study "cannot predict actual migration flows at a given point in time."
Experts have pointed out before that prognoses on global migration related to climate change should be taken with a grain of salt: Many factors are at play, and the link between climate change and migration is complex and not always clear, partly as there is little reliable data available.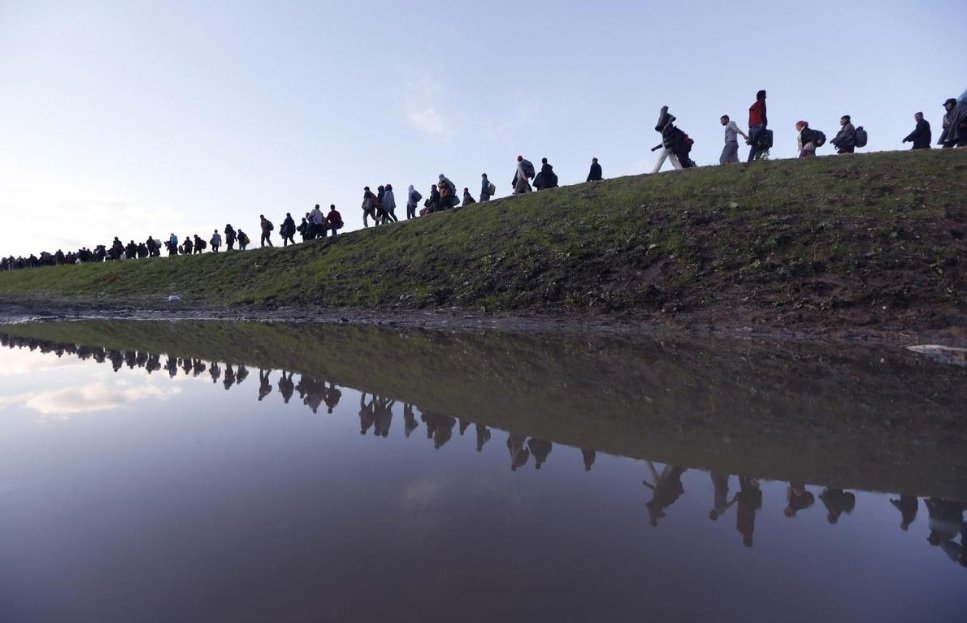 'Climate migration' mostly internal
While climate-related displacement is a growing global phenomenon, it's worth noting that people who migrate mostly stay within their countries or region and do not have the goal or the possibilities to go to Europe. As a matter of fact, internally displaced people (IDPs) make up more than half of all estimated 89.3 million forcibly displaced people worldwide, according to UN refugee agency UNHCR.
In 2021, some 23.7 million people were newly displaced due to extreme weather events and natural disasters and their consequences in their country, according to the Internal Displacement Monitoring Center (IDMC). By comparison, only 14.4 million people were internally displaced by conflict or violence. In the same year, moreover, disasters accounted for more than half of all internal displacements.
Still, migration induced by the climate crisis doesn't stop at the border, especially when it's exacerbated by conflict: 1.1 million Somalis, for instance, fled to Kenya and Ethiopia from the impending civil war after the 1991 collapse of the government. The political instability was compounded by drought-related famine, itself linked to armed conflict and violence.
Such cross-border movements in situations where conflict or violence has interacted with disaster or adverse effects of climate change is an area known as 'nexus dynamics.' In the words of a 2018 UNHCR report on the subject, Somalia can be characterized as a "situation in which preexisting conflict, and responses related to it, exacerbated the impacts of disaster and adverse effects of climate change."
Importantly, nexus dynamics is an example of a "situation where the refugee criteria of the 1951 Refugee Convention or broader refugee criteria of regional refugee law frameworks may apply," according to UNHCR. This matters because 'climate migrants' -- or 'environmental migrants' as they are sometimes called -- are not legally considered refugees according to international law. To date, there is no globally accepted or legally binding definition of a 'climate migrant,' and the term 'climate refugee' meanwhile is being discouraged from being used and somewhat regarded as a misnomer, for not everybody leaves their homes involuntarily.
Read more: Climate migrants can't be returned home, UN committee
Climate change likely to keep increasing migration long-term
While climate-related displacement also affects industrialized countries in the Global North, which are responsible for a large share of global greenhouse gas emissions, a recent Oxfam study, among others, shows how poorer countries in the Global South are disproportionately affected.
In the ten climate crisis hotspots most affected by extreme weather events, all of them in the Global South, more than twice as many people are struggling with acute hunger than six years ago, according to Oxfam. This trend potentially results in displacement and irregular migration patterns.
The climate crisis hotspots Oxfam cites in its study are the African nations of Somalia, Kenya, Niger, Burkina Faso, Djibouti, Madagascar and Zimbabwe alongside Afghanistan, Guatemala and Haiti. According to the study, they have most frequently been affected by extreme weather events in the past two decades. More than twice as many people in these ten countries suffer from the acute threat of facing hunger, Oxfam said.
While climate change has been reducing migration as it keeps many in the Global South in the low-income bracket, according to the Potsdam Institute for Climate Impact Research study, it may keep increasing global migration long-term: The PIK scientists say the climate crisis could slow down countries' transition beyond the middle-income range.
This means that more people will stay within this bracket instead of moving upward into high-income brackets. Since those in the middle-income range are generally especially likely to leave their countries, according to the study, climate change could thus have the long-term effect of also increasing migration flows, while hampering economic development at the same time.