The series of earthquakes and aftershocks that rocked Turkey and Syria on Monday have killed more than 5,000 people, including high numbers of displaced people already present in both north-western Syria and south-eastern Turkey.
One day after Monday's earthquake the reported death toll has already passed 5,000 in Turkey and Syria combined. Millions of people in the region are affected, including several million displaced people.
The Norwegian Refugee Council (NRC) estimates that a high proportion of the one million people affected in the Turkish city of Gaziantep are refugees. France 24 said that number could be as much as half a million.
The affected Syrian cities of Aleppo and Idlib were home to around three million out of the total six million internally displaced people in Syria.
The director of the Syrian Civil Defense Force, Raed Al-Saleh, told InfoMigrants on Monday that tens of thousands of families were now without a home as a result of the earthquake.
A video tweet from Syria's civil defense volunteers, the White Helmets, showed the plight of one displaced Syrian child pulled from the rubble on Monday.
Local White Helmet rescue crews around the town of Idlib in northern Syria told the BBC's World At One program that they could hear voices under the rubble but could not work fast enough to tackle the extent of the damage.
The White Helmets appealed for international help in a region which has already been devastated by 12 years of war, bombings, a recent cholera outbreak and now cold winter weather with snow storms forecast.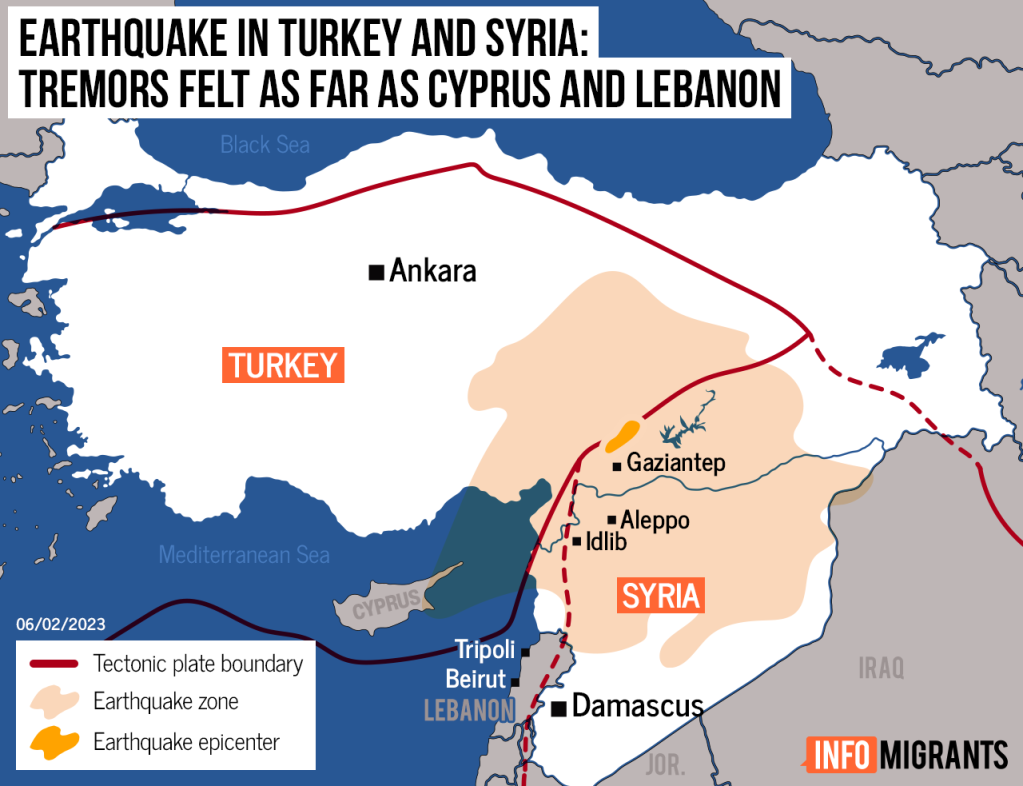 Syrian infrastructure 'exhausted'
The situation in northern Syria has been further complicated because it is the area where the majority of those displaced by war are concentrated and is not fully under President Assad's control. Even if the Syrian government were to ask the international community for help, it would not automatically be directed to that region where the infrastructure has been badly damaged.
The Norwegian Refugee Council (NRC) has volunteer teams on the ground across Syria and is providing relief, water supporet, shelter support across the territory. Speaking from Jordan, Ahmed Bayram from the NRC told InfoMigrants that many of the buildings that had been rebuilt in Syria after being destroyed during the war had often been built with insufficient materials, making the devastation there much worse than across the border in Turkey.
The infrastructure, Bayram said was "exhausted. Even if you still have a home, there is a chance it is close to collapse," he said after speaking to numerous contacts in the affected areas. The few hospitals that remain, reported Germany's public news channel ZDF, were often overwhelmed with reports of bodies literally "piled up" in the corridors.
The only positive, remarked Bayram with an ironic sigh, was that those who have been living in tents in Syria now feel themselves to be almost the "lucky ones" since there is not so much to fall on you in a tent as in a high building.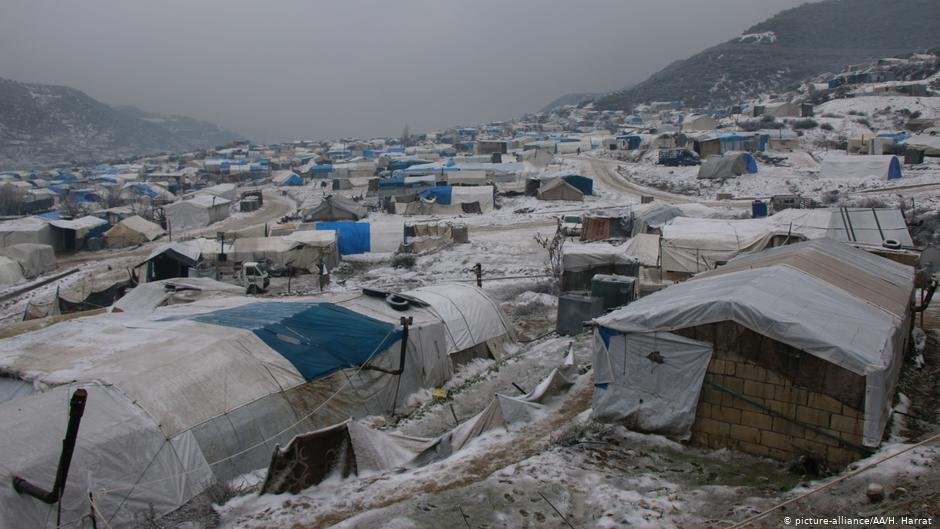 WHO targets 'most vulnerable'
Almost 6,000 buildings are thought to be damaged across the region. Tremors were also felt in Lebanon and Cyprus.
On Monday, the Executive Board of the World Health Organization WHO held a special meeting, to focus its efforts particularly on refugees, migrants and displaced people. WHO Director-General Tedros Adhanom Ghebreyesus said that the WHO's network of emergency medical teams had been activated "to provide essential health care for the injured and most vulnerable affected by the earthquake that hit Turkey and Syria," reported Health Policy Watch, an independent news source reporting on global health issues.
According to a WHO report, there are more than 100 million people now on the move globally, and they are among the 'most vulnerable.'
In a report prepared for the executive board meeting, the WHO stated that "[m]igration and displacement are key determinants of health and well-being. Refugees and migrants remain among the most vulnerable members of society faced often with: xenophobia; discrimination; poor living and working conditions; and inadequate access to health services, despite frequently occurring physical and mental health problems."
'Devastation'
The series of earthquakes measuring more than 7 on the Richter scale hit along a fault line stretching over 400 kilometers. According to geological experts, the damage was caused not just by the magnitude of the quake but also its depth. The quake is thought to have hit about 18 kilometers below the earth's surface, while earthquakes normally can hit up to 800 kilometers deep.
"This very shallow earthquake below a highly populated area ... will cause devastation," explained Stephen Hicks, a seismologist at University College London to the BBC.
"Lots of people lost all their belongings, just when they were getting back on their feet. It just feels like, with this disaster, which no one saw coming, we are back to square one," explained Bayram.
Temperatures falling
"The quake happened at the worst time of night at the worst time of the year," said Carsten Hansen, Middle East regional director of NRC in a press statement on February 6. Winter weather in this region means temperatures hovering just above or below freezing, with snowfall reported in the Turkish city of Gaziantep on Monday. Cold weather was hampering the rescue efforts too. Some people reported fleeing their houses when the quake hit without shoes.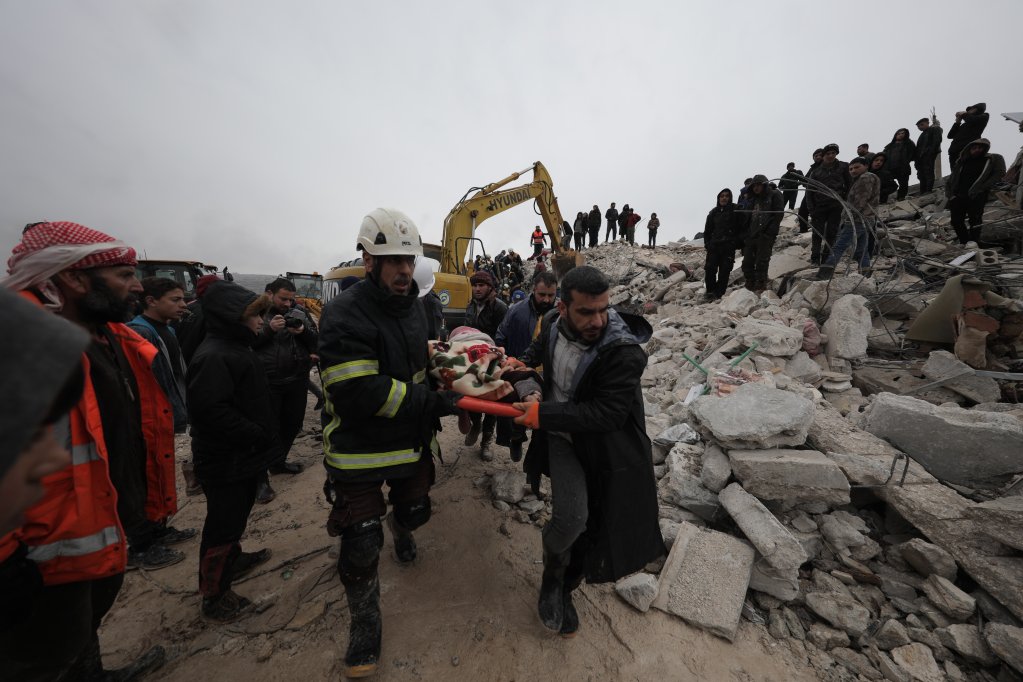 Local petrol stations appeared to have run out of fuel, water and food as people struggled to buy enough supplies to sustain themselves until they were able to find safe accommodation.
By Tuesday temperatures are expected to fall below freezing. In Gaziantep, they could fall as low as -6 Celsius.
"This is a disaster that will worsen the suffering of Syrians already struggling with a severe humanitarian crisis," continued Hansen from the NRC.
"Millions have already been forced to flee by war in the wider region and now many more will be displaced by disaster. In the midst of a winter storm and an unprecedented cost-of-living crisis, it is vital that Syrians are not left to face the aftermath on their own."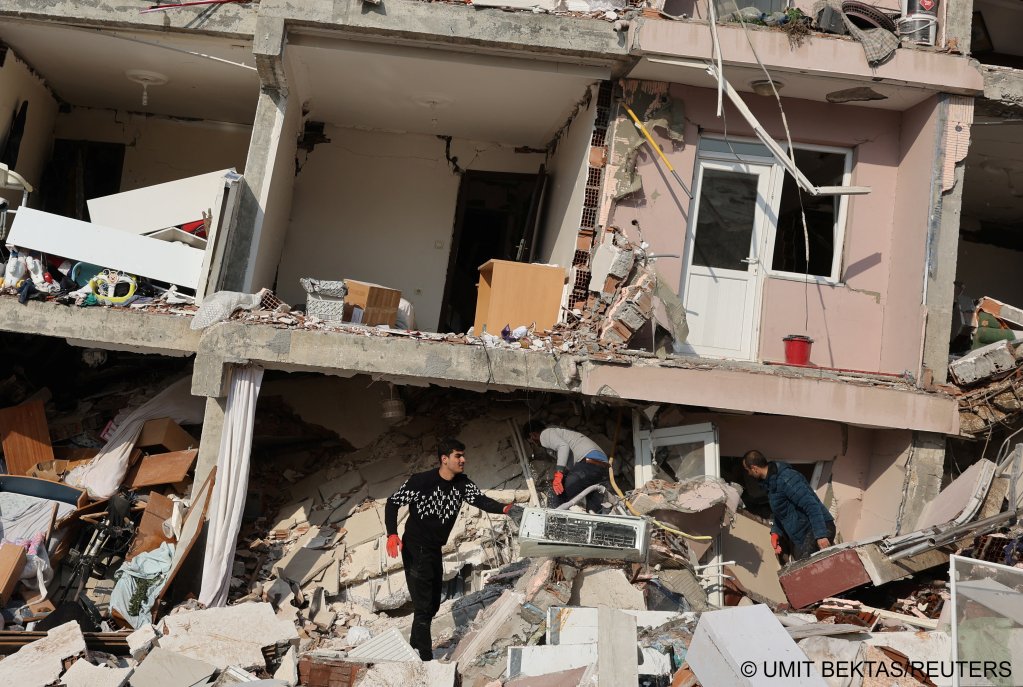 Amar al Salmo, on the Board of Directors for the Syrian White Helmets, a humanitarian force, partially supported by funding from countries like the UK, told the BBC that "people are so scared to return to their buildings, despite the rainm despite the snow." Al Salmo said that there were more than three million displaced people in the region of north-western Syria alone, many of whom were living in the worst humanitarian conditions.
Internet cut
"We are trying to do our best, but there are not enough heavy vehicles," said Al Salmo. "Not enough fuel. The internet is cut, so we are having difficulties reaching people and our teams working across the region."
Al Salmo said that more than 3,000 volunteers were working across Syria to try and pull people out of the rubble and that by Monday lunchtime they had pulled out 22 dead bodies and knew many more were still trapped. He added it "needs countries to intervene, not just NGOs."
However, on Monday, it appeared that Syria had not yet appealed directly for international help, something they would need to do before aid and rescue teams could be sent. Turkey on the otherhand already had and was expecting teams to land to help with the rescue effort on Monday evening.
Poor infrastructure
After 12 years of war in Syria, much of the region is suffering from poor infrastructure, explained Al Salmo. Many of the hospitals in the area around Idlib had been bombed said Al Salmo. The sodden ground was also not helping already damaged buildings resist the kinds of tremors unleashed by the earthquake.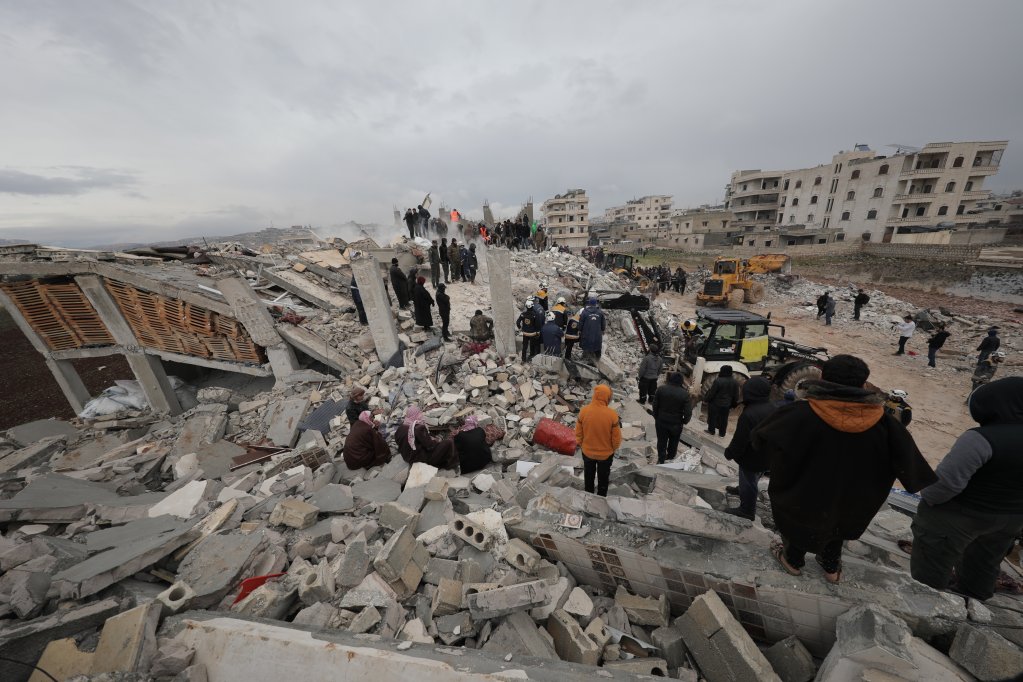 The Norwegian Refugee Council said it was "assessing the situation in order to provide direct support to those most affected across Syria."
They acknowledged however that a "massive scale-up is needed" and appealed to the international community for the "immediate mobilization of financial resources to support collective relief efforts in Syria and southern Türkiye." NRC added that "[w]ith every minute of delay, there will be lives lost."
"The first 48 hours in this kind of disaster is always all about saving lives," added NRC's Bayram. International aid has already made its way into Turkey. But at the time of writing, the Bab al Hawa UN crossing into Syria from Turkey was closed because roads towards it had been damaged by the earthquake, making it even more difficult to get aid and supplies into the region.
Border crossing to Syria
The UN Office for the Coordination of Humanitarian Affairs OCHA, said in a report on February 6 that this border crossing was a "lifeline" for Syria. "In 2022, 7,566 trucks loaded with aid crossed from Türkiye to north-west Syria, reaching 2.7 million people on average per month," stated OCHA. The UN has said that the actual crossing remains intact and NRC said it hoped it would reopen soon.
There are thousands of displaced people living across Syria's north, in areas around Idlib, Homs, Aleppo, Hamms and Lattakia. Other Syrians and other people who have left their own homelands can be found on the Turkish side of the border. Since the beginning of the Syrian war in 2011, Turkey has taken in more than three million Syrians.
Migrants and asylum seekers from other countries further east, from Afghanistan, to Iran to Yemen also often find their way to Turkey in the hope of crossing from there into Europe.
One Syrian refugee, Abou Ahmad, originally from Aleppo, who had been living in Turkey until Monday told InfoMigrants that they were now making their way back to Syria, in the hope of finding help from local NGOs in the region of Idlib. "The building where we were living, and where my relatives were living [in Antakya, Turkey] collapsed. Luckily we are safe, but we now no longer have a home. We are on the road towards Idlib. That is the nearest place to us and we hope there we will find help from Syrian NGOs."