More than 100 people rescued from the Mediterranean by the NGO ship Sea-Eye 4 have disembarked in Naples. Also on board were the dead bodies of two migrants; a third died after being evacuated from the ship.
In the southern Italian city of Naples 105 people rescued from the central Mediterranean have been disembarked, the Sea-Eye organization announced Tuesday. The migrants had been rescued in two operations on Friday night. Those on the first boat had gone six days without food and water. Angelika Leist, from the organization German Doctors, said they were in very poor health.
Also on board the Sea-Eye 4, which reached Naples harbor on Monday afternoon (February 6), were the bodies of two people who were already dead when the rescue ship reached them. A third person died in hospital after an emergency evacuation on Sunday due to poor health. According to Sea-Eye, one of the three who died was a new mother; her baby survived.
Captain protested
Italy had initially ordered the NGO ship to take the rescued migrants to Pesaro on the Adriatic coast, which Sea-Eye said was 1,000 kilometers from the rescue area. After the captain protested against the order, the authorities finally assigned the crew to Naples, according to the aid organization.
Sea-Eye nevertheless criticized the Italian coast guard authorities, saying Naples was still 480 kilometers away, and the southern island of Sicily could have been reached much more quickly. 
The organization's Gordon Isler, who is also a member of the German Greens, said it was "cynical to speak of assigning the port of Naples as a concession." He said the Italian government was making the work of sea rescue organizations more difficult and prolonging the suffering of people seeking protection.
According to a new Italian decree, after a sea rescue, NGO ships have to proceed immediately to their assigned port without responding to further emergencies. Often, they are assigned a port that takes several days to reach.
Also read: Italian minister urges fair port sharing for NGO ships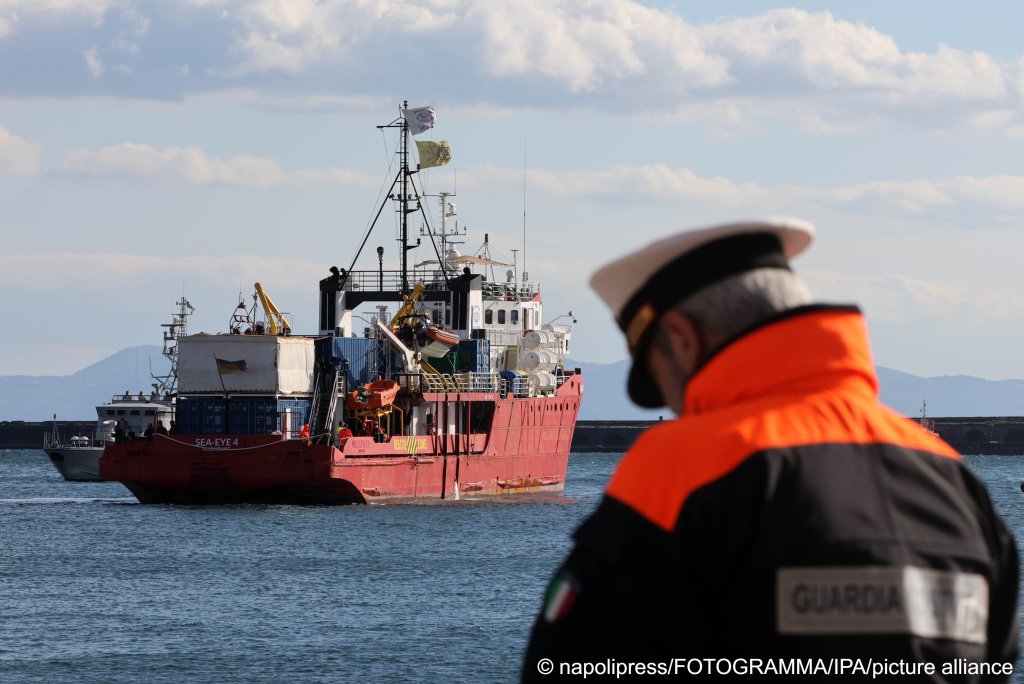 The Council of Europe, the main European human rights body with 46 member states, has criticized the decree and international experts have described it as unlawful.
The Italian government wants to stop migrants from setting off from the coasts of North Africa, and has recently stepped up diplomatic efforts to cooperate with the main countries of departure, Libya and Tunisia, as well as Egypt.
With KNA, dpa
Also read: Ten migrants die off Lampedusa, as Italy continues controversial decree