The Netherlands has suspended a controversial restriction on the rights of recognized refugees to reunite with their immediate families. The change of course came after the highest court in the country ruled on Wednesday that the restriction on the right to family reunification of people with asylum status was unlawful.
The Council of State, which is the highest administrative court in the country, ruled that the restriction on family reunifications was in violation of both Dutch and European law. The decision is therefore regarded as final and binding.
The Ministry of Justice said that about 1,200 people will immediately get to benefit from this and will receive an entry visa as a result of the ruling.
A number of lower courts had already issued rulings earlier, saying that the measure was unlawful and that family reunions should be allowed to continue, but the Dutch government had appealed against those rulings. 
For the past few weeks, there was a de facto temporary suspension of the restriction in place, which was intended to last until the Council of State delivered its final decision on Wednesday (February 8).
The policy of restricting family reunification had also received criticism from several refugee aid organizations, including the Dutch Council for Refugees which, according to the AP news agency, called the policy "politics at its most ugly."
Read more: Dutch court temporarily suspends family reunion restrictions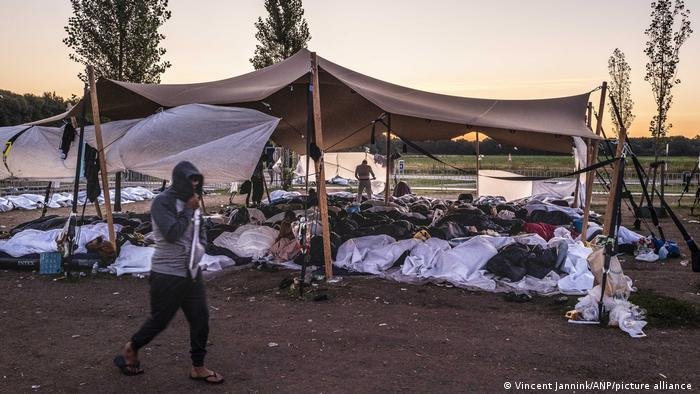 Asylum crisis or housing crisis?
The Dutch government had argued that a spike in numbers of people seeking asylum in the country had made family reunifications impractical for the moment, in particular due to a dire shortage of permanent — and even temporary — accommodation.
The restrictions on family reunions had been placed by the government in late August 2022, after authorities faced major overcrowding issues in asylum centers. At one point, the situation had become so difficult to manage that medical charity Doctors Without Borders (MSF) decided to deploy teams in the country to help migrants and asylum seekers. It was the first time that MSF was deployed in the Netherlands.
This is why the government government decided that as a temporary measure, family members should only be allowed to enter the Netherlands and join their families if they could prove that they had secured housing. 
With the policy being overturned, the Dutch government will explore ways to provide adequate housing for asylum seekers and their families.
Read more: Dutch authorities move asylum seekers camped outside Ter Apel center
with AP, dpa